Why would you want to stain wood? You might be bored of the colour. The surface may be damaged or in serious need of a facelift. Perhaps you're changing your décor and your wood floors and furniture need to change to match. Maybe your decking needs refinishing. Whatever your motivation, using a wood stain rich in pigments on bare or stripped-down wood changes the colour and also highlights the lovely grain.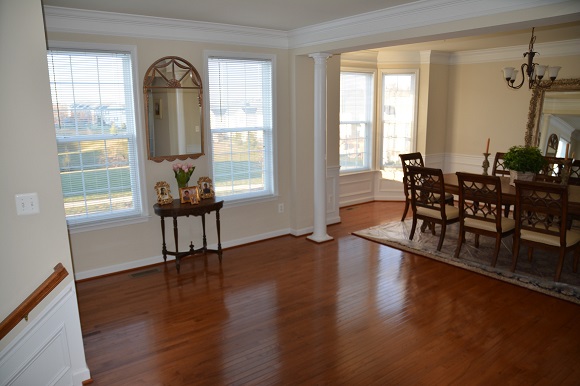 Before Staining Wood – Know what wood type you're dealing with…
Before you go anywhere near an interior wood stain or decking stain, you need to know what type of wood you're dealing with. Is it a softwood or hardwood? They behave differently, and the application process and end results are different.
How do you tell them apart? Softwoods include pines, firs and cedars. Hardwoods include oak, walnut and birch. In between you have a few oddities. Box, for example, is a surprisingly soft hardwood and fir is a very hard softwood.
Softwoods tend to have an uneven grain, often with patterns or blotches, and in some cases can stain unevenly. You might want the grain to stand out from the background and dye darker, since it's a great way to enhance the wood's beauty. If not, you could try a special pre-stain conditioner which sinks into the wood fibres to give an even base. Wood conditioners are bigger in the US and have mixed reviews. Manns Classic Pine Stain is specially formulated for pine and other soft grain woods. Manns also make a range of wood stains for hardwoods.
Hardwoods tend to have a neat, even, finer grain. You can use any stain you like on hardwoods, but you may need multiple coats to achieve the same effect as you get on softwoods.
Top Wood Staining Tips
Every piece of wood is different. Every tree is unique, even within the same species. So our first tip is this: Always do a test area first, trialling your interior or exterior wood stain product on a small, hidden area to make sure things aren't going to go pear-shaped and you end up with the colour you want.
How to Stain Wood in 8 Simple Steps
First, remove any dust, stickiness, polish, wax, paint, grease or dirt by either sanding, using a wax and polish remover or a paint and varnish remover. White Spirit and Methylated Spirit are also great de-greasers and wood cleaners
Next, sand the old surface to provide a clean, fresh key for your wood staining product. You might need to resort to coarse paper then work your way up to finer (120 – 150 Grit) sandpaper to finish, or dive straight in with a light paper when there's less preparation to do. This is a vital stage because wood stains won't give an even result if the surface is mucky. If you leave the surface too rough, it will absorb more stain and give a darker finish and the smoother the finish, the lighter the colour. Experiment on scrap wood or a small area on the real thing first
Wipe down your beautifully sanded surface with a damp cloth to remove any debris
Put on your rubber gloves and stir the wood stain thoroughly. The colour pigments are usually heavier than the solvent or water carrier so tend to be more concentrated at the bottom of the tin or container. It's also recommended that the wood stain is stirred periodically during application, especially after breaks to ensure a more consistent finish
Follow the manufacturer's instructions on the tin or container to the letter, applying the stain with either a sponge, brush or lint free cloth
Use smooth, continuous movements, following the grain rather than working against it and applying the wood colour evenly
Leave it to dry according to the instructions. As a general rule, the longer you leave it, the darker the tone. You can always wipe small areas off and back on to check progress. Bear in mind it's much easier to apply more stain than try to remove it when you've gone too far
When you've achieved the right depth of colour leave it to dry, again as per the instructions
Exterior and Interior Wood Stain – Oil versus Water-based
Wood staining products penetrate the wood rather than sitting on top of it.
Oil-based wood stains last for ages, penetrating deep into the wood, sealing and protecting it and enhancing its beauty. They dry more slowly so you have more time to work with them. If you're staining large areas like floors, cabinets and doors, oil-based stains are best because you are less likely to get dried-on marks when some areas dry faster than others. They don't raise the wood's grain either, so you don't need to do extra sanding. It's best to apply them with a natural bristle brush. Pastels are also oil-based, giving you a lovely pastel colour while highlighting the grain.
Water-based wood stains deliver an even colour and won't absorb unevenly like oil-based wood stains can. They smell less and dry faster, usually within a couple of hours. You can clean up with ordinary soap and water instead of solvents and you get a much wider choice of bright colours. It's best to apply water-based products with a synthetic brush.
Solvent-based wood stains, such as Morrells Light Fast Wood Stains are commonly used by professionals because they are fast drying, easy to apply and 'Light Fast' meaning that they are fade resistant, making them perfect for areas that are exposed to direct sunlight.
What else is there? You can also buy varnish-based wood stains like Sadolin Extra Durable Wood Stain. These are pigmented (coloured) varnishes that are ideal for softwood and hardwood projects, including doors and windows, for extra-long lasting protection.
Coloured wood stain
The beauty of coloured wood stain is the sheer variety of shades and tones. Everything from clean, crisp white wood stain for contemporary living and working spaces to subtle grey wood stain, dramatic black wood stain and a multitude of other beautiful wood stain colours.
We stock a vast range of coloured wood stain, including the glorious Osmo Country Colour: opaque, satin-matt and available in a host of beautiful shades including blues, greens, greys, reds, oranges and more. Also see our range of Ronseal Wood Stains.
Wood stain dos and don'ts
How do you remove coloured wood stains? This very much depends on the type of wood being stained and the stain used. If it's purely a water-based stain that has been freshly applied, then Woodleys Wood Stain Remover is your first stop.
Spirit-based wood stains can usually be removed by scrubbing with cellulose thinners, methylated spirit or white spirit depending on the type of stain. It can be tricky to fully remove a stain and it may be necessary to sand the wood back if the removal process doesn't fully work. Many shop-bought wood stains contain a stain and sealer (type of varnish) as an 'all-in-one' product. The only way to remove these is by sanding the wood back.
Stainable wood fillers are available but many 'off the shelf' fillers will not accept a stain. Fillers that have been specifically designed to be stainable can often be over-coated with wood oils and varnishes. Although these fillers will take a stain, the final colour may still differ from the surrounding wood, so it's important to do test areas and comparisons before starting the main project.
Always use the best quality products you can afford.
Never leave hinges, handles, knobs or pulls on, since wood finishing products can change the colour of the metal.
Don't let un-absorbed stain sit on the wood for any length of time. It'll only peel off and won't give you a darker finish.
Never apply a finish before the stain is completely dry. The solvents will damage the stain's finish.
Always take care when applying a water-based varnish over a water-based stain, a solvent-based finish over a solvent-based stain or an oil-based finish over an oil-based stain. This is because if the first coat of the finish isn't applied gently, it can re-activate the stain and drag the colour with the top coat, resulting in an uneven colour and patchy finish. When using, for example, a solvent-based varnish over a water-based stain, or a water-based varnish over a solvent-based stain, this is not a problem.
Wood staining video
Here's a handy YouTube video about how to stain wood:
We provide a huge range of water, solvent and oil-based wood stains for tinting more or less any wooden, cork or stone surface you can think of – inside and out!
Any questions?
If you have any questions regarding staining wood and which products to use for your particular project, our resident experts are always on-hand to offer help and advice – just give us a call.
A guest post by Kate Goldstone