Why would you want to stain wood and what actually is wood stain? You might be bored of the colour. The surface may be damaged or in serious need of a facelift.
Perhaps you're changing your décor and your wood floors and furniture need to change to match. Maybe your decking needs refinishing.
Whatever your motivation, using a wood stain rich in pigments on bare or stripped-down wood changes the colour and also highlights the lovely grain.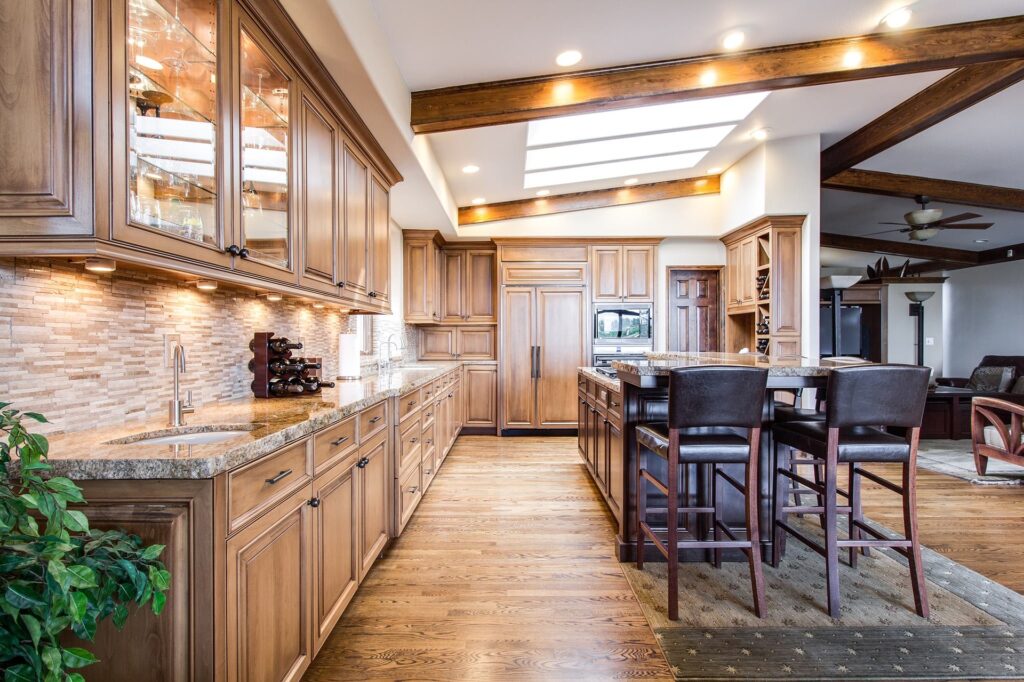 If you'd like our expert advice on this, contact us on 01303 213838 to speak to our dedicated woodcare team. Alternatively, you can always email us at wood@finishes.direct.
You can also join our fast-growing community on Facebook, Instagram, YouTube, Twitter and Pinterest; where we share inspirational photos, how-to videos, whilst giving expert advice.
Why Should You Stain Wood?
Staining Wood is the optimal method for enhancing the look and feel of your wood, it's a great way to revitalise any interior wooden surface – giving it that subtly fresh feel with a dash of colour.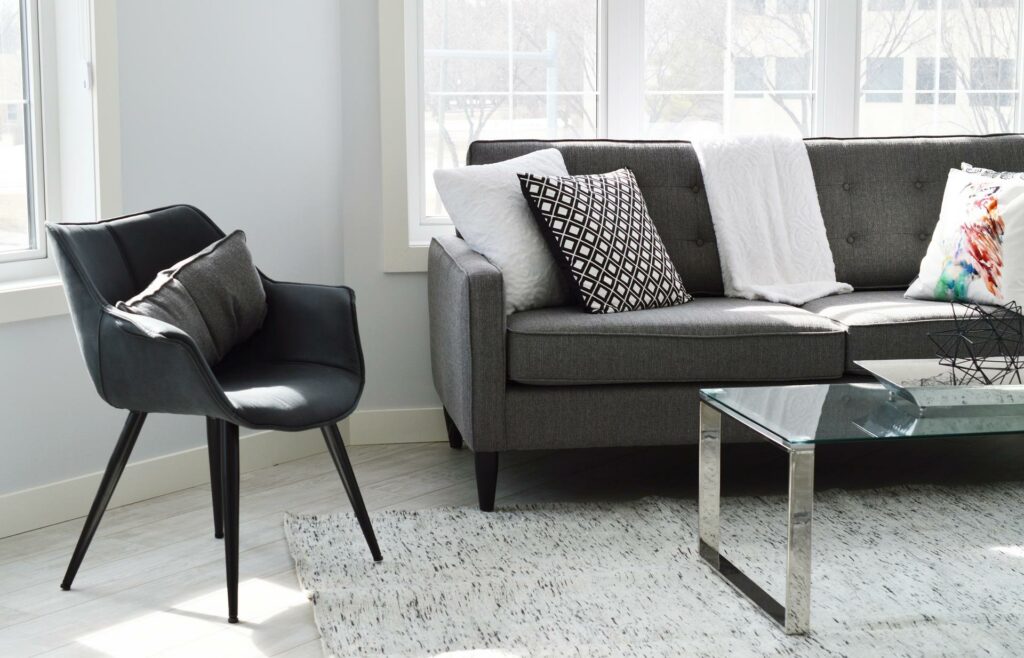 As well as embellishing the complexion of your timber, wood stain also helps preserve the grain of the wood.
If any of your furniture, floors or even decking (more on that later) are looking worn, harnessing the range of colours available with stains can go a long way to impressing your family or friends at a modest price point.
What Wood Can You Stain?
Well, any wood – nothing's off limits. It's more common to stain interior wood, so if you're looking into that – we'd definitely recommend you do this.
Stain is thinner than paint and doesn't mask the visual appeal of wood, which is why it's a popular option on interior timber; it prevents your wood from losing its visually appealing aesthetic, which is probably why you bought it in the first place. 
Although there are still some things to consider when choosing the perfect stain for you. Dark wood won't work well with light and bright stains, your best bet with dark timber is to pick a wood stain that is also dark.
Otherwise, your dark timber will manipulate how the brightly coloured stain looks and won't look how you anticipated.
However, you can stain all sorts of exterior wood too, such as your wooden garden furniture.
There are some wood stains on the market that can be used on decking too, such as Cuprinol Anti-Slip Decking Stain.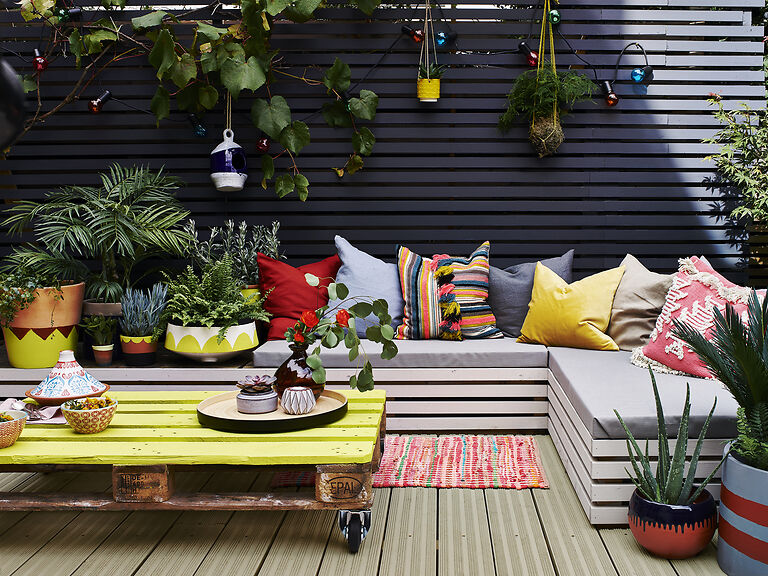 However, it's important to note that wood stains don't offer great protection against weathering, foot traffic and just about every other potential misfortune your timber might have to go head-to-head with.
So, we would thoroughly recommend applying a preserver underneath your wood stain top coat, take a look at our Top 5 Decking Preserver Product Guide for more expert advice.
What Type of Wood Do You Have?
Before you go anywhere near an interior wood stain, deck stain or just about any other stain, you need to know what type of wood you're dealing with.
Is it a softwood or hardwood? They behave differently, and the application process and end results are different.
How do you tell them apart? Softwoods include pines, firs and cedars. Hardwoods include oak, walnut and birch.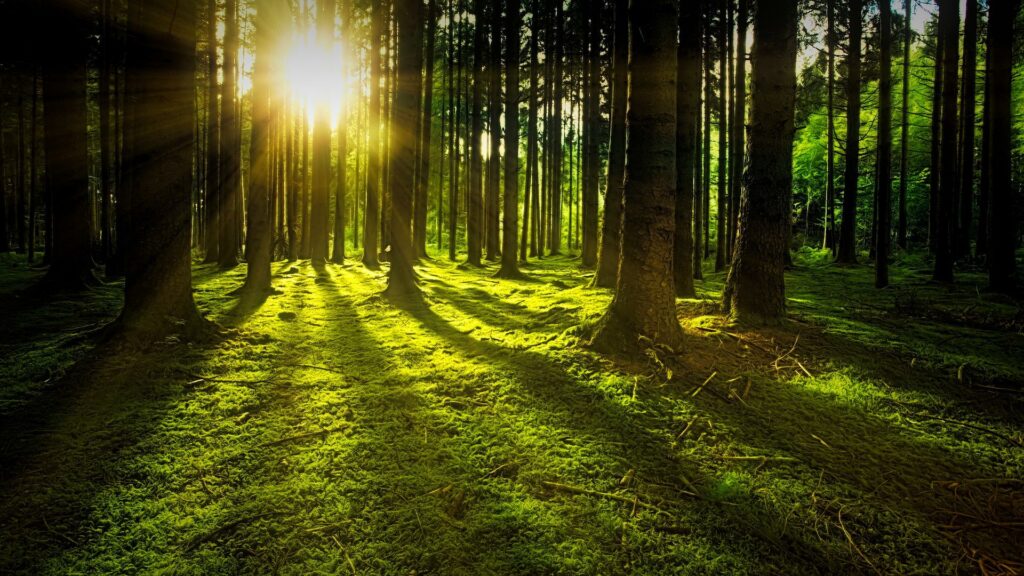 In between you have a few oddities. Box, for example, is a surprisingly soft hardwood and fir is a very hard softwood.
The long and complicated list doesn't stop there, though. There are thousands of tree species and within each species there's dozens of variations.
In short, no two trees are the same – be mindful of that when trying to get your desired finish.
Softwoods tend to have an uneven grain, often with patterns or blotches, and in some cases can stain unevenly.
You might want the grain to stand out from the background and dye darker, since it's a great way to enhance the wood's beauty.
If not, you could try a special pre-stain conditioner which sinks into the wood fibres to give an even base.
Wood conditioners are bigger in the US and have mixed reviews. Manns Classic Pine Stain is specially formulated for pine and other soft grain woods. Manns also make a range of wood stains for hardwoods.
Hardwoods tend to have a neat, even, finer grain. You can use any stain you like on hardwoods, but you may need multiple coats to achieve the same effect as you get on softwoods.
Hardwoods are also generally stronger and are more durable than its softer counter-part. For interior hardwoods, we suggest you take a look at Manns' Classic Oak Stain.
Types of Wood Stain
Wood stains are designed to penetrate the wood rather than sitting on top it, this is what helps give your timber that natural look and feel post staining.
There are two types of formula's in the wood staining world that you need to be aware of, water-based and solvent-based stains – each with positives and negatives.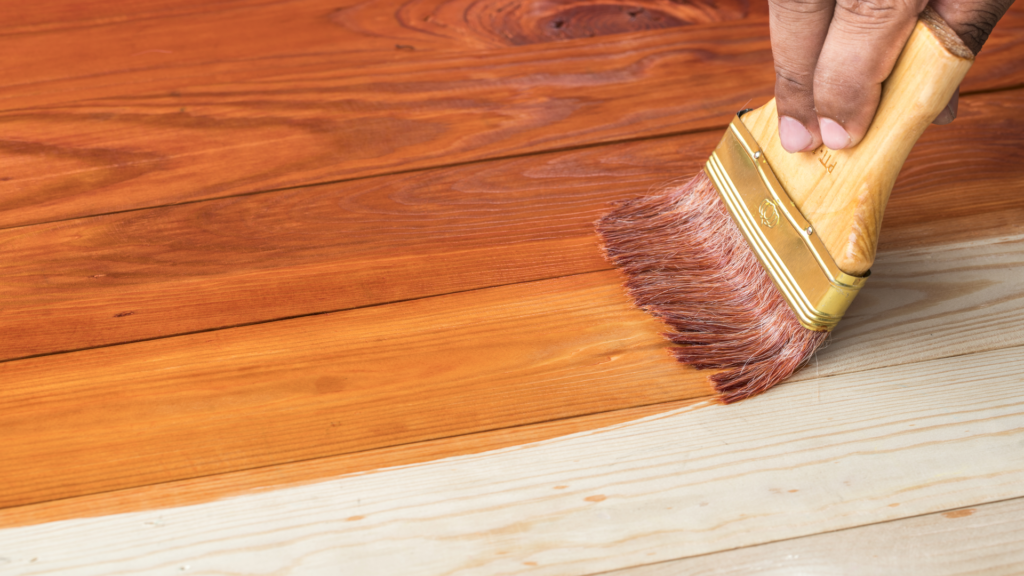 Water-based
Water-based wood stains deliver an even colour and won't absorb unevenly; they smell less and dry faster, usually within a couple of hours.
You can clean with ordinary soap and water instead of solvents, you also get a broader colour range. It's best to apply water-based products with a synthetic brush.
There are plenty of positives and negatives to water-based stains. One of the big positives is that it is environmentally friendly, as it is nearly entirely made up from water.
Of course, this is also a drawback in protection and effectiveness, as water doesn't have many protective or visually appealing properties.
Water-based products typically contain a low or minimal V.O.C, which stands for volatile organic compounds. The lower the V.O.C, the less nasty smelling toxins and chemicals in your stain.
If you're looking to spruce up your hardwood floors, take a look at Manns Classic Oak Stain.
This stain is rated with a very low V.O.C, comes in over 15 colours and is available in sample pots. So you can be 100% certain you've got the perfect colour for your timber.
Once you've used the handy test pot, use the Wood Finishes Direct Calculator to work out just how much is needed to avoid wastage.
Solvent-Based
Solvent-based wood stains, such as Morrells Light Fast Wood Stains are commonly used by professionals.
This is because they are fast drying as this stain only taking 30 minutes to completely dry and is easy to apply.
They are also 'Light Fast', meaning that they are fade resistant, making them perfect for areas that are exposed to direct sunlight.
Solvent-based wood stains typically reach the higher end of the spectrum in regards to V.O.C's.
There are several precautions you should take when handling any type of stain regardless of its V.O.C. However, take extra measures when using high V.O.C products, especially indoors.
This is due to the fact that they have a much stronger smell and can affect the air quality.
If high V.O.C's already affect you such as petrol, we'd suggest you look at the water-based alternative if you're a budding DIY'er.
A popular exterior use solvent-based wood stain is Sadolin Extra Durable Wood Stain. This contains pigmented (coloured) varnishes that are ideal for softwood and hardwood projects, including doors and windows, for extra long-lasting protection.
It doesn't have the most varied colour range in the world, but delivers quality finishes and enhances your woods final look.
Before You Start Staining Tips
Every piece of wood is different. Every tree is unique, even within the same species.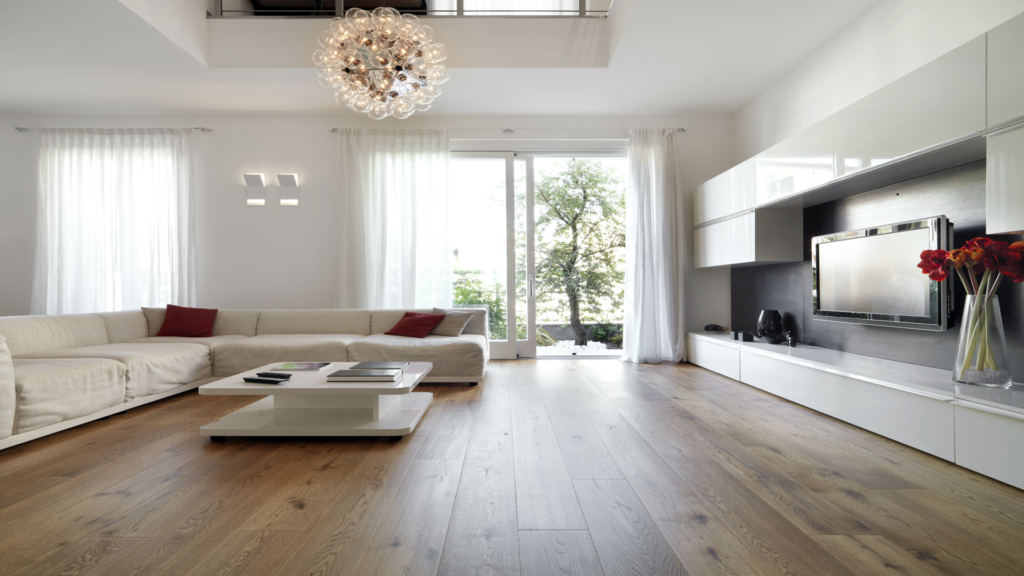 So our first tip is this: Always do a test area first.
Make sure to trial your interior or exterior wood stain product on a small, hidden area of wood to make sure things aren't going to go pear-shaped and you end up with an inadequate finish.
Our second tip is: Remember your wood stains act the same way to wood as a pair of sunglasses would to you.
Your exterior stain for example will add an extra layer of UV protection every time you apply one. However the more you add, the darker your wood gets.
If you keep adding stain layers, eventually you won't be able to see the wood. If that was your sunglasses you wouldn't be able to see anything, find the perfect balance for protection and visibility.
How to Stain Wood in 8 Simple Steps
1. First, remove any dust, stickiness, polish, wax, paint, grease or dirt by either sanding, using a wax and polish remover or a paint and varnish remover. White Spirit and Methylated Spirit are also great de-greasers and wood cleaners.
If you're cleaning your decking and a stiff brush isn't cutting it, take a look at Ronseal's Decking Cleaner and Reviver.
This product is perfect to use alongside their Ultimate Finish Decking Pad Kit, for an easy application and extra pad to apply your stain with. For more information, take a look at How To Stain Decking for a Flawless Finish.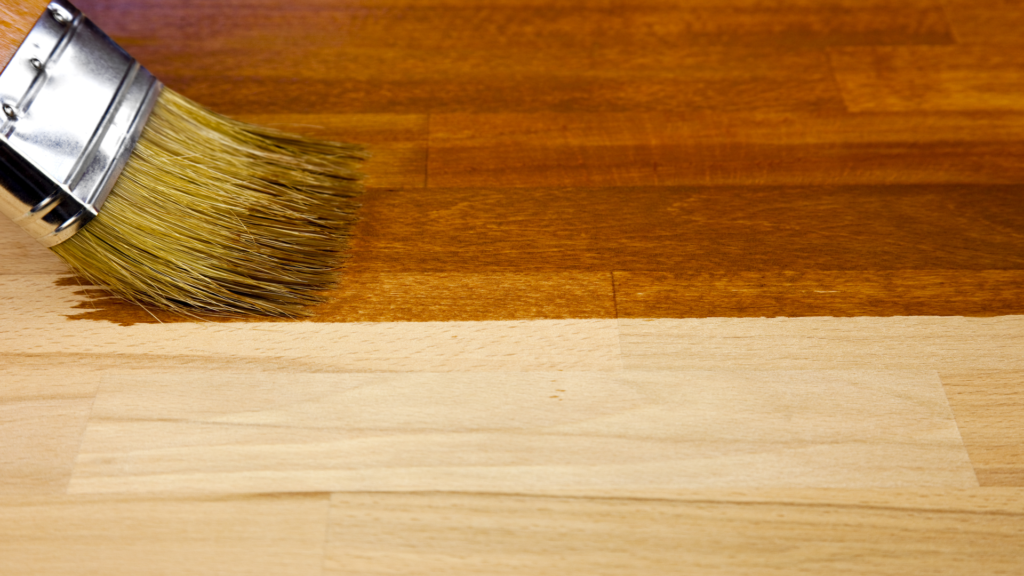 2. Next, sand the old surface to provide a clean, fresh surface for your wood staining product.
You might need to resort to coarse paper then work your way up to finer (120 – 150 Grit) sandpaper to finish, or dive straight in with a light paper when there's less preparation to do.
This is a vital stage because wood stains won't give an even result if the surface is mucky.
If you leave the surface too rough, it will absorb more stain and give a darker finish and the smoother the finish, the lighter the colour. Experiment on scrap wood or a small area on the real thing first.
3. Wipe down your beautifully sanded surface with a damp cloth to remove any debris.
4. Put on your rubber gloves and stir the wood stain thoroughly. The colour pigments are usually heavier than the solvent or water carrier so tend to be more concentrated at the bottom of the tin or container.
Make sure to stir the wood stain periodically during the application process, especially after breaks to ensure a more consistent finish.
5. Follow the manufacturer's instructions on the tin or container to the letter, applying the stain with either a sponge, brush or lint free cloth.
6. Use smooth, continuous movements, following the grain rather than working against it and applying the wood colour evenly.
7. Leave it to dry according to the instructions. As a general rule, the longer you leave it, the darker the tone.
You can always wipe small areas off and put back after you've checked on the progress. Bear in mind it's much easier to apply more stain rather than try to remove it because you've gone too far.
Always remember to never rush between coats, doing this risks completely destroying your wood – there's no point rushing the easy waiting stage.
8. When you've achieved the right depth of colour leave it to dry again, as per the instructions.
Expert Advice
"Take care when sanding wood. Wood that has been sanded evenly will produce an even colour. Poorly sanded wood is likely to produce a more patchy, uneven finish"
Wood Stains and their Colours
The beauty of coloured wood stain is the sheer variety of shades and tones. Everything from clean, crisp white wood stain for contemporary living and working spaces to subtle grey wood stain, dramatic black wood stain and a multitude of other beautiful wood stain colours.
We stock a vast range of coloured wood stains, including the glorious Osmo Country Colour.
Which is available in opaque, satin-matt and a host of beautiful shades including blues, greens, greys, reds, oranges and more.
But, just be careful when staining a lighter wood species, such as pine. As using the incorrect product can cause your wood to darken way beyond what you wanted.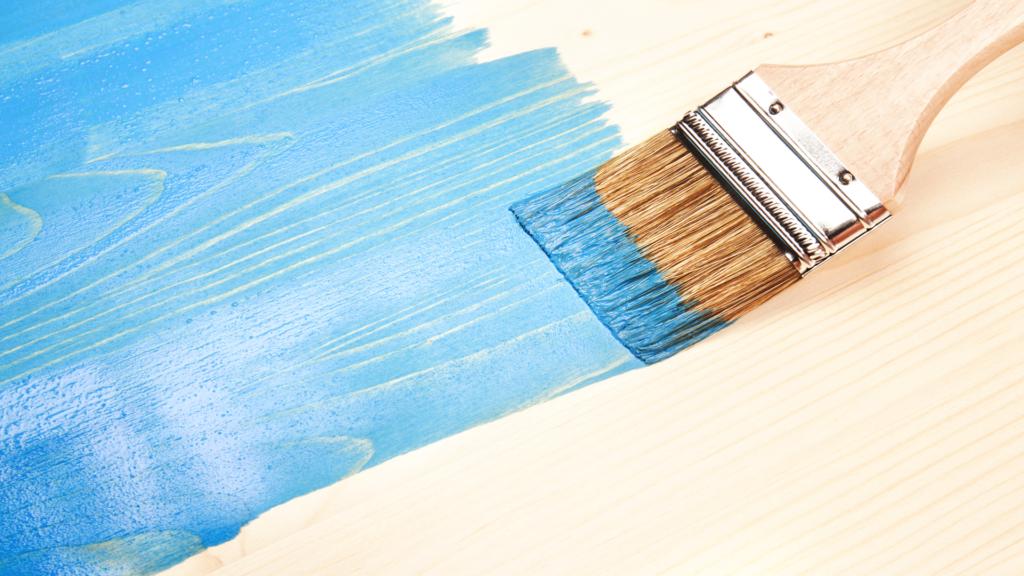 Luckily, there is a vast range of products specifically designed to work its magic on your lighter coloured wood to enhance its beauty – rather than destroy it.
A reason for these specifically designed stains being so successful is because they contain a very small amount of white pigment, which in-turn helps retain the natural finish and feel of your wood.
A great option for this is Manns' Classic Pine Stain, this water-based interior stain comes in over 25 colours, which helps tailor the product to your desired look.
However, we wouldn't recommend using these types of products on dark woods as they can leave the timber with a milky appearance.
For a detailed and in-depth guide on wood colour, check our Essential Guide to Wood Colour article, running your through every detail of how colour actually affects your wood – filled to the brim with our bank of knowledge.
The table shows a varied selection of wood stains and their features, to help give some guidance towards the best stain for you.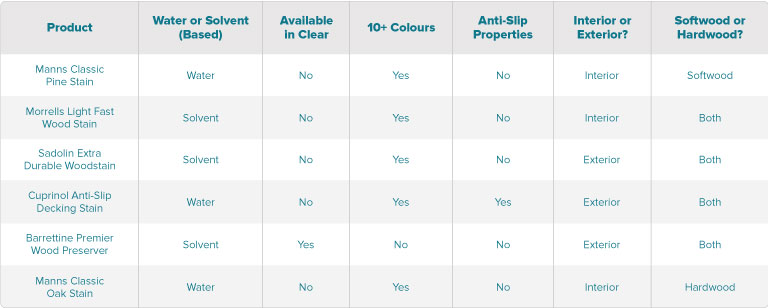 Expert Advice
"Ignore the names given to colour names and go by the visual appeal of the wood colour. Compare a medium oak colour swatch from 6 different companies and I'm pretty certain that they will all be different"
Wood stain dos and don'ts
How do you remove coloured wood stains? This very much depends on the type of wood being stained and the stain used. If it's purely a water-based stain that has been freshly applied, then Woodleys Wood Stain Remover is your first stop.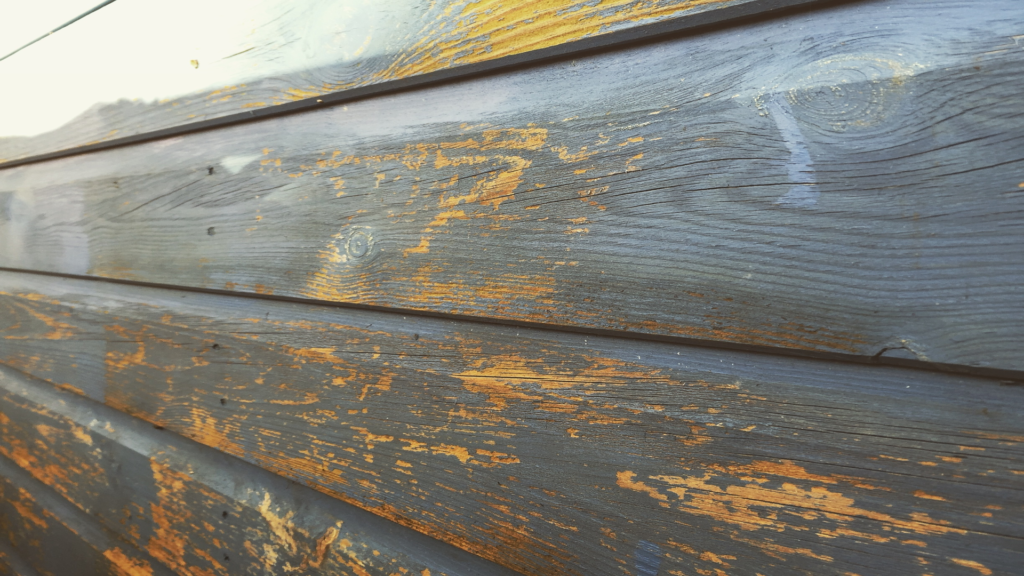 Spirit-based wood stains should be removed by scrubbing with cellulose thinners, methylated spirit or white spirit.
It can be tricky to fully remove a stain and it may be necessary to sand the wood back if the removal process doesn't fully work.
Many shop-bought wood stains contain a stain and sealer (type of varnish) as an 'all-in-one' product. The only way to remove these is by sanding the wood back.
Stainable wood fillers are available but many 'off the shelf' fillers will not accept a stain.
Fillers that have been specifically designed to be stainable can often be over-coated with wood oils and varnishes.
Although these fillers will take a stain, the final colour may still differ from the surrounding wood, so it's important to do test areas and comparisons before starting the main project.
Osmo Interior Wood Filler is a popular choice among DIYers. The water-based filler is ideal for interior restoration and renovation projects.
Dos
Always use the best quality products you can afford, for the best durability and finish.
Take care when applying a water-based varnish over a water-based stain. A solvent-based finish over a solvent-based stain or an oil-based finish over an oil-based stain.
This is because if the first coat of the finish isn't applied gently, it can re-activate the stain and drag the colour. Which results in an uneven colour and patchy finish.
For example, using a solvent-based varnish over a water-based stain, or a water-based varnish over a solvent-based stain, this isn't a problem.
Don'ts
Never leave hinges, handles, knobs or pulls on, since wood finishing products can change the colour of the metal.
Don't let un-absorbed stain sit on the wood for any length of time. It'll only peel off and won't give you a darker finish.
Never apply a finish before the stain is completely dry. The solvents will damage the stain's finish.
Staining Your Decking?
If you're staining your decking and need a bit more information before tackling the mountainous task, take quick read of our How To Stain Decking for a Flawless Finish article.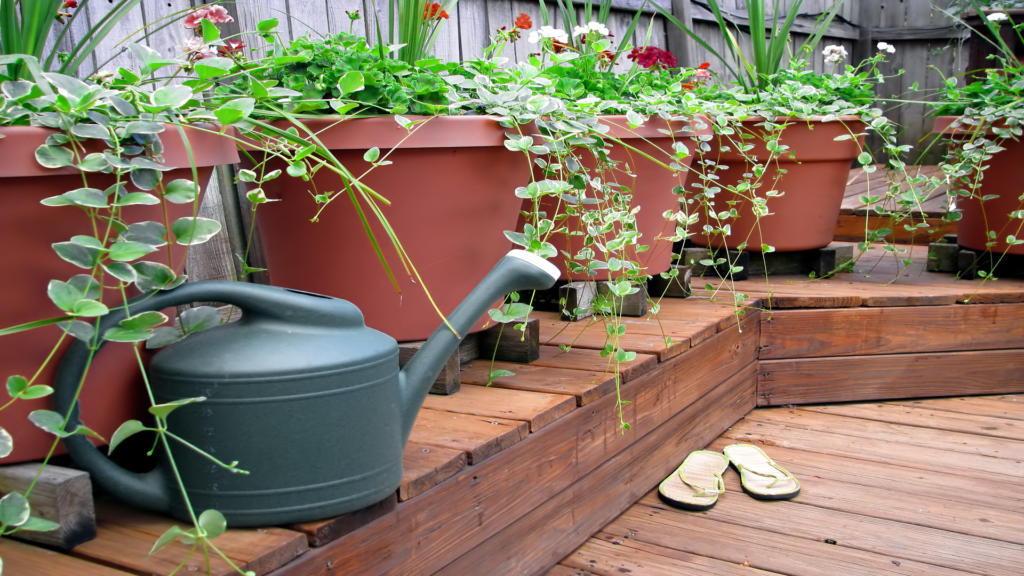 Giving you a step-by-step guide, with product recommendations and our usual expert advice.
You can also check out our Common Mistakes to Avoid When Staining Your Decking article.
Which goes through all the regular slipups made when staining your garden timber, so you can take on the challenge like a professional.
Aftercare
The aftercare is fairly straightforward, but make sure to check the product information first in-case there is any specific aftercare requirements for the stain you've purchased.
Just make sure you regularly clean whatever wood you have stained. If it's decking you've been staining though, a suitable decking cleaner will help get you back on track rather than deck stain in most cases – unless it's in a really sorry state.
We'd love to hear from you
For more information and advice, feel free to contact our dedicated support team at 01303 213838 or email us at wood@finishes.direct.
Join our fast-growing community on Facebook, Instagram, YouTube, Twitter and Pinterest; where we share inspirational photos, how-to videos, whilst giving expert advice.
A guest post by Kate Goldstone