Interior doors have a lot to contend with from everyday knocks, bumps, scuffs to hand-prints, dirt from passing pets and more. So how do you keep wooden interior doors looking great when exposed to all this and more throughout the years?
If you've bought a set of lovely new interior doors, or are thinking about renovating or restoring some old period feature doors, our top tips will help you to get the best out of them so they look wonderful and stay protected for longer.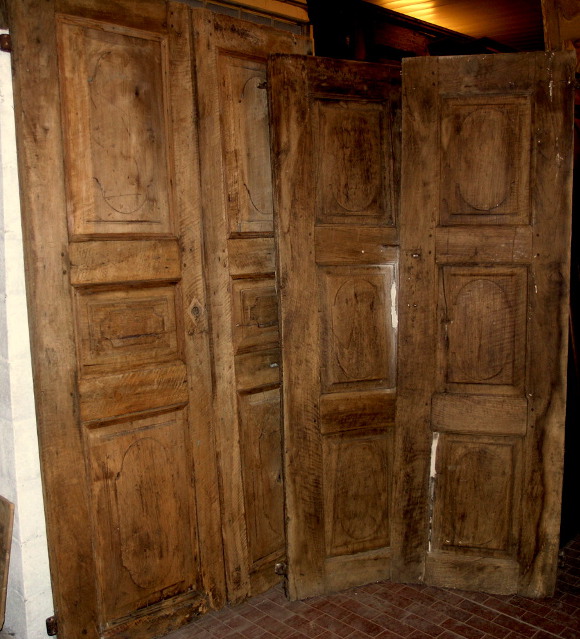 Choosing the right door treatment
It's amazing just how many interior door types there are. Two, four, six and eight panel, made from Oak, Pine, Walnut or Cherry, to name just a few. Door construction can also vary from solid wood to veneered or engineered. Internal doors can also be finished or unfinished.
What are Door Finishes
A door finish is the treatment that protects wooden doors from day to day wear and other hazards associated with busy environments. Interior doors are usually finished with an oil, varnish, wax or paint. The choice of door finish usually comes down to the desired appearance: clear, semi translucent or opaque, the sheen level, matt, satin or gloss, the amount of protection it offers, ease of maintenance and of course budget. All things considered, making the right choice can be a challenge.
Pre-finished interior doors
When buying pre-finished internal doors, you can usually find out which type of finish it has by checking the manufacturer's literature. If this doesn't make it clear, ask the seller or even the manufacturer themselves. It's worth asking if they can supply the name of the finishing product and brand as this may be useful for door cleaning and maintenance. Although interior doors can be waxed, most pre-finished wooden doors are varnished or oiled as these provide the best all-round durability.
Unfinished interior doors
Unfinished doors come with a world of possibilities. There are countless options in terms of colour and finish choices. They can be stained to virtually any colour or shade and sealed to a matt, soft satin sheen or gloss finish with a clear or coloured wood wax, door oil or varnish. If you prefer to keep the natural, untreated look of the wood whilst protecting doors from day-to-day dirt and knocks this can be achieved to.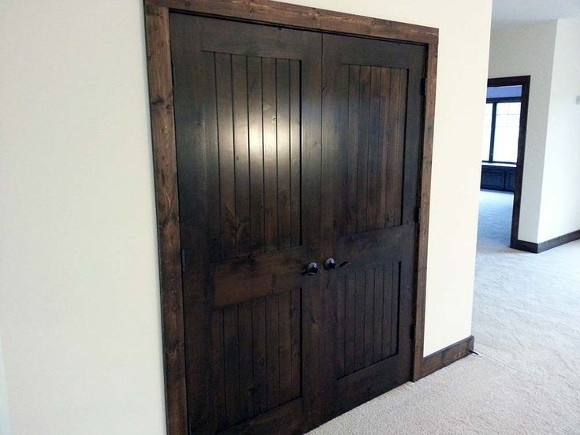 Types of Door Finishes
Most 'clear' door finishes tend to enhance the natural character and grain of the wood by slightly darkening the timber to give it an almost 'damp like' appearance. Wood oils tend to darken and enhance the wood the most followed by clear varnishes then clear waxes. It is recommended to always do a test area before finishing any door to assess product suitability and final finish.
Varnishes for interior doors probably offer the best all-round protection. Whilst most ready-to-use varnishes are ideal for homes and other domestic properties, 2-pack or 2-part varnishes offer better durability for commercial environments such as shops, flats, community halls and other doors that are subject to a high degree of contact and use. The disadvantage of varnishes is that should they become worn, chipped or badly scratched, the only real option is to sand doors back to bare wood and re-finish.
Top 3 Wood Varnishes for Interior Doors
Manns Extra Tough Door Varnish: A highly durable, clear, water-based varnish for wooden interior doors, door frames and architraves. Provides a high level of protection against knocks, scuffs, scratches and day-to-day wear.
Ronseal Diamond Hard Interior Varnish: A general purpose, fast drying interior varnish that is suitable for internal doors and other wood trim in domestic settings. Available in a range of sheen levels.
Fiddes Clear Glaze: A solvent-based, high build polyurethane varnish for interior wood. Formulated to be super durable and recommended for use on high demand surfaces including bar tops, doors, floors, wood panels and joinery.
Door oils offer almost as much protection from dirt, moisture, scuffs and scratches as varnishes do. Available in a range of clear and coloured variations, and a range of sheen levels, door oils have the benefit of being very easy to apply, maintain and repair. If an area of a door becomes stained, scratched or worn, it can be cleaned and re-oiled for a seamless repair making it as good as new. Clear door oils will darken and enhance the natural character and grain of the wood. If a more natural, untreated finish is preferred, using Osmo Door Oil Raw 3033 will offer the same level of protection whilst better retaining the untreated look of the wood. This product is designed for lighter coloured timbers such as pine and oak and is not suitable for dark exotic timbers like mahogany, iroko and walnut as it may produce a slightly milky looking finish.
Top 3 Internal Door Oils
Osmo Door Oil: A highly durable, protective door oil for all softwood and hardwood internal doors. Suitable for solid wood, engineered and veneered doors including oak and pine. Available in both a clear and 'Raw' version that better retains the natural, untreated look of lighter coloured wooden doors.
Mann Premier Door Oil: A premium grade door oil that enhances and protects solid wood, engineered and veneered interior doors and dries to a natural matt finish.
Wood waxes have been used to protect wood for centuries and produce a silky-smooth finish that has a distinct, unmistakable waxy feel. Like door oils, waxes are quick and easy to apply, maintain and repair but don't offer the best durability. Waxed doors can mark easily in high moisture environments and if water is splashed on to them. They can also be scuffed and marked more easily.
Top 3 Wood Waxes for Interior Doors
Fiddes Supreme Wax Polish: A high quality wax polish for suitable for interior doors and other wood. Available in clear and and a range of other colours it can be applied and left for a natural wax look or buffed to increase the sheen.
Manns Classic Beeswax Polish: A clear, traditional high quality beeswax for use on sealed and unsealed interior wooden doors and other surfaces. Can be applied over previously oiled or varnished doors to produce a luxurious wax finish.
Osmo Uviwax: A unique product that is more like an oil but dries to a wax-like finish. Contains UV filters that help to prevent the natural yellowing and fading of interior doors exposed to direct sunlight. Dries to a gentle satin-matt finish.
Things to check before finishing unfinished doors
At Wood Finishes Direct, we often receive calls from people who have bought veneered interior doors, only to discover that the door label advises against using some types of wood finishes. More often than not this is usually wood oils such as  Danish Oil,  Teak Oil, door oils and hardwax oils but can also include wood waxes and wood varnishes. But does it really mean you can't use these products and if so, do you risk damaging the wood? It's an interesting point and one worth investigating further.
What is a veneered door?
Veneered wooden doors are usually made from a hollow or solid wooden core. The core can be made from solid timber, particle board or medium density fibreboard, AKA MDF. A layer of high quality wood veneer is attached to the core of the door using powerful glues and bonding agents. The quality of modern veneered doors is usually down to the type of core, the type of wood used and the thickness of the veneer.
About 20th century mass production of doors
Wood veneers have been used for centuries to produce high quality finishes. But mass production in the mid to late 20th century saw quality take a tumble as the drive for cheaper, thinner veneers and glues took hold. This sometimes led to door veneers de-laminating or peeling off in extreme heat or when certain products, usually solvent-based finishes were used. In reality, things have moved on a great deal since then and the risks of delamination are virtually non-existent. So why do door manufacturers still warn against using certain products?
Why do manufacturers still warn against using wood finishes on veneered doors?
It's estimated that most veneered doors originate from the Far East. It's highly likely that these door manufacturers have taken the lead from one of the larger producers, giving warnings about wood finishing products without checking whether the risk is genuine. Unlike the manufacturers, we at Wood Finishes Direct are well placed to talk about wood finishes – it's our area of expertise. We supply a vast range of different products from different manufacturers, all of whom agree that stains, waxes, varnishes, oils, paints and so on DO NOT penetrate deeper than 1mm into a veneer.
Why does the thickness of the veneer matter? Modern veneers are rarely less than a millimetre thick and because modern wood finishes never penetrate more than a millimetre into the surface of the wood, there's very little chance of them interacting with the glue that bonds the veneer to the core of the door. In short, unless the veneer is very thin, badly manufactured and / or glued, modern wood finishes simply can't penetrate deeply enough to cause the veneer to peel off.
Modern wood finishing products designed for veneers
In our experience we've never come across anyone using a wood oil, wax or varnish that has caused a door veneer to peel off. It just doesn't happen. In fact, companies like Osmo and our own Manns brand produce door oils and other wood finishes specifically designed for solid wood, engineered and veneered interior doors.
There's just one common sense thing to bear in mind: while we can say with confidence that the products we sell are perfectly fine to use on interior doors, using them against the manufacturers advice will likely invalidate any warranty that comes with the door.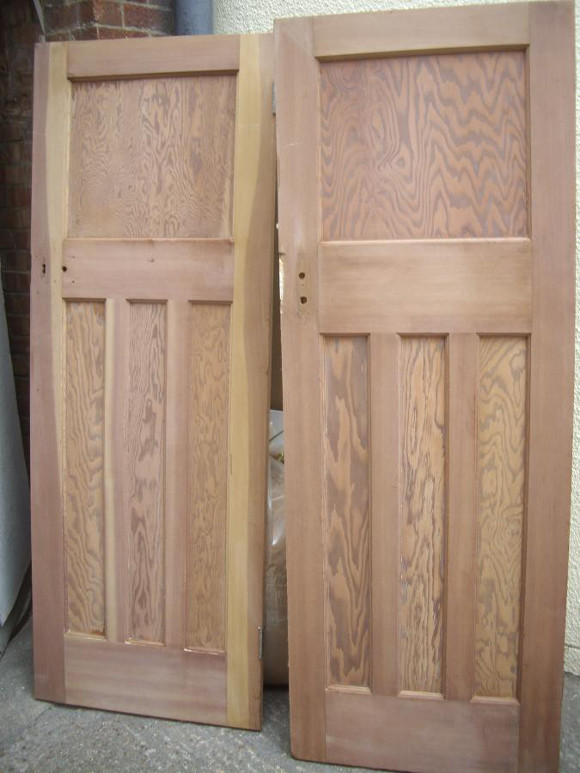 Always do a test area
Our advice if you want to stain, oil, wax or varnish any sort of door is to always do a test area first, ideally where the wood can be sanded if the product doesn't deliver the finish you were expecting. After-all, you see and use your doors dozens of times a day so it's important to be happy with the final finish.
Always follow the manufacturer's instructions on the packaging. Take your time with any preparation, apply the door finish as directed on the tin and it's safe to say that you can't go far wrong.
Need expert help with your doors?
Do you need help with your interior doors? Our wood finishing experts are always on hand to offer free project and product advice. So, if you have a question about a door finishing, restoration or renovation project, contact our team of wood finishing experts to get the help you need to achieve the perfect door finish.
Alternatively, see our door finishes FAQ page that answers many of the more commonly asked door finishing questions. Want to know how to finish a door with a door oil? See our Youtube video below that explains how best to oil wooden doors.
Need help with your wooden doors?
For more information about wooden door projects, contact our team of resident experts who are always on hand to help with project advice and product recommendations. Alternatively, see our door finishes FAQ page which covers many of the most commonly asked questions about door finishes.
We love to see before, during and after photos of any interior door project. If you would like to share your door project pictures with us and our followers, send us your photos or share on our Facebook, Twitter, Pinterest or Instagram pages.
Other great blogs that discuss door care and maintenance