All you have to do is check out our wood finishing tools and accessories department to see just how many different types of applicator there are to choose from. And we sell a vast array of wood finishing products. So how do you know which applicators to use for which wood finishes? We thought it'd be useful to take a look at what's available, when to use it and why.
Why Buy the Best Quality Wood Finishing Supplies?
Of course you could grab the nearest grotty rag or brush and make do. But it'll make your life a whole lot easier if you buy good quality applicators, all of which are designed for different types of wood finishes. They're specifically made for the job and created with your health, safety and comfort in mind. They make it easier to achieve the right appearance. And you'll end up with a much better wood finish altogether. You wouldn't use a wire brush instead of a toothbrush. The same applies to wood finishing accessories. Your project is worth it, and so are you!
Our extensive product range includes specialist brushes, applicators, tools and rollers, to make your wood finishing project easier and more satisfying.
How we help you choose the right applicator for the job
We've included basic usage information on the product page for every wood finishes product we sell. This means:
If you already have a reasonably good idea of what you're doing, you get the picture straight away
If you're a novice, you get enough information to either search Google for the fine detail, visit our blog to see if there's a guide there, check out the manufacturer's guide or call our experts and ask them for help via our freephone number.
The applicators you need for different kinds of wood finishes
Including sandpapers, steel wool rolls, denibbing and finishing pads, abrasives vary widely depending on the manufacturer. The best-in-breed abrasives ensure you make light work of sanding, whether it's floor sanding, adding personality and patina to shabby chic furniture or tackling a wooden door in need of restoration. You can use abrasives on bare wood or between coats of varnish, lacquer, oil or wax.
It's always wise to buy brushes designed specifically for wood finishing. Depending on the project, you can choose from hand buffing brushes, foam brushes, floor brushes and high quality synthetic and natural bristle brushes.
Hand buffing and drill buffing brushes let you create a stunning deep shine and lustre with ease. Our low cost yet highly effective disposable foam brushes let you make a lovely, clean straight edge without leaving bristles behind. And floor brushes are perfect for applying any kind of oil, stain or varnish to large areas.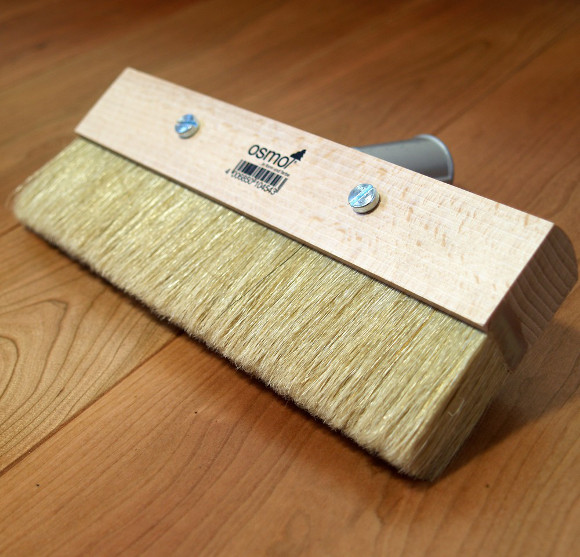 Floor applicators are brilliant when you have a big area to cover. There's no need to get down on your hands and knees when you use a clever gadget like the Bona Microfibre Floor Mop, which makes applying their wood finish products a dream. Then there's the Osmo Floor Brush, perfect for wood oils and re-usable time and time again. There's a brush for every project, and using the right tool for the job will make the whole process easier and more enjoyable.

A good roller helps you deliver a fast, professional finish, perfect for wood oils, stains and varnishes. We recommend our good quality microfibre and velour roller sleeves. They're particularly sturdy, last for multiple applications when you look after them properly and unlike some, the ergonomic handle comes with a convenient, quick and simple fit system.
An old rag just won't cut the mustard. You need a high quality stockinette cloth, microfibre cloth, foam sponge or cotton sheets for easy finishing, and picking the right one is very important.
Cotton cloths are absorbent and perfect for applying oils and stains. Microfibre cloths have thousands of tiny fibres per square centimetre, so they work really well with wood cleaning products. There's a specialist cloth for the job whether you're applying finishes, buffing or cleaning a wooden surface, and there's a product designed for every finish whether it's oil, a wax wood finish, lacquer, varnish or stain.
How to decide which wood finishing supplies you need
Our first piece of advice is this: always follow the manufacturer's instructions. Other than that, here are a few basic guidelines to help you make the right decision.
Solvent-based varnishes and lacquers
You want to get as much product into the wood as you can and spread it quickly and smoothly without making puddles. Traditionally, a China bristle brush, made from hollow hog hairs, was the way to go, or a lambswool or synthetic wool applicator on a block of wood. On the downside, new natural lambswool applicators can shed fibres and need a good comb or wash before use.
The latest applicator technology makes life much easier. A T-bar applicator, for example, is great for applying any finish, even fiddly bits like door frames, and tends to be faster than a lambswool applicator.
You can also apply the product with a roller. It's fast and means you don't have to mess with the finish too much, which can spoil the final effect. Different manufacturers recommend application with a natural bristle brush, nylon pad or even a spray gun. Always check the manufacturer's instructions.
Water-based varnishes and lacquers
A special floor finish applicator is ideal for floors, and microfibre rollers come in two sizes. The 25cm version is ideal for large flat areas like the tops of furniture. The 10cm size is ideal for the areas surrounding a door, skirting etc. Fixtures like picture rails and stair spindles tend to be easier to finish with the Mako brush.
To apply soft liquid wax or thicker paste waxes like Supreme Wax, simply rub it on and wipe it off with a cloth. Some waxes respond better to being brushed on. If it's a wipe-on wax, a stockinette cloth makes a good applicator. Slightly rough wood or wood with a slightly rough finish can be waxed and smoothed by applying the wax with a chunk of fine steel wool. Wipe the excess wax off with a clean piece of stockinette and, for extra shine, buff it with stockinette too. There isn't a limit to how long a wax polish can be left before buffing, but generally speaking if you leave it for more than a day it'll take more elbow grease. 
Wax finishes
To apply liquid or paste wax, all you do is rub it on and wipe it off (check the packaging, however, as some products are designed to be brushed on). If it's a wipe-on wax, a pad or a chunk of fine steel wool makes a good applicator. Wipe the wax off with paper towels and, for extra shine, buff it with a soft, lint-free cloth. The longer you leave the wax to dry, the more shiny the finished result will be.
Oil finishes
Apply your oil thinly using a soft brush or cloth, following the grain. Let it soak in as directed on the packaging, then even out any excess with a dry cotton cloth. Leave it for as long as the manufacturer recommends before carrying out a light 'denib', which simply means removing any trapped dirt or dust from the surface before adding the next coat.  You can either leave the final coat as it is or buff it to a sheen.
Stains and dyes
You apply water-based stains and dyes with a natural or synthetic bristle brush, foam applicator or cotton cloth. Again, it's vital to check the manufacturer's instructions. Because solvent-based stains and dyes can dissolve foam you'll need a Mako brush or microfibre roller.
Ask the team
If the packaging and instructions don't tell you which applicators you can and can't use, and there's nothing on Google, you can always call our team of wood finishing experts and they'll be pleased to offer help and advice.