Down in the South East of England the snowdrops have been…and some of them have almost gone. Primroses are just about flowering in the woods and the bluebells, daffodils and crocuses are well on their way. The birds are twittering in anticipation. There's absolutely no doubt that Spring is in the air. And it's the perfect time to get your garden decking in shape for the warm weather.
Take a look outdoors. How's your decking doing? If it's all green and slimy, you'll need to get rid of the algae. If it's mossy it's time to remove the moss (which you can put on top of a plant pot full of compost and grow as a mini-moss garden if you like – waste not, want not!) If your deck just needs a good brush to get rid of dead leaves and dust you're lucky and in for a relatively easy time.
Garden Decking Maintenance Products
We sell a great choice of  wooden decking treatments for both softwood and hardwood decks. There's decking cleaner, the best way to keep your wood decking in excellent condition and suitable for use at any time of year.
Perhaps your decking is brand new, made from untreated wood. In which case a good quality decking preservative is just the ticket. The same goes if your deck has gently weathered to grey over a couple of summers and could do with a facelift.
Decking preservative is also an excellent way to combat fungi, mould and decay. And once the surface is properly protected and preserved, you're free to add a gorgeous coloured decking stain or a high quality decking oil for an all-round beautiful, durable finish.
Recommended products to maintain garden decking
Barrettine Decking Oil – A brilliant all-in-one decking oil treatment specially formulated to provide superior protection against the weather while making your deck look absolutely gorgeous. It doesn't peel. It never flakes. It doesn't split and it protects the wood against algae and mould. And because it contains special UV stabilizers it even protects the wood's natural colour for longer. First, apply Barrettine Premier Wood Preservative to colour and protect the surface.
Barrettine Premier Wood Preservative – This excellent  all-in-one spirit-based wood preserver is perfect for treating and protecting your garden decking against destructive nasties like dry rot, fungi and mould. It even protects against woodworm. And it works a treat whether you're treating rough or smooth exterior timber so it's also good for fences and sheds. You apply it with a brush or roller, easy as pie, and once it's dry it's safe for animals and plants. Add a top coat of  Barrettine Log Cabin Treatment or a good decking oil and you add belt-and-braces protection.
Ronseal Decking Oil – An amazingly durable waterproof decking treatment that protects against weathering and warping, swelling, drying and splitting. It also resists mould and algae as well as UV rays, which can make the wood go grey. The Natural version looks clear and wet when it's dry while the Cedar, Oak and Pine versions dry coloured and translucent. If your deck is untreated or shabby, giving the wood a base coat of decking preserver first delivers maximum protection.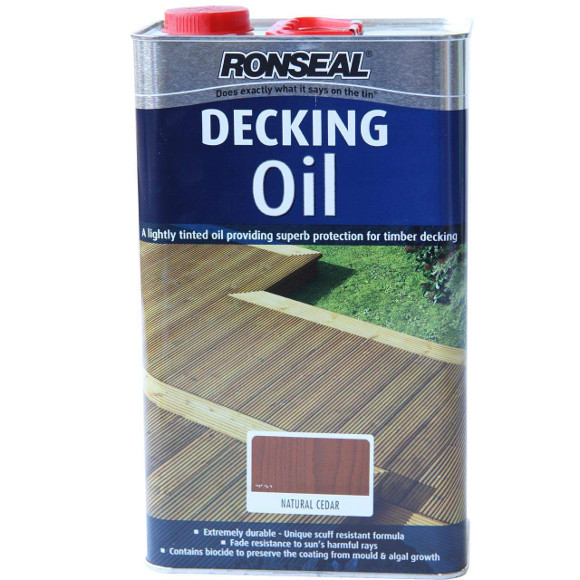 Ronseal Ultimate Protection Decking Oil – Available in six cool colours, this remarkable product penetrates extra-deep into the wood to give a long lasting finish that's as much as twice as resistant to foot traffic and weather wear as standard decking oils. It does a great job of restoring lost oils, preventing the wood from going grey and splitting. It's waterproof in an hour and a half, nice and fast, and it keeps algae and mould at bay.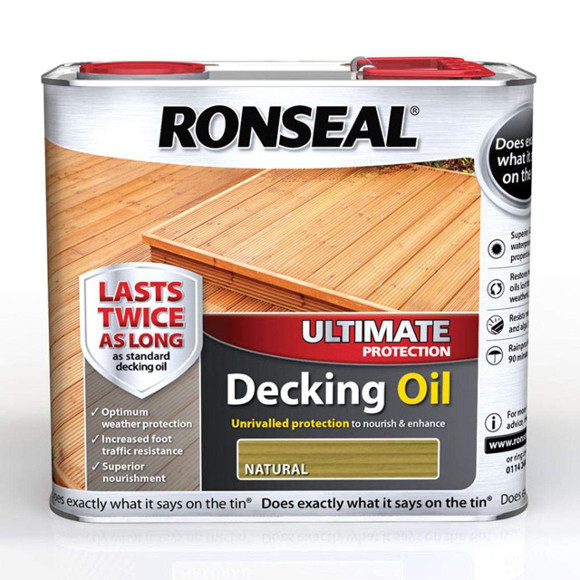 'How to' guides to using garden decking maintenance solutions
Scroll down every product page and you'll find useful information, in plain language, about how to use each product, where and when.
Better still, if you get stuck you can always contact us. Our friendly team are always on hand to offer expert advice.
More practical help – Our blog posts
We've covered decking maintenance in some detail in our blog. Here are four posts that'll help you get where you want to be:
Picture this…here's your inspiration!
Maintaining your decking isn't always the most enjoyable job in the world. It can be messy, mucky and tiring. But there's a wonderful incentive. Just imagine yourself sitting on your deck in the mild summer air with a tiny, warm breeze blowing. You're in summer clothes and the sky is blue. Butterflies flutter by and the bright, colourful flowerbeds smell gorgeous. You're surrounded by people you love and the chiminea or barbecue has just been fired up. Mmm, lovely. Keep that in your mind's eye, wrap up warm and get the job done in time for spring!