If you're lucky enough to have a real wood, period feature front door, which has perhaps fallen into a state of disrepair over the years, you have a great opportunity to make a lasting impression on visitors and, if you're planning to sell, potential home buyers. After all your front door makes a powerful first impression and you want it to be a good one. Your back door's aesthetics might not matter so much but it still needs to be solid, well cared for and fully functional, all of which means maintenance, AKA common sense wood door renovation.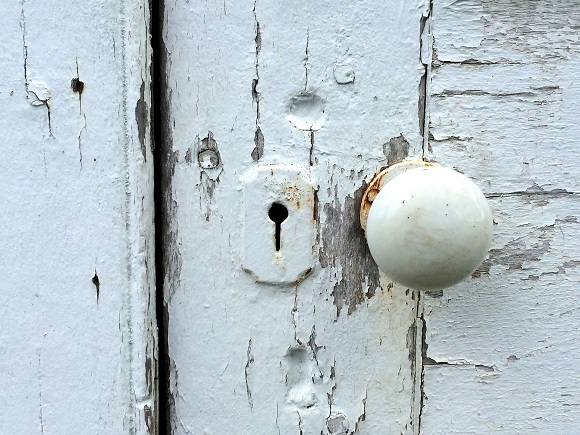 Looking at wooden front and back doors that have been used and abused over the years, with knocks, dents, scratches and shabby looking paintwork all too visible, it can be difficult to imagine yours looking anything but knackered. If you think, however, of the door at Number 10 Downing Street, or for that matter any other door with a gleaming, perfectly smooth, expensive-looking finish, just remind yourself that underneath it's just regular wood, nothing magic.
So where to start? In most cases, this is a job where it's easier, faster and more convenient to remove the door and restore it under cover, perhaps in a garage or shed, although doors can be restored in situ.
How to beautify wooden doors
Here's how to make your doors look beautiful, brand new and well cared-for. Get it right, apply the correct type of exterior wood paint and they'll last for years longer.
Step 1 – Removing door furniture
If possible, remove any fixtures or other door furniture, including the letter box and door knocker. If these are also period features, can they be polished and rejuvenated, restored professionally or replaced with new? If you're looking to transform the door into something amazing it would be a shame to put the old tarnished fixtures back onto your masterpiece.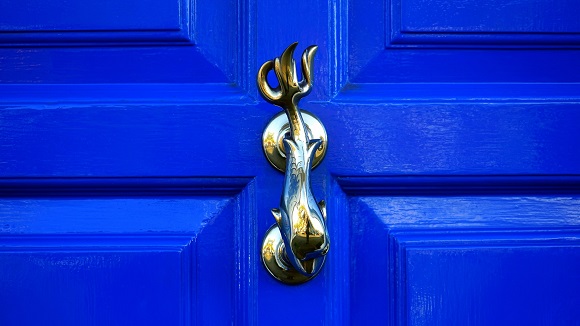 Step 2 – Removing exterior wood paint with paint stripper
Removing outdoor wood paint from doors needn't be the nightmare most people dread. Sanding away thirty, fifty or more years of paint with an orbital sander is nobody's idea of fun and could potentially create a cloud of toxic dust, especially if the wood paint dates back to the early '70s and earlier, when lead-based paints were the norm.
If sending the door to be chemically stripped just isn't an option, consider a paint remover product like  Peelaway 1 or Peelaway 7 for the job. You can even buy a test pack including both and see which works best. These are both poultice-based paint strippers that have an almost window putty-like consistency. They're spread over the paintwork, covered with a special plastic blanket, left for 24 to 48 hours then peeled off, hence the name Peel Away. The beauty of this type of external wood paint stripper is that when the blanket and putty are peeled off the surface with the special spatula, the dissolved paint comes away cleanly with the paste and blanket nicely contained. Brilliant!
Peelaway paint stripper comes into its own if the door has any decorative carvings or panelling. When applied, the paint stripper is easily pushed into all the nooks and crannies that would be virtually impossible to sand, then literally pulls the paint out of these difficult-to-reach areas.
Step 3 – Door preparation – Using wood filler
As with any DIY Project, preparation is key. Once stripped, the door should be lightly sanded with a 120 grit sandpaper to remove any remaining traces of paint and paint stripping product. This gives you a good key for the new coats of primer plus your chosen exterior paint for wood, in whatever colour you fancy. You can buy oak wood filler to match the colour of an oak door. Or you can try wood filler wax sticks, very like wax crayons, perfect for fast, simple repairs to wood when you want to retain the natural colour.
Once you've done your sanding it's time to concentrate on all those dents, dinks and holes. Use a good quality exterior wood filling product to repair all the imperfections. If there are any large, deep holes, don't try to fill them in one go. Do one layer of wood filler first and half-fill the hole, let it dry, give the surface of the wood filler a quick sand – again with a 120 grit sandpaper to give the surface a key – then fill the hole up to the surface. Once the wood filler has fully dried, sand the filled areas so that they are smooth and flush with the rest of the door. So far so good.
Step 4 – Door preservation – Making wooden doors last longer
If they're not properly treated, wooden doors can succumb to a wide range of biological threats including mould, algae, dry rot, wet rot and insect attack. Treating the door with a quality wood preservative before applying the undercoat, primer or base coat will help protect the wood from these biological threats. Be sure to follow the manufacturer's drying times when using a wood preservative. Although solvent-based preservatives are touch dry in just a few hours, the recommended drying times are usually several days. This is to allow the solvents – which could otherwise potentially affect the undercoat and paint – to fully evaporate from the wood.
Step 5 – Undercoat and painting – Choosing the right paint products
Once the door has been stripped, filled, sanded and preserved, you're ready to tackle the more rewarding part of the process. Choosing the right outdoor wood paint or special weatherproof wood paint is critical. Choose a cheap wood paint option and you could find yourself repeating the whole process again in just a couple of years, sometimes less. Remember that wood is an organic material which changes with heat and humidity, so choosing a flexible wood finish is a must. Manufacturers like Ronseal provide assurances on their Ronseal 10 year Exterior Wood Paint and others, guaranteed as long as it's used in conjunction with the recommended primer.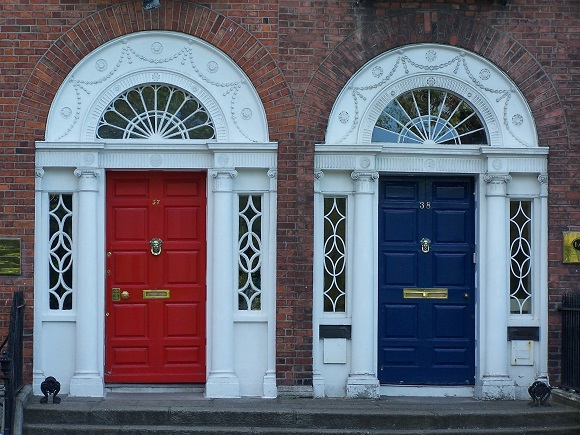 What about wood paint colours? You can get more or less any colour in existence, there's a vast choice. Once the door has been primed and painted and your door furniture has been re-fitted, its time to stand back and admire your handy work. Well done!
Need help restoring a wooden door?
If you're about to embark on a door renovation project, front or back, we would love to see your before, during and after photos. If it's a project that you've been thinking about for some time and would like some expert help and advice on which products to use, our friendly team are always on hand to help, just give us a call.
Want to know more? Check out our companion guides to door maintenance and care: