Using a  quality floor varnish is a great way of enhancing the natural character and grain of wooden floors while protecting them from the general day-to-day wear and tear of busy environments. Cleaning and maintaining varnished floors with products specifically formulated for this purpose can help to keep them in tip-top condition for many years to come.
On the other hand while extremely tough, wooden floor varnishes aren't indestructible. Luckily there's plenty you can do to maintain that beautiful finish, whether it's a clear matt, satin, gloss or perhaps even a tinted or coloured floor varnish.
Does your real wooden floor have patches of damaged varnish that are making it look tatty, rough and worn in places, or all over? Here's some advice on how to improve the appearance of these troublesome areas…
Common problems with a varnished floor
We see it all, but the most common real wood finish, varnish-related problems we hear about are localised patches of wear, where chairs with wheels, castors and hard legs have worn the varnish thin. Sometimes the wear is so heavy it takes off the varnish altogether, right down to the bare wood, particularly around desks and tables. Excessive wear near exterior doors – your front door, back door, kitchen door and patio doors – is also common.
How does it happen? Small particles of grit, dirt and other abrasive materials brought in from the outdoors by the wind, pets and people's feet slowly wear away the varnish in these high traffic areas, not unlike sandpaper. You might also find damage to wood floor varnish happens when something heavy or sharp is dropped, which chips or splits the floor finish.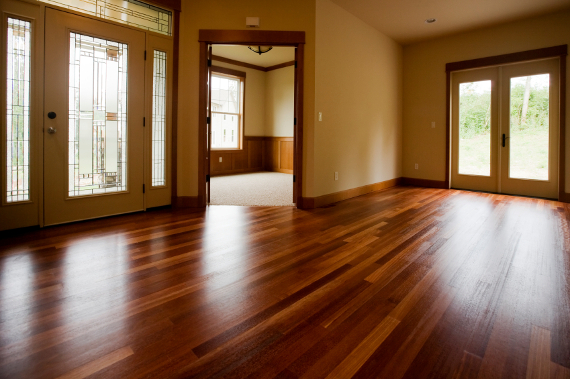 Can Wood Flooring Varnish Be Repaired?
There isn't a straightforward yes or no answer. It depends on the extent of the damage, the type of wood varnish being repaired and what you expect from the result. We thought it'd be useful to look at the issues and answer the most frequent questions our customers ask about repairing wooden floors with a varnish finish.
Real wood floor restoration Q&A
Q. What is the difference between floor varnish and floor lacquer?
A. There's no difference. They're one and the same thing. In the trade we usually call them lacquers, while the general public tend to call them varnishes.
Q. How can I tell which type of existing floor varnish I have?
A. It's difficult to tell the difference between a water-based varnish for wood floors, solvent-based varnishes or oil-based floor varnish, especially by appearance alone. When they're dry they look much the same, even to an expert. Most modern varnishes from the last 15 to 20 years are likely to be water-based. If the floor was varnished more than 20 years ago you can probably assume it's an oil-based varnish. Water-based varnishes tend to give a clearer finish while some of the older oil-based varnishes had more of a warm colour to them. Solvent-based varnishes are usually used on furniture, applied with a spray gun because they dry so fast (usually within 10 – 15 minutes) and have a very strong smell. This makes them difficult to use on large, confined areas like floors.
Q. If I do have a damaged area that I want to repair, will it blend in seamlessly with the surrounding varnish?
A. Wood floor restoration rarely delivers a completely invisible repair when you're working with varnish. The new varnish will probably have a different formula and things like age and natural colouration over time changes the appearance of the original varnish coating.
Wooden floor repairs – When the varnish is partially worn
If the varnish is only partially worn, you're in luck. It should be fairly straightforward to tackle and the repair will be less obvious than varnish that's worn right down to the bare wood.
You can take this approach for the entire floor, but always do a test patch first in a corner to make sure the new floor varnish is compatible with the old finish. Leave it for 24 hours then scrape the surface with a thumbnail to test it has stuck fast to the original finish.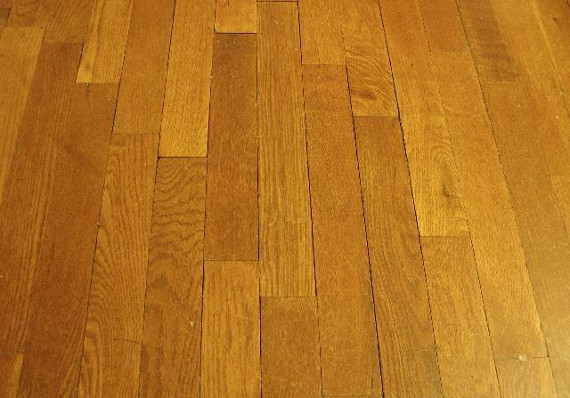 Wood floor repairs – When the varnish is worn away to the bare wood
When you need to tackle areas that have worn right through to the bare wood, the process is a little more complex. It's also worth bearing in mind the final wooden floor restoration finish probably won't blend in as well as repairing a partially worn surface.
It helps to think about the damaged area as a very shallow bowl, where the bare wooden floor is the base of the bowl and the undamaged floor surface surrounding the damaged area is the rim. The inside of the bowl is rough and ridged and the uneven raised rim makes it look like the crater of a volcano in miniature.
You need to sand the damaged area smooth so you get a gradual transition between the bare wood and the undamaged surface. As you apply each coat of varnish during the repair process, you're filling about a third of the bowl. By the third coat, the freshly applied varnish has filled the damaged area to the same level as the existing varnish finish.
Stage 1 – The first stage is to gently sand the edge of the varnish from the bare wood area of the 'bowl' you've visualised to around 150mm beyond the edge of the bare patch. Use a fine 150 grit sandpaper to get a nice smooth transition from the bare wood to the edge of the repair area. There shouldn't be any trace of a lip or edge between the damaged and undamaged areas, and you'll be able to feel when you've got it right. Run your hand over the sanded area to check you've sanded the edge completely smooth.
Stage 2 – Hoover or wipe the area carefully to remove all traces of sanding dust and debris.
Stage 3 – Apply a thin coat of varnish, ideally with a small brush, to just the bare wood area for starters, overlapping the thinnest, sanded area of original varnish by 10mm or so.
Stage 4 – Allow the varnish to dry thoroughly.
Stage 5 – Gently rub the dry finish with a fine 320 grit sandpaper to get rid of rough bits and particles (a process called de-nibbing) then vacuum or wipe the area with a clean, dry cloth to remove all traces of sanding dust.
Stage 6 – Apply a second thin coat of varnish from the centre of the repair but this time go as far as 100mm from the bare wood area, and about 50mm in from the undamaged floor surface area.
Stage 7 – Let the finish dry thoroughly then gently de-nib the freshly coated area with a fine 320 grit sandpaper, then hoover or wipe the area to remove stray sanding dust.
Stage 8 – Apply a final coat thinly over the whole repair area up to the point where the good varnish starts and overlapping the good floor surface by around 10mm.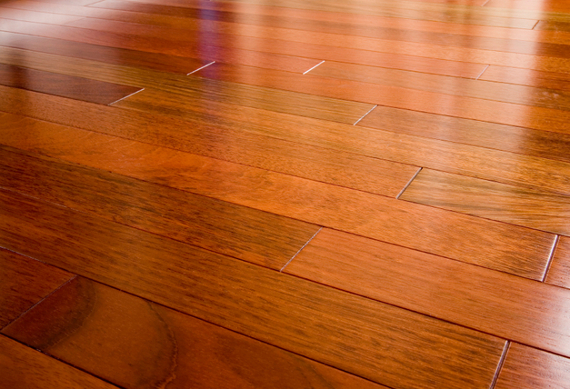 What about aiming for total wood floor repairs perfection?
Varnish repair and maintenance is part and parcel of most real wooden floor restoration projects. While you are unlikely to achieve perfection, the current trend for preserving a beautiful, interesting patina means flawlessness isn't as desirable as it was not so long ago, when we were all decorating in immaculate minimalist boutique hotel style.
Wood is natural and flawed, every piece is unique and the wear and tear you and your family create contributes to the floor's beauty and personality. Taking care to maintain a varnished floor and dealing with areas of wear and damage quickly means you'll prevent damaged areas from getting worse, extending the usability and enjoyment of wooden floors for longer, if not a lifetime.
Need help varnishing your wooden floor?
For more information about wooden floor varnish and its uses, contact our team of resident experts who are always on hand to help with project advice and product recommendations. Alternatively, see our floor finishes FAQ page which covers many of the most commonly asked questions about floor finishes.
We love to see before, during and after photos of any wood finishing project. If you would like to share your project pictures with us and our followers, you can either send us some photos or share on our Facebook, Twitter, Pinterest or Instagram pages.
Other great blogs that discuss wood varnishes