Add several coats of varnish to wood and it will enhance the natural colour of the timber, delivering a lovely, rich sheen. Varnish protects wood, providing a durable surface that helps to prevent damage and keeps it in good condition. So far, so simple. But there's a bewildering array of wood floor varnish and other products on the market. Here's our guide to varnishing wood and wood varnishing finishes, with a few handy product recommendations thrown in.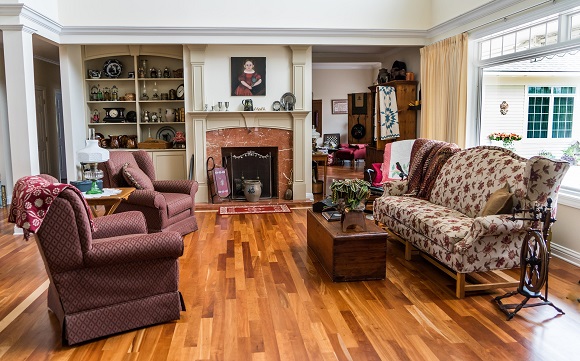 Wood varnish guide
How to varnish wood?
Whatever product you want to use, as a general rule, you will have to completely remove any existing varnish, waxes, oils, wood stains, dust, dirt, grease, uneven areas and sticky stuff before applying a wood varnish.
Your workspace needs to be dust and dirt free, otherwise it can collect on the surface of the wood and the freshly applied varnish, spoiling the sheen and smooth finish.
It's best to use a brush with natural rather than synthetic bristles for oil-based finishes, and synthetic brushes (often called 'nylon' brushes) for acrylic or water-based varnishes. But you can also use rollers or rags for both kinds of finish.
Every wood varnish product is very slightly different. All the products we sell come with detailed instructions and you should always follow them to the letter. With varnishes, short cuts invariably mean you won't get the quality finish that you were hoping for. Here are some useful generic tips:
7 tips for varnishing wood
Vacuum the area to remove dust and dirt, before starting work. A slightly damp mop also works well for removing sanding dust from the surface of the floor
Choose a day when the weather isn't too humid. Varnish will dry slower in humid or cold conditions, and there's more chance of dust and dirt settling on your project before it's fully dry, which means you'll have an imperfect finish. If working indoors, use the heating to get the room temperature somewhere between 20 and 25°C. If the room is too hot, the varnish will dry too fast and messy bubbles might form
Remove any existing varnish or finish with a suitable paint and varnish remover / stripper. Sand the wood to remove any surface imperfections, then use a damp cloth to remove any debris and let the wood dry
The first coat can be thinned if required but this isn't necessary with many of the modern water-based varnishes. Leave it to dry for 24 hours, then sand it with fine sandpaper and wipe down with a damp cloth or vacuum to remove the dust
Apply your first coat of pure varnish, working with the grain, then let it dry completely
Create a key by gently sanding the surface with very fine sandpaper
Apply as many more coats as you need, generally 2 to 3 coats is the norm, but additional coats can be applied for greater depth of finish, gently sanding in between each coat. Don't sand your last-but-one or final coat, and go with the grain for the final coat for a super-smooth finish
Choosing the right wood varnish
Varnish, polyurethane, lacquer and Shellac…they're all different and they're not supposed to be interchangeable. So what's the score? Let's look at a few different types of wood varnish.
Shellac varnish
First there's Shellac varnish, something we're asked about frequently. But what exactly is Shellac? It's actually a natural resin secreted by an insect called a lac beetle, which lives in Indian and Thai forests. The substance comes exclusively from the female insect and is scraped off the tree branches, processed into dry flakes then mixed with ethanol to create a liquid. The end product has lots of interesting functions; it is used as a food glaze and colouring as well as a wood varnish.
It's a remarkable material. As well as a durable natural primer it seals, blocks tannin and smells, stains wood and acts as a high-gloss varnish. It has excellent insulation properties, keeps moisture out and was even used to make old-school 78 rpm gramophone records.
Shellac used to be the most popular wood finish on the planet until polyurethane came along, a much more durable, heat and chemical-resistant material with a longer shelf life. These days, since it is compatible with most other finishes, Shellac is often used as a barrier or primer to prevent wood stains from blotching. It's a major ingredient in Manns Trade Shellac Sanding Sealer, which we sell on-site, ideal for blocking knots in wood, filling open grains and covering fine scratches.
Polyurethane varnish
Polyurethane is a plastic in liquid form. It comes as either a water based varnish or an oil based varnish, anything from satin varnish to high gloss and absolute matt. The Manns Extra Tough Interior Varnish that we stock is a great example of a high performance varnish which has anti-bacterial properties making it suitable for use on kitchen surfaces and utilities as well as bathroom floors and furniture. It's also safe to use on wooden children's toys.
Water-based varnishes
Water-based varnishes have come a long way over the last decade or so and are now just as good or better than the traditional spirit-based varnishes used in the past. Excellent examples of modern day water-based varnishes include Polyvine Heavy Duty Interior Wood Varnish, for interior doors and furniture and Manns Extra Tough Floor Varnish for floors and staircases. If you're looking for a strong, general purpose, water-based varnish that can be used for almost any project, Manns Extra Tough Interior Varnish is certainly worth consideration.
Low odour
Low toxicity
Goes on clear without adding colour
Dries much faster than oil-based varnishes
Doesn't stand heat and chemicals very well
Ideal for indoor wooden items that are protected from the extremes of temperature you get outdoors
Can be applied over latex or acrylic paint without adding colour
Oil-based varnishes
Slightly more durable than water-based varnish
Handles heat better
Adds a slight colour to enhance the wood
Must be used in a well-ventilated space
Takes much longer to dry and cure than water-based
Can be applied over latex or acrylic paint, adding slight colour
Spray varnish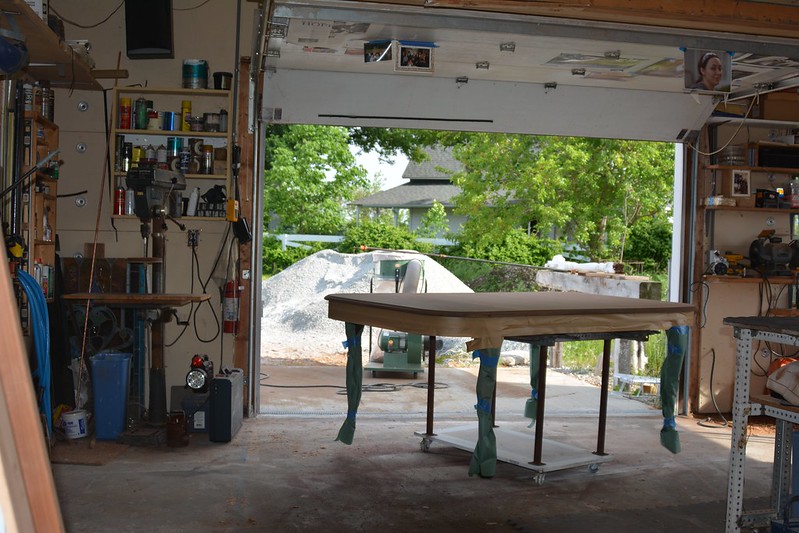 Spray varnish is wonderful if you have large areas to cover, and is ridiculously easy to apply. Take  Morrells Nitrocellulose Lacquer Sprays, which come in a broad variety of sheen levels and offers a convenient way of applying a solvent-based spray lacquer without the need for a dedicated spray system. Interestingly, it comes highly recommended by luthiers, who say it's perfect for varnishing guitars.
Floor varnish
Although floor varnish is generally thought of as a clear product, there are in fact a wide range of pigmented versions such as Ronseal Diamond Hard Coloured Floor Varnish, which comes in six attractive natural wood shades, to produce a remarkably hard-wearing, satin sheen finish.
Lacquer
Believe it or not, lacquers are the same as varnishes. The trade often use the term 'lacquer', while the general public tend to use the term 'varnish'.
Acrylic varnish
Acrylic varnishes are usually water-based. They offer very high transparency levels and don't go yellow. They are easier to clean up and don't give off fumes, but don't tend to penetrate the wood as well as oil-based products. They feature good UV-resistance and dust resistance, and are often used by artists to seal and protect paintings, sometimes with special ultraviolet light resistors to protect the paint against light.
Marine varnish
You've guessed it… marine varnish is simply a super-durable product formulated especially to withstand being submerged in salt or fresh water. It's brilliant for boats, and US marine fitters Defender have created a handy guide to varnishing boats.

Need help choosing the right wood varnish for the job?
No problem. Just give us a call for free expert advice you can trust. Alternatively, see our wood varnish FAQ page which covers many of the most commonly asked questions about wood varinishes.
We love to see before, during and after photos of any wood finishing project. If you would like to share your decking project pictures with us, you can either send us some photos or share on our Facebook, Twitter, Pinterest or Instagram pages.
Other great blogs that discuss about wood varnishes
A guest post by Kate Goldstone