Here at Wood Finishes Direct we're often asked, " decking oil or stain, which is best?" This can sometimes be a tricky question to answer. Why? Because decking stains and oils can sometimes be the same thing and sometimes very different. Confused? Let's explore this further.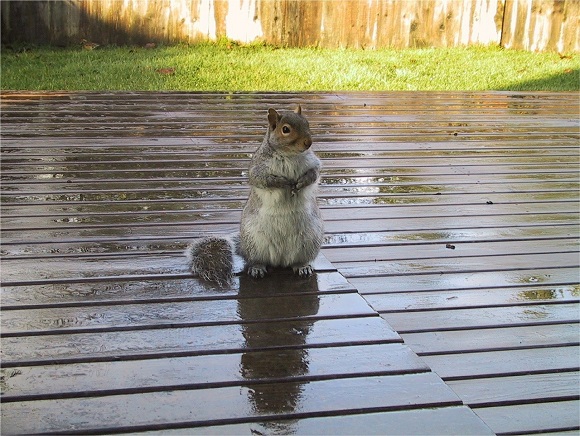 What are these differences, we hear you ask…?
Although both decking stains and oils come in a wide range of natural wood tones and colours, only decking oils offer 'clear' or 'natural' versions. Clear decking oil products do however tend to enhance the natural colour and character of decking boards meaning that some colour change is still likely. If it's a clear finish you're looking for it's decking oil all the way.
So what's the confusion with decking stains?
A wood stain or decking stain can be defined as any product that uses a colour pigment to change the natural colour and appearance of the wood. As far as decking products go, this can mean a coloured decking oil or one of the alternative coating type products that leave a plastic or varnish like film over the surface of the wood. To better explain the differences between these products and to help you make an informed choice, read on to find out the pros and cons of each.
Decking Oil
Decking Oils are widely available in both clear (natural) and coloured formulations. Designed to penetrate in to the surface grain of the timber, decking oils protect wooden decking from within. The high concentrations of oil and wax make decking boards highly resistant to water and dirt ingress whilst providing a highly durable and easily maintained finish.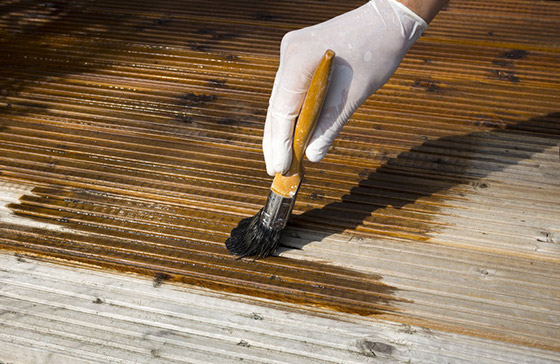 10 Benefits of Decking Oils
Excellent coverage usually in the range of 8 to 12 square meters per Ltr. Some decking oils can cover up to 24 square meters per Ltr
Rainproof and ready to use for light foot traffic in around 4 to 8 hours depending on the decking oil brand and product used
Many contain UV filters to slow down the effects of UV damage to the timber. As a guide, darker coloured decking oils provide better UV protection than lighter coloured or clear decking oils
They help to replenish the natural oils of the timber to keep the wood nourished and supple
Oils work from within to help prevent cracking, splitting and warping of the decking boards
Decking oils are easy to apply, clean and maintain. No need to strip back to bare wood before applying a replenishing or maintenance top coat
It's easy to carry out localised patch repairs to worn areas in high traffic environments
Decking oils will not crack, peel, flake or blister from the surface of the wood
They help to protect decked areas from mould and algae when well maintained
Decking oils tend to be less slippery than stains as they don't cover the wood with a plastic-like film, meaning that the naturally uneven texture of the timber provides better grip potential
Potential Decking Oil Issues
Not all decking oils may be suitable for exotic hardwood decking such as Iroko, Balau, Massaranduba, Teak and Cumaru because of their oily character and dense grain. Highly refined or extra thin decking oils may be required
Cannot be over-coated with a decking stain or decking paint unless the decking has been completely and thoroughly stripped or allowed to weather for several years
The final colour of the oil can be influenced by the colour of the decking timber. This means that the final finish of the decking may not match the colour shown on the tin
It is worth mentioning that water-based decking oils and solvent-based decking oils are not compatible and cannot be used over each other. Always read the labelling on the tin before starting any project. Another way to check which is which is to read the brush cleaning instructions on the tin. If it says to use water to clean brushes, it's water-based. If it says to use white spirit, it's solvent-based.
Decking Stains
Decking stains tend to be varnish like products that coat the surface of the deck. Often available in a wide range of attractive wood shades, decking stains effectively seal the timber from the elements. It's worth remembering that coloured decking oils are also often labelled as a 'decking stain'.
For an in-depth guide on how to stain decking, check out our other article How To Stain Decking For A Flawless Finish.
7 Decking Stain Benefits
Surface coating decking stains seal the deck with a plastic-like film or layer. This seals the surface with a highly durable layer that protects decking timbers from weathering and foot traffic
The colour pigments in decking stains help to reduce the amount of UV exposure the wood receives, therefore helping to protect the timber from the greying effects of the suns UV rays
Decking stains work well and looks great on decking accessories such as hand rails and spindles
Stains provide good coverage and depth of colour
Many decking stains are quick drying and are shower proof and ready to walk on in just a couple of hours
Decking stains make it difficult for mould and algae to form on the surface of the deck
Potential Decking Stain Issues
Can reduce the visibility of the wood grain due to the pigmented film between the timber and the surface
Can potentially start to crack, peel and flake if the seal is compromised and moisture gets under the stain
Must be fully removed if re-coating with a different stain or if the decking stain has started to break down and degrade
Can be difficult to strip from grooved decking if applying a different decking treatment
Cannot easily be applied to a decking that has been previously oiled. Any oil that remains in the decking may repel or prevent adhesion of the decking stain
Can be problematic on new, naturally oily, dark exotic hardwood decking such as Iroko, Balau, Massaranduba, Teak and Cumaru. These timbers should be allowed to weather naturally for around 3 to 6 months to allow the surface grain to open and for some of the natural oils to dissipate
Please Note: Not all decking stains are compatible with each other. Always check with the manufacturer before applying any decking treatment over another.
Recommended Decking Oil and Stain Products
Unsure of which decking oil or decking stain to use? Here are some of our top recommendations. All of these products deliver great results and will ensure that decked areas will stay protected and looking great for longer.
3 of the Best Selling Decking Oils
Manns Premier UV Decking Oil: A multi-purpose exterior oil treatment. Excellent water-beading properties and weather protection. Reduces the risk of timber cracking, splitting and warping. Suitable for both softwood and hardwood decking, sheds, fences & pergolas. Unique UV formula keeps wood looking good for longer and resists the greying effects of the sun. Can be used on all pre-treated, pressure treated and preservative impregnated timber.
Sadolin Decking Oil: Is a high quality, solvent-based, clear decking oil for all softwood and hardwood decking. It Nourishes and enhances the natural beauty of decking boards and protects from UV damage with UV filters. It is resistant to mould and algal growth and offers excellent weather protection and water resistance.
Osmo Decking Oil: Osmo Decking Oil protects, maintains and beautifies the wood surface, producing a smooth satin finish which is extremely resistant to water and dirt. The microporous finishes are based on natural vegetable oils and allow the wood to breathe and helps regulate the moisture content, reducing swelling and shrinkage. The finish will not crack, flake, peel or blister. This product offers excellent coverage and is especially suitable for dense, exotic hardwood decking.
3 of the Best Selling Decking Stains
Ronseal Ultimate Protection Decking Stain: Uses advanced technology to penetrate deeper into the wood for increased adhesion and hardness, to provide up to double the foot traffic protection and weather resistance versus the standard Ronseal Decking Stain formulation (based on Ronseal's weathering data).
Ronseal Decking Stain: A pigmented / coloured deck stain. Suitable for a wide range of soft and hardwood decking. Hard-wearing and weather resistant. Available in a range of attractive natural colours. Quick and easy to apply. Suitable for high foot traffic areas. Dries to a semi-translucent, matt finish. Contains UV filters to reduce greying.
Sadolin Decking Stain and Protector: A water-based 2-in 1 decking stain and protector that provides a tough and durable finish to wooden decking. Advanced formula is highly resistant to dirt and weathering and is resistant to mould and algae. Dries to an attractive translucent satin finish.
Top Tips for applying decking oils and stains
Always, stir the contents of the tin thoroughly, at least for a couple of minutes before applying. This ensures that colour pigments and other important ingredients of the product are well distributed and not concentrated at the bottom of the tin.
Always do a test patch and allow the decking oil or stain to fully dry before starting any project. This provides an opportunity for you to see how the product will look when dry. Does it meet your expectations?
Only apply in double figure temperatures and when the weather is set to be dry for at least the minimum drying time displayed on the tin. Single figure temperatures, damp or wet conditions could adversely affect the application and final finish of the product
Look out for special and end of season offers. Decking oils and decking stains can be had at a discount towards the end of the summer season, meaning that you can stock up for the next year and make a saving in the process
Need help with your decking finish?
Unsure about which decking product to use on your garden decking?
For more information about decking oils and decking stains, contact our team of resident experts who are always on hand to help with project advice and product recommendations. Alternatively, check out our Decking Treatment FAQ's Page that answers many of the commonly asked decking related questions.
We love to see before, during and after photos of any wood finishing project. If you would like to share your decking project pictures with us, you can either send us some photos or share on our Facebook, Twitter, Pinterest or Instagram pages.
Other great decking related blog posts
Here are some of our other top 'decking' related blog posts that cover all aspects of cleaning, maintenance and some of the more common issues with decking finishes.