Common garden decking questions answered
If your wooden decking is slippery, blackened, faded, dirty, warped or marred by unsightly gaps, all is not lost. Read on for expert advice about getting timber decking back into tip-top condition for a long, hot, lazy summer of alfresco fun.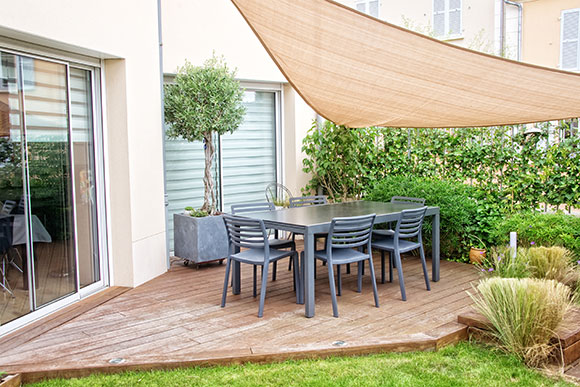 Slippery decking timber – How to make things safer
Our blog post about stopping slippery decking is one of the most popular 'how to' resources on our site. No surprise there when the great British weather delivers such a mish-mash of different conditions peppered with what seems like at least one record-breaking extreme weather event every year.
Here's a link to How to Make Decking Non Slip. It tells you how and why decking gets slippery, and provides information about how to achieve non slip decking that's both safe and good to look at.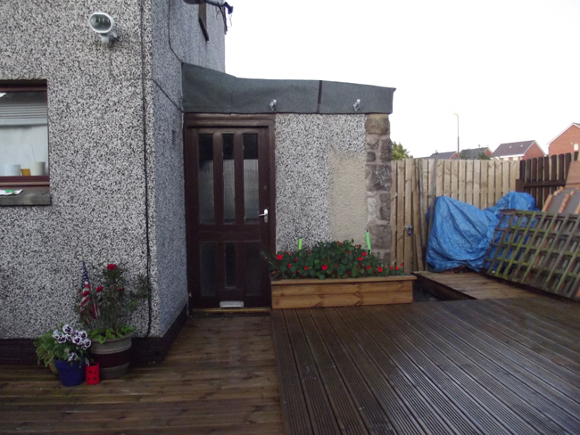 We also make product recommendations which are all backed-up by customers reviews from people who have purchased and used these products. Top of the list for anti-slip decking finishes are our range of anti-slip or slip resistant decking oils, closely followed by anti slip decking stains and coatings. Here are just a few of the top anti-slip decking treatments currently available…
Top 3 anti-slip decking treatments
Blackened decking – How to make your decking beautiful again
Whether you've gone for cheap decking or something sturdier and longer-lasting, blackening is a risk, especially after a long, wet winter. When fungus meets wet wood, the tannin in the timber reacts and forms a horrible black stain. It's a sign you're heading for rotten decking, something you really need to stop in its tracks before it damages the timber beyond repair.
We've talked about how to fix blackened timber decking in our blog post Wooden Decking Stains, Treatments & Oils: Part 2 – Problems & Cures. We also talk about dealing with wood rot in our post about How to Clean Decking, packed with practical advice about keeping your garden deck looking absolutely fabulous.
Both posts include sensible recommendations about fighting wood rot and getting rid of the black stuff, namely using Barrettine Mould and Mildew Cleaner, a brilliant industrial-strength fungicidal wash designed to kill fungi, mould, mildew and algae. It also removes the famously nasty black slime and it's perfect for use on exterior wooden doors, windows, garden sheds and fences as well as garden decks. Low odour and versatile, you can simply overcoat it with both wood preservation products and wood oils once fully dry.
Faded decking – Bring back that glorious natural colour and glow
A lot of people love the silvery sheen wood gets when it's faded and worn. But the colour change actually signals UV and water damage to the surface of the timber and although it's OK to leave it to fade, your decking will last longer if you treat the UV damage to help bring back the wood's glorious natural colour and sheen. We talk about how to do this in the aforementioned blog posts.
Which products do we recommend for treating faded, silvery garden decking boards? There are now a range of decking restorers specially designed to restore your decking's lovely natural look and colour. They do this with a compound called Oxalic acid that reverses the chemical damage done to the wood by sun and water.
The use and application can vary from product to product so always read and follow the manufacturers instructions on the tin. In essense you apply the product with a stiff brush or scotch bad scrubbing it into the surface of the wood, exercise patience for around twenty minutes then remove it with a hard-bristled brush and water. If the silvering is severe it'll take some extra elbow grease and perhaps multiple applications. But it's well worth the effort as the wood's natural colour will come back through within 48 hours, just like magic. We recommend that once the colour has returned a clear wood preserver then a good exterior wood oil or decking oil is used to help protect the wood against further weather damage.
Top 3 decking restorers
Dirty decking – Get rid of the muck!
Our popular blog post about How to Clean Decking also delivers all the answers you need if your wooden garden deck is grubby and tired-looking. Luckily if all it's suffering from is everyday dirt and muck, the solution is simple.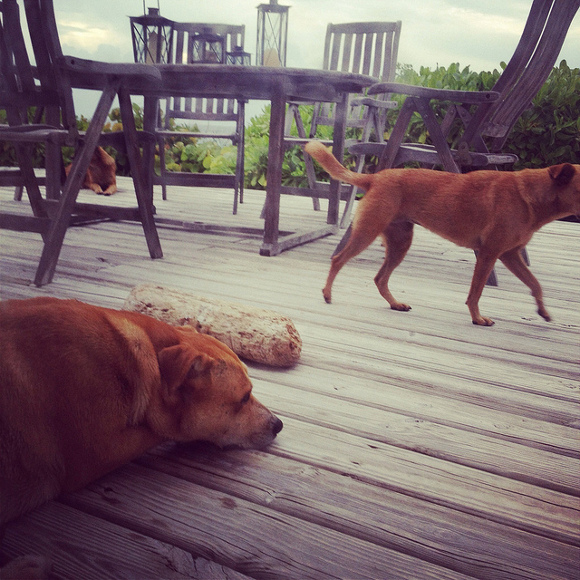 We recommend Barrettine Complete Decking and Patio Cleaner, a magical product that strips off dirt and grime like nobody's business. It also helps control nasties like mould, algae and fungi and works on a host of different exterior surfaces, including concrete, stone and tiles. It's easy to use, a nice quick job, and you can apply a good quality decking oil over the top, no problem at all. Ronseal Decking Oil is another firm favourite of ours – and our customers also love it.
Warped decking – How to fix bowed garden decks
If you've left your decking maintenance for too long you might find the boards have warped, something that happens when the deck hasn't been adequately weather treated. It can also occur when the weather has been particularly bad. Whatever the reason, when your decking boards begin to warp and bow, you need to take action.
Here's a video about straightening bent bowed deck boards…
And here's some advice from Homeguides:
What if straightening the boards just isn't going to fix the issue? You might have to replace the warped boards altogether, in which case here's a link to some sensible advice about how to replace warped decking.
Gaps in decking – How to fill them?
If your deck's full of nail holes or gaps where areas of rot have taken hold, how do you fill them? After all, wood flexes so you can't use something that doesn't flex with the substrate.
Luckily a good wood filling product, which acts like an epoxy filler, should do the trick. The instructions vary by manufacturer, but the basics are the same. Just bear in mind wood filler isn't suitable for repairing gaps and holes so large they actually qualify as structural damage.
Here's a video to help you repair gaps in decking…
More decking ideas – What if you want to add colour?
With 12 stunning shades to choose from, including slate, whitewash and stone grey, Ronseal Ultimate Protection Decking Stain delivers rich, long lasting colour with excellent weather resistance, making it ideal for decked areas.
The product offers unrivalled durability with really good UV protection and it's dry and rainproof in just an hour and a half. Better still it's slip resistant, ideal for all kinds of decking designs whether it's the smooth stuff or the version with a ridged profile, both softwood and hardwood decking.
Need our help with your decking project?
For more information about decking treatments and their uses, contact our team of resident experts who are always on hand to help with project advice and product recommendations. Alternatively, see our decking treatments FAQ page which covers many of the most commonly asked questions about decking treatments.
We love to see before, during and after photos of any wood finishing project. If you would like to share your decking project pictures with us, you can either send us some photos or share on our Facebook, Twitter, Pinterest or Instagram pages.
Other great decking related blogs