Only a few stray eccentrics still believe climate change isn't happening, or that it isn't human-driven. The rest of us acknowledge the planet's climate is warming and a good few of us are already taking special measures as the weather gets less predictable, more extreme and – here at home – more prone to flooding.
In Britain the main effect will probably be wetter, warmer, windier winters and drier, hotter summers, but the jury's still out. The problem is there are so many different factors involved in predicting future weather patterns, especially since the British weather is already – and has always been – all over the place owing to our unique position on the globe.
Whatever happens it makes sense to be aware of the affect things like rain and water damage, flood damage and storm damage can do to your home and find out if there's a way to prevent or reduce the impact.
We thought it'd be interesting to take a look at some basic tips for weather proofing your home and reducing water damage of various kinds. And, because we're wood finishing specialists, we have a very special product to introduce to you, designed to help you protect wood from water damage and much more.
Protecting your home from weather damage
Water damage repair and waterproofing are a challenge, and it's one many of us are likely to get familiar with over the coming years. Here are seven key tips to help you protect your home against the worst effects of water damage and flood damage.
7 tips to avoid the worst storm damage
Check and repair the roof. The UK Environment Agency says the most important measure to take to prevent damage by water is good maintenance, since even minor roof defects can result in major damage. Wind damage also means water can get in. The unseen damage caused by roof leaks is often worse than it appears from the outside, so get a reputable roofing contractor in to inspect it, make repairs and recommend any extra waterproofing measures you might be able to take.
Trim and stake trees and big bushes. Bare winter branches are one thing, but when they're in full leaf, trees and bushes provide a much denser, sail-like wind barrier at extra risk of being blown down. Lop the tops off any trees close to your house and stake any that are loose or wobbly, firmly using guy ropes and tent pegs for belt-and-braces safety in particularly nasty weather. The last thing you want is for something to blow down and trash your garden shed or make a massive hole in your roof.
Check your shed. If the shed roof felting is loose, damp or on its last legs, high winds can tear it right off, leaving it open to leaks. Replace it or stick everything back down firmly and waterproof the body of the shed with a specialist wood waterproofing product – more about that later.
Clear gutters and downpipes. Keep your gutters free of leaves and muck, repairing any leaks. When they drain properly and are firmly fixed to the building, they're less likely to be blown off and less likely to lead to damage.
Get your sewerage pipes and drains sorted. A sewerage back-up is the last thing you need, adding fortunes to the clean-up cost and even making your home uninhabitable. Maintenance is really important, especially if you live in an older house with Victorian drains. You might even like to fit a Sewer Backflow Valve. You can protect your interior wood all you like but if your home's three feet deep in filthy water, the best wood preservation products in the known universe won't save it.
Maintain wooden window frames and doors. Rotten warped wood lets the water in. Maintain your wooden windowsills, door frames and exterior doors on a regular basis to keep them in good condition, which will keep water at bay.
Mould removal (AKA mold removal). Any kind of mould on interior or exterior wood is a clear indication that the wood isn't exactly in the best condition. We sell a choice of proven wood cleaners for removing mould and mildew, so get busy before the heavens open and the downpours start.
Water damage prevention advice from the Environment Agency
Damage from wet comes in all sorts of guises, from an annoying leak to a fully-fledged disaster. What happens if the weather goes totally pear-shaped and you're faced with a full-on flood? The Environment Agency provides sensible advice for residential property owners to minimise the risk and repercussions of water damage, flooding in particular.
Advising householders and businesses about flood threats and how to minimise their losses, a handy tool on the Agency's website tells you how likely flooding is in your postcode area, and their Floodline gives plenty of advice about what to do before, during and after a flood.
Floodline's special Factsheets are full of handy guidance, things like preparing a flood plan, collecting together a flood kit, what to do when there's a flood warning and how to cope with the aftermath. And they recommend you keep a weather eye (pun intended) on the forecast if things start to look iffy.
Like us, they're keen on prevention. As their website says: "While in many cases damage is difficult to prevent there is no doubt that the overall losses are increased as the result of inadequate building design, defects in workmanship or poor maintenance." We'd like to think they approve of our expert recommendations for maintaining wood…
Barrettine Water Seal – Weatherproofing wood
And now for the exterior wood protection bit. You want to protect exterior wood from water damage? No problem. We're pleased to present the excellent Barrettine Water Seal, the ideal way to seal and protect outdoor wood – and a great deal more – from the ravages of the wet stuff.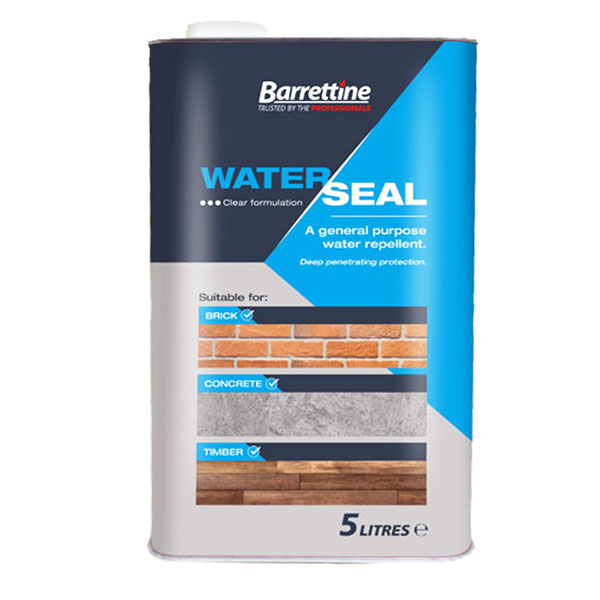 This product is absolutely brilliant. The deep penetrating formula provides a tough, invisible seal. It forms a clever breathable membrane which lets moisture vapour inside the wood evaporate away at the same time as stopping damp from getting in. It doesn't degrade in the sun and it's long-lasting even when the conditions are consistently soggy. Here's some key points:
Recommended for most porous building materials, including brick, concrete, stone, slate, stucco and wood
Also waterproofs natural materials like cotton, canvas and leather
Easy to apply with a brush, roller or low pressure spray – or simply pour it on horizontal surfaces
Clear and colourless
Touch dry in 2 hours, fully dry within 24 – 48 hours
You can easily re-apply the product when it wears off, even in patches
It lasts 2 – 10 years depending on the conditions
A few caveats:
Barrettine Water Seal 5L can't be used with any other products underneath, although you can paint over it. It isn't suitable for the horizontal surfaces people walk on, like garden decking, steps or paths, since it's silicon-rich and slippy. It's not suitable for plywood, nor is it suitable for sealing roofs.
This fabulous product is easy to use but there are a few important instructions to follow. We've provided full details about this product, including where and how to use it on our Barrettine Water Seal product page.
Here to help with all your wood maintenance questions
As usual, if you're unsure you can always contact us. We don't just sell wood finishing products, we know all about them too, and our friendly team is always pleased to help.