Here at Wood Finishes Direct, we always get excited when a new product range is selected to adorn our shelves. And, we're doubly proud to have been selected as the exclusive UK supplier of holzöl wood oils.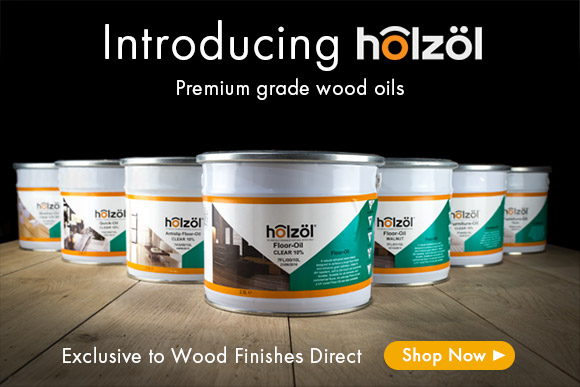 So what makes holzöl wood oils & stains so special? In essence, it's a combination of factors that come together, including ease of use, premium quality eco friendly ingredients and the professional grade finish, all of which comes at a highly competitive price.
Trade Quality Finish – A trade quality product that doesn't require any special trade skills to apply. In fact, holzöl wood stains and oils are very forgiving and easy to apply, even for a DIY novice. The advanced hybrid blend of oils, micronised waxes and resins penetrate into the timber to protect and enhance a wide range of interior and exterior wooden surfaces, including wooden doors, floors, furniture, decking and more for a professional grade finish.
Low impact – With the growing demand for timber and other materials from renewable sources, highly efficient natural coatings that protect and compliment wooden furniture, floors and joinery are becoming increasingly popular. For centuries wood has been oiled to protect and preserve both the structure and appearance of wood. holzöl wood oils provide the perfect mix of sustainability with advanced wood care properties.
Eco friendly performance – The holzöl advanced range of oils blends plant based ingredients with hybrid natural resins to achieve truly outstanding performance. holzöl wood oils feed and nourish the internal structure of timber thereby providing an unsurpassed level of protection. And because it seeps deep into the pores of the wood, it always gives a pleasing 'just-below-the-surface' silky-smooth finish.
Technically advanced formula – The holzöl range of advanced natural wood oils have been specially formulated for Improved touch and hard-dry times. Their impressive durability provides excellent resistance to abrasion, wet-heat, chemical attack and impact.
The real beauty of holzöl wood oils however is their universal appeal…'anyone can use them, everyone gets a great finish!' holzöl is so easy-to-use.
With the introduction of 10 new holzöl wood oils, we have everything you'll need to renovate, rejuvenate and restore all manner of interior and exterior wood.

Need Help?
Not sure what you need or how to tackle a particular wood finishing project? Contact our friendly team of resident experts, who are always on hand to help you with any questions or requirements you may have.