get 3 ltrs of Osmo Polyx Oil 3032Everyone loves a bargain, especially at this time of year when finances are being stretched because of the Christmas period. That's why it's great when a special deal comes up on one of our best selling products…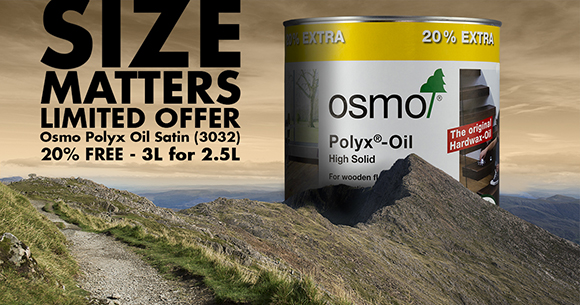 Following the success of last year's promo, Osmo have re-launched their highly successful 3 litre tin offer, where you get 3 ltrs of Osmo Polyx Oil 3032, for the same price as the standard 2.5 litre tin. A 3L tin could do 12 interior doors, two rooms of wooden furniture or over 36m2 of flooring.
This hugely versatile product is great for a whole range of interior wood care and renovation projects, including floors, doors, skirting boards, furniture and more. Its blend of natural oils and waxes enhance the natural grain and colour of the timber while protecting the wood against liquid spillages and the day to day wear and tear of a busy household. Here are just some of the Osmo Polyx Oil reviews received in the last month…
"I never use anything else now. Finished two kitchens, a bedroom, a whole house and furniture with it. Dead easy to get a perfect finish. Two coats is all you need. Putting it on with a cloth I've found gives the best results."
"Beautiful finish on my old oak table."
"This is a high quality product that is easy to apply, responds to very light sanding between coats and which dries to an excellent and durable finish. Sanded an oak topped kitchen table back to bare wood, applied a number of thin coats and have ended up with an "as new" table which has an enhanced grain and looks great."
"A 750 ml tin goes a long long way if applied as per instructions. Good coverage. Slapping it on is a waste of time and money. Used to re-oil part of my kitchen wooden worktops around the sink and drainer area, it shows excellent water repellent capability."
"Lovely satin finish. Used on a new oak banister to protect the wood and enhance the finish."
So whether you're looking to do a little pre-Christmas renovation before friends and family arrive, or perhaps already thinking about those post New Year projects, now is the time to stock up while this time limited offer is available and stocks last. Once its gone its gone.
Read more about the Osmo 25th anniversary promo from 2015 here.
Need help with your wood finishing projects?
Still unsure about which wood finishing products you need for your DIY projects? Call our friendly team of resident experts. They're always on hand to provide free advice and guidance on the right products for your project.