In 2015, Osmo celebrated 25 years in the UK by releasing a special anniversary edition, 3 litre tin of Osmo Polyx Oil 3032, Clear Satin, for the same price as the standard 2.5 litre size. As you can imagine, these flew off our shelves like Christmas Cake at an Elf convention. Because of the amazing response to last year's offer, Osmo are doing it again. For a limited time, and while stocks last, you can once again bag 3 litres for the price of 2.5. That's 20% extra, enough to do up to 12 square meters for free.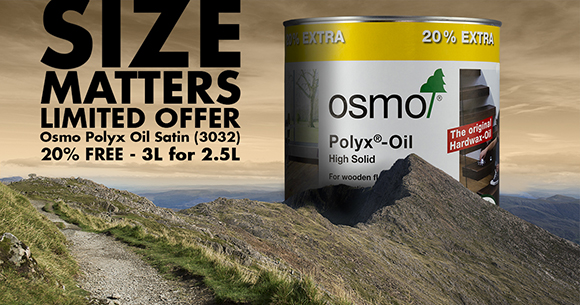 Osmo is a brand that we here at Wood Finishes Direct have been dealing with for many years and for good reason, it's simply one of the best producers of wood finishing products in the world! Now you don't get a reputation like this from thin air so why are Osmo oils held with such high regard? It's a question that can't be simply answered as different customers praise different aspects of the Osmo brand and its products. Here are just some of the many thousands of customer reviews we've received over the years.
"Love this product,it gave just the effect i was looking for."
"Good quality and the smallest amount goes a long way."
"First rate stuff – wouldn't buy anything else."
"Easy to use and a very tough finish."
"Excellent product. Easy to apply and performs extremely well."
Osmo pride themselves in not only producing outstanding wood finishing products for both interior and exterior projects, but they do so with legendary German efficiency and without ever losing site of their ecological ethos of producing exceptional products that are as user and environmentally friendly as possible.
Celebrating 25 Years of Osmo UK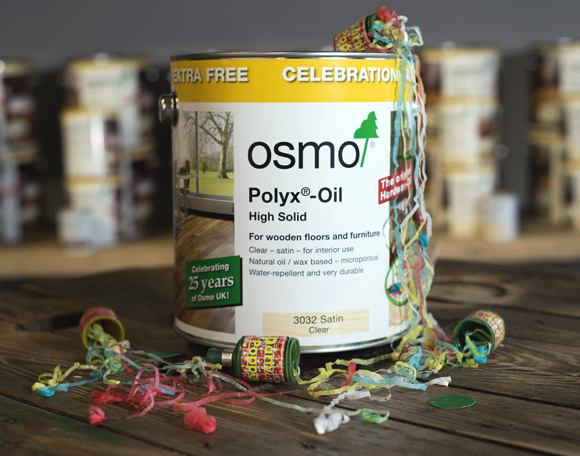 For 25 years now, Osmo have been protecting everything from wooden floors to interior doors, garden benches to garden fences. And to celebrate, Osmo have released a celebration tin of Osmo Polyx Oil 3032 with an additional 20% free, that's three litres for the price of two and a half. Now this may not sound like much to those not familiar with the product, but in terms of coverage, that's equivalent to an additional 12 square meters, or put another way the floor of a small room or a couple of interior doors based on 2 coats.
Why Use Osmo Hard Wax Oil
One of the questions we get asked on a regular basis is what does Polyx Oil or as it's also known 'hard wax oil', offer that varnishes don't. The main appeal with Osmo wood oils, other than their user and environmental credentials are that they are incredibly easy to apply and maintain. Although perhaps not quite as durable as a good quality varnish, a key benefit is that unlike a varnish, when the finish starts to show signs of wear and tear, it doesn't have to be sanded back to bare wood again. It's simply a case of ensuring that the wooden surface is clean, free from surface dirt and debris then re-applying a thin maintenance coat – Hey Presto! As good as new.
How Long Does an Oiled Finish Last?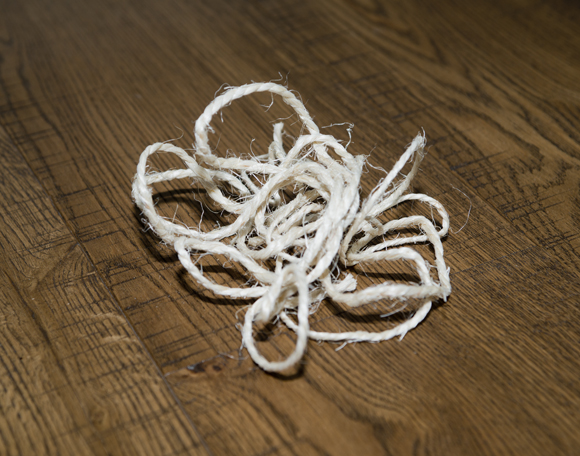 Knowing how long an oiled surface will last before requiring maintenance is a little like the age old question of how long is a piece of string? It all depends on the wear and tear that the surface is subjected to. For external wood oils, this is largely down to how much wind, rain and sun the wood gets. As an example, An oiled wooden surface on an exposed coastal location will require more maintenance than a sheltered town or city one. An oiled wooden floor in a restaurant will require more maintenance than a domestic property. In general, the vast majority of a floor will be fine for many years with just the high traffic areas that take the brunt of wear and tear perhaps needing a little attention more often. But, as a very rough general guide, most surfaces treated with an Osmo Oil will be good for at least a couple of years. Low contact areas such as interior wooden doors, skirting boards, wooden bookshelves etc will require much less care, potentially lasting many, many years before requiring a spruce up.
How Do Osmo Wood Oils Work?
Osmo wood oils are formulated from a blend of natural waxes and oils that penetrate and harden in the surface of the wood once dry. The natural oils help to prevent the timber from drying out which in turn helps to prevent cracking and warping of the wood. And because the oil sits in the surface of the wood rather than producing a plastic like film on top of the wood like a paint or varnish, there is nothing to crack, peel or flake off.
A key feature of Osmo oils is that they protect the surface of the timber from within by providing a highly durable, scratch and liquid resistant finish. making them perfect for a wide range of interior and exterior wood care projects. In terms of the Polyx Oil range, it's classified as child and food safe so can be used to protect and seal hand crafted wooden children's toys, kitchen worktops, tabletops, chopping boards, wooden kitchen utensils, serving bowls and a whole host of wooden food preparation and storage surfaces.
Applying and Maintaining Osmo Polyx Oil
When applying Osmo Polyx Oil, you'll be surprised at how far it goes. The standard 2.5 ltr tin covers an area of around 60 square meters based on one coat, that's around 34 square meters based on 2 coats, this is because less is absorbed by the wood on the second coat. With the Osmo 25th anniversary promotional 3 litre tins of 3032 clear satin, that jumps to around 72 square meters based on 1 coat and around 40 square meters based on 2 coats.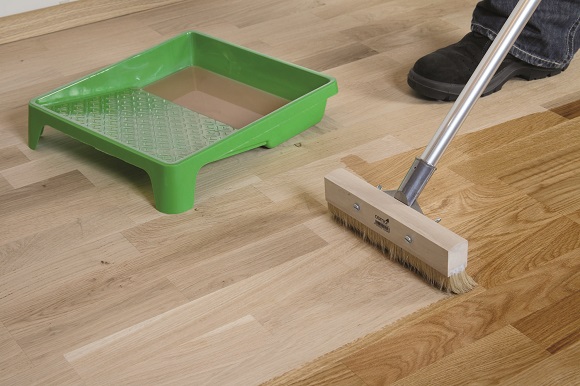 Applying Osmo Polyx Oil Correctly
The correct way to apply Osmo Polyx Oil is to simply follow the very straight forward instructions on the tin. Here are our top tips on how to achieve a professional looking wood finish every time.
Wooden floors and other wooden surfaces must be bare wood, it simply won't work on surfaces that have been painted, varnished or waxed as the oil cannot penetrate in to the surface of the wood.
Wooden floors and other surfaces shouldn't be sanded too finely. Maximum sanding grit should be 120 to 150. Anything finer will close the surface pours of the wood, preventing the oil from penetrating into the fibres of the timber.
Once sanded, wooden surfaces should be cleaned to remove all traces of sanding dust, dirt and grit. wooden floors should be vacuumed thoroughly so that surface dust and dirt doesn't contaminate the oil finish.
Always do a test area to make sure that you're happy with the finish the oil produces. Applying a clear wood oil will always enhance the natural grain and colour of the timber. Many types of Pine for example can look fairly pale and colourless when freshly sanded but when wood oil is added, it can draw out the natural golden warmth of the pine.
It's essential that Osmo oils are applied thinly to achieve the optimum coverage and the best possible finish. Osmo wood oils can be applied with a paint brush, lint free cloth, rag, microfibre cloth, paint pad or other floor finish applicator. The key is to spread the wood oil out as far as it will go, not overload brushes and applicators with oil and to wipe up any excess oil from the surface immediately with a clean lint free cloth.
Allow the first coat to dry fully before applying the second coat. The second coat requires less oil than the first so again, thin application is key.
Cleaning and Maintaining Oiled Wood
Cleaning and maintaining an oiled wooden floor or for that matter, any oiled surface, is reasonably stress free and easy to do.
The best way to protect an oiled finish on a floor is to vacuum or dry sweep with a broom on a regular basis, especially if the floor in question is near an entrance point such as a front or back door, more likely than not a hallway or kitchen. The main reason for this is that fine grit brought in on the bottom of shoes could cause minor scratches or tiny dents in the surface of the wood. Keeping the floor clean of surface debris will help to prevent this sort of damage.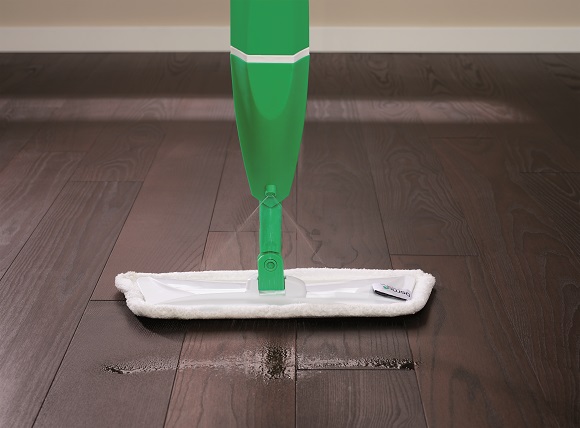 For more thorough cleaning, oiled flooring can be mopped with a slightly damp mop or with a dedicated wood surface cleaner such as Osmo Wash and Care. These tend to be PH balanced and formulated specifically for the purpose of cleaning wooden floor finishes and are ideal for cleaning stubborn marks and shoes scuff marks, perfect for a weekly or bi-weekly clean.
Despite the many TV and magazine ads, wooden floors and other wooden surfaces should never be cleaned with a steam cleaner. These cleaners inject high pressure steam into the floor finish and the wood below degrading the integrity of the floor finish and potentially damaging the flooring itself due to absorbsion of steam which can cause the wood to swell, twist and split.
When it's time for a maintenance coat the process is almost the same as when first applying the oil. Use a vacuum or dry mop to ensure that the wooden surface is dust and dirt free. Areas that have been scuffed, marked, scratched or worn can be lightly sanded with a scotch pad or fine grit sandpaper to remove the damage, taking care to vacuum or sweep up any new dust that this creates. Then it's just a matter of applying one thin maintenance coat and allowing to fully dry.
What To Do If Too Much Oil Has Been Applied
A common issue we get calls from customers about is when their floors or other wooden surfaces are still tacky or sticky a day or 2 after application or has brush marks in the finish. In terms of the coloured variations of Polyx Oil, another common issue is uneven colour with swirl marks and darker patches. These situations are virtually always down to over application of the oil. These issues are usually, do we dare say, a male thing where the tin says 2 thin coats, but the thinking is that 4 thick coats must be better. Right? Unfortunately, this is not the case. Wood is like a sponge but will only absorb a small amount of oil. When it reaches its limit, surplus oil builds on the surface to form a film or skin on the wood. This causes 2 issues, firstly by extending the drying time by many hours or even days. And secondly, a poor finish that among other things, is soft and easy to mark, peel and damage because of the surplus oil that has dried on the surface of the wood.
Thankfully, over application of Polyx Oil and other oils from the Osmo range is a rarity and is normally caused by shall we say, over enthusiastic DIYers, or when people employ painters and decorators to apply wood finishing products. Although painters and decorators are undoubtedly great at painting, they sometimes apply the same principles to applying wood oils which isn't always the best approach.
If you do find yourself in situation where the oil has been over applied, the good news is that it can often be fairly easily rectified. Wax and oil based products, including hard wax oils like Osmo Polyx Oil can be dissolved with white spirit. In most cases, simply wiping the surface with lint free cloths dampened with white spirit will dissolve the surplus oil on the surface, allowing to be ragged off to leave a good finish.
If the oil has been heavily over applied, it may be easier to remove the bulk of the surplus with a plastic scraper before using white spirit to finish the job. Avoid using a metal scrapper as this could dig in to the floor or door, damaging or splintering the wood. In the worst cases, sanding back to bare wood may be the only option but be prepared to use lots of sanding belts or disks as the wax quickly clogs them up requiring frequent changes.
Top Tip For Applying Osmo Polyx Oil On Wooden Floors
When applying Polyx Oil in a large room which may need to be done in 2 or 3 stages, always work along the full length of the boards stopping on a board edge rather than across the floor boards. This will prevent joint, tide or overlapping marks when coming back to finish the job. So if the room is 20 floor boards wide, oil the full length of the room across 10 board widths, taking care not to get any on the next set of boards, then come back and finish the next 10 board widths later.
What Next
So there you have it, follow these simple processes and you should be able to transform a neglected wooden floor into something very special. And don't forget, it's not just wooden floors that can be transformed. Polyx oil can be used on most types or real wood including wooden staircases, furniture, wood crafts and more. If you've been pondering and procrastinating over a wood care project in your home, now's the time to do something about it. Join in with the Osmo 25th anniversary celebrations and get an extra half a litre for free.
If you have any questions about Osmo Polyx Oil or any of the products from the Osmo Oil range, feel free to call or email our team of resident experts who are always on hand to answer any questions you have. And don't forget we love to hear about and see your projects here at Wood Finishes Direct so if you're thinking about renovating a wooden floor, staircase, kitchen worktop or other project, and happy to share your experience with us and our community of followers, please take some before and after pictures and send them in.