The versatility of pallets is endless, the experts at Wood Finishes Direct have already posted about using pallets to make garden furniture, but there are so many more things that can be created and designed using this free or very cheap resource. Pallet decking is a great way of enhancing your garden space without requiring a second mortgage. And as pallets are very strong and come in standard sizes, building a modular deck, depending on size and complexity, that is totally unique, could be done in a relatively short time.
Wooden Pallets For The Taking?
As mentioned in our previous 'pallet' blog post, you should always ask before taking pallets. Large businesses are bound to have pallets stacked up but be aware that some businesses sell their pallets on – so always ask. If they're happy for you to take them they may ask for a small token payment of a pound or so per pallet or may be happy for you to take them off their hands for free.
Did You Know? – Some Little Known Pallet Facts
A standard pallet is 40 x 48 inches (that's roughly 100cm x 120cm) but there are many variations available that have been designed to suit different manufacturing purposes. But ultimately, pallets, also known as Skids, are designed with forklifts and pallet jacks in mind and make automated warehouses work to maximum efficiency. Pallets have played a massive role in the growth of transportation of goods over the last century and nearly 500 million new pallets are made every year and there can be anywhere up to three billion wood pallets in circulation within the European Union. For more interesting facts and figures on pallets, check out the Pallet Central – Did You Know? page or the good old Wikpedia's Pallet Page that suggests that pallets go back as far as Egyptian times.
So what else can you make with wooden pallets? How about a decked area for your garden, either a highly professional looking deck created through a lot of precise cutting, sanding and hard work, one that that no one would know was made from pallets, or a more quirky, rustic style that shows the different and unique tones of the wood collected from multiple pallets.
Starting with a design and plan for what you want to achieve is the first step to getting that perfect deck. If you are going for quirky and unique, go for a selection of different pallets, ideally the same size, but in a range of colours, tones and woods. Pallet identification marks, stamps and writing on the timber can add to the character of the finished deck.
Check Your Pallet Decking Ideas And Design
It's always worth laying out your pallet decking ideas in accordance with your original pallet decking design/plans. This will give you an idea of how the overall deck will look in terms of size and dimension within your garden. It's a good time to decide if your original decking plan is going to fit in the space available and see if any changes are required to adjust the overall size, design or appearance before things are bolted together and screwed down. If you're anything like me you'll change your mind at this point and redesign.
There are a couple of different ways to create decking using pallets, the first may be the easiest but can still give a really interesting appearance. At this point it may be worth considering re-enforcing the pallet framework with some 2 x 4 pieces of timber, fitted to the underside of the framework. If you are going to have furniture, groups of people or other heavy objects on the deck it'll make it much stronger. Before creating your decking masterpiece it's worth treating the pallets with wood preservative and decking oil on all sides, and before attaching to the framework as once it's secured and all the pallets are in place, it's unlikely that you'll be able to get to the underside to treat. This will protect the timber for longer and prevent the early onset of wood rot and decay.
Pallet Decking – Where To Start
The principles of laying a decking made from pallets is similar to that of bought decking tiles or planks from a DIY store. You need posts that are securely cemented into the ground, in all corners and some central ones too. How many depends on the overall decking size and shape. If you're going for a basic square design you can use whole pallets for this, so no cutting or adjusting required. Of course if you're being a little more adventurous, then things will be more complicated, and there are plenty of tips online and in our previous pallet-themed blog post on how to take pallets apart safely. Once the posts are in you can begin attaching the pallets securely with decking screws. Many pallets have gaps between each plank and some people like to fill these with an appropriate size piece of wood. This can give a great contrasting striped effect finish to the deck.
Decking Preservation
The final thing to consider is making sure that your deck lasts as long as possible, using the best products and keeping up regular maintenance will ensure that your unique handmade deck will endure. If you've already put a wood treatment on like a wood preservative, then the top coat is the next consideration. For this you can use a wide range of decking oils, exterior wood stain or paints to give the finished deck dramatic effect. One rule to keep in mind is that if using a spirit-based wood preserver that contains wax, you need to use an oil-based top coat as a water-based one will just bead and run off the preserved pallets. If you prefer to use water-based paints or decking stains, opt for a water-based wood preservative or a spirit-based preservative that doesn't contain wax.
The Final Finish – Decking Colours
If you love the look of the differing woods and colours then a clear decking oil is the way to go. This will darken the wood, giving it an almost damp appearance that will enhance the natural grain of the timber and overall finish. Wiping a damp lint-free cloth over a section of the pallet surface first will give a good indication of how the timber will look once oiled.
We have a number of clear decking oils from different manufacturer's and ranges and although each manufacturer has their own unique decking oil formulation, they all work to protect your decking in much the same way. If you are willing to pay out a little more, then Ronseal Ultimate Protection Decking Oil is a longer lasting treatment and is advertised as giving twice the resistance as some other decking oils.
If you want to add a little bit of colour or tone to your unique, home made decking then Osmo's Natural Oil Woodstain has a great range of colours from Basalt Grey to Ebony that will give a great translucent finish to your wooden deck. Although there is a great choice of off the shelf colours you also have the option to adjust the colour and shade by intermixing colours or by adding Osmo clear UV Protection Oil Extra 420 to lighten the colour. And of course if you are worried that your decking will be slippery when wet, then you may want to consider using Osmo Anti Slip Decking Oil.
Once your decking treatment is done and your lovely homemade deck is being used on a regular basis, it's important to keep it maintained and clean. Sweeping regularly through the year and particularly in the autumn when leaves fall on the surface will help to prevent staining on the wood and the onset of rot and decay. Plus wet leaves that turn to a sort of organic mulch are a breeding ground for mould, moss and fungi which equals slippery deck which in turn equals accident waiting to happen.
Garden Decking Finished – Time for a BBQ
And so you've finished your masterpiece and its time to show it off to friends, family and neighbours so they can 'ooohhh and aaahhh' over your handy work, that is of course if we get a correctly forecast, rain-free weekend during the great British summertime.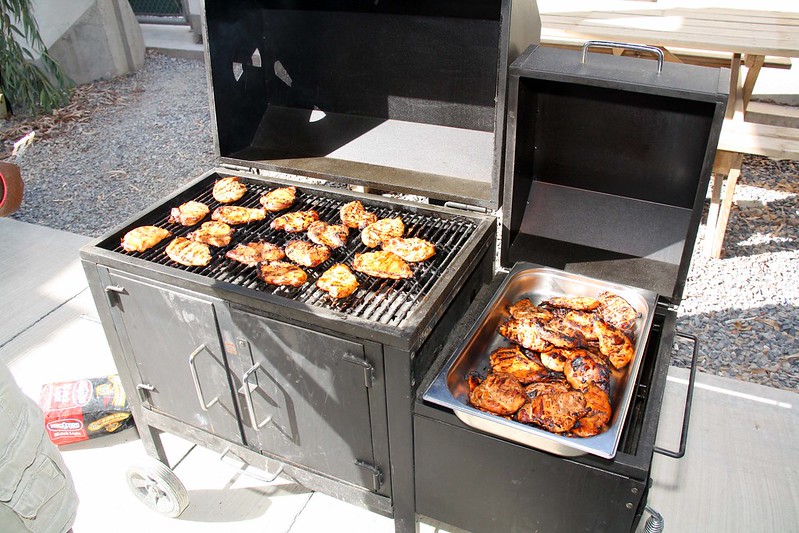 Need our help with your decking project?
For more information about decking treatments and their uses, contact our team of resident experts who are always on hand to help with project advice and product recommendations. Alternatively, see our decking treatments FAQ page which covers many of the most commonly asked questions about decking treatments.
We love to see before, during and after photos of any wood finishing project. If you would like to share your decking project pictures with us, you can either send us some photos or share on our Facebook, Twitter, Pinterest or Instagram pages.
Other great blogs that discuss home projects