Of all the types of flooring available, wood with the perfect finish is still the most popular. And oak floorboards are gorgeous as well as fashionable. But pine wood flooring is another strong contender in the beauty stakes, a softwood that's been used to make floorboards for centuries and a feature of many old homes across Britain.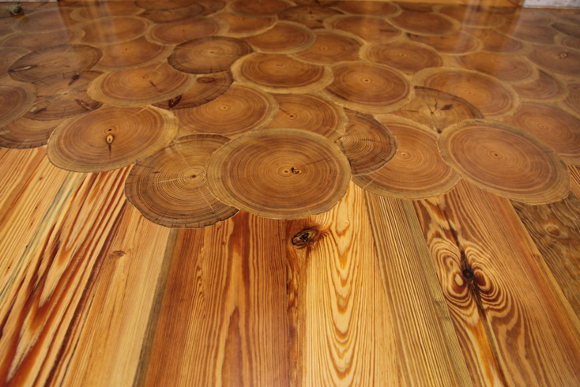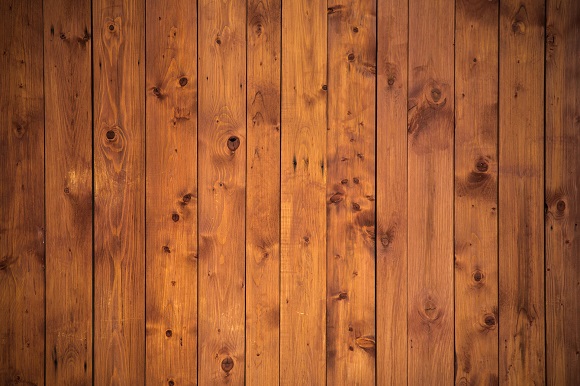 We've taken several long, detailed looks at oak flooring, furniture and doors. Now it's time to explore the wonderful world of pine. If you have a pine floor that needs attention, or you've been tasked with getting one in apple-pie order for someone else, here's everything you need to know.
Types of pine
Pine, also sometimes called redwood, is cheaper and more common than traditional hardwoods, ranging from almost white through various yellow shades to a deep, rich red. For a softwood it's often remarkably resilient and long-lasting, especially in the context of well looked after pine floors.
Pinus is the species we see most in UK and EU plantations. It's useful for all sorts of utility work, a common wood for beams, flooring and structural purposes. But that's just the start of it. There are a whole load of different types of pine trees found in the wild, so many in fact that the Wood Database website's impressively long list is far too detailed to repeat here.
If you're interested in the similarities and differences between soft pines and hard pines, and those within each group, you can't beat the Wood Database pine page, an excellent resource.
Horses for courses – The pine flooring aesthetic
There's a variety of flooring ideas and opinions concerning keeping wooden floors looking good. Some concerns involve floor maintenance, as some floors require little in the way of maintenance, while others require plenty of elbow grease and attention. And the choice is often a matter of aesthetics.
One of the best things about wood flooring is that it changes, going through all sorts of fascinating stages over time, depending on its type and location, with an equally wide range of end results. And every stage of the ageing process has its own beauty.
You might love the hundred year (or much older) patina your old pine boards have acquired through generations of wear. It might be stained and dirty, uneven and bent, sometimes more or less black. But to you it's perfect – a living piece of history marking decades or even centuries of human use. And that's fine. If it has lasted this long in one piece, it might well last a great deal longer without falling apart on you.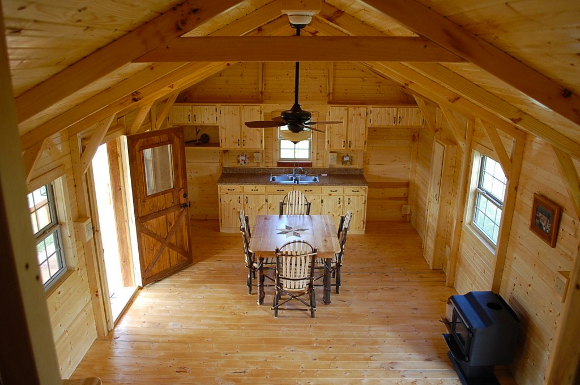 Your floor might be reasonably worn, part way between new and aged. You might adore the effect – the real shabby chic ideal – or you may prefer to get rid of the muck and repair any damage, giving it a whole new lease of life as well as a smooth, contemporary look.
A brand new pine floor, on the other hand, can look pretty raw. The paler it is, the newer and less settled-in it looks. You might want to use a wood dye to create a subtler, less in-your-face effect, calming the brightness down a bit, and if it hasn't already been protected, you'll want to add a finishing oil or good quality varnish.
How pine changes over time
The colour is one thing. The condition of old pine floors is another. Old boards can cup or arch over time, each board curling up at the edges, which means when you try to sand them you tend to get a thin sanded strip down the middle of each board at the high point, which widens on each pass of the sander as the boards are slowly levelled by the sanding process.
When you sand old pine boards back to the wood they can look very pale, even colourless. But don't worry. The minute you apply a clear wood finishing product like an oil or varnish, that warm, attractive natural golden colour will come flooding through.
Testing the colour of your floorboards before finishing them
This change in colour is so dramatic that it's usually best to test how it'll look finished before choosing an oil or varnish. Luckily it's easy. All you do is rub the surface with a damp – not wet – cloth and you get the exact same effect as oiling or varnishing – the colour suddenly shines through. Once you know what's what, you can choose your finish: either something to enhance the natural colour or a colourless product.
What if you want to get rid of that bright orange/gold colour?
Orange or golden pine isn't everyone's cup of tea. And that's the effect you can get from a standard clear oil or varnish – as time passes it can turn a deeper orange/gold, even a nasty brown. If your pine floor has gone a funny colour, you can always sand the old finish off and replace it with a product that won't change colour as it ages.
If you're looking to retain the natural appearance of freshly sanded boards, pine or oak, Osmo Polyx Oil Raw and Fiddes Hard Wax Oil Natural are both great products for defusing and countering the gold / orange colour you sometimes get.
Osmo Polyx Oil Raw (3044) is made with natural oils and waxes, gives excellent protection and durability and is specifically formulated to retain the 'natural' look of wood. It counteracts the damp-looking darkening effect and grain enhancement you typically get with standard clear oils or varnishes.
Fiddes Hard Wax Oil Natural also keeps wood looking as natural and unaltered in colour as possible and dries to a clear, satin-matt finish. It's perfect for light coloured woods like pine, spruce and oak.
Pine wood floor refinishing – Varnish or oil?
What's best, an oil or a varnish? The protective qualities are much the same. But oil and varnish come with different types of maintenance, and to a great extent your choice depends on the amount of wear and tear the floor receives.
Using a wooden floor varnish tends to provide better durability and less maintenance, but you'll need to re-sand the entire floor back to bare wood when the varnish eventually gets damaged and worn. How long this takes depends on the type and quality of the varnish and how much wear your floor is subjected to. It could be every year if you have pets, visitors and kids running in and out all the time. It could be five years or more if your home life is a lot quieter or you've covered the floor with rugs.
Using a wooden floor oil on the other hand requires maintenance, usually every couple of years, but it won't flake, crack or peel off. It looks better than varnish as it begins to wear and is very easy to patch repair if it becomes worn in specific areas, unlike varnish. When an oiled floor starts to look like its past its best, simply clean with a suitable floor cleaner to remove any marks, scuffs or stains, then re-apply a thin coat of oil, and "Voila!" it's just like new again. Even bad scuffs, stains, marks and light scratches can be fixed by lightly sanding the area and re-applying a fresh coat of oil.
A tough varnish, by the way, won't make the flooring itself hard. If you drop something heavy on the floor, the wood will still dent even though the varnish stays intact.
We have put together this handy video helping you to understand the key difference between a varnish and oil, as well as application techniques.
Need help with your pine floorboards?
For more information about interior floor finishes and treatments, contact our team of resident experts who are always on hand to help with project advice and product recommendations. Alternatively, see our floor finishes FAQ page which covers many of the most commonly asked questions about floor finishes.
We love to see before, during and after photos of any wood finishing project. If you would like to share your decking project pictures with us, you can either send us some photos or share on our Facebook, Twitter, Pinterest or Instagram pages.
Other great blogs that discuss wood flooring