We like to keep an eye on trends, and that includes eco-friendly paints. It's been really interesting watching the trend for traditional and unusual paint finishes like chalk paints gain traction over the past few years, with their dead flat matt finishes and subtle traditional, heritage and 'French' colours.
In response we decided to research the best chalk paints available on our customers' behalf, so we know for sure we are selling the best possible solution. And guess what we discovered?
Chalk paints are fabulous. Everyone loves them. But we actually prefer Clay Paints. And we've tracked down the best-in-breed, a splendid and highly practical range made by Earthborn Paints.
We thought you'd find it useful to know what clay paint is, how it differs from chalk paint and why we think it's such a good choice…
About Earthborn Paints
Earthborn Paints is a British company. They make high breathable paints that don't contain any environmentally-unfriendly oils, acrylics or volatile organic compounds, also called VOCs. This means their paints come with no damaging emissions.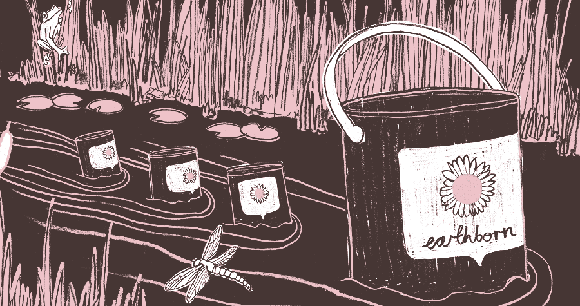 They believe being environmentally responsible and concerned about your health doesn't mean sacrificing quality or style. The carefully chosen ingredients in their products blend with technologically advanced manufacturing processes and formulations to provide perfect, high-performing paints with a greener, more friendly face.
Are all eco-paints this environmentally friendly?
As the decorating Advice website says, the whole eco-paint thing can be confusing and misleading.
"Many of the terms used for marketing paint can be confusing – organic paint, for instance, is simply paint which contains carbon compounds and many of the water based gloss paints being marketed as 'environmentally friendly' contain more chemicals than the oil based paints they replace. Low odour paints may be more pleasant to use but just because you can't smell the fumes doesn't mean that they are not still present."
If you want to know for sure you're using a certified eco-friendly paint, you can rely on Earthborn to provide exactly that. Although several companies manufacture clay paint, Earthborn have won awards for it, including the coveted EU Ecolabel. In fact they are the only British eco-paint company to meet the Eco-Label's strict environmental standards. We like that.
So what is clay paint?
Clay paint is a water-based emulsion made using clays, safe and clean material humans have used since time immemorial. The paint might be made from traditional materials but it delivers state-of-the-art performance and goes on beautifully.
Earthborn clay paints come in a wide variety of colours, sixty in total, everything from muted, nuanced and subtle to loud, bright and clear. Because they're made with natural ingredients – clays and pigments – they provide a lovely ambience. If you're looking for a gorgeous, mellow look, it's ideal. Think stucco, think adobe, think lime plaster, whitewash and distemper and you get the picture: stunning traditional finishes created with natural products, with cutting-edge results.
What is the difference between chalk paint and claypaint?
So what are the key differences between ordinary chalk paints and Earthborn's clay-based paint? One big difference is the remarkably flat matt finish you get with clay paint, which is comparatively easy to achieve. The other is the fact that it isn't dusty like chalk paint meaning that it's much less likely to come off on your clothes. It also means that unlike chalk paint, it doesn't need to be sealed in under a coat of wax or other top finish to protect the paint.
Because clay paints are mineral based they're really good for covering newly plastered lime and old limed walls. They also cover old paintwork and because the paint is relatively thick, it covers all sorts of flaws and faults beautifully. Unlike other eco-emulsions, clay paints do a great job of absorbing damp and they even help even out any humidity.
Where can you use clay paints?
You can use claypaint to transform perfectly ordinary walls so they look like beautiful old plaster or time-worn stucco. You can use them on more or less any interior surface including gypsum board, plaster, wood, stone and even walls that have already been painted.
Because of its excellent breathability claypaint is ideal for external-facing walls in older homes, where there's penetrating damp. The colours are particularly solid – the deep and earthy tone they provide is something you can't achieve any other way. Because they absorb moisture they're perfect for use in kitchens and bathrooms.
No smell, exceptional coverage, the ultimate matt finish
People love the fact that it has little or no smell and appreciate clay paint's exceptional coverage
They like the fact that it's 100% oil and acrylic-free
They appreciate that it's breathable and enjoy the easy-to-use water-based formula
They love its versatility
They adore the stunning creamy consistency, a feature that makes it a joy to use
They love the results: completely, totally, beautifully flat – the ultimate matt finish which both softens and enhances the light in a room
The recipe is hard wearing, goes on like a dream and you might find you need fewer coats than with an ordinary emulsion
The drying time is reasonable at 6 – 12 hours
The average coverage is 5L per fifty square metres, 2.5 Litres per 25 square metres, depending on the surface and how you apply the paint
You can apply it with a brush or roller, just like an ordinary emulsion
Earthborn clay paints now in stock!
The Earthborn clay paint range is now available for purchase here at Wood Finishes Direct. If you have any queries about clay paint and its uses, contact our resident experts today. They're always on hand to give friendly help and advice.