If your kitchen is anything like most people's it'll be a busy, bustling place full of action and fun, food preparation, pets and children. Over their lifetime kitchen units come in for a proper bashing, and wood kitchen surfaces are some of the most vulnerable as well as the most beautiful.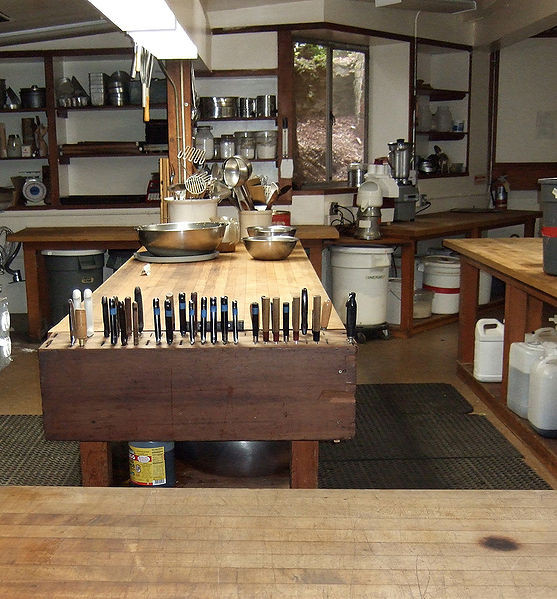 Here's how to maintain your wooden kitchen units and worktops, plus a few key product recommendations to help you transform your wooden kitchen surfaces from tired and worn into something that glows with beautiful health.
Because it's a kitchen, we've recommended products that are non toxic and completely food and child safe. Get it right and your kitchen units will look better and last longer – which is very good to know when replacements can easily cost thousands.
Kitchen surfaces – Varnished or Oiled?
Knowing if your kitchen cupboards, cabinets and worktops are oiled or varnished is fairly important as the way they are cleaned and maintained can be very different. As a general rule, varnished surfaces are more durable and can withstand more in the way of household cleaning products. Oiled surfaces are more sensitive to the types of products used for cleaning (a little oil can be removed after each clean), but are generally much easier to maintain and repair than varnish if they become worn, scratched or dull looking.
How to maintain your wooden kitchen cabinets
Kitchen cabinet maintenance tip 1: Regular dusting and grease removal – As a general rule, the longer you leave your kitchen surfaces to get sticky and dusty, the more difficult it is to clean it off. If the wood just needs dusting and buffing, use a soft, dry cloth. And do it as often as you can, otherwise the grease and steam that's so typical in kitchens will do its best to glue any dust and grease fast onto your surfaces, making cleaning more of a challenge as time goes by and the muck builds up. Try to give your cupboards a wipe down at least once a week.
Kitchen unit cleaning tip 2: Ongoing TLC – If you want to keep that lovely natural, clean finish it's a good idea to wipe down and polish your kitchen cabinets at least once every few months, ideally more often, especially if you have a busy kitchen.
Kitchen cupboard cleaning tip 3: Thorough de-greasing – As noted, kitchen grease can tend to build up, especially if you cook a lot of greasy food. And grubby fingerprints will tend to accumulate on doors. You can remove most of those greasy fingerprints and stains from your kitchen cupboard doors with a soft, damp cloth and some wood surface cleaner which will help to cut through the dirt and grease. It's best to go for a proper wood surface cleaner and to avoid harsh supermarket cleaning products as these may mark, stain or strip away oiled surfaces.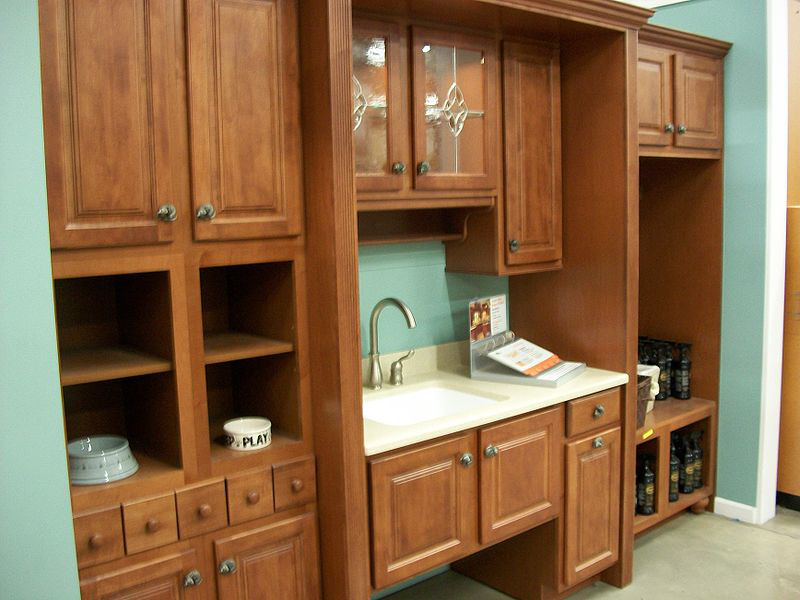 How to maintain your wooden kitchen worktops
Kitchen worktops maintenance tip 1: Seal that surface! – It's important to protect your kitchen worktops from the effects of moisture so you need to make certain that your wood surfaces are well protected with a wood oil or varnish so that moisture cannot penetrate into the timber.
Kitchen surfaces tip 2: Get rid of heavy dirt – For varnished surfaces you can use a mild soap solution to gently clean off heavy grease and dirt from your kitchen surfaces. Pay attention to those corners and edges, especially those hidden behind jars and containers. A mild detergent will cut through the grease and reveal the underlying wood without causing damage. A small drop of mild washing up liquid is often enough to get rid of build-ups. Test a small area first to make sure the varnish – if there is any – doesn't go milky. If it does, use a proper surface cleaner suitable for varnished surfaces. Wipe over with a damp cloth (never with large amounts of water), then dry the surfaces immediately.
Kitchen worktops cleaning tip 3:  Baking soda – Good old baking soda is an excellent product for cutting through stubborn kitchen grease. Try using it to scrub away the grease that can build up in those hard-to-reach areas and in the corners. It will effectively remove greasy residue without harming the wood finish.
Kitchen maintenance safety tips
Natural turpentine is a big no-no for varnished surfaces because it leaves a horrible sticky residue. And both mineral spirits and synthetic turps are flammable and therefore dangerous in a kitchen environment. It's best to avoid both.
Sugar soap will shift stubborn grease like magic, but you risk damaging the varnish or other finish if you leave it on for too long so you need to take great care to avoid damaging the surface finish. If your wooden kitchen units are really filthy and you feel you need to use sugar soap or something even more drastic, test a small area first.
Wooden kitchen units don't tend to respond well to harsh detergents, soap pads or steel wool, all of which can easily ruin the surface.  It's also best to avoid paste waxes and silicone-based products, where the eventual build-up of wax, which is desirable on other wood furniture, can attract dust.
You should always make certain that any wood finishing products that you intend to use in your kitchen are food-safe. We are careful to ensure that the products that we offer for use in kitchens are food-safe.
What to do about horribly stubborn grease?
Anyone who has had to clean the kitchen of a house previously occupied by students will know how difficult it can be to remove the grease that builds up when a kitchen is not routinely cleaned. Here's what one keen DIYer recommends on the Money Saving Expert website:
"I have always been lucky with Fairy Power Spray. I have certainly used it on cupboards, dishes, hob, blinking everything I love it so much. It is remarkable at getting rid of grease (makes cleaning the chip pan a relative doddle.)

I would not spray it on and leave it to soak. If they are as bad as they sound I would buy a few rolls of kitchen roll (sorry to all the eco people out there but it's a lot easier with grease than a cloth) and try and wipe down the doors till you can get as much off as you can. If it's stuck fast, I would wipe over first with an old cloth soaked in very hot water to loosen it. Once I had done this and the doors were relatively clean apart from being oily to touch, I would spray some Fairy in a bucket, get a few cloths and start wiping and scrubbing. If you're worried about the varnish, wipe over with a clean cloth and clean hot water to rinse. Elbow grease is an effective remedy for kitchen grease!

Perhaps someone will come along and tell me I have it all wrong, and it will ruin the varnish after all – but I've never had problems with it."
What if my kitchen units are completely knackered?
If your wooden kitchen units have gone too far down the road to hell, completely beyond redemption, you could always consider de-greasing and then sanding them right back to the naked wood and then painting them with a gorgeous fresh finish.
Recommended kitchen cabinet finishes for wood kitchen units
We stock an impressive and varied choice of top quality kitchen cabinet finishes. You might fancy a stunning opaque finish or a lovely, clear, natural look. Either way, we're here to make maintaining your wood kitchen cabinets as easy as possible. If you need advice, why not give us a call? We're always pleased to give sensible expert advice. In the meantime, why not take a look at these?
Fiddes Hard Wax Oil Tints – Hard wearing, easy to apply to bare wood, easy to maintain, a fabulous satin finish, ideal for colouring and protecting any interior wood. It's child safe, fast drying and comes in nine lovely shades.
Manns Classic Oak Stain – Most kitchen units come in oak, a highly durable and attractive wood. Manns Classic Oak Stain is popular because it's water-based, kind to the environment, offering superior colour depth and a stunning, crisp grain. It's perfect for Oak and other hardwoods including Ash, Beech and Mahogany and can be easily over-coated with either a varnish or oil.
For a full range of cleaning, maintenance and renovation products, see our worktop finishing products and kitchen cabinet finishing products.
Wooden worktop help and advice
Need some help with your wooden kitchen worktop surfaces? See our worktop FAQ page that answers many of the most common questions and issues. Need specialist help and advice? Contact our resident experts, who are on hand to provide free advice on how to clean, maintain and restore all manner of wooden worktops and worktop finishes.
 Your tips for kitchen cabinet grease removal?
There are all sorts of weird and wonderful tips for removing grease from kitchen cabinets. Have you discovered the easiest way to banish the grease and maintain a beautiful wood finish? If so, we'd love to hear about it. Feel free to comment.