It's amazing how often subjects like wood finishes, wood preservative and wood varnish appear in the news. We've grabbed a handful of the most strange, weird and wonderful wood finishing and related stories for you. Here goes…enjoy the ride… I bet you never realised wood maintenance was so interesting!
Fascinating wood maintenance facts
Fancy a stunning wooden finish on your VW Beetle?
People love VW Beetles. The cute little car has won millions of hearts and minds the world over with its quirky, organic shape and friendly 'face'. Some of us even become a little bit obsessive. Take Bosnian Beetle-lover Momir Bojic, who spent two years transforming his beloved Beetle into something incredibly special, as recently reported in the New York Daily News.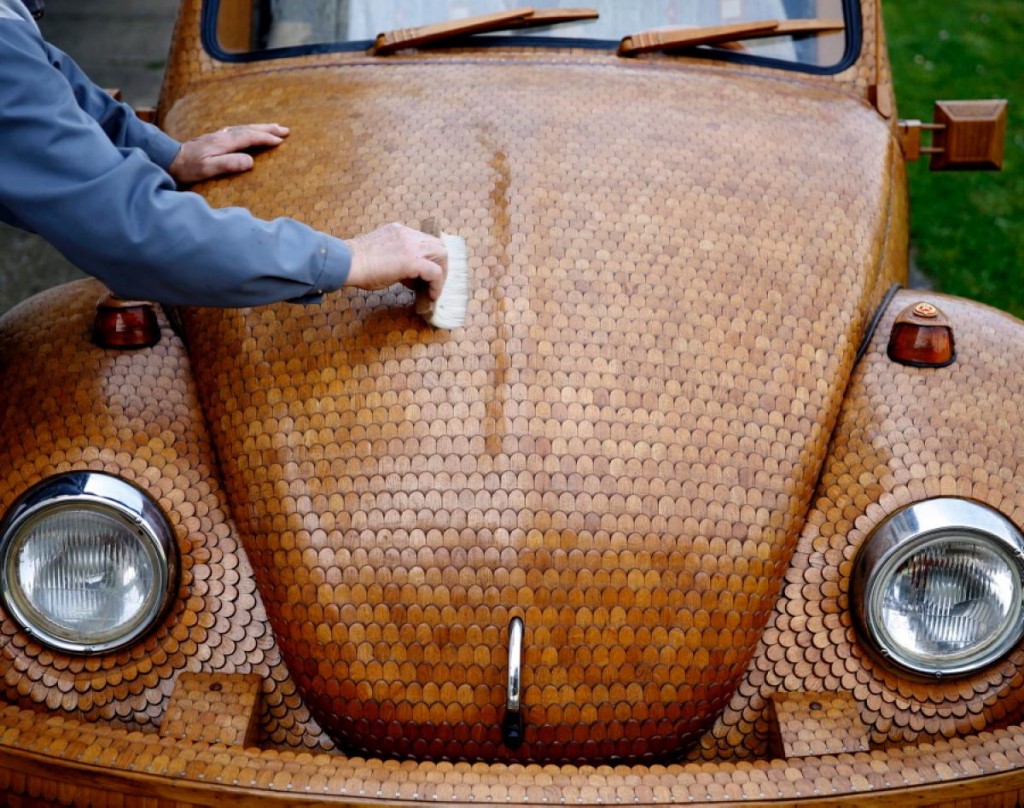 His beautiful, lizard scale-like custom wooden finish even takes the windscreen wipers and side mirrors into account. The end result must be one of the most aesthetically pleasing vehicles in the known universe. And perhaps even the unknown universe, too. What a little stunner… as The Sun might say.
Bojic made literally thousands of lovely semi-circular Oak 'tiles', which he them attached to the car, inspired by the traditional wooden roof tiles of his homeland. He has even hand-crafted an oak VW logo for the bonnet, plus a steering wheel, control knobs and gear stick. Oh, and an Oak hat to wear while driving.
We're curious about what wood finishing products he uses on the completed masterpiece of a car. What does he polish it with? On the off chance you end up reading this, Momir, we would love to know. And by the way, you're a genius!
Think yourself lucky we don't live in Formosan termite territory
We might have the notoriously unpredictable British weather to contend with. But compared to New Orleans, we're living in clover. They're constantly plagued by millions – if not billions – of destructive mini-beasts who love nothing better than to chomp on wood. They're called Formosan termites, and they're a nightmare!  As one sufferer explained:
"People have leaned up against walls and found they were hollow because the wood had been eaten up inside. To say it's a nightmare is really putting it mildly. I actually got sick from all of this. It was a stress-type thing with Jazzfest going on and such a busy time of year and all I could do was talk about termites. It was a horror to me.

"When I held that light out of my apartment window, birds would sit there on the edge and just eat them. The birds wouldn't even have to fly because the termites were just swarming out at them. I still have nightmares about it."
Apparently a US wood protection product called TimberSaver Wood Treatment provides protection against attack from Formosan termites. We are very lucky indeed not to need it. Thank goodness we don't have the insects over here.
Having said that, climate change and the associated warmer, wetter weather we are due to get could make Britain a suitable home for all sorts of wood destroying creatures, even those for whom our weather has always been too chilly.
When 'old growth' pine is the only solution
Vermontville, Michigan, USA is the home of a landmark chapel. In US terms it's very old indeed, at 171 years. And every one of its twenty two twelve-pane windows was crafted carefully from old-growth pine, something that just isn't used by modern builders. In fact you can't even get it any more!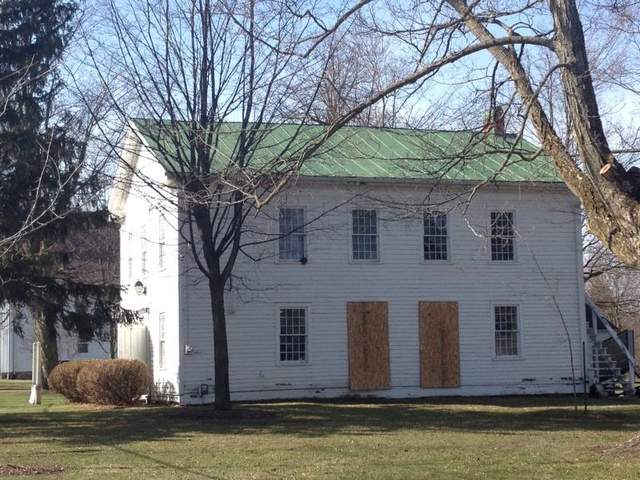 The wood used to build the chapel windows was harvested in the 1850s. Despite being a soft wood, the old-growth pine has proved remarkably rot resistant. It seems it is naturally hardy.
Thankfully the restoration project was awarded a grant. So far more than 100 unemployed or under-employed people have been taught vital traditional window restoration skills and several important historic sites have been transformed by their efforts, one of which is in the marvellously-named town of Kalamazoo. As one trainee said, "It's kind of a lost art skill and I'm hoping a second career for me."
Trainees learn all sorts of wood maintenance essentials, including how to remove lead-based paint safely and how to make and use replacement wooden period parts. Once they finish the course they have all the knowledge they need to start their own window restoration business.
So far eight of the chapel's historic windows have been restored. But the initiative has inspired local people, who hope to continue the restoration work themselves.
Bristol or Africa? The cradle of civilisation inspires West Country chic
The Telegraph reports on a gorgeous wooden garden lodge built by a couple whose love for Africa runs much more than skin deep.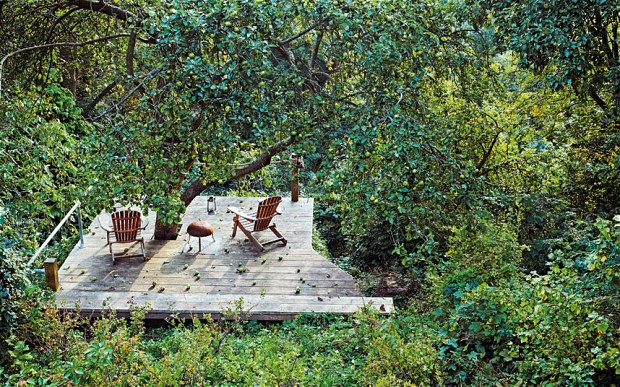 The lodge was built by a skilled local carpenter, with wood fittings created from reclaimed materials. There's a double bed, kitchen, wood-burning stove, loo and shower, and the couple have also furnished the building with African furniture, decorative items and accessories. There's even a pair of carved stools and two beaded armchairs, very like traditional Yoruba tribal thrones.
Chinese Zikan wood pot makes its owner £150,000
An old, neglected wooden pot has attracted a whopping £150,000 price tag at auction, the stuff dreams are made of. The carved pot, which was used as a doorstop for forty years, was originally valued at an impressive £20,000 but eventually sold for more than seven times the estimated amount at a specialist Chinese Asian Arts Sale at Stansted Mountfitchet, Essex.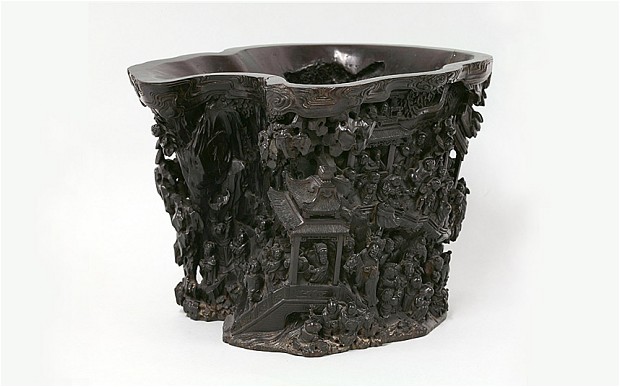 The pot is carved with the story of The Hundred Boys, a popular Chinese folk tale, and the 200 year old piece's selling price highlights the robust health of the Chinese antiques market right now. If you have a carved wooden object that may be Chinese, it might be worth getting it valued. You never know…
How to spot dry rot?
Apparently more Johannesburg properties are suffering from dry rot than ever before, and it's all down to too much moisture. Wood with a moisture content of 20% plus is particularly at risk.
It's pretty damn damp in Britain a lot of the time, and we suffer dry rot too. But how do you spot the signs? As reported on the IOL website, here's what to watch out for:
The wood shrinks, darkens and cracks
You often find get a nasty mushroom-coloured, lilac and yellow skin in less humid conditions, which you can actually peel off
You sometimes find a fluffy white mycelium, a bit like cotton wool
The rot's fruiting bodies are soft and fleshy, rather like a pancake, with wide pores and dark orange colouring
You may spot rusty red spore dust, and the decay process gives off a damp, musty smell
How do you prevent dry rot? It's vital to deal with it ASAP, because if you don't dry rot can weaken wood so much it simply falls apart. Your best defence is to stop the rot developing in the first place, which means sealing the timber with a good quality water sealer. If using a silicon or oil-based product, maintaining the finish on a semi-regular basis will keep the wood healthy.
More wood maintenance stories on the way…
Watch this space for more wonderful wood stories. In the meantime, if you're lost in DIY space and need help or advice about how to maintain your wood, whether it's a fence or shed, furniture or flooring, or even the entire structure of a building, you can call us for a chat.
You can rely on us – we really do know our wood preservation, wood maintenance and wood finishing stuff inside out.