It's a question we're asked all the time: how to stain wood? From decking stain to Ronseal wood stain, black wood stain, exterior wood stain, grey wood stain and garden furniture stain, wood stains provide beautiful colour and help keep wood in great condition.
Here's our special guide to staining wood, a partner to our previous post on the same subject…
About staining wood – An expert guide
How can you achieve a professional wood stain finish? First you need to know what type of wood you're dealing with, or at the very least establish whether it's a hardwood or softwood.
Softwoods include things like pine, fir and cedar
Hardwoods include beech, ash, elm, birch and walnut
But…box is a very soft hardwood, fir is a very hard softwood and oak is a medium hardwood
How do you tell the difference between hard and soft woods?
This is a tricky one with no straight forward answer. If the grain is uneven, has lots of knots or includes blotchy patterns, it's probably a softwood and may stain unevenly unless you follow a few common sense rules. Unless, of course, you actually want an uneven look – some people love it that way because it enhances the wood's natural character.
If the wood has a consistent grain pattern, few or no knots, it's probably a hardwood. You can use any kind of stain you like on hardwoods since they're much more forgiving than softwoods, but bear in mind you might need to apply several coats to get the effect you're after.
Types of wood staining product
Oil-based stains deliver long lasting colour, penetrating deep into the material's pores, to produce a micro-porous finish that brings out its natural beauty
Water-based stains deliver an excellent even colour, are very low odour and easy to apply. The colour can also be easily diluted by just adding and mixing more water
Solvent-based stains, including light fast stains, offer excellent colour and coverage with very quick drying times
12 steps to wood staining perfection
Not 100% sure what you're doing? Experiment first using a piece of the wood that doesn't show or a piece of the same wood type
Clean the wood first with white spirit so it's free from grease, dirt and dust
Grab sandpaper! Some guidance: The lower the sandpaper grit number, the rougher the sanded wood will be, the more stain will absorb into the wood and the darker the colour of the end result
The higher the sandpaper's grit number, the smoother the sanded wood will be, the less stain will be absorbed and the lighter the colour of the end result
If you're staining something flat, it helps to use a lower grit sandpaper, say 60 or 80 grit, to take off blemishes, then use a 100 or 120 grit paper to finish with
If you want a medium depth of colour from your stain, don't use anything higher than 120 grit
When you've finished sanding, wipe the wood down thoroughly to get rid of dust and debris
Apply your stain using a sponge, brush or cloth, depending on the manufacturer's instructions
Apply the stain generously, working in one smooth, continuous movement across the wood, in the same direction as the grain. Cover the entire item evenly
If you don't know how quickly the wood will take up the stain, wipe it on and off with a clean cloth and see what happens – you'll soon get a feel for the way it behaves
Bear in mind it's easier to add more stain than remove it
When you're happy with the colour, leave it to dry
Handy tips to make staining wood easier
What about filled wood? Fillers rarely turn the same colour as the surrounding stained wood. You could try buying a wood filler gel and adding some of your wood stain to it to make a paste of the right colour. Or you can just go with the shabby chic flow and stain a piece in an 'honest' way, leaving the filler to do its thing regardless.
How do I make sure the wood stains evenly?
Woods such as Birch and Beech are notorious for going blotchy when stained. Always do a test area first, either on a different piece of wood or in an area that doesn't show. If your wood blotches and stains unevenly, try wiping the wood over with white spirit as this will remove any contamination from the surface and help to give a more consistent colour and finish.
Some stains work better on blotchy woods than others. As a general rule, darker stains tend to work the best, with their high concentration of pigments. The more layers you add, the deeper the colour. It's important to check the stain and sealer work together – in our experience if you stick to the same manufacturer for each, you can't go far wrong.
One thing to beware of: if the wood is completely sealed, there's no way your stain is going to penetrate beneath the surface. You may be able to dilute the sealer with mineral spirits, experimenting more safely with less chance of disaster. Again, test your diluted sealer on a spare piece of wood or in an area that doesn't show.
What if I want a really deep, dark colour?
If applying a dark coloured stain, 2 or 3 coats should make it as dark as anyone would need. If you need it darker still, add a few drops of black from the same colour range but bear in mind that as well as making the stain darker, it will also change the colour shade slightly.
The final touch…
Once you've stained your item, it's time to add a clear finish. Most finishes come in a variety of sheens, from high gloss to matt. This is one of the best bits of the job. Your wood already looks pretty damned good. But when you seal it the colour shines through beautifully and you get a wonderful finish. How satisfying!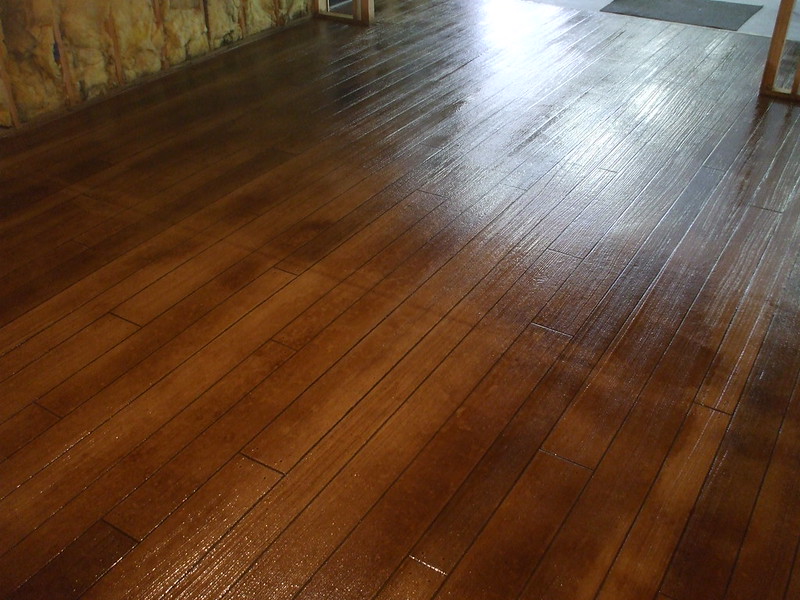 Need our help with your stained wood project?
For more information about wood stains and their uses, contact our team of resident experts who are always on hand to help with project advice and product recommendations. Alternatively, see our wood stains FAQ page which covers many of the most commonly asked questions about wood stains.
We love to see before, during and after photos of any wood finishing project. If you would like to share your decking project pictures with us, you can either send us some photos or share on our Facebook, Twitter, Pinterest or Instagram pages.
Other great blogs that discuss wood stains