Have you heard of the national Wood Awards? It's Britain's top architecture and furniture competition and it celebrates design excellence using wood, the planet's most sustainable building material.
The Wood Awards are sponsored by a host of wood luminaries and ambassadors, namely the American Hardwood Export Council, Carpenters' Company, Wood for Good, TRADA, Arnold Laver, American Softwoods, BRE, the Forestry Commission, the British Woodworking Federation, the PEFC and the Malaysian Timber Council. The entrants had all done remarkable things with wood, from the very latest in CLT wood cladding technology to timber finishing innovations never seen before.

There were more entries in the 2014 Wood Awards competition than ever, with more than 300 UK architecture and furniture projects entering and 30 shortlisted. But things are changing fast in the wonderful world of wood. As the judges mentioned, because many of the innovative new uses for the material that were showcased in previous years have gone mainstream, the bar was set even higher for 2014.
Focusing on the beauty of timber and its more or less endless technical applications it's obvious that, in Britain as well as  farther afield, using wood to drive design excellence makes more sense than ever. We thought our readers would be interested to know more about the national Wood Awards and who scored high this time round.
The winner of the national Wood Awards 2014 is…
The winner of this year's overall award was Ditchling Museum of Art and Craft, a "gem of a museum" with Adam Richards Architects in the project driving seat. They took home the prestigious Arnold Laver Gold Award, having first swept the floor with their competitors to win the Existing Building category.
One of the judges, Hugh Pearman, is perfectly qualified to comment on Ditchling's success, as the editor of the Royal Institute of British Architects Journal and the Sunday Times' architecture critic. In his words:
"Ditchling Museum of Art and Craft sums everything up. It is an exemplary little low-budget rural museum by an architect to note for the future. A mix of new-build and restoration, of ancient techniques co-existing happily with the high technology of today, it adroitly uses a mixed palette of materials that suits its context admirably – and is designed in such a way as to waste practically nothing."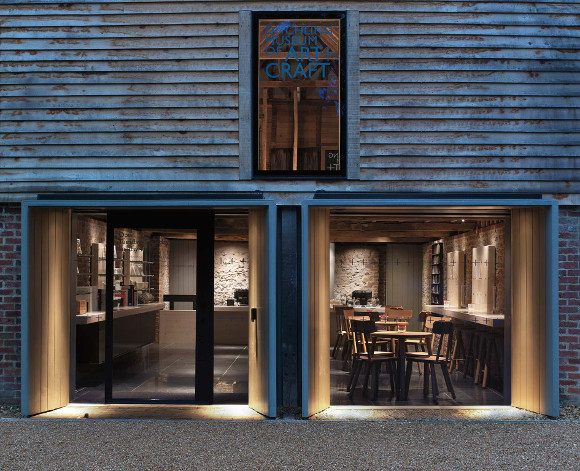 The museum had been gently falling apart for decades before the renovation, which focused on using spruce CLT, AKA Cross Laminated Panels, made from mechanically dried boards of the wood, carefully stacked and glued together at precise right angles to deliver a remarkable level of strength. Talk about timber cladding with a difference! Lovely traditional English Oak also played a vital part in the building's remarkable rebirth.
Showcasing the "technical and poetic possibilities" of wood
The respected architect Alison Brooks commented that this year's entries did more than ever to illustrate the "technical and poetic possibilities of making magic with wood." And she's right. Entries included the highly creative, quirky, innovative and – frankly – the 'out there'. Everything from a deceptively simple wooden rocking chair with a twist to amazing exterior plywood cladding on the stunning new WWF HQ in Woking, Surrey, a breathtaking piece of innovative green architecture from Hopkins Architects.
It looks as though the potential for wood is more or less endless, only limited by the imaginations of the talented people who commission it, create with it, design with it and work with it. Even more thrilling, it looks as though the use of wood is experiencing a long-awaited renaissance in Britain.
More winners – Take a look at these stunning creations
In the Existing Buildings category – St George's Chapel in Great Yarmouth came highly commended, originating back to 1714 and Grade I listed. The 'unsympathetic additions' were removed and the building beautifully restored courtesy of Hopkins Architects.
The brilliant Sam Wanamaker Playhouse in London, an integral indoor part of the Globe theatre, took the Commercial & Public Access award for its wonderful 'celebration of joinery', being almost totally made from wood, most of which was skilfully finished by hand.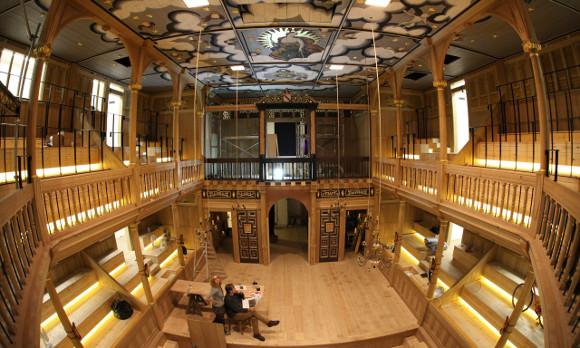 The Private category winner was House No. 7 on Tiree, the Inner Hebrides' most westerly island, where the designers' robust and sympathetic thought processes and the sheer quality of craftsmanship created a "special house in a special place".
In the same category, WoodBlock House scored high. The building performs as an art studio/home/office and came highly commended with its CLT structure and colourful larch and painted plywood panelling.
The Structural category prize was awarded to the superb Alfriston School Swimming Pool with its lovely  rippling CLT roof, cleverly prefabricated in just twelve modules by Cowley Timberwork.
The Small Project award recognises that size isn't everything, and smaller projects can come with exactly the same levels of flair and creativity as big ones. The winner was a gorgeous studio in a suburban garden in Oxford, where every single element had been considered carefully and a great deal of care expended hammering out the fine details. The locally-sourced sweet chestnut wood used to create the structure and joinery hailed from West Sussex, and the hemp insulation was grown nearby in Norfolk. As the Ribaj site says:
"Supporting a 'heat mirror' glass roof, the timber frame structure of the extension is of sweet chestnut, whose inherent beauty was an important factor in the choice of an exposed structure. To maintain a consistent appearance, the joinery (windows, doors and panelling) was supplied by the same specialist timber frame company. Hemp and lime insulation was used not only to insulate the masonry and offer additional thermal mass, but also to provide a breathable form of construction that helps to regulate internal humidity levels. The timber was rough sawn, creating a simple aesthetic that referenced the original outbuilding and sat comfortably with the other materials used: raw concrete and stock engineering bricks."
And what about this? The Judges' Special Award, given to projects that fall outside the usual categories, went to two very different wood-based projects. The American Hardwood Export Council's Escher-like tulipwood CLT Endless Stair, created for the 2013 London Design Festival, plus a couple of truly outstanding carved oak doors.
The doors were crafted by the hugely talented Jack Badger team, who used traditional techniques and rejected all kinds of modern fixings to create "a really brilliant piece of work on which the craftsmen have developed a double dovetail joint."
So how long might these outstanding award winners last?
All this is a far cry from your everyday wood finishes, wood finishing products, tools, buildings and applications. Many of the winners have taken wood to places it's never been before, created brand new ways of using the material and solved extremely sticky architectural and design problems through wood alone. Wow!
What about long term wood preservation for the award winners? That's no problem. In the words of Alexander Rose of the Long Now Foundation:
"On my last trip to England I visited the cathedral in Ely and was struck by the longevity of large structural beams made from a material that I don't really think of as a millennial building material…wood. The main beams that support the 170 foot tall "lantern tower" called the Octagon are about 700 years old, and show no sign of deterioration"
In fact the cathedral's oldest timbers date back almost 1000 years to somewhere between AD1043 and 1068. Which just goes to show, whether or not you have modern chemical timber preservation products handy, when it's treated right wood delivers absolutely breath-taking longevity.
For lots more information on the wood awards you should pay a visit to Woodawards.com.
The best wood preserver products in town
And here you are, about to do your best to make the wood in your home look as good as possible. You might not be about to create a world-class masterpiece. But whatever your ambitions, however humble, we stock the best wood preserver products in town.
We'd love to hear what you've created from wood
Have you created, renovated or built a wooden item you're really proud of? If so we'd love to share it with our readers. Feel free to leave a comment.