It's time to give your fence a much needed makeover, but you can't decide whether you need to stain or paint your fence, so first of all what's the difference and what's best for your fence? You apply both formulas in the exact same way, they can offer similar protection, they both come in solvent and water-based variations with High VOC's and Low VOC's, yet they fall under separate categories.
So What's The Difference Between Paint and Stain?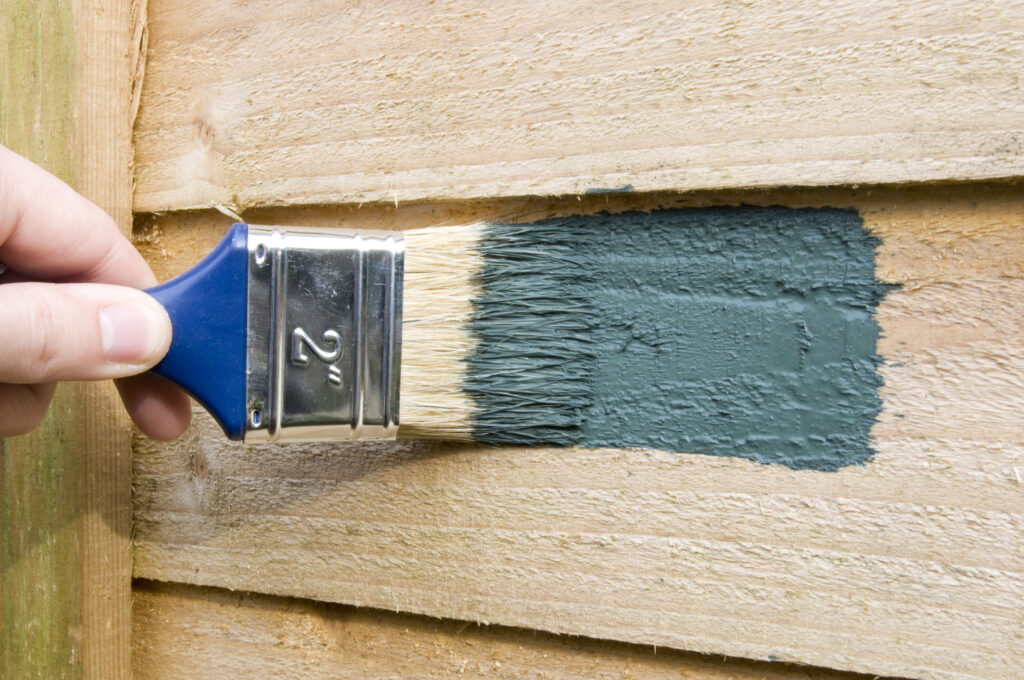 Lets Start With Paints
Lets start with paint, this formula is a high build finish that covers the grain of the wood making it impossible to see the natural beauty of the wood. However, it comes in the vastest range of colours compared to any other wood finish and some paints can be applied to multiple surfaces including metal and plastic.
If you're looking for fence paint on a budget, a quick glance over Ronseal Garden Paint might be worthwhile. It's important to note that the viscous formula can vary greatly in terms of price, of course there are the value for money options there are also a variety luxury paints that can often set you back close to £90 for a 5 litre tin.
What makes an expensive paint worth every penny is the quality of the pigments and ingredients they use when making the formula, don't feel like you're paying an extortionate amount of money for a brand name – it's the quality of the formula.
You should look at repainting your fence with an extra coat annually, of course it can all depend on weather conditions, but once every couple of years should do enough to keep your fence looking as good as new, rather than leaving it for an extended period of time and it becoming worn and damaged.
If you want to take a look at our in-depth guide on how to paint your fence, click here.
What Do Stains Do?
Stain are popular because they show the grain of the wood, whereas paint doesn't. Some stains really hit the value for money marker, such as Cuprinol's 5 Year Ducksback – which can be picked up for just over £15 (5 litre version).
One thing with stains to be aware of is the fact that they don't come in as many colour variations in the cheaper end of the spectrum, if you want a very out there and unusual colour to help stand out – you'll do well to find it with value for money stain. Whereas cheaper paints such as Garden Shades come in an array of colours.
The more diluted stain formula is less likely to blister, peel, crack or flake due to it not being particularly thick, but it will feel the effects of weathering slightly quicker if it's not annually topped-up with a fresh coat.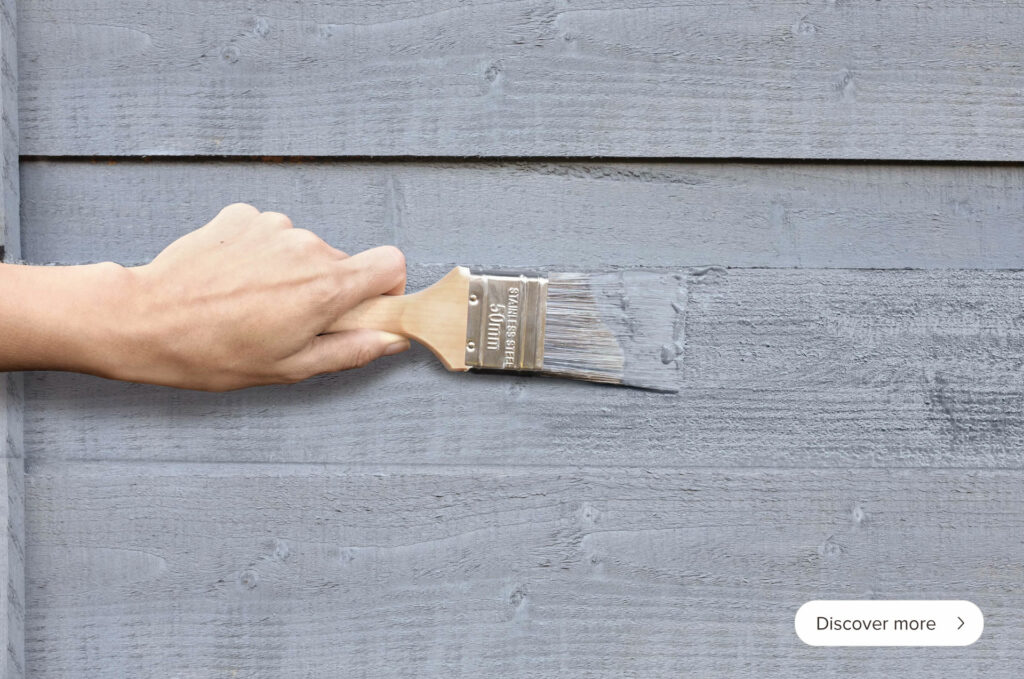 What's Best For My Fence Then?
They're both great for fences, if you already have a tin of paint or stain that's suitable for exterior wood with adequate weather protection, use it!
However, if you need a few pros and cons to help make a decision, here they are:
| | | |
| --- | --- | --- |
| | Pros: | Cons: |
| Stains: | Help enhance the grain of the wood. | Will require a new coat every 12 months to maintain the fence. |
| Paints: | More colour choices. | Covers the grain of the wood, making the fence look less natural and more uniform. |
Pros and cons table
Our Choices For Paint
The Value For Money Option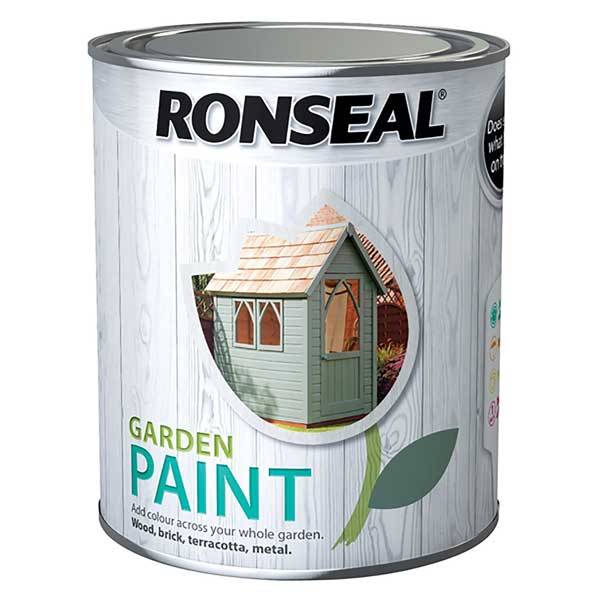 Nothing screams value for money quite like Ronseal and this tradition certainly continues with their 5 star rated Garden Paint. This water-based exterior timber paint is available in over 20 vivid colours, while also being rainproof within 1 hour of application.
This product goes in with the bold claim of up to 5 years colour protection, which will prevent your painted timber from losing that natural shimmer and shine. Another huge plus for the budget option is that is has up to 12m² per litre coverage, which is fantastic for a product in that price range.
The multipurpose paint tin offers a handy guide on the reverse of the tin on how to paint each type of wood; with the instructions for fences being extremely simple, just use a stiff brush to get rid of any dirt before applying.
The Premium Option
Osmo Garden Colour is definitely one of your go to choice if you're looking to splash the cash on a quality paint, with an outstanding coverage of up to 16m² per litre, the robust water-based formula also boasts weather and UV-resistance with a specialised additive to prevent cracking, peeling or flaking.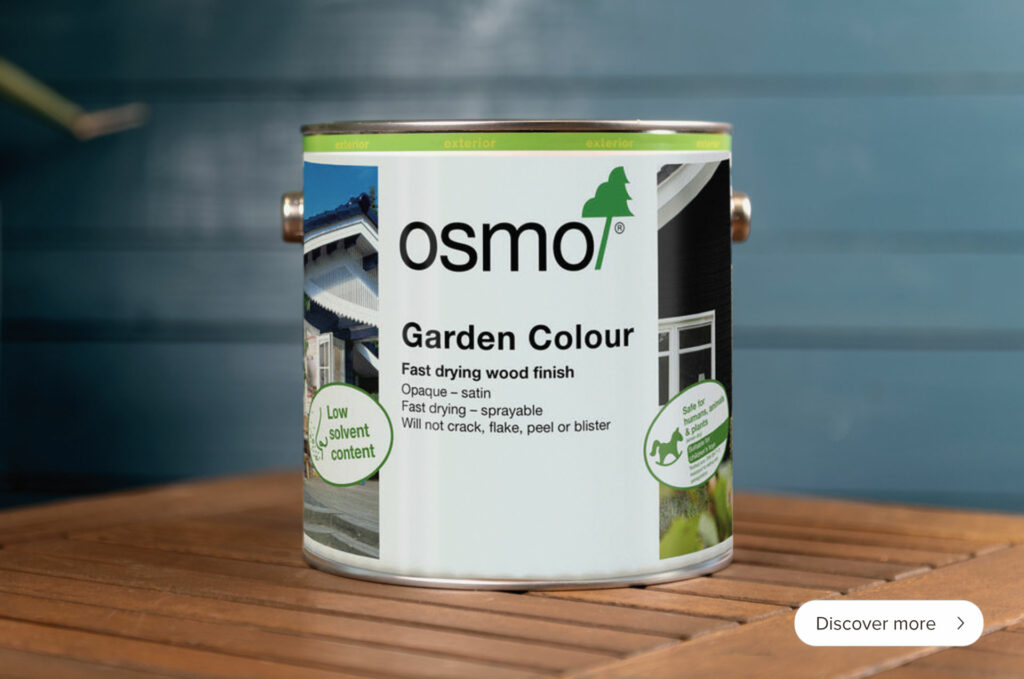 The only major downfall to this product (apart from its price tag) is that for a paint, its only available in 14 colours at present.
Our Choice For Stain
The Value For Money Option
Cuprinol 5 Year Ducksback is unquestionably your go to stain for value for money, the wax enriched finish is weatherproof within 1 hour of drying and will continue to protect your fence for 5 years. The thought process behind Ducksback's naming is because the water-repellent finish forces moisture to run off the timber like a duck's back. I've personally used this stain in Autumn Brown and it really does pack a punch and is deserving of the value for money accolade.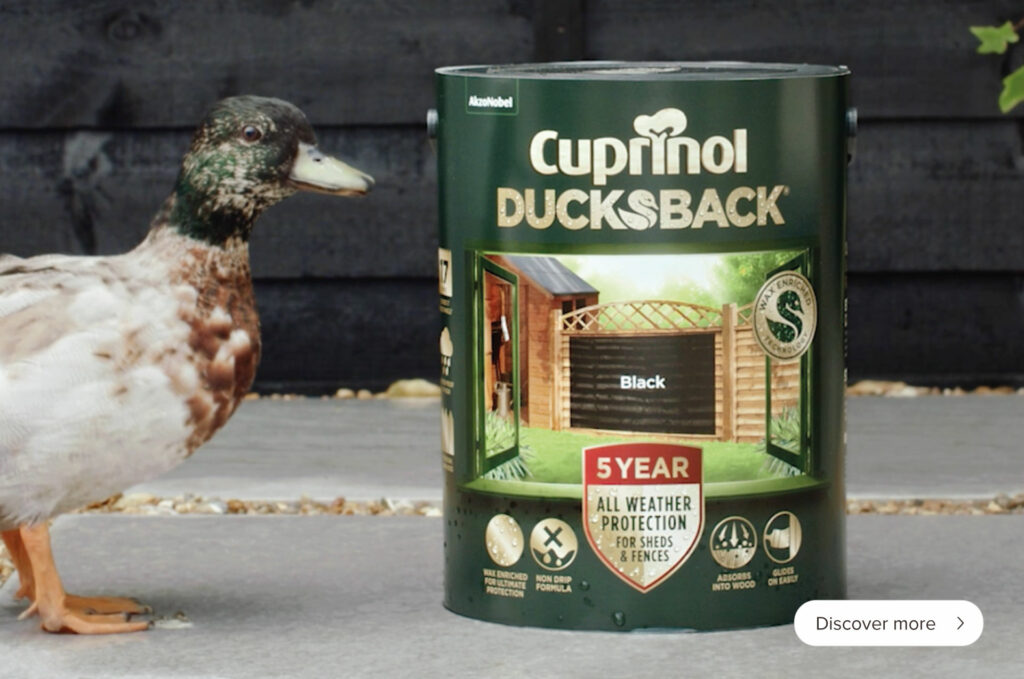 The preparation for this is the same any paint or stain, just give the surface a brush down before applying the formula. This product will require 2-3 coats and is only available in 5 Litres, a downside to this product is that it only has a meagre up to 5m² per litre coverage.
The Premium Option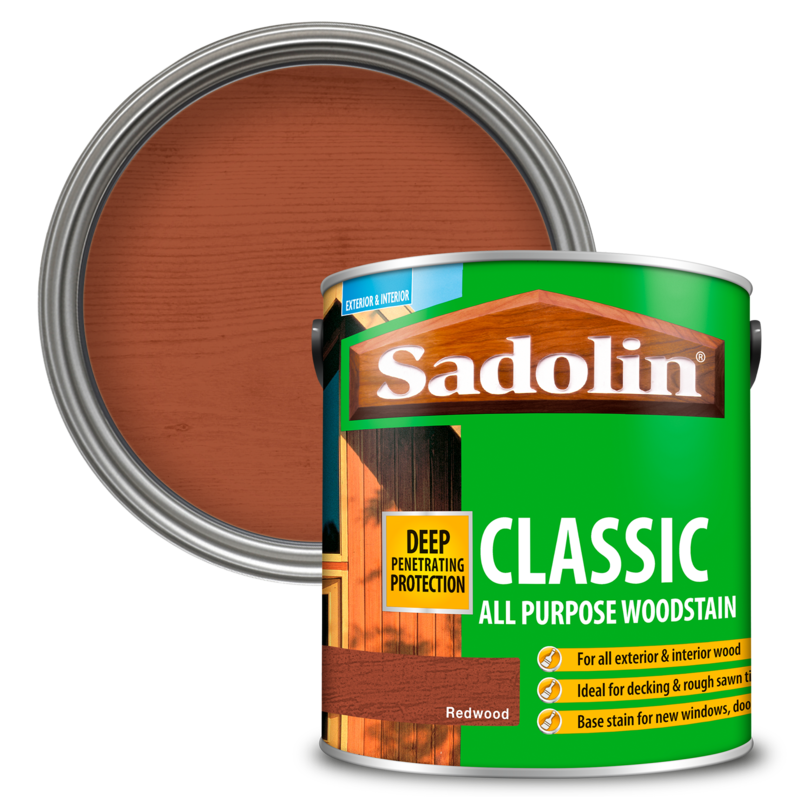 Our premium pick for stain is none other than Sadolin's Legendary Classic Wood Protection, this all purpose wood stain is solvent-based with an impressive coverage of up to 10m² per litre. This stain is extremely versatile, with it being suitable for just fences but also decking, cladding, large facias and exterior rough sawn timber.
This product requires between 3 coats for ultimate protection, it's also important to note that this product is only available in a variety of natural colours, with a plethora of brown's available on the product page.
This is another product where the reviews speak for themselves, with the product being rated 5 stars and Doug quoting Ronseal's famous slogan in their review, saying "it does what it says on the tin" – it's as straightforward as that.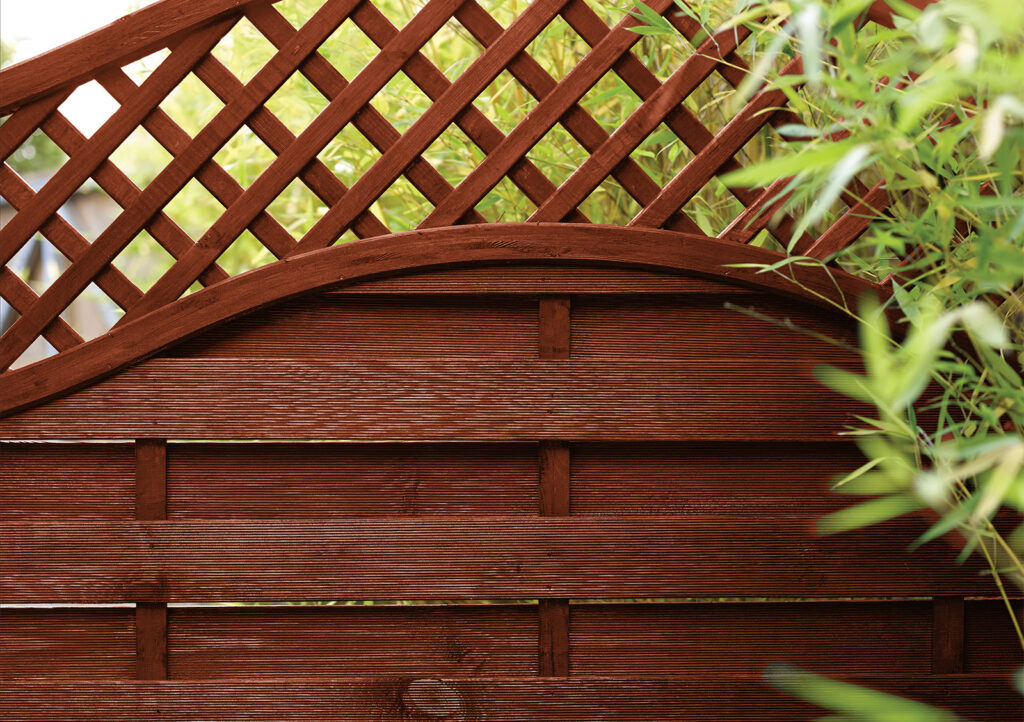 Expert Tip – Decking Oil For Your Fence?
Want to apply an oil to your fence for a more natural look and feel? You can actually use Manns Premier UV Decking Oil and it does a fantastic job!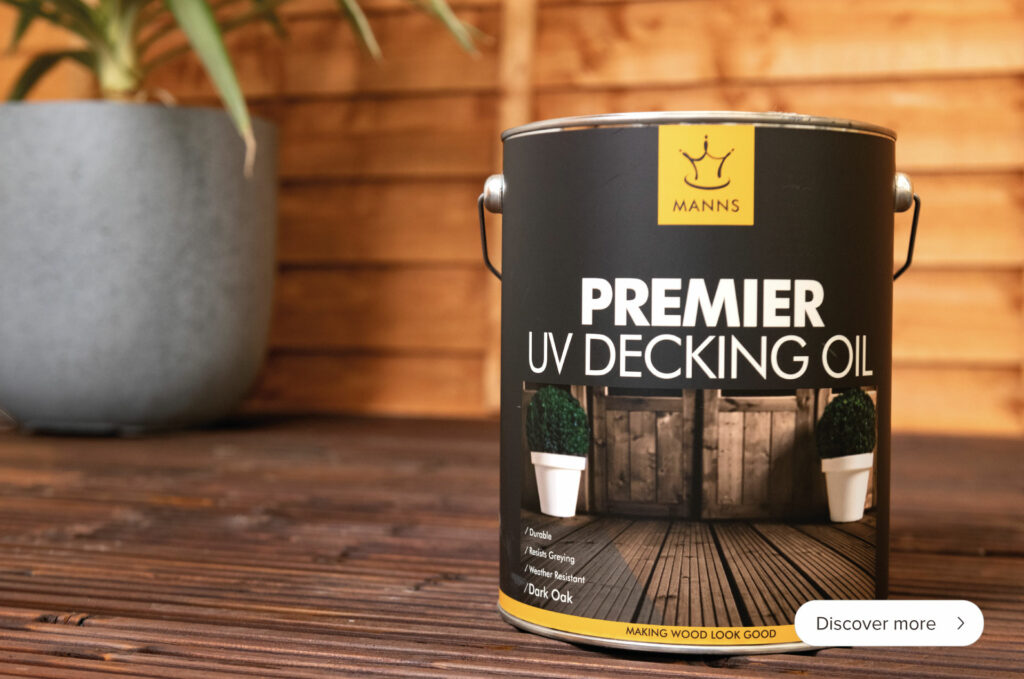 This decking oil actually contains everything you'd want for fence protection plus it's available at a cheaper price point to comparative fence oils!
We hope you found this article informative and helpful. If there are any specific products or projects you'd like more information on, please don't hesitate to contact our experts at wood@finishes.direct or on 01303 213838.