We get a steady stream of customers asking us for advice about paint strippers use and how to remove paint and varnish from wood. Here's some practical information about stripping paint from wood, designed to help you choose the right product.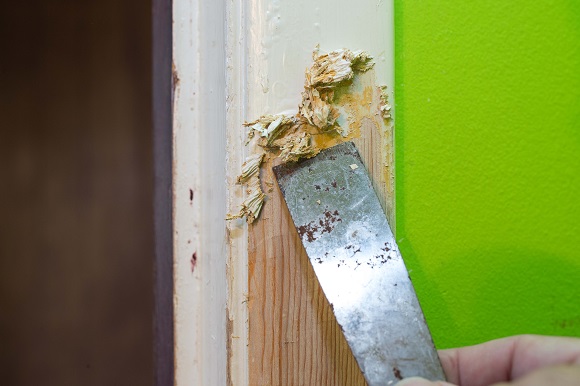 Removing paint from wood
You might be the lucky owner of a lovely period home, or have an old wood floor that you're sure will come up beautifully with a bit of work. You may have found a fabulous piece of old furniture smothered with nasty, brown, shiny varnish that's begging for some TLC, or you might suspect there's something really special under all those layers of ancient paint on your doors. Whatever you want to do, first you'll need to get all of that rubbish off the surface to reveal the stunning wood beneath. Thankfully contemporary stripping products are relatively simple, effective and safe to use. Much better than the bad old days when your only choice was pure caustic soda, nasty stuff!
What kinds of wood can you strip?
You can strip any kind of wood with paint remover, even heavily-carved wood, as long as you use the right products and materials and follow the instructions meticulously, particularly if you want to strip something expensive, rare or precious.
Outdoor and indoor furniture
Exterior and interior doors and door frames
Stair rails and banisters
Antique and vintage furniture
Window frames and sills
Floorboards
Parquet flooring
Built-in furniture
Skirting boards
How to remove paint from wood – 3 ways
There are three ways of removing paint from wood: sanding, using a hot air gun and chemical paint strippers.
Sanding is best kept for small projects unless you want to hire an industrial sander to remove paint and varnish from your floor. A quick word about sandpaper and wire wool, both of which can cause damage to wood unless you take it easy… When you sand wood you take the surface off, and you need to do it as evenly as possible without rubbing it thin in places or creating gouges. Power tools help because their design forces you to apply even pressure. Whether you're sanding by hand or with a machine, experts recommend you take it slow and easy until you get a feel for it. There's plenty of good advice online about sanding wood to perfection, and some excellent guidance here on the Period Property website.
An electric hot air gun removes paint in no time but can scorch the wood if you're not careful. Scorching is less important, of course, when you're planning to re-paint the wood. Bear in mind, also, that a hot air gun can only be used as a paint remover, not a varnish remover as varnishes tend to go very gooey, almost glue-like, when heated.
Chemical stripping is the best method for stripping carved wood with hard-to-reach, intricate areas, but in reality, you will probably use a combination of mechanical and chemical methods for your project, especially if you have layer-upon-layer of old paint to take off. Chemical paint removers deliver the best results, remove varnishes and paints faster than sanding, and tend to be the least harsh. Care needs to be taken when using chemical strippers, however, as these present their own care and safety issues.
As Kirsty Allsop says on the Channel 4 Homes website:
Different types of chemical wood stripper
Solvent paint removers take off all kinds of finishes, even contemporary ones. They are usually very gentle on the wood and won't damage it, which is why they're used in the antique trade. There's no discolouration and solvents get the wood cleaner, deeper down into the grain. On the downside, you tend to use more of it, so it can end up more expensive than a caustic stripper. Solvents can also have a strong odour and must only be used in very well-ventilated areas. Last of all, you might have to work a bit harder to remove heavy paint build-ups than with a caustic paint stripper. So to sum up, solvent strippers are:
More expensive and messy to use
Not so good at removing heavy paint
Cause no damage or staining
Can have a strong odour
Give a cleaner, finer finish
Perfect if you want that "natural look"
The best product for stripping old, damaged items like beams
Caustic paint removers take off most finishes and are particularly good at getting rid of thick layers of paint and varnish. They give off fewer fumes than solvent-based paint strippers, are cheaper and tend to work faster. On the other hand, caustic products usually contain a very strong alkaline which may react with chemicals in the wood resulting in staining or scorching of the wood. This is more common with dense woods such as mahogany and some types of Oak, especially old Oak. In summary, caustic removers are:
Perfect for removing heavy paint build-ups
Great for complicated mouldings
Best reserved for stripping pine doors that will be repainted or stained
Best suited for use on plaster, stone and metal (Please Note: They may not be suitable for aluminium)
What's the best paint stripper for wood? You can always test drive a few different products to see which stripper best suits the job and matches your capabilities. Just carry out testing in inconspicuous areas and keep your test areas small.
Does the paint you're stripping contain lead?
Most paints manufactured before 1960 contain lead, so if you're stripping something older than that it's always wise to check. You can pick up a lead testing kit at your local decorating centre or DIY store.
If you find any lead, the British Coatings Federation have produced a leaflet about how to deal with it, which you can read here: "Old Lead Painted Surfaces – A Guide on Repainting and Removal for DIY and Professional Painters and Decorators".
How do chemical paint strippers work?
Chemical paint stripping and varnish stripping products partially dissolve the paint or varnish. You can buy paste and gel paint stripping products, which are handy because they're so thick that they stick to vertical surfaces – perfect if the item you want to strip can't be moved.
4 steps to stripping paint from wood
Obviously every product is slightly different. But as a general rule your first step is to apply a thick layer of stripper with an old paint brush you can throw away afterwards. Make sure you force the product into any carved, intricate areas. Don't paint it on like emulsion, dollop it on generously then work it into the surface.
Step away! Different products work over different timescales. Leave it alone until the product has done its thing, according to the instructions.
Once the paint has softened, scrape it off with a plastic or metal scraper. You can use steel wool to get rid of stubborn areas of paint or varnish, and old toothbrushes and wire brushes are also useful. Take care with metal scrapers when stripping wood so as to avoid scratching or gouging the wood when removing the paint or varnish.
If there's still some paint left, re-apply the stripper and go through the process again until it's all gone. Then, if the instructions tell you to, wash the stripped item to neutralise the active chemicals.
Paint removal from wood – Safety recommendations
Wear old clothes
Chemical paint strippers give off fumes, some of which are toxic. If the instructions say you should only use it outdoors, then follow them
Whatever product you use, it makes sense to wear gloves and a face mask
To avoid causing damage to the surrounding area, lay old newspaper, a tarp or drop sheet underneath the item you're working on
Never leave the lid off – you don't want fumes evaporating into your workspace
What is the best paint stripper and varnish remover?
Paints and varnishes have evolved over the years, so have their formulations and chemical make-up. Paint strippers and removers have also had to evolve to keep pace with these new formulations. As a result, its often the case that where one type of stripper works perfectly with a modern paint formulation, it may be ineffective against an old paint or varnish from the 1960's or 70's. The same applies the other way round, where strippers that are effective against old paints may not be as effective on new paints and varnishes. So what is the answer?
Paint strippers and varnish removers are usually available in sample or small tin sizes of between 250ml to 500ml. Our recommendation is to buy a sample or small tin and to trial the effectiveness of a product before committing to buying the quantity of wood stripper needed for the project. This could save time and money in the long run.
We highly recommend Paint Panther Paint and Varnish Remover, one of the best wood strippers on the market for day-to-day paint and varnish removal. It's great for removing paint and varnish from wood. It's a remarkable product, highly effective and incredibly fast-acting, removing as many as six layers in just five minutes! It's a gel, sticking conveniently to vertical surfaces, and it is ideal for removing water, oil and solvent-based paints, varnishes and lacquers.
We also love PeelAway 1 and PeelAway 7, which are both used to restore antiques and items like decorative or carved fireplaces, wooden or plaster coving, cornices and ceiling roses. The 'Peel Away' paint removal systems work by applying a poultice or paste over the painted areas. Left for a period of between 12 and 48 hours, the PeelAway poultice dissolves the many layers of paint accumulated over the years. The dried poultice is then removed with a spatula, pulling out the dissolved paint from deep detailing, nooks and crannies to restore the intricate detail and design of the original piece.
PeelAway 1 is better suited to paints from the 1970's and prior, the old-style metal and lead-based types. PeelAway 7 works better on modern paints, dating from the late 1970's onwards. For some projects you might need to bring both into play, using PeelAway 7 on the newer layers and PeelAway 1 on the deeper layers. PeelAway 1 is caustic-based, so always try a test patch first. Remember, caustic-based strippers can scorch the surface of some woods, such as old Oak and Mahogany.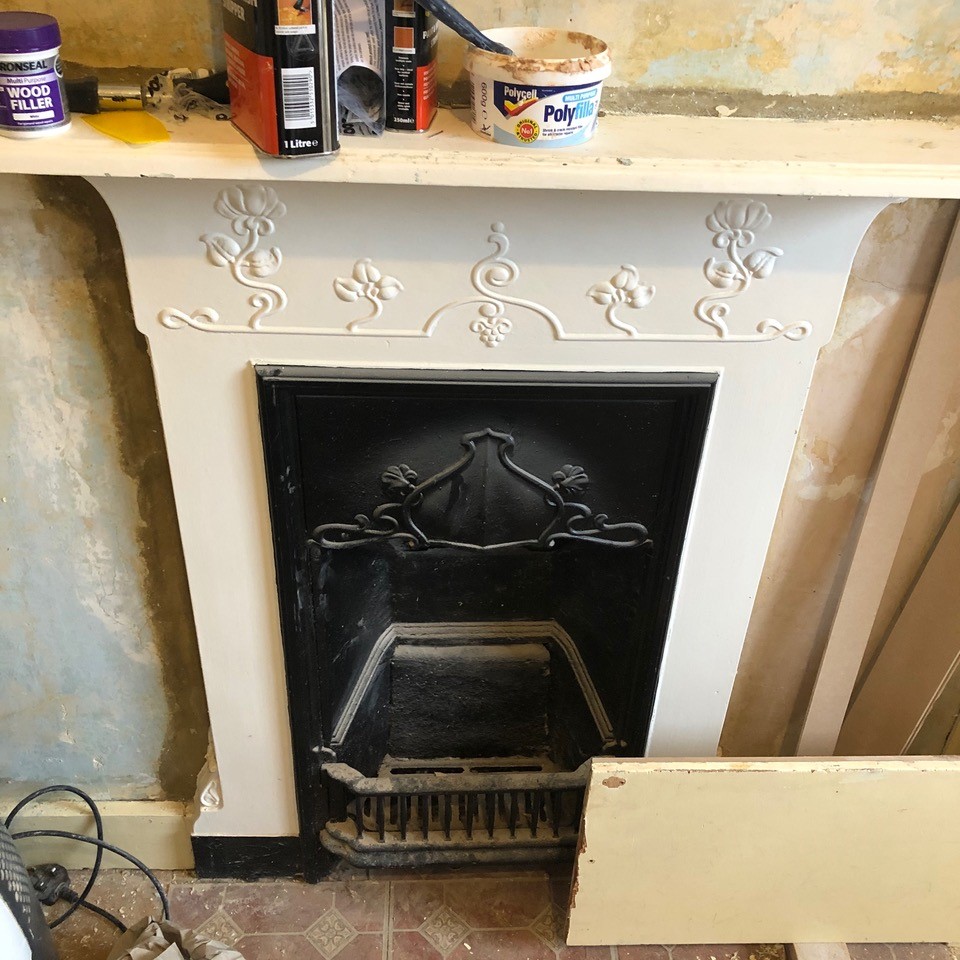 Both PeelAway products are available in a handy PeelAway 1 and 7 Sample Twin Pack, making it easier to test each product to find out which works best for your paint removal project.
All PeelAway products are supplied as a kit including an application spatula and protective blankets, to prevent the applied poultice or paste from drying out too quickly and before it has dissolved the paint or varnish. If required, extra PeelAway 1 Neutralizer and PeelAway 1 spare blankets, as well as PeelAway 7 spare blankets are also available. These are useful if the protective blankets need to be cut to shape or into strips for metal pipes, table legs or other required shapes.
Here's a blog post in which we give the Peelaway paint remover a rigorous trial.
Beautiful, clean, stripped wood…revealed. What's next?
You've stripped it. Now it's time to choose your wood finish. We have a huge selection of amazing products designed to breathe new life into your wood, whether it's a gorgeous old floor, a splendid piece of antique or vintage furniture, a pine door or rococo picture frame.
Here are some ideas to help you get creative with your good-as-new wood:
Paint and varnish strippers aren't the only removers we do. See our full range of paint, varnish, wax, stain and polish removers to find the product for your interior, exterior restoration or renovation project.
Need more help with paint strippers?
We'd be delighted to help. Just contact our team of wood finishing experts. They're always on hand to offer friendly help and advice. Alternatively, visit our wood stripper and remover FAQ page which covers many of our most commonly asked questions.
We love to see before, during and after photos of any wood finishing project. If you would like to share your decking project pictures with us, you can either send us some photos or share on our Facebook, Twitter, Pinterest or Instagram pages.
Other great blogs that discuss paint stripping