Wooden garden furniture can last a lifetime if it's treated with plenty of TLC throughout the year. Keep up with the regular wood maintenance and it may even outlast you. After all, Henry the Eighth's splendid warship, The Mary Rose, was made from wood and she lasted for hundreds of years despite languishing at the bottom of the sea. Not that you're likely to need to protect your garden chairs and tables against sea water, but you get my drift.
Here's a look at some of the oldest wooden objects on the planet, and some handy advice about how to make your garden furniture last for years – while you age gracefully, becoming a little frayed around the edges. You might not last hundred years, but your garden chairs might if you treat them right.
Wooden garden furniture maintenance –
A bit of background about wood
5,000+ year old trees

In 2013, researchers discovered a 5,062 year old tree from the family P. longaeva, in the Californian White Mountains range. It usurped the remarkable Methuselah, the previous record holder, which was an eye-watering 4,845 years old. In Iran, the Zoroastrian Sarv tree is an estimated 4,000 or more years old, a Mediterranean cypress that might just qualify as Asia's oldest living being. And in Britain itself it isn't that rare to find 1000 year old yew trees, often thriving in ancient church graveyards. Taking all that into account, it's no surprise that when it's looked after and nurtured properly, exterior wood furniture can last a very long time indeed. 
1,000 year old wood furniture

Then there's the Antiques Roadshow, where you occasionally see ancient furniture made of dark oak, sometimes dating right back to the 14th century. Bearing in mind that it was made from a very old tree, the wood you're looking at could easily be a thousand or more years old – just imagine what it has lived through, the stories it could tell…
70 year old garden sheds and 90 year old garden swings
Passmores have been building garden sheds for more than a century. To mark their 100th anniversary they decided to find the oldest Passmore shed still in use. They found it in Chatham, where it had provided gardening pleasure since 1939 and was still going strong. And, last but not least, in summer 2013 the Daily Mail reported on Britain's oldest garden swing, still in full working order in a Kettering garden after 90 years, complete with the original wooden seat. If your wood garden furniture lasts that long you'll be onto a winner.
How to keep your wooden garden furniture in the best condition
Now for the sensible bit. How, exactly, do you maintain garden furniture to extend its life as long as possible, save money, prevent waste and create a small piece of family history?
A large part of it is down to routine. The longer you leave it between cleaning and maintenance, the worse the everyday wear and tear will be. If you get to grips with it and introduce a maintenance routine at the end of every summer, before the bad weather sets in, you are already onto a winner. If you are able to store your garden furniture indoors for the winter , even better, but many of us don't have room to do that and most of it is designed to stay outdoors anyway.
3 steps to perfect wooden garden furniture maintenance
Get cleaning – You can tackle stains, grime, mould and so on with a kitchen sponge and some water. Or, if you have a lot of furniture to clean, use a high pressure sprayer. The water comes out at considerable pressure and simply blasts off the debris. Specialist spray washers for furniture come with a brush fitting, and you can hire a machine for around £20 a day. If the wood had black patches or spots, mould or algae before pressure washing, it's probably a good idea to scrub the wood with Barrettine Mould and Mildew Cleaner before treating with a wood preservative and finally with a quality Teak Oil, especially for very dense exotic hard woods or a dedicated garden furniture oil.
Dry out thoroughly – Be sure to let the furniture dry out before taking the next step. It can take several days, so restrain yourself until it is completely dry

.

Hard or soft wood? Hardwood garden furniture, made from popular hard woods like Teak, are more expensive in the first place but naturally last longer, being more dense and more oily than soft woods. It might not need extra preservative to protect it from rot, but on the other hand using a high grade Teak Oil or Natural Oil Woodstain will go a long way to keeping it looking gorgeous. Soft woods like Pine are much more vulnerable to rot, particularly at the ends of the wood where the grain faces outwards towards the ground or open air. You can protect exterior softwood furniture by standing the legs in a pot of wood preservative overnight.  Wood preservatives won't penetrate as well in other areas, but to improve its appearance you can always use an oil-based wood stain to enrich the colour and improve the sheen. 
How to remove emulsion paint from wood?
The best ways are manual: scraping, sanding and using paint stripper. If the emulsion is old it may have soaked into the wood itself, and be very hard to remove 100%. You could always try putting on two coats of dark wood stain, sanding it lightly then adding another coat to hide the colour of the paint.
How to remove gloss paint from wood?
Scratch the area you intend to remove the gloss from to allow the paint stripper to penetrate deeper. Apply the paint stripper. When it has done its thing – which will depend on the manufacturer's instructions – scrape off the resulting goo with a paint scraper. If there's any paint left, repeat the process.
How to remove varnish from wood?
Varnish, lacquer, Shellac and other clear products protect wood furniture against scratches, scuffs and stains. Sanding is a good way to remove varnish from wood, as are chemical strippers. Heat guns aren't necessary, as they're too harsh for varnish.
Recommended products for wooden garden furniture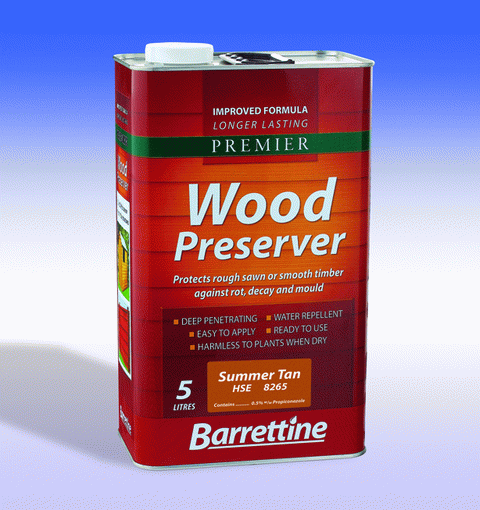 We rate Barrettine Garden Furniture Oil pretty highly, as do our customers. We also love their Premier Wood Preservative, which is excellent and available in a multitude of gorgeous colours. And their high quality Teak Oil is wonderful, too. But we have a huge choice of products for every garden furniture project. Here's a link to our full range of Garden Furniture products.
Not sure which wood preserver to use?
Need help with deciding which products are right for your project? Contact our team of wood finishing experts who are always on hand to offer free product and project advice.
We love to see before, during and after photos of any wood finishing, decorating or restoration project. If you would like to share your pictures with us and our followers, send us your photos or share on our Facebook, Twitter, Pinterest or Instagram pages.