Well-finished garden decking can be a thing of elegance and beauty. Whether stained, oiled or painted, it's the immediate eye-catcher when you enter a homes outdoor space. As summer comes into bloom, you'll find yourself out there more often than not, enjoying your investment for exactly what it is, a rewarding space to relax and unwind. 
It's not all sunshine and roses, however. Without proper maintenance, your finish is liable to damage from foot traffic, sun damage, weathering and just general wear and tear. Oiled decking is usually very forgiving and requires only a simple patch maintenance job to repair. With varnished and painted surfaces, though, it can be a very different story entirely.
Over time, the finish can start to crack, peel or flake. New homeowners can sometimes inherit decking in dire need of restoration. In times like this, the only course of action is to start anew.
Fortunately, there is a tried and tested solution, and these come in the form of wood finish strippers and removers. But just how might you go about applying these products and ensuring the bare wood remains undamaged and in good, quality condition? 
The Application Process
Before attempting to tackle this process, it is imperative to give your decking a thorough once-over. By this we mean, sweeping the surface with a stiff brush or broom to remove any loose dirt and debris.
Next, apply your stripper generously and work in small sections. Ideally, work from one corner outwards. The stripper should be left to work its magic. After about 30 minutes, use a stripping knife or a similar tool to inspect the process. If the old finish starts to pry away easily, you're ready to start scrubbing. 
Once more using a stiff brush, begin by scrubbing down the grain of the wood, then across. With this technique, the old finish should come away easily. If necessary, use water to aid the process and ensure you remove every last bit of the old finish.
As a final step, give your decking a good spray and wash it down, then leave it to dry. In no time at all, you should be ready to apply your brand new finish!
Product Recommendations
Ronseal Decking Stripper is specifically formulated to ensure quality results and works on both stains and oils. What's more, it can be used on both smooth or ridged softwood and hardwood decking. 
A unique gel formulation provides an easy application and the whole process works in just half an hour. Its truly exceptional revival qualities ensure your decking comes up looking brand new.
Looking elsewhere, Cuprinol Stain Stripper is designed to effectively remove surface coatings, such as paint and varnish type stains. A longer drying time of up to 2 hours can require a little patience (up to 4 hours will ensure maximum penetration), but its excellent coverage guarantees quality results. 
It is important to note that this product is not intended to remove solvent-based decking oils or stains that penetrate the surface of the wood.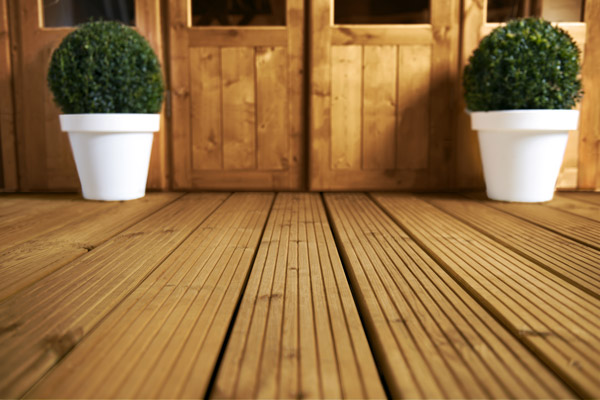 The Alternative
Sanding is an alternative that can be used to remove a finish from wooden decking. It can be achieved by utilising a power sanding tool, although there is a risk of damaging the wood if not carried out correctly. There will also be a longer cleaning time in the end, as opposed to using a stripper.
Sanding by hand is a very daunting process and often incredibly time-consuming. It is also unlikely to achieve quality results.
Need help with your decking?
For more information about decking treatments and their uses, contact our team of resident experts who are always on hand to help with project advice and product recommendations. Alternatively, see our decking treatments FAQ page which covers many of the most commonly asked questions.
We love to see before, during and after photos of any wood finishing project. If you would like to share your project pictures with us and our followers, you can either send us some photos or share on our Facebook, Twitter, Pinterest or Instagram pages.
Other great blogs that dicuss decking