When looking to colour real wood flooring, wood veneers, furniture, decking or for that matter, any sort of interior or exterior wood, getting the right colour is always an important factor. From rich teak to medium oak, stripped pine to mahogany, there are an amazing array of wood stains, wood waxes, coloured varnishes and wood oils for any project.
Choosing the right colour
One of the difficulties with wood specific colours is that every manufacturer of wood finishing products and indeed most people's interpretation of what particular wood colours should be called differs. A classic example of this is demonstrated by going to Google Search when typing in 'medium oak wood'. Google will display literally thousands of images that companies and individuals have tagged on their websites as 'medium oak wood', and it becomes immediately obvious that a lot of these websites have a very different idea of what a 'medium oak' colour should be. The same can be said for pretty much any type or colour of wood when searching in Google Images.
A common approach we take at Wood Finishes Direct when customers call to discuss the staining of wood is to ask them to ignore the colour names and to focus more on the actual colour swatch. It's often the case that although they come to us initially looking for a medium oak wood stain, they may very well feel that our medium oak stain is too light, too dark, too warm or not warm enough but then see another colour which exactly matches their expectation such as our Dark Pine or Teak wood stain.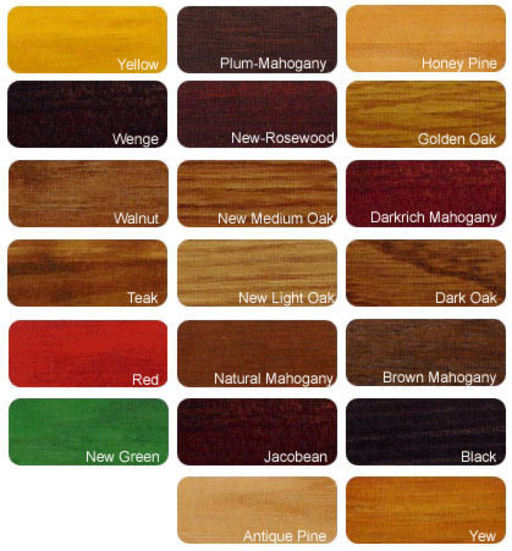 Staining different wood species
Another major consideration with wood finishing products is that the coloured product, be it a wax, oil, stain or varnish, is designed to be translucent, i.e. it allows the wood grain to show through the colour. As the natural colour of the wood will always have a major influence on the colour of the applied wood finish. There will always be a different result if the same product is used on a piece of Pine, Oak, Larch, Beech or any other type of wood. The same is true even if sticking with the same type of wood. Taking Pine as an example, with hundreds of Pine species, all will give a different final tone to the colour in one way or another. This can be an issue with old floors where the majority of the boards are original but some have been replaced over the years. The replaced boards will react differently with the applied finish and will probably give a different look to the original boards when coloured, even if they are the same species. The difference in colour can usually be made less obvious but may take some experimentation and testing to get it right.
What's the solution?
So what is the best approach when looking to colour wood with a coloured or pigmented wood finishing product? In short, trust your eyes and go with the colour that looks right rather than by the name of a colour. Always keep in mind that the colour of the product on your floor or furniture will likely differ to the example colour swatch on the tin. Another thing to take into account is that when viewing wood finishing and indeed paint colours online, everyone's monitor is set to a different contrast and colour setting similar to when you see the same TV programme on many TV's when you walk into a TV shop.
With so many factors to take into account when choosing a colour for a wood finishing project, our advice is to always do a test area first on the actual wood to be stained and finished. If you find that the colour is either too light or too dark on the test patch, there are probably things that can be done to fine-tune the final colour. For example, a water-based stain can be diluted with water to lighten the shade. This is by far better than completing a major project to then be faced with the prospect of having to sand it all off and start again.
Need more help with Oak?
Need help with your oak project?
For more information about working with oak, contact our team of resident experts who are always on hand to help with project advice and product recommendations. Alternatively, see our FAQ page which covers many of our most commonly asked questions.
We love to see before, during and after photos of any wood finishing project. If you would like to share your project pictures with us and our followers, you can either send us some photos or share on our Facebook, Twitter, Pinterest or Instagram pages.
Other great blogs that disucss Oak