You could throw away your old wooden furniture and fixings. Or you could mend it. These days, as the reclaiming, recycling and re-purposing revolution rumbles on and our throw-away culture dies a long-deserved death, more and more people are prepared to make do and mend than throw something perfectly good away just because it's damaged, old or less than perfect. As a result we're seeing a significant increase in wood filler sales. But why, when and how do you use them? Here's our dummies guide…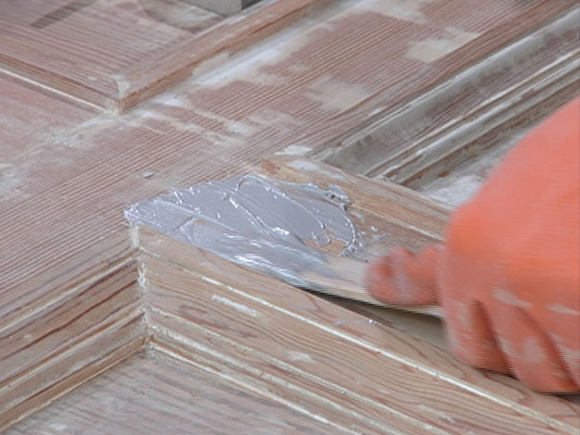 Using Wood Fillers – What You Should Know
First, what exactly is a wood filler, AKA 'wood putty', 'grain filler' or 'plastic wood'? According to Wikipedia, it is:
Wood fillers can also be made of synthetic materials that will often accept wood finishing products. Sometimes, these are available in pre-tinted colours which cannot be coloured further, other than by painting over them.
You can completely hide holes and other damage using wood filling products, which is great news if a beloved piece of furniture, expensive wooden floor or exterior wood needs some TLC to bring it back to vibrant life.
About special Oak wood filler, Pine wood filler and more…
You can buy pre-coloured products especially for certain woods. Take Osmo Wood Filler, which comes in a wide variety of attractive colours designed to match woods like antique Oak, Beech, Cherry, Ebony, Pine, Spruce and even exotica like Jatoba wood.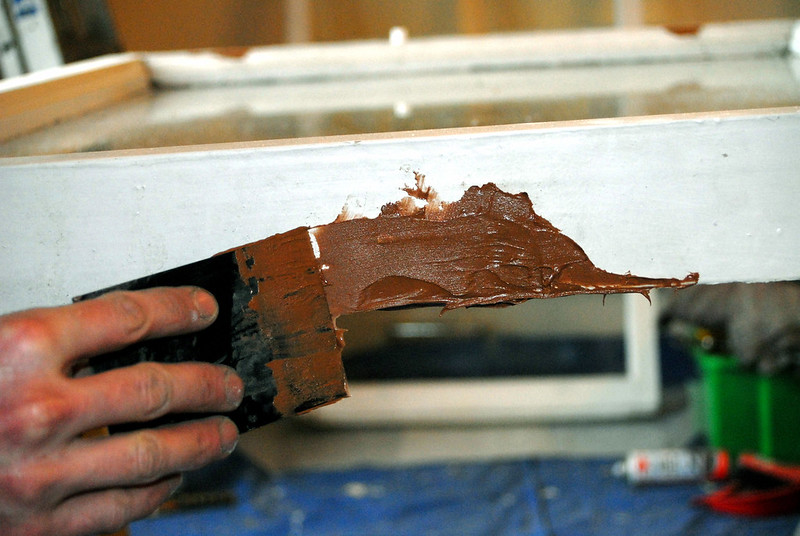 Four key ways to use wood filling products
The best quality products are incredibly versatile. You can use them in four key ways:
To fill holes and cracks – You need a thick filler to fill cracks and holes in wood. But you have to prepare the inside of the hole or crack first so the filler sticks properly. Sand the inside of the hole of gap if you can and remove every speck of dust – vacuuming is ideal. Then use a putty knife to force the product into the hole. Smooth the top surface and once it's dry sand it until you get an even finish, flush with the surface of the wood. You can use this method for wood flooring, furniture or anything else prone to cracking. Remember you can paint or stain the finished surface afterwards to make your repair invisible – just wait until it's 100% dry first.
To fix damaged furniture – Furniture demands some careful thought before you start. Firstly, are you mending the surface – a cosmetic repair – or a load-bearing part? The best product for surface repairs is a combination of thick and thin filler, with larger spots of damage needing thicker filler and smaller areas, a thinner product. To mend essential load bearing elements, a special wood hardener rather than an ordinary filler is probably your best option.

To fill gaps between boards – You can even fill large gaps between your floorboards and skirting boards. There's a specialist product for this called Bona Gap Master, available in a choice of popular colours including white and black as well as a load of natural-looking wood tones.

Fillers that look like wood – When filling wood you need to ensure that the filler is 100% dry before staining or varnishing it. Filler gels are popular as they tend to keep repairs looking more like wood rather than a piece of white or coloured plastic. Filler gels work by mixing sanding dust, preferably from the wood being sanded and repaired, with a clear gel that binds the dust together. This forms a wood filler, that is partially made from real wood that can be stained, varnished or oiled. The thickness and consistency of the gel can be altered by adding more or less sanding dust, but the normal mixture is usually 50% gel to 50% sanding dust. Two popular filler gels that receive good customer feedback are Bona Mix and Fill and Fiddes Wood Filler Gel.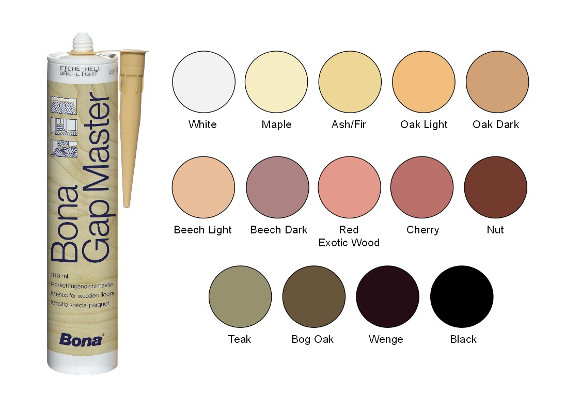 About Ronseal High Performance Wood Filler
Ronseal High Performance Wood Filler is a unique two-part product that delivers incredibly tough, strong and durable repairs to more or less any kind of interior or exterior wood.
Unlike some wood fillers, it can fill holes to any depth as long as you take it easy, filling half a centimetre at a time and waiting for each layer to dry before adding the next one.
It dries rock hard in just half an hour. You can drive screws into it, sand it, plane it, file it, bang nails into it and drill holes in it. You can paint, stain or varnish it. It kills wet rot and prevents it coming back. And when you use it with Ronseal's special Wet Rot Wood Hardener, you can even mend rotten wood with it. Awesome! As you can imagine it's an enormously popular choice with builders, carpenters, DIY-ers and craftspeople alike.
Practice makes perfect
There's no reason why you shouldn't do a few test runs on old bits of wood before tackling the real thing. The human brain is an amazing machine and it'll soon build new neural pathways that make you more confident and competent. That way you stand the best chance of doing a great job.
Can I remove the filler once it's dry?
Fillers are often harder than the wood itself. But you can remove them, and there's some top guidance on the UK eHow site about how to do it.
Want to watch a video about how to use wood filler?
YouTube has the perfect video about how to use wood fillers…
Need our help with wood filler?
For more information about wood fillers and their uses, contact our team of resident experts who are always on hand to help with project advice and product recommendations. Alternatively, see our wood filler FAQ page which covers many of the most commonly asked questions about wood filler.
We love to see before, during and after photos of any wood finishing project. If you would like to share your project pictures with us and our followers, you can either send us some photos or share on our Facebook, Twitter, Pinterest or Instagram pages.
Other great blogs that discuss wood restoration