The humble garden gate – It's easy to think of them as just a necessary fixture of the garden, a continuation of the garden fence or wall and merely a point of entry and exit. In reality however, they enhance the aesthetic appeal of a property or garden by adding character, colour and style. The gate is often the first thing visitors see and its appearance can define someones expectation of what lies beyond by giving a good or bad first impression.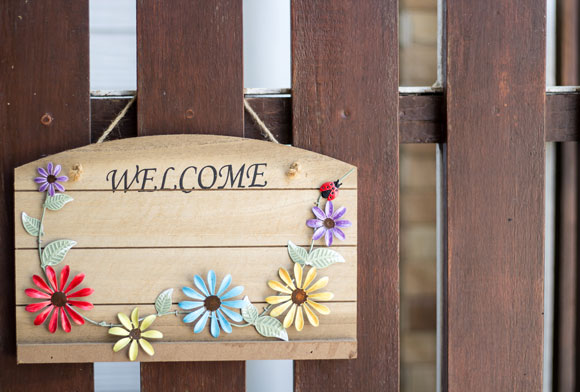 Which garden gate to choose
Choosing a garden gate largely depends on the style and intended purpose. For some, a small white picket style gate that blends in seamlessly with the fence provides a traditional country cottage look. For others, something altogether more sturdy and secure that provides a higher level of privacy and security may be what is needed.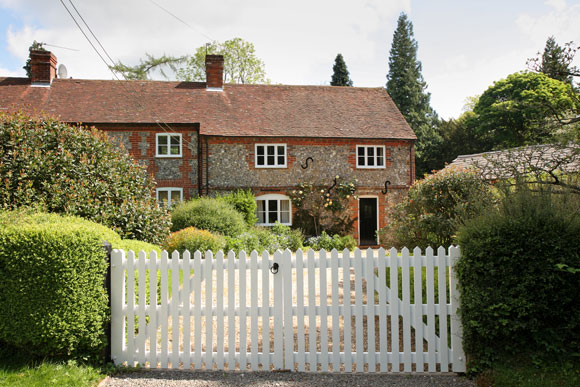 Types of gate
Essentially, garden gates tend to be made from one of two materials, wood or metal. Metal gates come in a variety of shapes and styles. Although straight angular designs are available, metal gates traditionally tend to be more ornate in nature with symmetrical twists and curves in the metal work.
In terms of size, it depends on the size of the opening. From the standard garden gate and side gate to the altogether more impressive estate and driveway gates. They can be as small and simple or as big and impressive as can be imagined.
New metal gates
Deciding on whether to invest in a new metal garden gate largely depends on budget and the type or style of gate required. Modern metal gates can be picked up from many of the major DIY chains relatively cheaply, in many cases for as little as £40. High quality metal gates can cost hundreds of pounds or more for bespoke designs and materials.
Metal gate restoration
Reclaimed metal gates, usually constructed out of Wrought Iron can be purchased from around £50 upwards. Depending on size and style, and if they are sold 'as is' or have been lovingly restored, reclaimed gates can run into the hundreds or even thousands of pounds. The beauty of an old metal gate is that it can be taken on as a home DIY project. They can be sanded back with an abrasive paper or wire brush to remove rust and other loose surface material. Once returned to clean metal they can be treated with a rust treatment if required and painted with a suitable exterior metal paint, or other treatment such as Hammerite.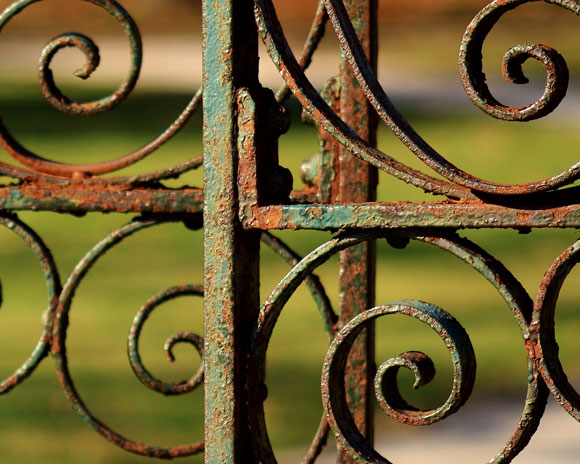 If getting your hands dirty isn't for you, there are companies who can be found online that offer sand or shot blasting services. This takes old gates back to bare metal by removing all traces of rust, corrosion and previous surface coatings. Some provide professional refinishing or coating services or are happy to send the stripped gates back to the owner for painting.
Wooden garden gates
Wood has been used in gates for centuries, think of castle draw bridges, ancient church gates and doors. This all proves that wooden garden gates can last as long if not longer than a metal one if well maintained. For some, keeping it wooden reinforces the connection with nature and the surrounding plants and trees.
New wooden gates
As with metal gates, wooden garden gates can be bought off the shelf at any number off online and high street retailers. Costs can vary dramatically depending on the size, style, type and grade of the wood used. For a budget garden gate, look to spend around £30 to £50. For a budget full height side gate, usually around 1.8mtrs tall, look at spending around £70 to £100. At the other end of the spectrum, an off the shelf premium garden gate usually costs between £80 and £160 with full height premium side gates costing anything up to the £250 mark.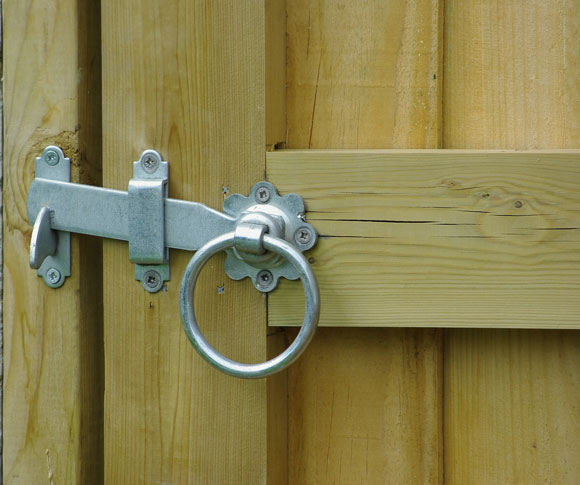 Basic estate and driveway gates can range from £200 upwards, again depending on size, style and construction. High end versions can cost thousands.
Gate care and maintenance
Having spent your hard earned cash on the perfect gate for your garden, it makes sense to ensure that your investment is given the best protection to keep it looking good for as long as possible. If well maintained there's no reason why a good quality wooden gate wouldn't last a lifetime.
Almost all new garden gates are tanalised or pressure treated to protect the timber against wood rot and insect attack. This said, these treatments don't provide all-round protection against weathering. Weather erosion and UV rays will slowly degrade the effectiveness of these treatments eventually rendering them ineffective. Whether made from a softwood or hardwood, treating the timber with a wood preservative and a top coat of oil, stain, paint or varnish will protect the wood for years. Fence paints are perfect for use on garden gates and will help to protect the wood from weathering and water damage.
If the gate is to be kept natural where the wood is clearly visible, our recommendation is to overcoat any preservative treatment with a clear exterior wood oil or decking oil. These products tend to contain a blend of wood oils, waxes and resins that penetrate into the wood grain to provide excellent protection against water ingress. Many of these products also contain UV filters which help to retain the natural colour of the timber for longer, delaying the onset of the grey, weathered look.
Garden gate paint
If painting a wooden gate to add character is on your agenda, it's important to ensure that any wood preservative used beforehand is wax, oil and silicon free. Many garden paints are water based and any pre-treatment that contains wax, oil or silicon will simply repel the paint from the wood.
An alternative to painting is using a pigmented or coloured exterior wood oil. These are available in both semi-translucent and opaque finishes and work perfectly well over wood preservatives that contain wax or oil.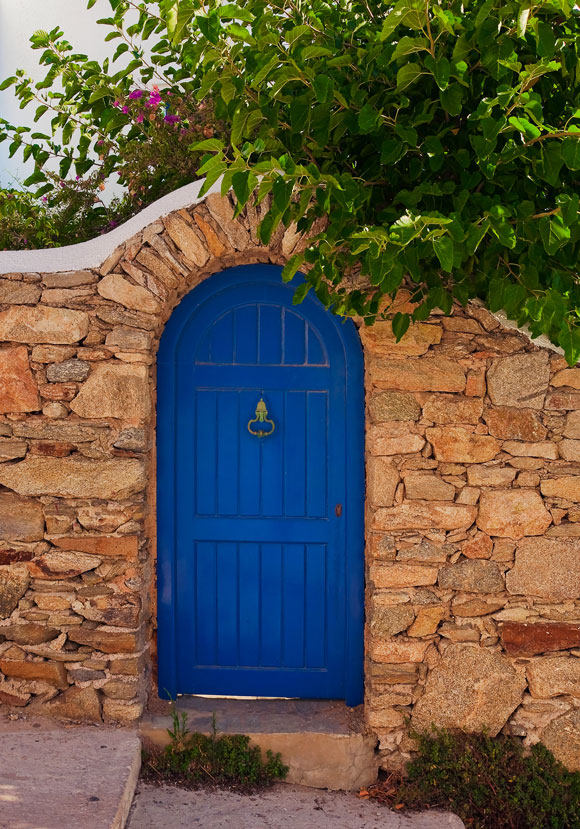 Wood Stains
Applying an exterior wood stain to a wooden gate is a great way of retaining the natural grain of the timber while changing the colour to give a desired effect. For example, a light coloured softwood gate can be stained and sealed to give the colour appearance of Mahogany, Teak, Rosewood or Walnut. Wood stains such as Sadolin and Sikkens are designed to provide excellent colour and long lasting protection to exterior joinery and wood. Ideally suited to smooth planed timber rather than rough sawn wood, a key feature of these varnish-like stains is that they can be maintained over the years by cleaning and re-coating when the finish starts to look dull or tired.
Why oil wooden gates?
As with any other garden wood such as sheds, fences and decking, it's always a good idea to oil the wood as part of a yearly garden maintenance program. Why? Simply speaking, wood oils penetrate in to the wood grain to replace the natural oils lost over time. This helps to keep the wood nourished and flexible, helping to prevent or reduce cracking, warping and splitting. In addition, many exterior wood oils and decking oils contain UV filters that help to protect the timber from the bleaching effect of the sun.
Another benefit of using wood oils is that they help to prevent water ingress, a common cause of mould, algae and wood rot.
Wooden gate restoration
Old wooden gates that have turned grey or silver over time can usually be restored, as long as they're not rotten and falling apart. Follow these simple steps to give old wooden garden gates a new lease of life.
Remove any old coatings such as paint or varnish with a paint stripper or by sanding
Treat any green or black areas with a suitable mould and mildew cleaner
To restore the colour of timber that has turned grey or silver over time, use a wood reviver and restorer and scrub in to the surface of the wood grain with a stiff brush or scotch pad
Rinse off the wood reviver with water, following the manufacturer's instructions at all times
Treat the gate with a suitable exterior wood preservative remembering that if the gate is going to be painted or treated with a water based product, the preservative must be wax, oil and silicon free
Apply a clear or coloured exterior wood oil, decking oil, exterior wood stain or paint
Top Tips
Wooden and metal garden gates must be clean, dry and free from surface dirt, grease and other surface contaminates before treating, coating or painting. Wiping the gate down with White Spirit or Methylated Spirit is a great way to de-grease the surface before treating
Wooden gates should be allowed to dry for several days to allow any moisture in the wood to evaporate before treating
Most paints and wood finishing products require an ambient air temperature of 10? or above to aid application and work effectively
Do not paint or treat garden gates if frost or rain is likely within the next 48 hours
Need help with your garden gate project?
For more information about garden gate maintenance, contact our team of resident experts who are always on hand to help with project advice and product recommendations. Alternatively, see our gate finishes FAQ page which covers many of the most commonly asked questions about wood preservers.
We love to see before, during and after photos of any wood finishing project. If you would like to share your project pictures with us and our followers, you can either send us some photos or share on our Facebook, Twitter, Pinterest or Instagram pages.
Other great blogs that discuss gardens