Railway sleepers are an enormously popular garden building material. They look absolutely beautiful, they're rugged, they last more or less forever when properly maintained and they play a part in all sorts of creations from garden steps to raised beds to basic garden furniture. Simply pile a load of them up and you've got some wonderfully simple seating. Or use two sets of two topped with a piece of wood, glass or even sheet metal to make an outdoor coffee table.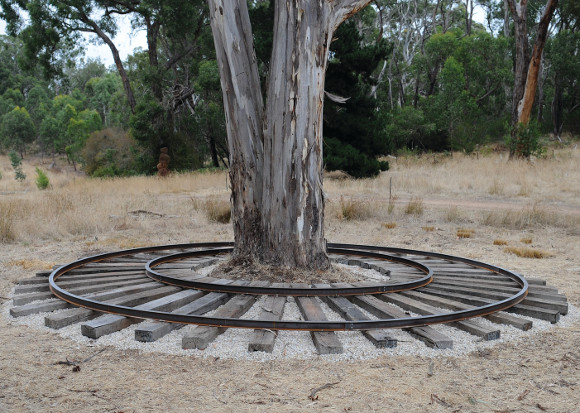 They're versatile, good looking and as solid as a rock – so what are wooden railway sleepers for, where can you buy them, what do they cost, how can they be used and how do you preserve them to keep them in great condition over the years?
About railway sleepers
What are railway sleepers used for? They're laid horizontally under the metal railway tracks to hold them in place at the right gauge. As such they're the backbone of rail travel and millions of them are used every year to build new lines and maintain existing ones. While other materials have been tried and tested wood seems to work the best, perhaps because unlike concrete it's slightly flexible.
We love this little piece of research carried out by a clever chap on the railway-sleepers website. Curious about how many sleepers there are in Britain, he decided to find out. Here's what he discovered:
Great fun! In fact the entire Railway Sleepers website is an excellent resource for anyone interested in the fine detail. Sleepers might seem simple enough but there's a lot more to their history than meets the eye.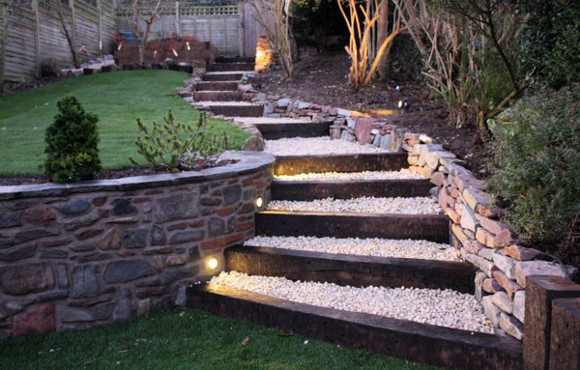 Where to buy railway sleepers
You can buy new or used sleepers. These days the new ones come in a variety of guises:
New shaped and profiled sleepers, some with fancy edges
New pine sleepers
New oak sleepers
Used and reclaimed sleepers tend to have a lot more personality, each unique and ready-weathered. They come in anything from untreated hardwood to treated softwood, and a variety of timber types including pine, oak, jarrah, azobe and karri.
All you need to do is Google it and you'll find numerous places to buy railway sleepers, including reclamation yards and garden centres, fencing suppliers, builders merchants and auction websites. It's obviously a booming product, and prices vary enormously – you can pay as little as £10 for a perfect, new untreated sleeper or more than £20 each for beautiful used ones.
Creative uses for railway sleepers
With a multitude of uses, sleepers are a gardener's best friend. But you can also use them indoors – there's no reason why you can't create indoor furniture and features using them, for example, as a gorgeous, chunky mantelpiece, a rock-solid settee or bed base and even a dining table.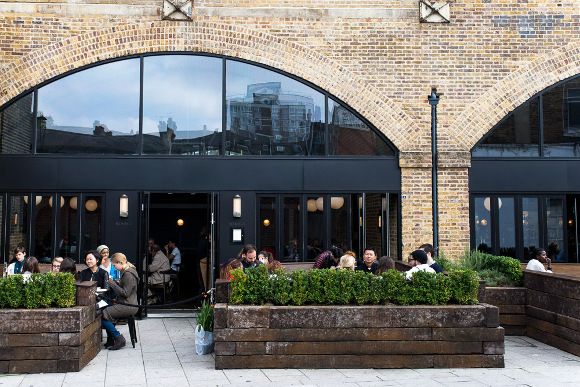 They make brilliant pedestals to sit beautiful pottery, sculpture and other precious objects on. If your walls are strong enough – and they'd have to be pretty strong – you could get a chippie to attach them skilfully and create big, bold, beautiful floating shelves. And you can lay them either horizontally or vertically.
Here are 18 cool ideas for using railway sleepers in the garden
Raised beds filled with soil and plants
A raised garden pond, building a wooden container to take a pond liner
An entire garden paved with them instead of flagstones, gravel or paving
Lawn edging
To make walls to divide your garden into different 'rooms'
As a pillar to stand a bird feeder or birdbath on, or to stand an outdoor sculpture on
Wood carving – if you're ambitious and skilled you could carve a totem pole
Garden benches, demarked seating areas, seats and tables
Pile them up to create a giant wooden Jenga-like garden sculpture, or your own miniature Stonehenge, a maze
Line a pit with them to make a semi-subterranean seating area
A composting area
A children's sandpit
Steps
To mask ugly stuff like compost heaps and garden tools
As super-strong fencing, or as an alternative to a low brick front garden wall
As bollards to protect your verge
To build terraces, making a steep garden useable
The used ones are so attractive, especially when really worn, that you could dig a hole, stick one in and set it into the ground with sand and cement for an instant garden sculpture, all on its own. Stand a beautiful rock on top and it'll look even better. Create a random collection or straight line of three or five sleepers with different rocks on top for an extra special effect
How to preserve wooden railway sleepers
Like all wood, sleepers will eventually rot and fade when exposed to the weather. To prevent them falling to bits before their time, you need to use a good wood preserver. But first you need to know what wood your sleepers are made of: are they hardwood or softwood, and have they already been preserved or are they untreated? Once you know that, you can get busy protecting them from wear.
Hard or softwood sleepers?
We've already written in detail about the difference between hard and soft woods. Here's a link to our post to help you decide which is best for your garden and the purpose for which you want to use sleepers.
No to creosote… but yes to Creosolve
Sleepers were traditionally preserved and protected with creosote, but it's nasty stuff and not recommended these days. Barrettine Creosolve delivers the same effect in an oil-based creosote substitute perfect for exterior wood. It's safer and more environmentally friendly than the old fashioned stuff and it comes in light or dark shades, ideal for creating different finish effects. But the best thing of all is this: it's actually been designed to work beautifully on rough wood, which means if you want to maintain that lovely worn texture you get with used sleepers, you can.
Aside from that, we have an entire department dedicated to railway sleeper maintenance. They're products we've chosen specially because they are perfect for protecting new and old wooden railway sleepers from rot, mould and fungi, and from the worst ravages of water and sunshine.
More queries abut railway sleepers?
For more information about railway sleeper treatments and their uses, contact our team of resident experts who are always on hand to help with project advice and product recommendations. Alternatively, see our railway sleeper FAQ page which covers many of the most commonly asked questions about railway sleepers.
We love to see before, during and after photos of any wood finishing project. If you would like to share your project pictures with us and our followers, you can either send us some photos or share on our Facebook, Twitter, Pinterest or Instagram pages.
Other great blogs that discuss railway sleepers