We live in a green and pleasant land, and its many forests and woodlands play a large part in making our quirky little island so beautiful. Us Brits have become a nation of nature lovers, caring about the world around us and striving to do our bit to tackle climate change – for which trees play an important part. So this week we're taking a look at the UK's trees, how they compare to the past, the dangers today's woodlands face, projects to restore them and organisations that protect them.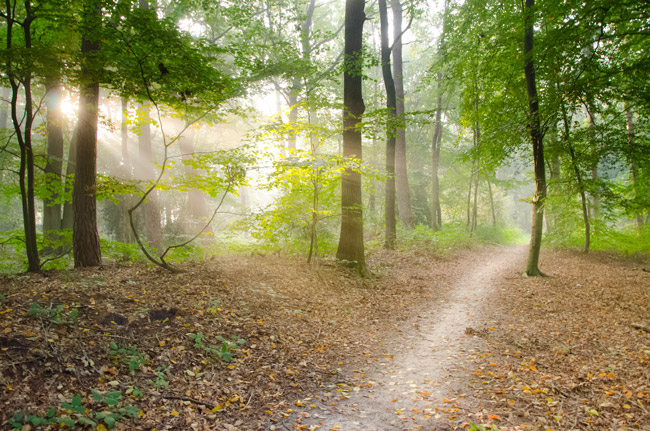 Why do humans love trees so much?
Why the age-long love affair with forests? One reason is purely chemical – like all green growing things, trees give off complex chemicals that humans find irresistible. All you need to do is spend an hour in a woodland and let it's magic do its work. You'll feel happy, relaxed and content when strolling among the trees. The fresh scents alone can make you feel renewed and inspired. Being surrounded by the beauty of plants and trees, bursting with life is like medicine for the spirit, and it's completely free.
This phenomenon hints at an evolutionary imperative, in other words something humans evolved to appreciate for a very good reason. Scientists say simply being outdoors is good for our physical, emotional and mental health. It's no surprise really, when our race was born and bred in the fresh air and until recently, spent most of our time in it.
Facts about British Woodlands and Forests
Britain has all sorts of woodlands. Our oak woods, for example, are dominated by a variety of trees including oak itself, birch, holly, rowan and hazel. Under the canopy you find carpets of bluebells, wild garlic and wood anemones, which die back after spring has passed. These woods are home to masses of insects, birds, amphibians and mammals, fungi, mosses and lichens, and this kind of forest once covered much of the country.
The problem with oak is it's so useful. That's why we have so few big oak forests left. Henry VIII, for example, more or less decimated the nation's stocks, using countless thousands of mature oaks to build his legendary fleet of warships. Luckily there's much more to our country's woodlands than oak forests.
Take broadleaf forests. According to the BBC nature pages:
"Broadleaf forests are the dominant habitat of the UK and most of temperate northern Europe. There's little left of Britain's ancient wildwood, but isolated pockets of oak, beech and mixed deciduous and evergreen woodlands are scattered across the continent, and dictate its biodiversity. These forests are most diverse in the eastern areas of North America and in China. Unlike many forests, plentiful immature trees and undergrowth means most life is on the forest floor."
Beech woods are a big favourite with their pale green foliage and dense canopy. There's no way for the sunshine to get through so the floor is usually crisp and bare, strewn with nutrient-poor beech leaves, and there are few if any other trees. But in spring you'll find carpets of vivid bluebells.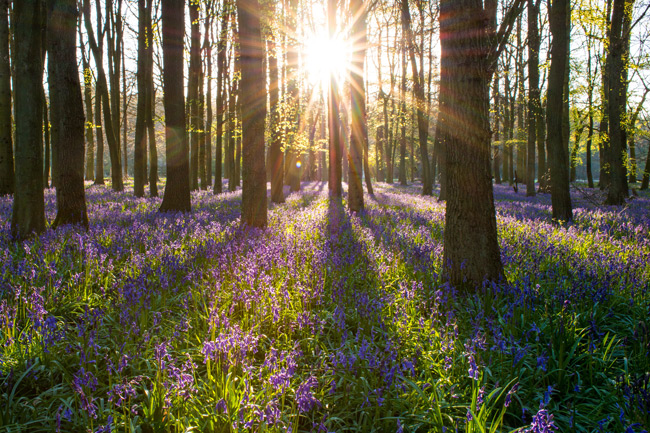 In some places we see coniferous forests, which usually also contain a scattering of broadleaf trees. In some wetter, colder places abroad you'll see coniferous forests full of massive, incredibly tall specimens of huge trees like the America's redwoods, but our climate is too warm and dry for them… No, really!
Famous forests and woodlands
We're fortunate to have a good few huge stretches of forest to explore, protected for the future. Sherwood Forest, for example, the home of the fictional Robin Hood and his merry men. Some are classified as Ancient woodland, which means they've been continuously forested since 1600. Having said that, there is no woodland that hasn't been affected by human activity in one way or another since the end of the last ice age.
Wikipedia provides a list of forests in the UK. And there's bound to be one near you, somewhere you can go to de-pressurise, take time out and reconnect with nature. But the best known woods in the nation are probably these:
Sherwood Forest in Nottinghamshire
The New Forest in Hampshire
Bedgebury National Pinetum and Forest in Kent
Charnwood Forest in Leicestershire
Cannock Chase in Staffordshire
Kielder Forest in Northumberland
Grizedale Forest in Cumbria
Epping Forest in Essex
Ashdown Forest in Sussex
Royal Forest of Dean in Gloucestershire
Savernake Forest in Wiltshire
Argyll Forest Park in Argyll and Bute
Forest of Ae in Dumfries and Galloway
Abernethy Forest in Strathspey and Badenoch
Strathyre Forest in Stirling
Gwydir Forest in Conwy
Clun Forest in Powys
What did our forests look like in centuries past?
We used to have a great deal more forest. The woods were bigger, wilder, richer in wildlife and less-managed. We tend to think the decline happened in the past couple of hundred years as humans, fuelled by the Industrial Revolution, spread across the natural landscape and made it their own. But apparently that's not the case. The latest research reveals humans have been denuding the country's trees since the Bronze Age, potentially longer.
The country wasn't actually smothered in forest until the Romans arrived. In fact much of England was already cleared by 1000 BC, with the Bronze Age bringing intensive farming on an unprecedented scale. Roman Britain wasn't a frontier province covered in dense woodland. It was already changed forever, with millions of acres of wild woods cleared to create farmland.
Since most UK trees are pretty hard to kill – with the exception of pine, they don't burn well and they grow back after felling – it was a herculean task. In fact our distant ancestors managed to destroy south east England's pine forests altogether, which only recovered in the 1900s thanks to the formation of the Forestry Commission.
The challenges British Woodlands and Forests face today
The global economy means tree diseases can travel across seas and vast areas of the planet more easily than ever. Old sinners like Dutch Elm Disease have seen off most of the country's elms since the 1970s and new diseases like Ash Dieback are making an inroad. Who knows what other tree diseases are in the pipeline, with the climate changing and the environment full of pollutants.
Despite the warning signs we still insist on clearing forests, although in the UK they're pretty well protected. But there are still building developments, new roads, new housing estates and a housing crisis. If it wasn't for the various bodies set up to look after our forests and woodlands, we probably wouldn't have much left by now.
Since we sell wood finishing products, we have a vested interest in the ongoing health of the country's trees and forests. And as nature lovers we know there's nothing quite as good as sitting under a tree on a hot summer's day and simply breathing in that wonderful fresh smell.
There are all sorts of projects going on, large and small, designed to restore woods and re-introduce native tree species to ancient and new forests. A big vote of thanks goes to all the organisations, at home and abroad, dedicated to protecting our natural heritage and making sure our grandchildren have plenty of beautiful woodland to enjoy.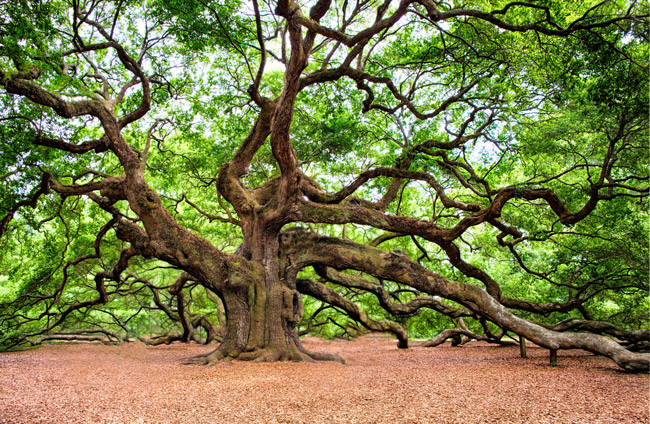 Here's our roll of honour, thank you for supporting our trees…
Can you buy your own chunk of British forest?
Yes, you can. Woodland for sale usually comes without planning permission and no chance of a legal change of use, which makes it relatively cheap compared to buying land to build on. And it usually comes with legal covenants, where you agree to maintain the woodland properly and keep it in good condition by coppicing, thinning and so on. This is great since it puts you in personal charge of the health and welfare of a little piece of natural Britain, something you can be proud of.
You're sometimes allowed to build non-permanent structures, say to stash your tools and tea making equipment, and in some cases you're allowed to stay overnight for a limited number of days per year.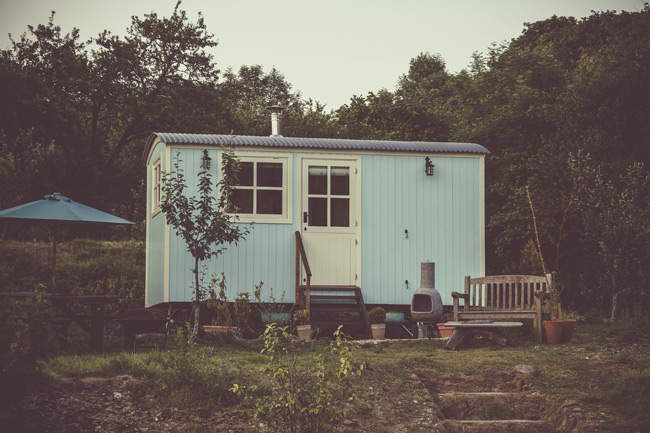 How much does it cost to buy woodland in Britain? It depends on the woodland and where in the country you are. Some friends recently bought a 3.5 acre chunk of deciduous woodland on the Surrey / Sussex border for around £45,000. It's a little slice of heaven, a magical place to spend a day.
The good news?
Best of all, and perhaps counter-intuitively, the amount of woodland in Britain is steadily increasing. As reported by the United Nations in 2010, it has returned to levels not seen since the 1750s and tree cover has more than doubled since the end of World War One. Let's keep up the good work!
Which is your favourite UK forest or woodland and what do you like about it so much? We'd love to hear from you. Leave a comment below.