Back in October 2015 we concluded part 2 of the Wood Finishes Direct Story. May 2017 marks another mile stone in the company's journey, the 10 year anniversary of our website and selling direct to the public online.
Wood Finishes Direct was first incorporated in 2005 and was celebrated in 2015 with a 10 year anniversary party for staff and families. But it wasn't until May 2007 that the first iteration of the Wood Finishes Direct.com website went live. in our first month we took a total of 172 online orders, the very first being a 5Ltr tin of Fiddes Supreme Wax Polish.
So where are we today? For a quick overview of the company history and where we're at today we've produced a nice little infographic to show you our journey.

How much have we shipped in the last 10 years?
It can sometimes be difficult to visualise quantities when talking about Kilograms, Litres and number of packages, especially when talking about big number such as 1.3 million items weighing in at some 3.8 million KG's. To help we've done some fun calculations.
So in numbers, we've…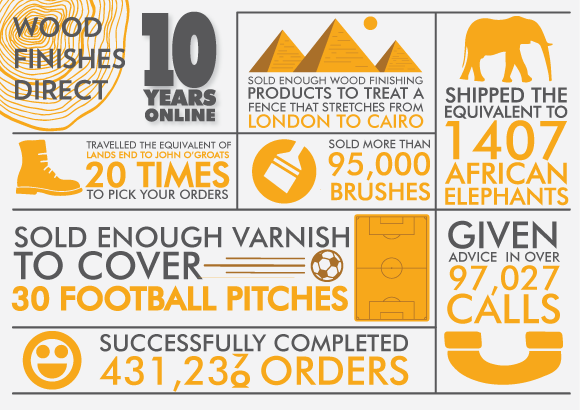 Now operating from 3 buildings covering a total area of some 30,000 square feet, Wood Finishes Direct are well placed to take on the local and national demands for wood finishing products.
Celebration Delivery Offer
As a little thank you to all our customers, new and existing, who are looking to place an order with us, for one week only*, we're offering FREE DELIVERY on all orders over £25! Starting 10pm Sunday the 14th of May. This means that orders of just £25 will be eligible for free economy UK delivery. Need it quicker? Get next day delivery for just £1.24.
How are we celebrating the occasion?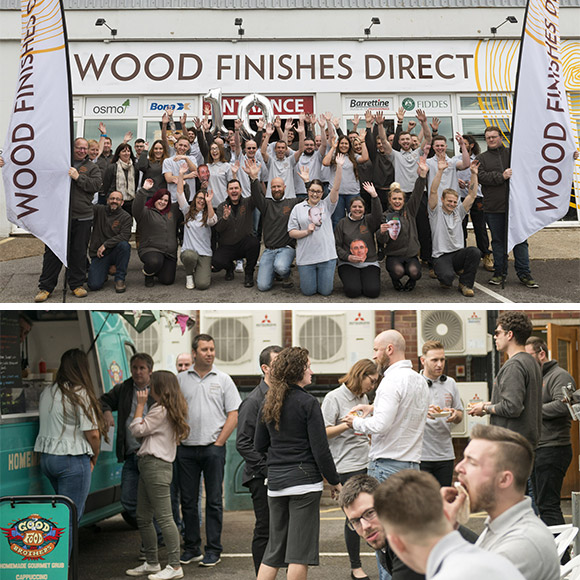 Although it's business as usual, there's still a nice party vibe at the office with party balloons, fun, games and a visit from the mobile gourmet catering van, who will today be serving locally sourced Steak and Bacon Burgers, Super Special Pork Burgers, Char-grilled Chicken Mango Wraps, Super Spicy Bean and Mozzarella Wraps, a selection of Loaded Fries, amazing toasties and burgers to office and warehouse staff – Yummy!
If you have a wood related DIY project in mind, interior or exterior, and need free expert advice, give our team of resident experts a call. If you're local to the Folkestone area, pop in and see us. We're always on hand and happy to help with your wood finishing needs.
*delivery offer ends Midnight Sunday 21st May 2017