A fence is just a fence. Or is it? When you paint your fence there's suddenly plenty of potential for transforming a boring yet essential structure from something entirely practical into something that also visually enhances your outdoor space. And now is the perfect time of year to get busy painting your garden fence.
Why paint your fence in the first place?
You might adore that lovely silvery sheen you get on worn fences. It's subtle and beautiful, if you like that kind of thing. But to some people's eyes it just looks knackered! If you'd rather keep your fence looking in tip top condition and keep weathering at bay, fence paints provide a wealth or creative and practical choices.
Using coloured fence paint in your garden
When green foliage sits against a coloured background, all the different greens appear even more vivid. Paint your fence a dark shade of purple or blue and the contrast is simply stunning. Paint your fence raspberry red or magenta pink and, because pinks and reds are the diametric opposite of green and offer the most brilliant contrast, the effect is even more dramatic.
If you feel bright colours are a bit too 'out there' for your taste, dark browns and blacks also form a beautiful contrast with plants and flowers. And – an old interior decorator's trick – the darker the colour you paint your fence, the larger your garden will look.
In contrast, painting a fence a pale colour makes the space inside look smaller. Paler colours also tend to look grubby sooner than darker shades, something it's wise to remember if you're painting a front garden fence near a road, where it is vulnerable to dirt and pollution.
Do your preparation first…
If your fence is in good condition you can paint straight onto the surface. But it's best to do a proper job and get busy with the preparation. We recommend Barrettine Premier Universal Preservative, a special spirit-based wood preserver, for preventing and treating dry rot, fungi and mould. It even protects wooden fences from the ravages of woodworm. And because it doesn't contain wax, you can paint right over it. It's easy to apply with an ordinary brush or roller and it's safe for plants and animals once dry.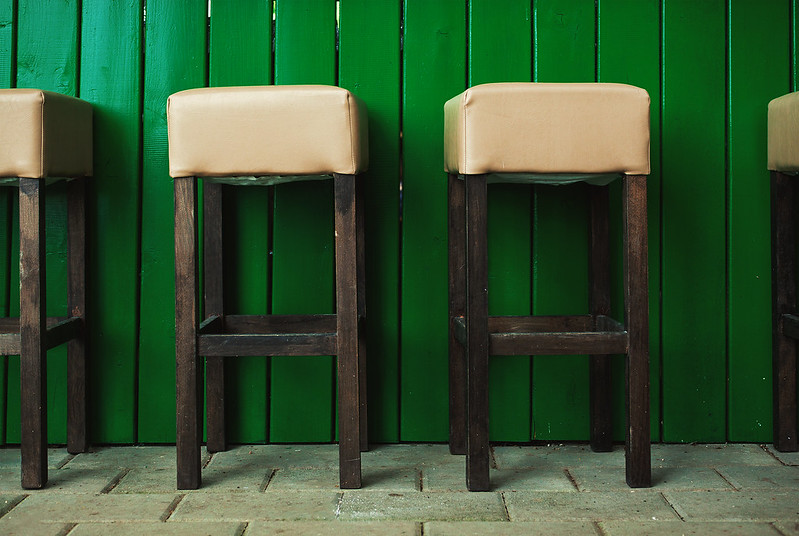 Recommended coloured fence paints
Heritage colours are still very popular for interiors and they also translate beautifully outdoors, delivering a subtler look. Take the Cuprinol Garden Shades paint range, designed to help you transform wooden sheds, fences, summerhouses, garden furniture and decking. It's brilliant stuff, also being suitable for use on terracotta, stone and weathered concrete. It's safe, water-based and protects the wood as well as looking beautiful, with its attractive paint-like matt finish. It repels water and resists fading, and comes in six cool 'natural' colours including a couple of stunning blues and a gorgeous mellow sage green, bang on trend.
We also rate Ronseal Garden Paint highly, which comes in 24 brilliant shades, including vivid pinks and purples. Like the Barrettine product Ronseal's Garden Paint waterproofs, colours and protects a wide range of garden and exterior materials, including wood, metal, terracotta, brick and stone. It's crack resistant and rainproof within one hour.
Sneaky amateur tip – Using exterior eggshell paint on wood fences
Special garden paint does a fantastic job. But so does water-based exterior eggshell paint. And it comes in a massive range of colours. How do I know? I've been experimenting with it extensively for decades, using it on wood, metal, stone, plastic and all sorts of other surfaces, and it works like a dream.
I tend to buy Dulux Trade water-based exterior eggshell, available at major decorating outlets and mixed on the premises to match a choice of literally hundreds of different colours. It's more expensive than regular paint but it sticks fast to almost any surface including glass, which has absolutely no texture for the paint to adhere to, and seems to last for years. Remarkable stuff.
The peculiar beauty of naturally-occuring shabby chic
Isn't life strange? A few years ago there's no way you'd put up with a shabby-looking, distressed garden fence. Now, with several years of shabby chic prominence under the nation's interior design belt, tatty, faded fencing with multicoloured paint jobs showing through have acquired an eccentric beauty of their own. Can you maintain the look while keeping your fence in good physical order? It's a tricky compromise between condition and looks, and protecting and maintaining a natural shabby finish might be a bit too much of a challenge. But there's another way…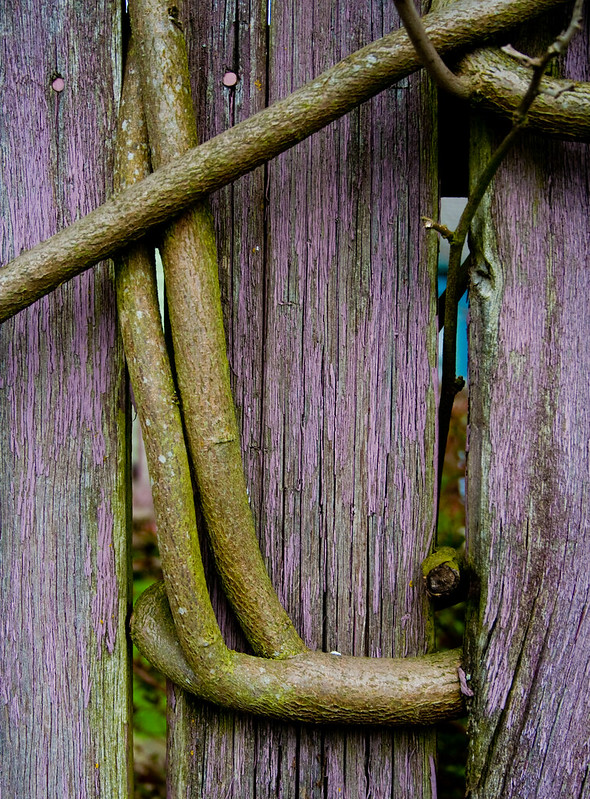 Instead of trying to preserve a naturally-occurring shabby paint finish, prepare and protect your fence as normal then create the shabby chic look yourself using fence paints, giving it the rustic, worn look by sanding down some areas and perhaps even using more than one shade of paint, either toning or contrasting.
What about adding designs and patterns to your garden fence?
There's no law saying you can't use fence paints to create a mural, designs or patterns. It might be as simple as choosing three toning shades and creating a regular or irregular pattern by painting the individual fence slats a different colour, working either vertically or horizontally.
If you feel bold you could paint the top, middle and bottom thirds of your garden fence different shades, or cover a single-colour background with huge circles (or heart shapes, or flower shapes) in toning or contrasting colours. You could paint the fence posts a different colour from the panels, or paint each side of your fence a different colour depending where the sunlight falls at different times of day, for example making a shady side look sunnier or a sunny area look cooler and richer.
There's also no reason why you can't get busy with ordinary interior décor or craft stencils, using a contrasting or toning colour to create, for example, a sinuous ivy vine around the top of your fence, flowers, butterflies, fruit…you name it.
Making your own recycled painted garden fence
It's perfectly possible to cobble together a sturdy, solid garden fence from odd bits of wood, creating an attractive and rugged look. I've seen several of them recently, and they look fabulous. Painting the finished DIY fence pulls everything together to create a beautiful visual whole, making it look uniquely stylish. You could even add little recesses into the fence, or bolt on little shelves, painting them and using them to display seashells, driftwood, interesting stones and other found objects. You could even hang framed paintings, photos or mirrors on your fence during the summer. Less fence, more artwork…why not?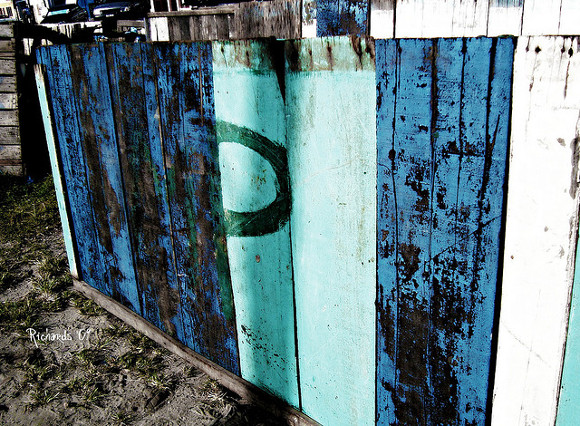 Making your fence painting life easier – Using a fence paint sprayer
You could paint your fence by hand. It's easy enough but slow. Or you could grab yourself a professional-style fence sprayer system like the  Selecta 7 Shed and Fence Spray System and get the job done much faster.
This Shed and Fence Spray System works with compatible wood fence treatments and lets you cover an average fence panel in around four minutes. All you do is pour your chosen fence treatment product into the container, pump the special handle to build up enough pressure and you're off. The resulting fine spray ensures the product goes on evenly. And the special long arm means you can easily reach areas as high as two feet above head height.
Protecting plants and creatures from exterior wood paint
Even though most exterior wood paints are plant-friendly and harmless to animals and people when dry, it isn't a good idea to cover living greenery with fence paint, so carefully cover them first with an old sheet, newspapers or a cheap plastic tarpaulin.
Need help with your exterior wood project?
For more information about wood paints and their uses, contact our team of resident experts who are always on hand to help with project advice and product recommendations. Alternatively, see our wood paints FAQ page which covers many of the most commonly asked questions about wood paints.
We love to see before, during and after photos of any wood finishing project. If you would like to share your project pictures with us and our followers, you can either send us some photos or share on our Facebook, Twitter, Pinterest or Instagram pages.
Other great blogs that talk about painting exterior wood