Many a back garden becomes a no-mans land over the winter, but thankfully this period of dormancy is coming to an end. Now is the ideal time to start preparing for the approaching spring and summer seasons by cleaning off and restoring garden furniture and other wooden garden fixtures.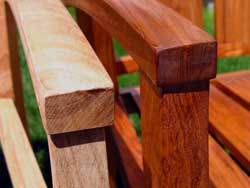 Features of the garden that tend to get a raw deal over the winter period are the wooden fixtures and fittings such as garden furniture, sheds, garden fences and decking. Exposed to the ravishes of wind, rain, snow and frost, the once warm, vibrant shades and tones of exterior wood have dulled or turned to a lifeless green or grey.
If you're heading out to the garden for the first time in the next couple of weeks and are looking to revive and restore exterior wooden features back to their former glory, here are some effective exterior products to consider:
Revitalising tired, external wooden items can be a job that many wish to avoid, however in a matter of hours, these surfaces can be treated to look like new again. Before grabbing a tub of Creosote, (a product soon to be outlawed because of its high toxicity and environmental impact) it is worth considering the newer, safer and environmentally friendly products now available. The natural oils and waxes that these products contain offer far superior protection and will bring tired looking sheds, fences, decking and patio garden furniture, back to life and ready for the summer season and beyond once again.
This process isn't just about the cosmetics of making wood look good for another summer, it's  a maintenance program that will help to protect your investments and help prolong the life of garden sheds, fences and decking for many years to come.
If you're unsure of what you need, contact our team of experts who are on hand to offer guidance and advice on which products are suitable. No matter what the job, whether interior or exterior, big or small, we have it all.