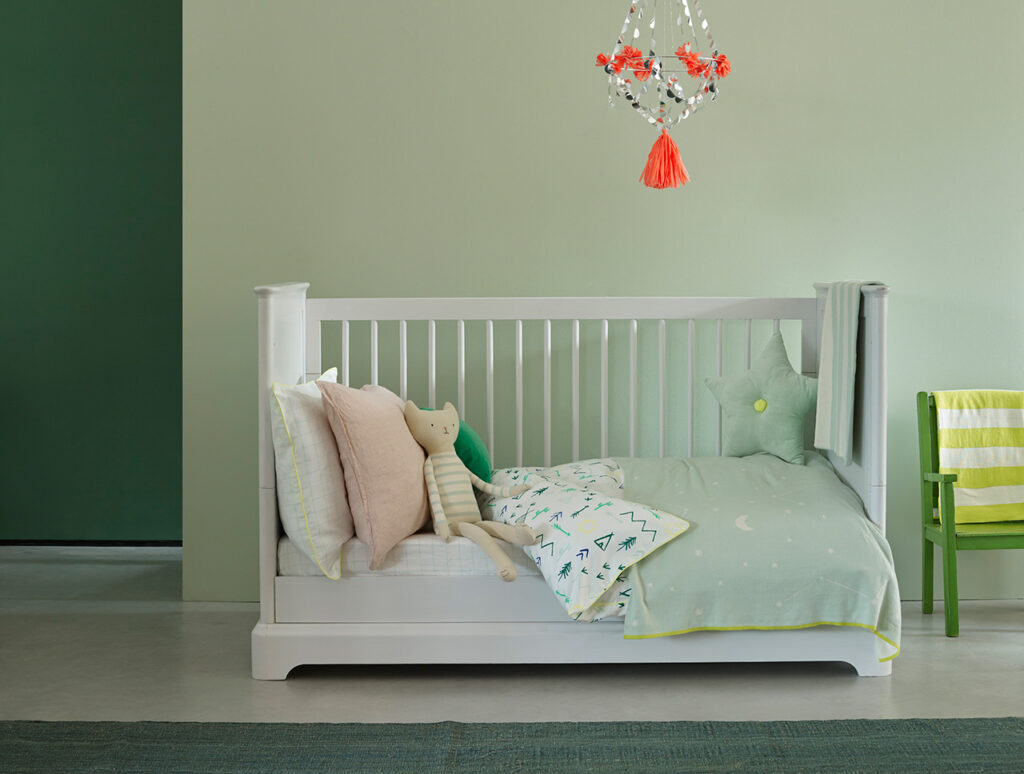 It's an exciting time in your life. A brand new little presence will soon grace your home, and you've no doubt been preparing for their imminent arrival. But it's not without its own worries and anxieties, you're only human after all, and it can certainly be an overwhelming experience for any soon to be parent. You may have envisioned your perfect nursery, but you're faced with a vast array of nursery paint options and products to use from both a visual and a practical aspect, making releasing this vision a lot to consider.
Need help with picking a nursery paint?
That's where we come in. As a company that always endeavours to understand our customer's needs, and their motives behind product choice, we thrive in these particular situations. We respond to the values you place on creating the perfect haven for your newborn. As they grow, you want an environment in which they feel secure, warm and, in turn, nurtured. In our minds, a crucial step in that process is a safe, eco-friendly choice of nursery paint. Aside from the simple guilt-free quality their purchase represents, there's a myriad of other reasons why these products are the ideal choice for your nursery room.
Eco-friendly paints mean sustainable ingredients, merged with passion and care. They contain no harmful chemicals and emit no bad odours. Indeed, its application emits no harmful fumes whatsoever, as opposed to other types of paints you may commonly find, solidifying its status as the superior, hassle-free option. They're better for the planet, your family's health, and your home. Truly, what more could you ask for?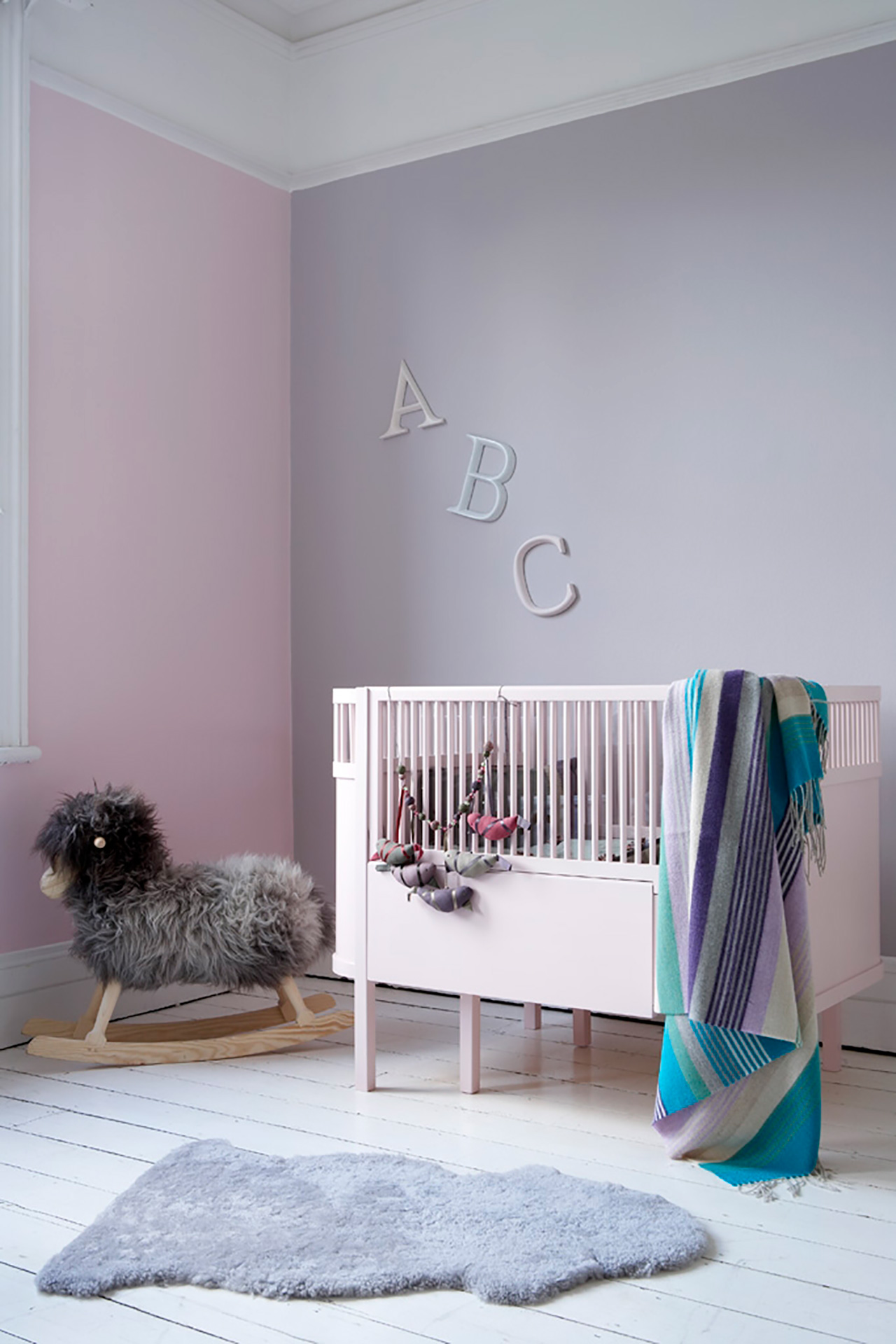 All these advantageous characteristics are found in Earthborns line of eco-friendly paints, with a variety of choices to suit every home. With an ethos centred around high quality, environmentally friendly, breathable paints, there's a huge sense of colourful variety to go along with it. A range we endorse particularly highly is the Earthborn Lifestyle range. Due in large part to its highly durable qualities, it's the ideal partner to accompany the pitter-patter of tiny feet. Water-based and easy to apply by whichever application tool you desire to use, it dries to a washable, low-sheen finish, and is designed for a number of interior surfaces, not just walls! In short, it's a paint you can rely on for the road ahead, and surely one to consider again in the not so distant future, when that nursery graduates to a children's playroom.
Another high-quality product to consider, and one for, perhaps, the more indulgent among you, is the Earthborn Claypaint. It dries to a luxurious, ultra matt finish and is intended for a wide range of interior projects. Aside from its stunning visual quality, this paint also boasts exceptional breathability, meaning it can even be beneficial to sufferers of asthma and allergies. What's more, it's even known to minimise condensation and deter mildew. What this all amounts to is a nursery paint that understands the significance of your child's health and its safety, especially at this very young age, and responds to that need with an assured confidence you can be proud of.
Of course, no nursery room is complete without your baby's furniture to go with it. So whether you're looking to jazz up an old piece of furniture, or simply to reinvent something recently purchased, we're delighted to say that Earthborn have you covered once more, with their Eco-Chic range. Equally safe for babies and children, the paint is clay-based, with a delightful texture that covers surfaces exceedingly well. It possesses breathable qualities akin to that of the Earthborn Claypaint, and with over 70 attractive colour options, there's ample opportunity to get creative.
While each step you take in creating your perfect nursery room constitutes a worthy investment, it stands to reason that your personal budget, your taste as a parent, as well as whomever you may turn to for advice (friends, family, fellow soon to be parents, or even the internet), are deciding factors in that process. One thing to always consider is the difference a simple lick of paint can achieve in transforming a room or sprucing up tired furniture.
What's especially commendable about these paints (besides their vivid variety, high-quality makeup and child-safe, eco-friendly ingredients) is how well suited they are for young families. They have the newborn present and the young child in the future in mind, and they fit the bill from both a visual and a practical aspect. When the recommendations are this genuine, giving sound advice is simple.
Got a question about eco-friendly nursery paints?
For more information about interior and furniture paints, contact our team of resident experts who are always on hand to help with project advice and product recommendations. Alternatively, check out our wood paints FAQ Page which answers many of our most commonly asked questions.
We love to see before, during and after photos of any wood finishing project. If you would like to share your interior decorating project pictures with us, you can either send us some photos or share on our Facebook, Twitter, Pinterest or Instagram pages.
Other great blogs that discuss interior decorating