We've already looked at using innovative, exciting products like wood stain colours and decking stain colours to give wooden surfaces a boost, creating effects that are much more visually interesting than ordinary decorative finishes. But what about taking things a step further and bringing even more colour into your home?
Using colour with confidence
First, why focus on colour? Because minimalism is dead, eclectic clutter is the bees knees and colour is back on the interior design menu. It's powerful stuff. Colour affects your mood, influences your feelings and makes everyday life more – or less – visually stimulating. So how do you harness the joy of colour to bring your home to vibrant, beautiful life? There's more to life than coloured wood stain. Here's some information about decorating with colour, colour psychology and colour therapy…
Getting clever with colour
Plenty of us are fussy about colour. We're worried we won't make the right decisions, ending up with a colour scheme that's more of a dog's dinner than a decorative delight. But there are plenty of tricks you can use to help you choose wisely.
Clash or tone? Clashing colours are fine, toning colours are equally acceptable. They can both look beautiful.
Right or wrong? Colour is about personal preferences. There's no such thing as bad taste, just taste.
Ready-made reference. You could base your home colour scheme on a piece of clothing you particularly like. Take inspiration from a photo of a garden or landscape, a piece of wrapping paper or a length of fabric. Places like B&Q and Dulux Decorator Centres often offer paint mixing services and can match any colour you like, whether it's from a scrap of wallpaper, fabric or even a leaf or flower.
Pick your favourite three colours… and use the same tone of each one, for example a deep pink, deep turquoise and deep green or pale coffee, pale violet and pale yellow. How do you know if a colour is the same 'tone' as another? Hold the paint swatches up in front of your face, then squint. Similar tones will blend together and look the same. Different tones still stand out against one another.
Choose just two contrasting colours… and stick to them. A two colour limit means you're less likely to go off-piste and end up in creative trouble. For example, pick a bright Mexican orange and a vivid sky blue, a vibrant magenta and deep turquoise, a 'heritage' duck egg green and a dusky rose pink. Or deep, rich olive green and spring-like apple green.
Paint three walls cream or white and paint just one wall a bright colour, creating a feature wall. Doing it this way can be much less scary than trying to deal with four coloured walls or a choice of more than one colour.
Search Pinterest for images of vivid interiors and take your inspiration from there.
Have you ever entered a room that took your breath away with its beauty, whether it was somewhere exotic like Brighton Pavilion or the Taj Mahal, a posh hotel room, a historic building or your friend's lounge? If so, just copy the colour scheme.
Ask a tasteful or artistic friend. If you're rubbish at the whole décor thing and find picking colours too much of a challenge for comfort, perhaps you can get a colour-confident friend to help you pick the best shades.
Learn how colours work using a colour wheel. Here's a link to an excellent resource about colour wheels, the theory behind them and how to use them. More about colour wheels later…
Look at your wardrobe and copy the colours you wear most often, since they obviously make you feel good.
Buy sample pots to test before you go the whole hog. Most good paint suppliers offer small, cheap test pots so you can see what the colour actually looks like on a wall, or piece of furniture, or woodwork.
Pick just one colour and use a variety of different shades and tones of the same colour: a pale, a mid and a dark blue, for example. Most paint swatches come in strip of five or more shades of the same colour, which makes life really easy.
Watch TV – George Clarke's amazing spaces, for example, is packed with inspirational interiors created on a shoestring.
The best thing about house paints is that they're relatively cheap. If you get the colour wrong, you can easily paint over it.
About the colour spectrum – The science bit…
Colours reflect the way our brains interpret wavelengths in the visible spectrum, which lies between 400 and 700 nanometres. We see different wavelengths as different colours, usually split into seven different bands just like a rainbow:
red
orange
yellow
green
blue
indigo
violet
A colour wheel represents the visible spectrum in circular form where 1 and 7, violet and red, are joined. It's a brilliant way to get to grips with the way colour works, revealing how they relate to each other and how to create new shades by mixing two or more together.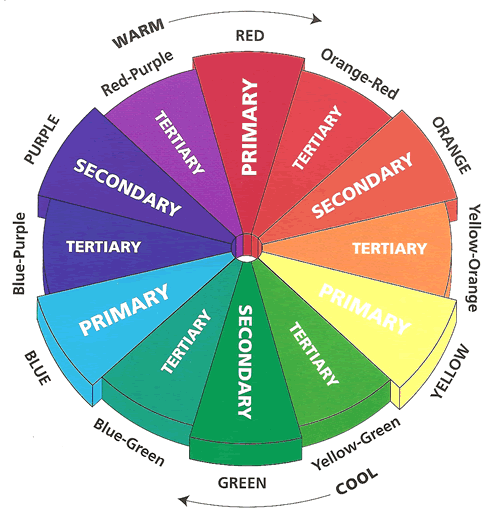 About colour psychology – Handy guides to help you choose
Different colours make us feel different. Wikipedia has a great page about the psychology of colour. Reds, for example, tend to make us feel excited and stimulated, blues tend to make us feel more relaxed. Oranges are supposed to be optimistic, yellow intellectual, purple imaginative. You might not want to paint your bedroom scarlet and magenta… on the other hand, it might suit you down to the ground.
Here's some excellent guidance about how different colours can affect your mood. Just remember that while colour psychology provides clues, it doesn't deliver hard and fast rules. Any colour combination that makes you feel good will work.
About colour therapy – Feeling good about the shades you choose
Colour therapists believe colour should be a part of our everyday life. It's all around us, and heightening our awareness of its energy can transform our lives. You can research the subject and follow its recommendations to a tee, or use it as a guide to help you pick the right kind of colours to deliver the kind of effect you're looking for. On the other hand you can ignore colour therapy, which is after all just one way of looking at the wonder of colour and translating it so it enhances your home, and follow your heart.
What about dark and light?
You might love to see the light flooding into a room and adore nothing more than fresh, pale, bright colours. That's fine. You might prefer dark colours, which are also perfectly OK. Nobody says you have to have light rooms. If you only sleep in your bedroom, is there really any need to paint it light and bright? Would you feel more relaxed if it was painted deep, cosy, warm colours instead? Where colour is concerned, the rules are made to be broken. It's personal.
Channel 4 has some great advice and guidance about choosing colour schemes for your home décor, including how to co-ordinate colours successfully, how to create a mood board, how light affects a colour scheme and how to link rooms together using colour.
What can you paint?
Colour is about much more than just the walls of a space. You can use water-based eggshell paints to paint anything from mirror frames to brown furniture, decorative ceramics and terracotta plant pots, radiators and the places you'd ordinarily use gloss paint for, for example skirting boards and door frames. You can paint all your furniture the same shade or tone as the walls if you like, or use one or more toning or contrasting colours.
More help and advice about choosing the right colours for your home decor
Here are some more cool resources and inspiration to help you choose the right colours for your home, 'right' being the colours you love best and that make you feel happiest:
Wood preservative colours and more…
Once you've picked the perfect colour scheme for your room, or for your entire home, you can think about the wood. Do you want to use coloured wood dye to enhance the beauty of your skirting boards and door frames, even the doors themselves? Or paint them the same colour as the walls for a spectacularly smart, contemporary look that makes spaces look bigger? Perhaps you have your eye on our collection of beautiful wood stain colours from Ronseal, Osmo, Fiddes and Manns in all their wonderful variety… The options are endless, so take your time and pick a colour finish that's just perfect for your home.
Any Questions?
For more information about interior and furniture paints, contact our team of resident experts who are always on hand to help with project advice and product recommendations. Alternatively, check out our wood paints FAQ Page that answers many of our most commonly asked questions. We love to see before, during and after photos of any wood finishing project. If you would like to share your decking project pictures with us, you can either send us some photos or share on our Facebook, Twitter, Pinterest or Instagram pages.