In this video Jay from Wood Finishes Direct will explain how to maintain Osmo Concrete Oil.
Concrete Oil FAQ
Can you use Osmo Concrete Oil on kitchen worktops?
Osmo Concrete Oil is a hardwax oil which combines all the advantages of oils and waxes in one product. it goes on and gives the appearance of a traditional oil but offers a durability comparable to some varnishes. It is resistant to water, dirt, wine, coffee etc and is microporous, so will not crack, peel or blister. A better option could be Osmo Top Oil that is specifically formulated for kitchen worktops and is available in a range of finish types including clear matt and satin, natural, white, acacia and more. Osmo oils are very easy to apply, maintain and patch repair.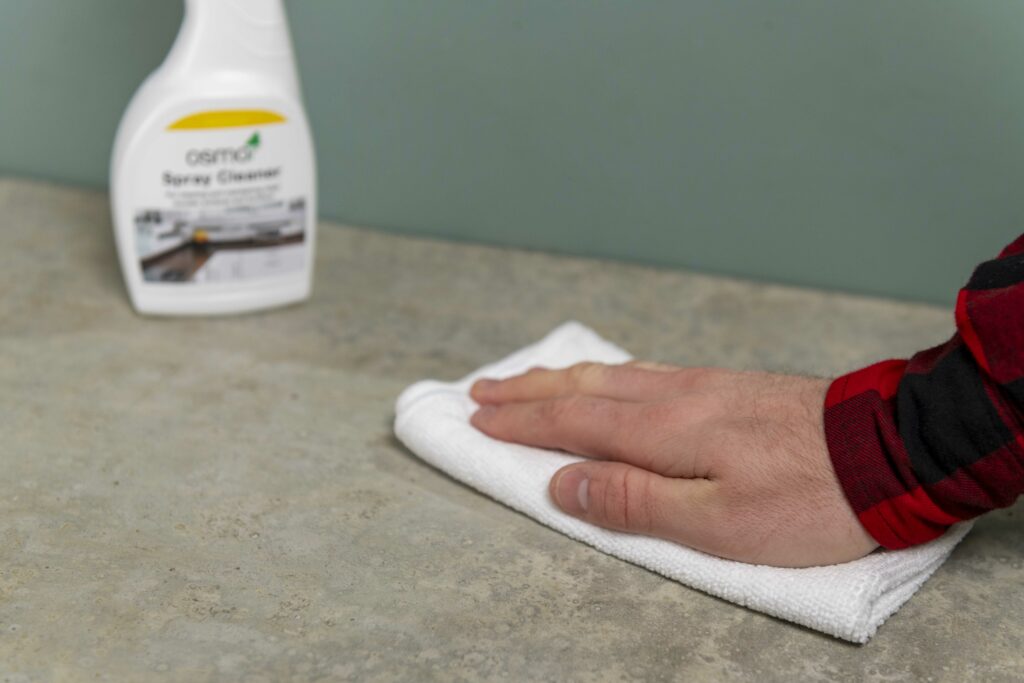 How to Maintain Osmo Concrete Oil transcript.
Hi, I'm Jay from Wood Finishes Direct. In this video I'll be demonstrating the most effective way to not only clean, but maintain and refinish the Osmo Concrete Oil. Let's get to work.
General clean
We all like to keep our homes clean and tidy. It's really something to be proud of but regular household cleaners should be avoided as this can potentially damage the Concrete finish, aswell acidic liquids like wine, beer, cola, vinegar or fruit juice should be removed as soon as possible to avoid the surface being damaged. Thankfully, Osmo has a solution for your day to day cleaning routine in the shape of the Osmo Spray-Cleaner. A ready to use water-based spray cleaner for Osmo oils, even the concrete oil! This has an added bonus, it smells great!
To use it, start by removing any loose dust, dirt and grit from the surface to be cleaned with a soft, dry, lint-free or microfibre cloth before spraying. Turn the spray nozzle to open, Spray Osmo Spray Cleaner directly onto the surface, being careful not to over-saturate then wipe the surface with a clean, lint-free cotton or microfiber cloth repeat the process until clean. That's how easy maintaining the Concrete oil is!.
Maintain
It is important to maintain surfaces and recoat as necessary, because on worn surfaces liquids like water and olive oil can penetrate and potentially stain tiles. If an area has been worn and faded in places it's a really easy fix. Simply apply a small amount of Osmo Concrete Oil onto a microfibre cloth and work into the area you wish to repair and leave to dry. It is that simple.
Refinish
If your finish has been on the surface for 2 or more years we would recommend refinishing. Ensure that surfaces to be coated are clean, dry and free from dirt, dust, grease, wax, polish and any other surface contaminant. Then take your concrete oil and chosen applicator and follow the steps in our application video. Good as new!
Outro
If you're seeking further technical assistance or advice on your project, why not put us to the test and contact us by phone or email? We're experts after all, with an unwavering dedication to outstanding customer service. All the products we've had the pleasure of using are linked in the description on Youtube. Like what you've seen? Don't forget to like and subscribe for future content.
Other Post You Will Love!