Garden season provides the basis for much of Wood Finishes Direct's blogs this time of year. With the cautious steps we are all taking back to normality and what we know as civilisation over the coming months, the feeling of change and the desire we have for it, provides a fitting and complimentary influence with which to approach our gardens this time around. 
Gardens present many of us with a fitting, therapeutic outdoor space that we can safely escape the constraints of lockdown and an overfamiliar household. Moreover, they contribute an engaging space to get inventive and enable productivity.
With an abundance of creative options out there for the modern garden enthusiast to get stuck into, there's always the possibility of too much choice. Furthermore, there are always financial and practicality aspects to consider. In that regard, it's always useful to turn to creative practices that reinvent and reinvigorate your garden without breaking the bank.
Deep Clean Your Decking
Decking provides an ever-popular, multi-purpose living space for garden enthusiasts. As much a social space as a solitary, relaxing one, the cost of decking will vary depending on a number of factors including location, size and materials used.
Naturally, once you have made that investment, the responsibility falls to the owner to carry out a suitable degree of maintenance. While there are a number of finishing products that provide decking with protection and visual character, a customary deep clean can be seen as a crucial initial step in keeping decking in an ideal condition.
To achieve these results, you can't go wrong with Osmo Decking Cleaner, a concentrated cleaning product that maintains all soft and hardwood decking, whether bare or treated. Once your decking is cleared of debris, a water-soluble solution provides quick and easy rejuvenation and removes dirt and stains with efficiency. 
Implement Wooden Planters
The presence of flowers and plant life brings not only natural beauty and vitality to your garden but it actively attracts wildlife into your garden, such as insects, birds and hedgehogs. The benefits are plentiful and advantageous, to say the least.
While there are many reasonable ways to introduce organic measures into the garden, from the simple flower bed to more ornate displays, wooden planters present a means that is practical, sustainable and invariably cost-effective.
To protect your pieces and ensure they maintain their naturally characterful appearance, we suggest turning to a quality wood preserver, such as the treatment offered by Barrentine Premier Wood Preserver. Wax and water repellent resins, as well as a deeply penetrating formula, support long lasting protection against weathering and a number of other issues common with exterior wood.  
Transform Your Summer House
Perhaps you're lucky enough to enjoy a beautiful summer house in your garden? Perfect for those lazy summer days when all that seems fitting to do is get comfortable and unwind in the warm afternoon air.
Oftentimes, however, there's the very real possibility that your summer house could use a fresh lick of paint after a few years of basking under the sun. Maybe you merely seek to alter the aesthetic after months of familiar routine, thereby welcoming the new garden season with open arms.
A proven winner, Ronseal Garden Paint provides excellent coverage for your summerhouse painting project. This product is quick drying, weather resistant and rainproof in just one hour following application. Moreover, that newfound sense of colour you strive for is covered by up to 5 years of protection.   
Reorganise and Refresh Your Garden Furniture
Portable garden furniture presents an ever-present opportunity for change in the garden. Like any room in the house, simply reorganising your outdoor living space is an effective means of responding to a need for refreshment and improving the sense of feng shui you feel within it.
Of course, simplicity can often lead to clarity. Perhaps you have reached the conclusion that your garden furniture would benefit strongly from a further sense of revitalisation? Fortunately, there are many products designed to fulfil this desire, such as oils and varnishes.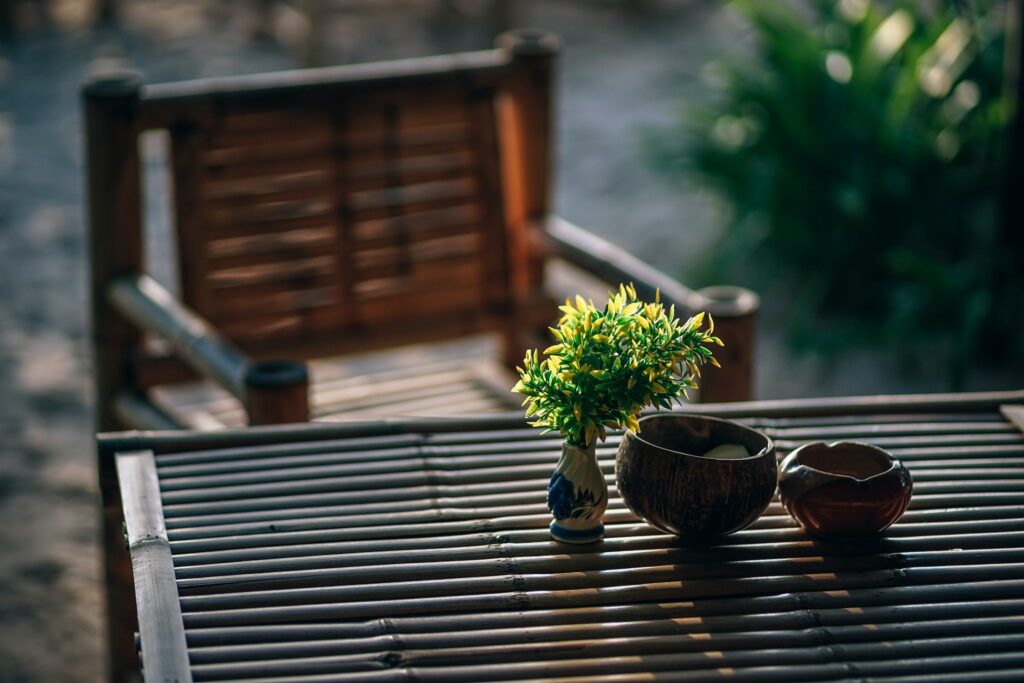 Barrentine Garden Furniture Oil is a fitting and reliable example of the former. An oil with a clear consistency, in-can biocides are built to protect soft and hardwood garden furniture. It's easy to apply with a brush or cloth and works to provide refreshing quality to your reorganised garden furniture. In addition, it grants resistance to weathering, rain and other forms of moisture. 
Install Alternative Fencing
For those who seek something a little different from your conventional panel fencing. Wood and other organic materials offer great versatility and a wealth of alternatives that can often save you money as a result.
Popular recent examples range from woven bamboo to wooden pallet fencing and decking planks. While trellis panels provide a charming option that won't block out the natural light your garden receives.
Encompassing that sense of versatility is Cuprinol Garden Shades. This broad range of appealing, water-based paints provides weather-resistant properties and 6 years of assured protection. Once dry, its finish allows the natural texture of the wood grain to really show through, ideal for showing off the attractive aesthetic of your new alternate fencing. 
Need help with garden finishes?
Contact our team of resident experts who are always on hand to help with project advice and product recommendations. Alternatively, see our FAQ page which covers many of the most commonly asked questions.
We love to see before, during and after photos of any wood finishing project. If you would like to share your project pictures with us and our followers, you can either send us some photos or share on our Facebook, Twitter, Pinterest or Instagram pages.
Other great garden-based blogs