2020 – What a year it has been! With holiday plans cancelled and a world of uncertainty, it's nice to bring some positive news to all those who have opted for a staycation, or have saved on their commute time by working from home. It's a great opportunity to get all those long overdue DIY and restoration jobs done and we have just the thing to help things along.
Back by popular demand, we once again have a supply of the special promotional tins of Osmo Polyx Oil Clear Satin (3032). These promotional tins give you 3 Litres for the same price as a standard 2.5Ltr tin. That's an extra 20% or half a litre for free!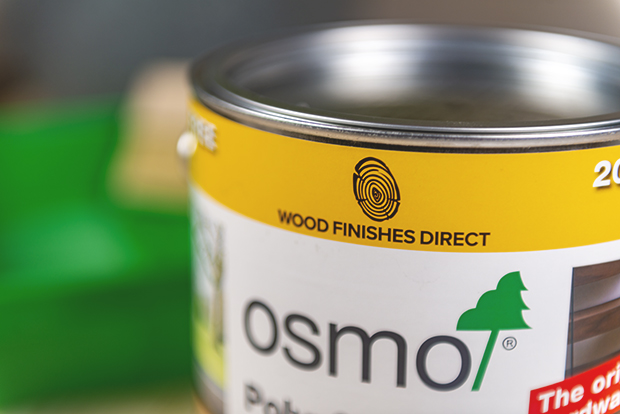 20% Extra for Free
That's right folks – 20% free! Now in terms of paints, an extra half a litre may not sound like much but remember, this is a highly refined wood oil. In terms of coverage, this is roughly equivalent to finishing an extra 36 square meters of wood flooring, 12 interior doors or several large pieces of wooden furniture.
Top interior wood projects
Top of the list for home makeovers and restoration projects are floors, doors, kitchen worktops and furniture. If you're looking to renovate or restore the appearance of wood, whilst giving it a highly protective, yet easy to apply and maintain finish, then this offer is perfect for you.
Made from a blend of natural oils, waxes and resins, Osmo Polyx Oil Clear Satin 3032 offers excellent durability, liquid resistance and protection against knocks, scratches, scuffs and stains. It is easily cleaned, maintained and patch repaired, and is perfect for most interior wooden surfaces including wooden floors, doors, skirting boards, table tops, kitchen worktop surfaces and more. In addition to protecting interior wood, it beautifies it by enhancing the natural character and grain of the timber and dries to a soft, satin finish.
Osmo 3032 customer review
Although we could go on and on about how good and versatile this product is, don't take our word for it. We have over 1,500 Osmo Polyx Oil customer reviews. Take a look and see what our customers say.
So there you have it, one great product and an equally impressive offer. Simply select the 2.5Ltr satin 3032 option and it will automatically be upgraded to the promotional 3Ltr size tin at checkout. If you have an interior wood care project you're considering and are looking for a gentle satin sheen, that will enhance the natural character of the wood, this is the product for you. Grab it whilst stocks last. Once they're gone, they're gone!
Here to help
If you have a question about this Osmo 3032 offer, about any of the Osmo Polyx Oil range, or their suitability for a given project, contact our resident experts who are always on hand to answer any questions you may have.
We love to see before, during and after photos of any wood care project. If you would like to share your project pictures with us and our followers, send us your photos or share on our Facebook, Twitter, Pinterest or Instagram pages.