Who says your garden shed has to look plain and boring? If you want to paint your  shed, fence or decking the colours of the rainbow, you can. With summer knocking on the door, we thought we would take a look at how garden paints and exterior wood stains can transform your garden into that perfect haven.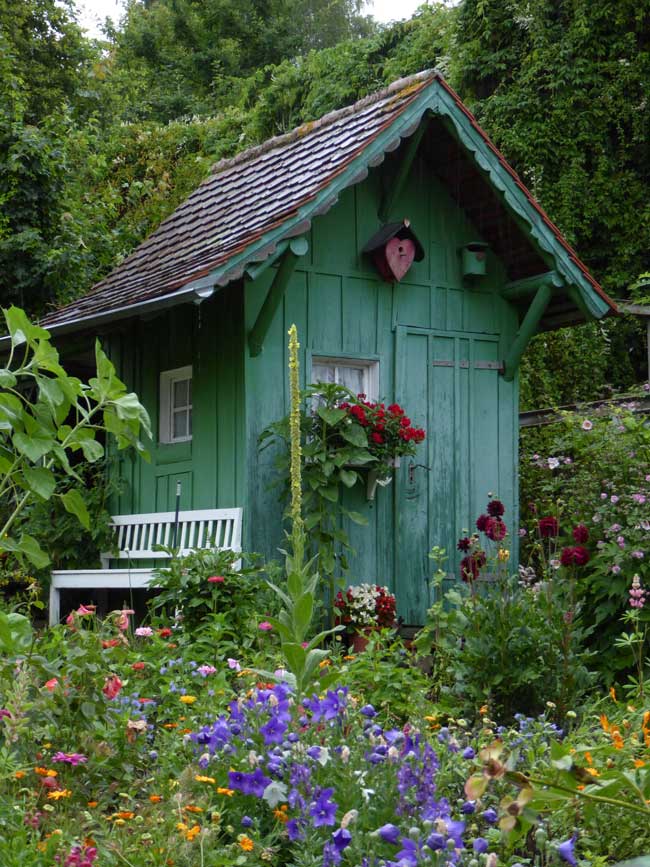 Using colour outdoors
More of us are getting comfortable with using colour indoors. We've thrown out the brilliant white and rejected magnolia in favour of rich, jewel-like interiors full of personality and charm. But what about your garden?
If you're bored of brown and fed up with the natural look, the brilliantly creative world of outdoor colour awaits you. From coloured fence paint to garden furniture paint and everything in between, here's some inspiration.
Outdoor decor ideas for a big creative impact
First, where on earth do you start? Which colours do you choose for your outdoor spaces? It depends whether you want to achieve drama or a subtle look, contrasting or toning effects. Here's the science bit…
So-called analogous colours, which match beautifully and subtly, are any three colours sitting next to each other on a 12-part colour wheel, for example a yellowy-green, yellow and a yellowy-orange
Complementary colours, on the other hand, are opposite one another on the colour wheel and they're tailor made for drama. Red, for example, is the diametric opposite of green and blue is the diametric opposite of yellow
The predominant colour in most outdoor spaces is green: grass, plants and trees. To create drama and interest you'd pick a complementary colour or two. The contrast between a multitude of gorgeous natural greens with, say, a vivid magenta pink, vibrant scarlet or a deep, rich purple is quite extraordinary, making the greens look even greener. Cuprinol Garden Shades have a wide range of vibrant colours, perfect for creating that dramatic affect and yet still allowing the natural texture of the wood grain to show through.
If you prefer something quieter, choosing a colour or two which sit close together on the spectrum delivers a subtler look. Painting your garden fence in a lovely duck-egg blue, for instance, a colour not so far from green, creates a lovely, lyrical, gentle feel.
Using fabrics and wallpapers for colour scheme inspiration
If you're lost in space, how about choosing two or three colours from a piece of fabric you love, or from your favourite wallpaper, a painting, a beach towel or even a postcard? If someone clever and creative has designed it using those colours, you know for sure they work together.
Outdoor colour inspiration – Choosing your weapons
Sometimes it's obvious. If you're creating a gypsy caravan look outdoors, you can mix and match multiple bright, cheery colours to your heart's content. A seaside-inspired colour scheme, on the other hand, might involve a collection of three different blues: a green-blue, a purple-blue and glorious summer sky blue used with crisp white for contrast and light.
How about this? I painted our garden shed purple using water-based exterior eggshell paint and the contrast with the surrounding greenery is just gorgeous.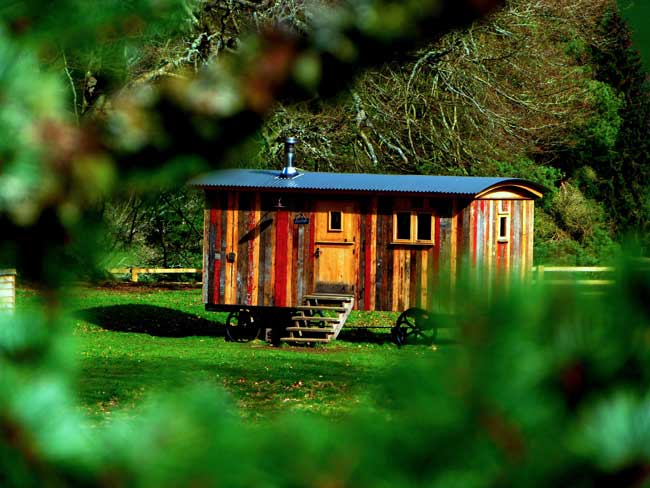 Create an exotic jungle or an incredibly bright, sunny space
If you want to create a garden like a jungle, dark greens and deep blues might do the trick, accented with bright scarlet to suggest jungle flora. How about green fencing with bright red garden furniture for an exotic feel? Osmo Country Colour have a mix of lovely deep, rich colours to help create these looks. It's an oil, but gives a paint-like finish and is UV-resistant, so protects the wood and vibrant colour for longer.
If you want to create a bright and sunny space that looks inviting even when the weather's diabolical, you could choose three fabulous yellows: a pale lemony one, a rich egg-yolk one and a golden tone full of warmth.
Here's a hot colour fashion tip: orange. It's a brilliant colour for adding punch to a dull space and reflecting the light beautifully for warmth and depth all year round. It also contrasts superbly with green grass and planting, again making those already-stunning natural greens look even greener. Ronseal Garden Paint offers the perfect range of warm and sumptuous colours to help invigorate that quiet little corner of the garden. It can also be used on terracotta planters too, to give that added boost of decoration and colour.
There's more to life than vivid colours…
Don't want to use bright colours? Today's 'heritage' shades are incredibly popular: sage, olive and duck egg greens, warm and cool browns and a wide variety of pretty French-style greys. Or maybe you prefer to show off the woods natural beauty, whilst preserving and protecting it at the same time – Osmo Natural Oil Woodstain offers a range of natural colours which dry to a semi-transparent finish. 
Outdoor decorating – How to avoid nasty clashes
Whatever route you take, if you want to avoid a horrible, clashing mess simply pick either two or three toning or contrasting colours and you'll find it pretty hard to go wrong. But the main thing is the way you feel. If it makes you feel happy and you love the effect, you've done the right thing. There's no such thing as bad taste…just taste.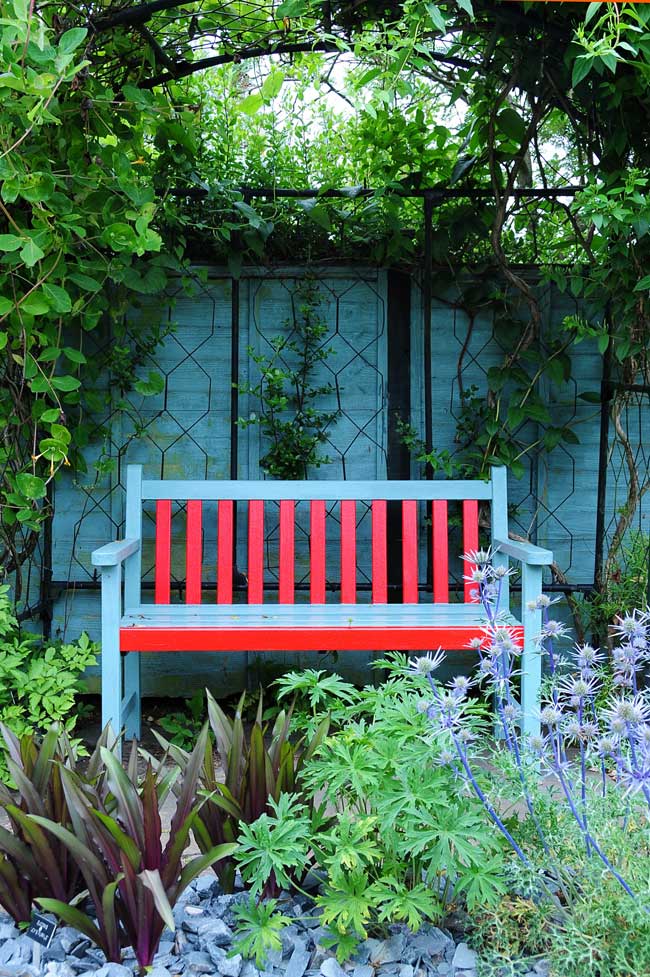 Paint those plant pots! More ideas for colourful outdoor spaces
There's no need to stop at painted garden fencing, sheds, outbuildings and decking. You can gild the garden lily to perfection by painting your terracotta plant pots, too. I've even tried painting plastic plant pots. Ordinary household emulsion is no good – it cracks and peels more or less straight away – but water based exterior eggshell does a splendid job, it just needs a fresh lick of paint now and again to keep it that way.
You can even paint old baskets, boots and wooden boxes to use as planters, unifying your display to brilliant effect. Then there are mirrors. There is no reason why you can't hang ordinary household mirrors on your garden fences to throw the light around, creating mysterious new vistas and optical illusions. And how about flowers themselves? Once you've cracked your outdoor colour scheme, you can add annuals to tone and contrast.
Then there are soft furnishings – cushions, throws, voile and even rugs – more cool ways to accent your outdoor colour choices to dramatic or subtle effect. And how about painting your children's wooden Wendy house or den? Talking of which…
Garden fence mural magic
You might want to get your kids involved, especially if they're the ones who use your garden the most. First, prepare your garden fence properly and if you're looking for a blank canvas, you can give it a base coat to paint over, although most garden paints don't need this. Then let your little ones go wild with acrylic paints, creating their own design. 
Because kids grow up fast, last year's mural might not have the same appeal a year later, but you can easily paint over it with another layer of undercoat and let them do it all over again the following summer. If you get bored of it, paint over the lot with exterior fence paint for a cool, calm, grown-up appearance.
Fun with stripy garden fencing and sheds
Garden fencing lends itself perfectly to painting simple alternating stripes of colour, for example cream and sky blue for a summery seaside feel. With so many tantalising colours to choose from, Protek Royal Exterior Paint is perfect for bringing that colourfest into your garden. Because the fence is made from strips of wood, it's easy to achieve even if you're rubbish at art. The same goes for garden sheds, which are also often made from planks or strips of wood.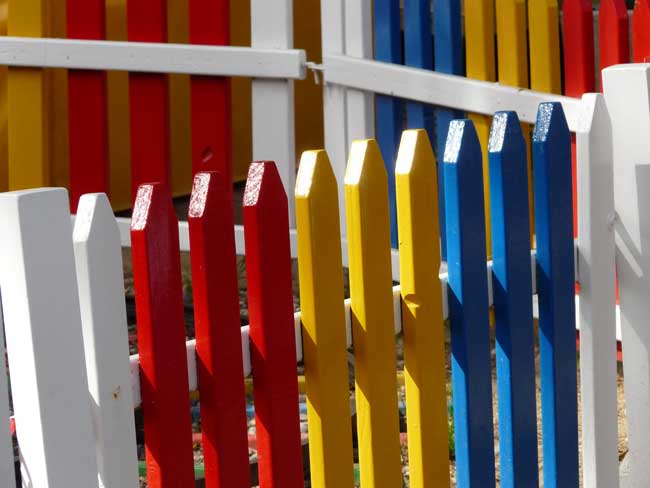 Shabby is OK
What if it gets shabby, which it eventually will? The shabby look is still hugely popular and a worn, ageing painted fence or shed can actually look just as gorgeous as a smartly-painted fresh one, full of personality, quirky and fun. So there's no real need for total perfection. You can let things slide and your garden fencing, shed and decking will still look cool.
What about the technical bit?
You'll need to prepare your wooden surfaces before painting them, otherwise the effect won't last and the underlying wood won't be adequately protected against the ravages of the weather. Explore our blog further to find expert advice about how to prepare fences, decking and wooden furniture for a professional finish that protects the wood as well as making it look beautiful.
Need Help?
For more information about wood stains,  shed and fence paints and their uses,  contact our team of resident experts who are always on hand to help with project advice and product recommendations. 
We love to see before, during and after photos of any wood finishing project. If you would like to share your project pictures with us and our followers, you can either send us some photos or share on our  Facebook,  Twitter,  Pinterest or  Instagram pages.