Wow, it's that time of year already! The festive season is almost here. And Christmas is the ideal time to get stuff done, with most of the nation on holiday and business matters more or less put on hold between the 24th December and the New Year.
Christmas Fun DIY projects
If you're anything like us, you'd rather be busy than lie in front of the telly for a week eating yourself into a stupor. In which case why not spend some of the winter break getting your house in order, tackling home DIY projects you've been putting off for months? You might even want to get extra-creative. If so, you'll love some of the super-simple ideas we've featured here.
Here are twelve easy wood-related DIY and creative projects to tackle when your pleasure in the winter festivities is starting to pale and you're starting to go a bit stir-crazy! So, step away from the mince pies and have a go…
Make nasty furniture beautiful
You are the proud owner of the most practical piece of furniture on the planet. But it looks absolutely hideous. Now's the time to test-drive the shabby chic French décor look, transforming a useful but dreadful-looking item into something surprisingly beautiful. There are countless brilliant books telling you how, and more guidance online than you can shake a stick at. Give it a go!
Go creative stair rail crazy
Are you living without a stair rail? Is it about time you fitted one and made climbing the stairs safer? You could fit an ordinary, ready-made stair rail. Or you could do it differently and find a lovely old length of wood to do exactly the same job.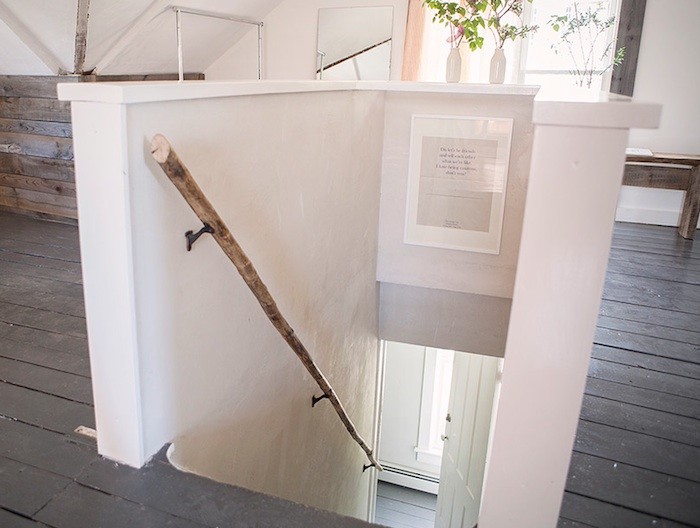 My mother Georgia found a gorgeous, smooth, four inch diameter tree branch at the side of a country road, all wriggly and natural-looking. She took the bark off, sanded it down, oiled it and fitted it to the wall using metal brackets, creating a stunning, unusual and wholly practical wooden stair rail for next to nothing.
Beer barrel planters, indoors and out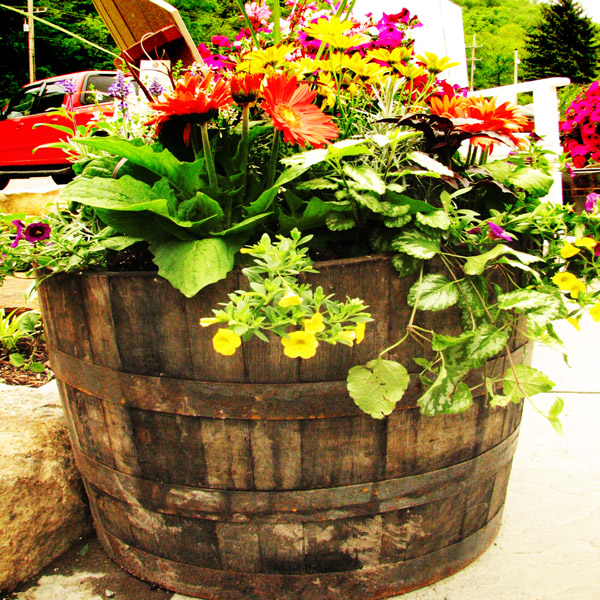 Smart ceramic planters can be expensive, especially if you need a big one for a large houseplant. But a half oak whisky barrel complete with traditional iron bands, or an old wine barrel, can cost as little as £30, sometimes less. You can sand it down so it looks like new, paint it using water-based eggshell in any colour you like or a combination of colours. Alternatively just get rid of the dust and dirt, oil or wax it and leave it natural.
Get that shelving up!
If you've stashed some ready-made shelving, now's the time to put it up. But there's a lot more to life than Ikea in all their laminated chipboard glory. We've talked before about using lovely old, worn, recycled or re-purposed woods to build unique shelves that are jam packed with personality.
Most good-sized towns and cities have a wood recycling outlet these days, amazing value for money as well as great fun places to explore and the source of many a cool DIY decorative idea. Best of all, worn old wood looks gorgeous as it is. You don't even have to do a lot of wood finishing.
There are some brilliantly creative ideas for shelves amongst the 101 DIY projects featured in this post, including a splendid DIY door shelf.
Make use of old wooden pallets and wine crates
Pallets are great. They're as cheap as chips, so much so that businesses will often give them away for nothing. And they're really useful. Click the link above for some super creative ideas including an under-lit pallet bed, an ingenious fold-up pallet desk, pallet patio furniture and a very stylish pallet coffee table, the height of shabby chic charm and practicality.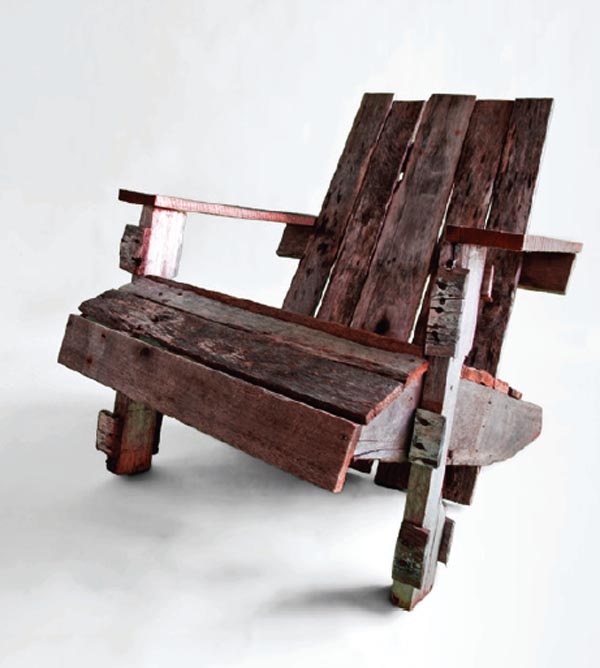 You can use them exactly as they are, whether they're printed or plain, and either leave them rough or sand them down. You can paint them or pick a suitable wood finishing product to bring them to life. They're ridiculously easy to screw together, intrinsically strong and you can construct all manner of practical outdoor and indoor objects with them, from indoor seating to funky, durable garden fencing.
The same goes for wine crates, which make excellent stackable storage and look just as good plain as they do treated, waxed, oiled, stained or painted.
Good looking, wildlife friendly garden seating at its most basic
You could spend hundreds on garden furniture. Or use segments of tree trunks as beautiful garden stools. It must be the simplest garden seating on the planet, practical, sturdy and sustainable. Arrange trunk segments in a circle to create an intimate seating space. You can even put a very large diameter segment on top of a smaller chunk to create an instant garden table. As it gently rots down over the years, it'll become a valuable home for all sorts of interesting garden creatures.
Candle holders made from hollowed out branches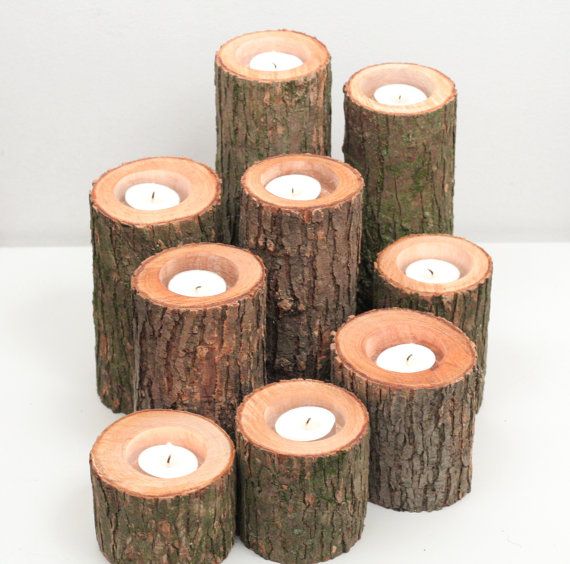 –>
Grab a section of attractive tree branch, beautifully coloured or textured, with or without the bark. Cut a length to a suitable size, with a flat bottom so it stands safely on its end. Drill, carve or dig out a hole in the top, the right size for a candle or tea light. Make three of them, each a different height. Glue them together to form a DIY wooden table candelabra. It's the perfect table decoration for Xmas lunch, and a fabulous natural look all year round.
Wood art – transferring images onto wood
This is truly amazing. How about transferring an image or photo onto a piece of wood, creating your own unique DIY wall art? There's a great video here which shows you exactly how to do it.
Make a wooden necklace holder
The beach is your oyster when it comes to driftwood, and it's beautiful stuff. How about creating a necklace holder? Just find a lovely chunk of driftwood, screw in some pretty cupboard knobs and attach it to the wall. Here's a tutorial.
You can also use the same method to create wood coat hangers for your hallway, hangers to store your clothes, a convenient way to stash kitchenalia in style or even hang your tools tidily.
Use up all those wine bottle corks!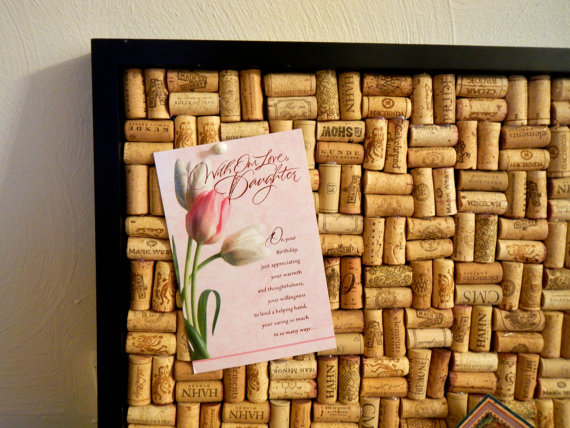 –>
The wine bottle cork is an endangered species these days with more and more wine manufacturers using metal screw-on tops instead. But if you're lucky enough to have a collection of corks, they'll make a superb bulletin board. All you do is glue them into a picture frame. Honestly, it really is that simple and it looks fab!
Make a letter, card, photo or note holder from an old Louvre door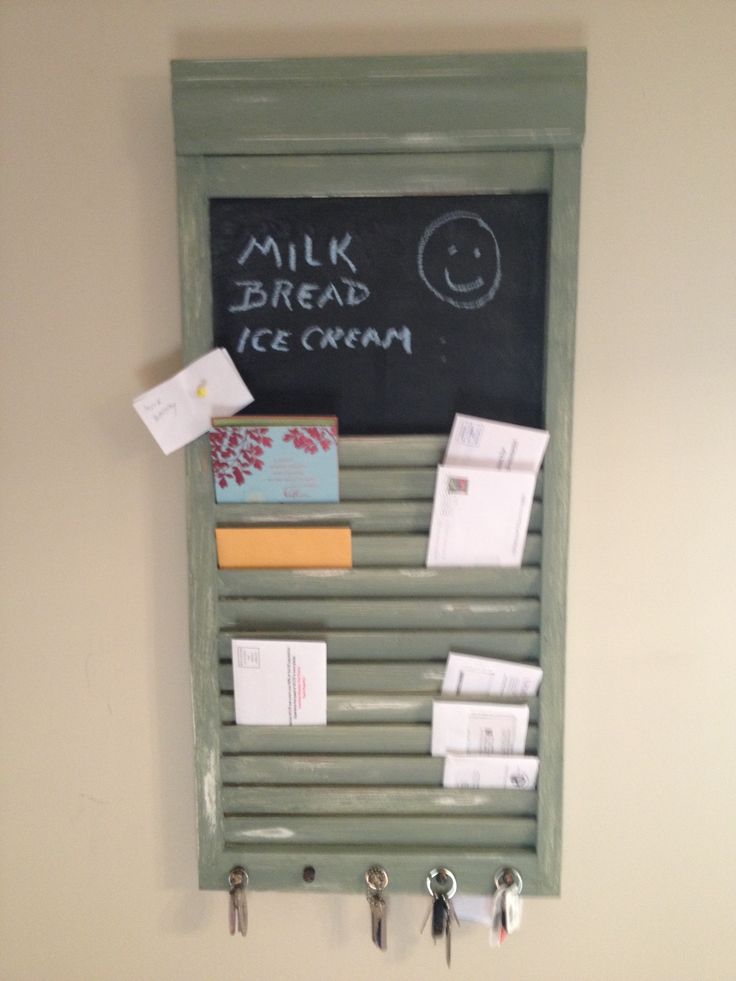 –>
Take one old Louvre door. Give it a nice shabby chic paint effect or sand it down and seal it. Then hang it on the wall. What do you get? A beautiful mail holder to display photos, letters, postcards, lists, you name it.
Get rid of that awful stair carpet!
You don't need to be a design genius to make a feature of your wooden stairs. If your stair carpet is on its last legs, just tear it up and get rid of it.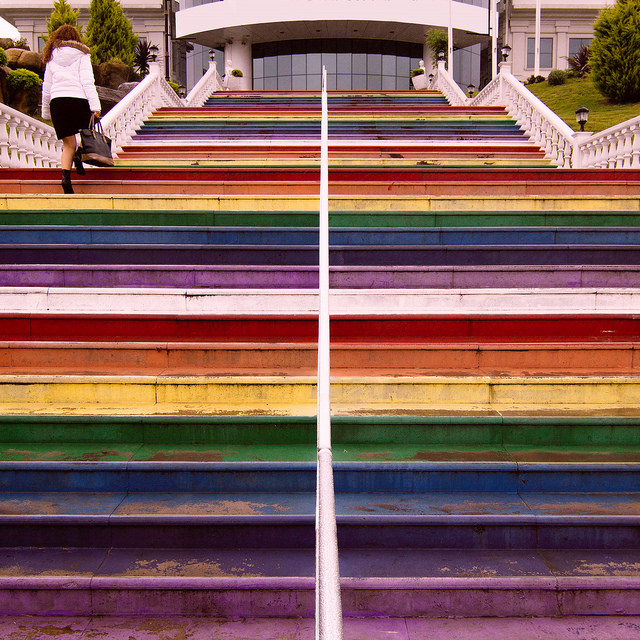 –>
If you have lovely old wood stairs you can leave them as they are, just treating them with a suitable wood finish product to protect and enhance the appearance of the wood. Or mask off and paint a colourful stripe up the middle to act as a faux carpet.
If your stairs are modern, personality-less or just downright ugly, you can paint them a funky colour, paint each stair a different colour or stain the lot to add extra je ne sais quoi.
Just ask for wood finishing guidance
If you'd love to have a go at one or more of our special Xmas DIY projects but have no idea about which wood finishing products to use, you can always call our expert team for advice.