We've looked at the type of wood finishing products you need to make the best of older wood, stuff like old furniture and old wood floors. But what about new wood? What if you've just moved into a new house with brand spanking new skirting boards and nothing's been painted yet? And what if you've just had new wood fitted in your home? Here's some handy information about how to paint new wood.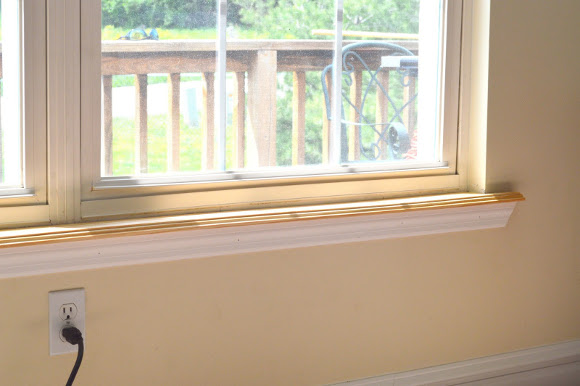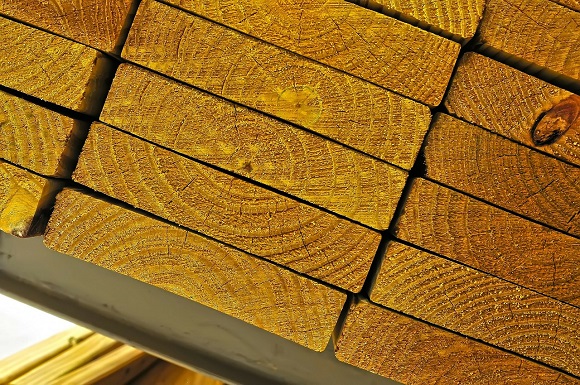 About painting new wood
Preparation is everything if you want new wood to last for a long time. Inside the home most new items tend to be made of softwood, including door frames, skirting boards, architraves and doors themselves. Exterior wood items are sometimes hardwood, sometimes softwood. Fascia boards, for example, are usually softwood, whereas exterior doors and windows are usually hardwood.
How to paint skirting boards – A knotty issue!
Painting skirting boards? Preparation is your first job whatever the type of wood. First, rub down the surface so it's smooth and clean, with no splinters or rough bits. It's easy to achieve when you sand with the grain of the wood, since sanding against the grain just leaves a fuzzy mess.
Pine can be particularly prone to rough, grainy areas as well as being packed full of knots, so sanding skirting boards is a particularly important step in your preparation.
Knots are important. Because the wood that knots are made of is a different texture and colour from the background wood, knots absorb wood finishes differently. If you try to paint a new, knotty pine skirting board the knots will show through your paint, staining it no matter how many coats you use and whether you use gloss or something water-based. Before you go anywhere near a can of paint, you need to carefully apply the right number of coats of knotting solution.
Knotting solution is usually applied using a brush or cloth, using at least 2-3 coats to completely cover the knot and prevent it staining the final paint finish. Once the knotting solution is dry, you can add your first coat of wood primer.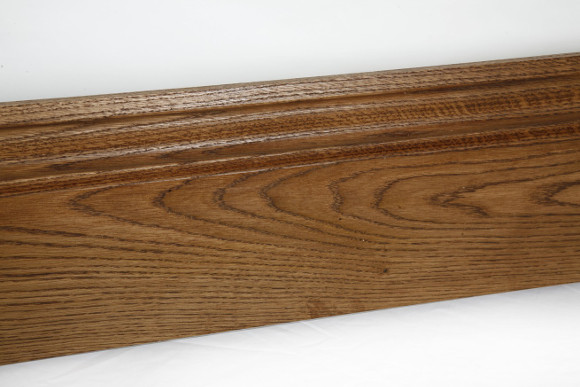 Prime your wood for a stunning final finish
Wood primer can be either water or solvent-based. Water-based primers are more common. They smell less as well as leaving your brushes easier to clean. Let the first coat dry completely then rub it down gently with fine grit sandpaper. Then add a second coat and again, rub it down. At this stage you're getting there, having created a smooth, regular key on which to apply an undercoat.
Get busy with the undercoat
Undercoat makes it much easier to apply an even, good-looking gloss or satinwood topcoat. Apply one or two layers of undercoat depending on what the instructions say and how porous the wood is. Some undercoats are very dark, handy if your topcoat will also be a deep colour. A deep grey undercoat, for example, is perfect if you want to paint the wood in dark green, deep burgundy or black.
If you are applying more than one layer of undercoat, let it dry completely and give it a light sand before applying the second coat. When it's all perfectly dry you're ready to apply a topcoat, whether it's a gloss paint, satinwood finish, eggshell, spirit-based metallic paint or some kind of emulsion. Alternatively you can use a product like Dulux Trade Satinwood, which doesn't require an undercoat to be applied, except where a strong colour changed is required.
Do you have to use boring old gloss paint on your skirting boards?
There's no need to stick with gloss for your skirting boards. While it might be traditional it can also be horrible stuff, sticky and smelly, and a challenge to apply unless you're fairly fluent with a paintbrush. And there's no reason why you should stick to white paint, either. While white gloss skirting boards look smart they're a bit old fashioned – the current trend is to either paint your skirting in a contrasting colour to the walls or use the same colour, both of which make the ceiling look higher and the space much bigger. Imagine a stunning heritage duck egg blue wall with matching skirting boards. Wow – a contemporary interior design winner!
Using a coloured non-gloss finish like a water-based eggshell – which is also wonderfully easy to wipe clean – means you have to repaint and refresh it less frequently, simply because white gets grubby in no time while colours look good for longer.
To prepare for the topcoat, give the wood one last fine sand to create a good key for the paint. Then get rid of any dust. You may or may not need more than one coat, depending on the paint type you choose. If so, it's vital to let the first coat dry properly first or you'll make an awful mess of it. As a general rule, two coats deliver a better sheen and a deeper, fuller finish than one.
What about painting new hardwood?
To paint new hardwood the process is the same, but you might not need to use knotting solution since hardwoods have far fewer knots in the first place. Sand, prime, undercoat and topcoat in the same way as you would Pine, making sure to sand gently in between every coat for a super-smooth finish.
How to paint unfinished wood furniture in 7 steps
Unfinished wood furniture can be remarkably cheap and cheerful, whether you make it yourself or buy it ready made. It can look fabulous too, especially when you take it to a whole new place with a contemporary painted finish. Here's how…
Remove knobs, handles and any other metal or other hardware from the furniture to make it easier to reach the fiddly bits
Sand the surface down. If it's carved or intricate, using a flexible foam sanding pad helps you get into the nooks and crannies. Your ideal sandpaper is 220 grit
If there are any knots, sand them flat so they don't stand proud from the grain
Hoover or dust the piece so it's totally dust-free
Seal the wood with a coat of primer to hide imperfections and give a good key for the topcoat to stick to. If the piece is carved, you can always use a spray primer for good coverage
Top tip: Not sure if you want it glossy or matt? It's easier to start with matt and go to gloss if you prefer it rather than starting with gloss then changing the finish to matt
Apply a minimum of 2 coats of topcoat and you're done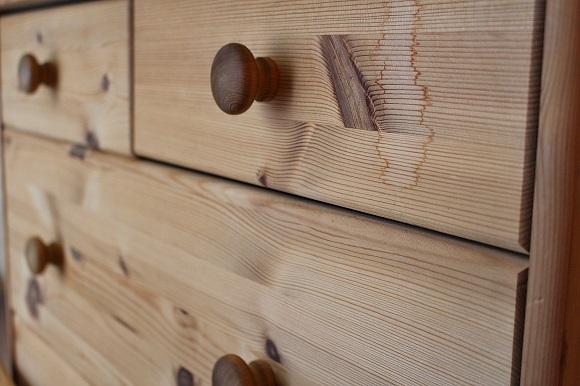 Of course you can also re-finish old wooden furniture to give your home a brand new look. If you'd like to see it in action, there's a great video revealing how to create something fresh and attractive for next to no money. Here's a link to How to Paint Wood Furniture.
A word about contemporary paint finishes…
Before you trot off to find your nearest wood paint stockist, here's some creative interior décor inspiration. These days you can buy the most remarkable, beautiful and unusual wood paints. As well as choosing from literally 1000s of fantastic special-mix colours including subtle, high-fashion heritage shades and luminous colours, there's a wealth of interesting textures to play with. Plus special opalescent paints, metallic paints and iridescent colours that shimmer and shine. In fact today's trend for eclectic décor, country French style and shabby chic means more or less anything goes.
Need help with your wood painting project?
For more information about wood paints and their uses, contact our team of resident experts who are always on hand to help with project advice and product recommendations. Alternatively, see our wood paints FAQ page which covers many of the most commonly asked questions about wood paints.
We love to see before, during and after photos of any wood finishing project. If you would like to share your project pictures with us and our followers, you can either send us some photos or share on our Facebook, Twitter, Pinterest or Instagram pages.
Other great blogs that discuss painting wood