Do you have a local reclaimed wood store? We do, down on the South coast, and it's an Aladdin's Cave of beautiful wooden objects, everything from recycled wood to reclaimed wood furniture, salvaged timber of every imaginable kind, wood gifts and wooden homewares.
We thought it'd be useful to take a quick tour of The Wood Store, Brighton, with the aim of inspiring you to find your nearest re-used wood outlet and get busy with the reclamation!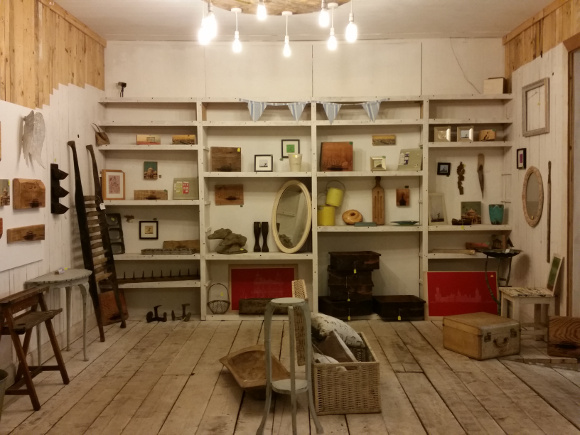 Brighton Wood Store is just a few minutes' walk from the pier and seafront, and they've been reducing waste and re-using wood since 1998. It was the first ever UK scheme dedicated to re-using unwanted timber, a trailblazer. These days they're a completely self-funding social enterprise.
Their Collections team works closely with local and national building firms and other organisations to collect wood waste for re-use. They also have a group of keen volunteers on hand who learn new wood-related skills on the premises, creating new wood furniture from reclaimed timber and preparing the wood for sale as well as offering buyers a warm welcome. It's a really friendly place.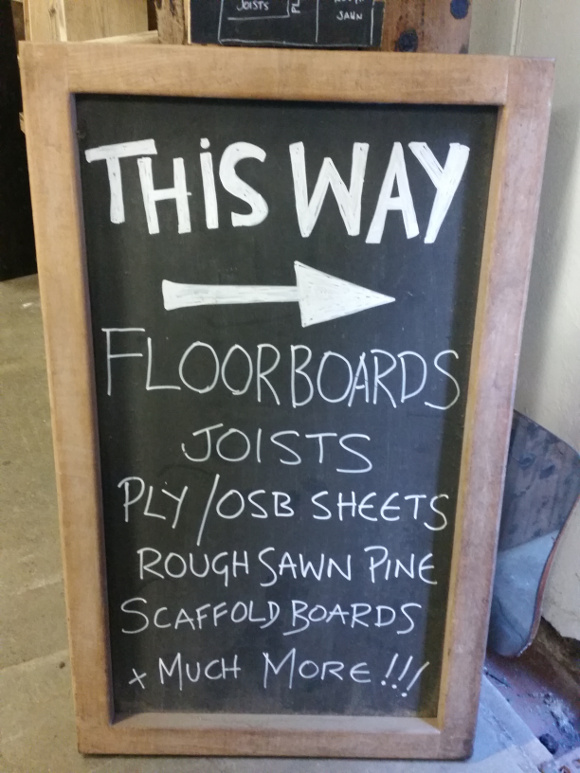 Wood recycling sits at the heart of everything they do. Any salvaged timber collected that can't be re-used is either chopped into firewood or chipped off-site, and the chips are used to produce electricity for a small power plant. Nothing gets wasted, which is brilliant since wood – despite being wholly renewable – is a precious resource.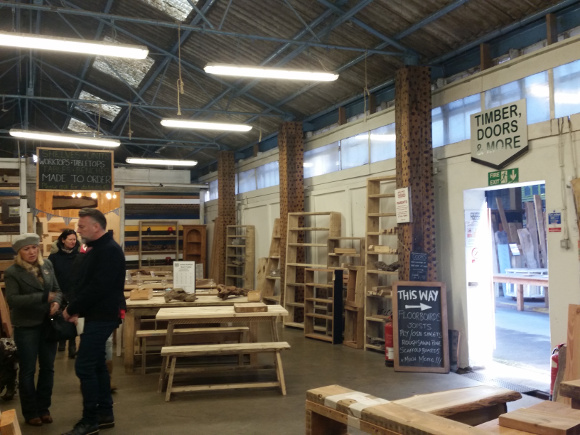 Where else could you buy gorgeous old, wide, thick reclaimed floorboards for £4.50 per metre? If you bought the same quality of wood brand new it would cost you a fortune. And this comes with built-in personality, unlike raw new floorboards. The made to measure wood furniture and garden furniture the talented workers produce in the Wood Store is gorgeous too, lovely and chunky, generously sized and beautifully designed.
All sorts of sturdy reclaimed construction timber
Plywood, MDF and OSB at ridiculously good prices
Lovely old pier decking, recycled wood with a fascinating history
Used scaffold boards, floorboards and more, all top quality stuff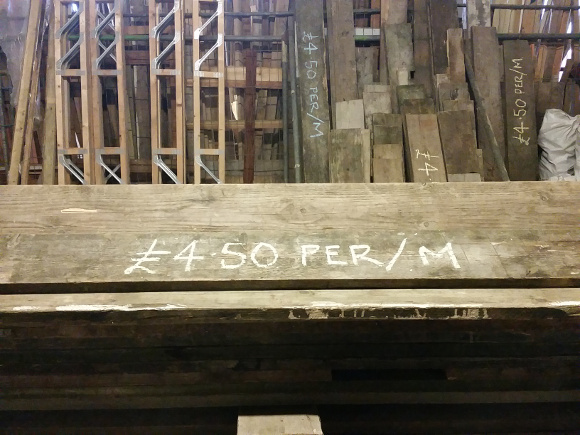 Whatever your reclaimed wood requirements, a local wood store like theirs has everything you could possibly need. They also sell firewood and kindling, both conveniently bundled up, plus massive pieces of sculptural driftwood, wooden sea defences and old worn out seaside groynes complete with seashells, barnacles and rusty iron fittings. Plus all manner of fascinating architectural wood.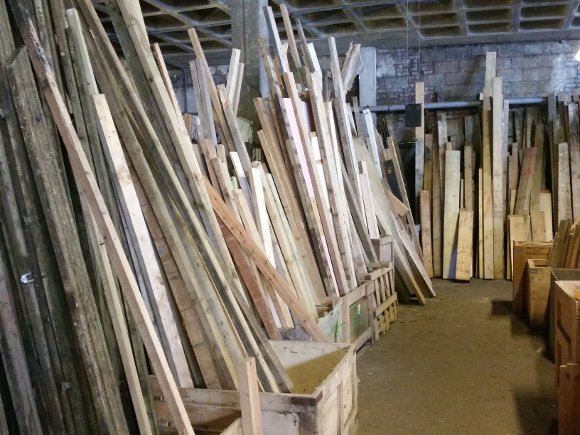 The home and garden furniture made by the carpenters on-site is lovely. How about the shabby chic dresser below, hand crafted with skill and care from gorgeous salvaged timber, which has been cleaned and smartened up without spoiling its unique personality?
With shabby chic décor as popular as it is right now and the wood recycling revolution at an all-time high, you can understand why they were doing a roaring trade when we popped in a couple of weeks ago to buy a big chunk of reclaimed sea defence for our front garden. More about that later…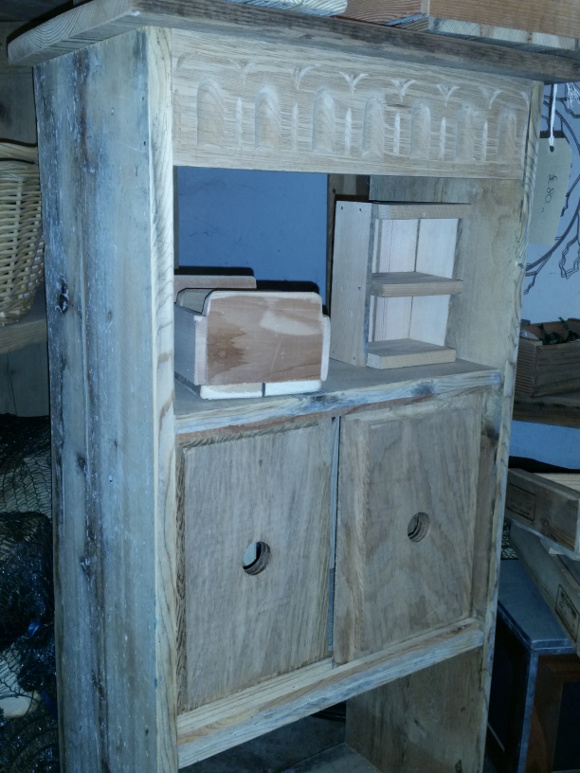 As well as big stuff, the Wood Store carries a nice line in wood arts and small decorative pieces. These items are carefully and creatively crafted from a wide variety of stunning wood types, from ancient oak to fruitwoods and exotic hardwoods, all of which would otherwise have been chucked away to moulder in a landfill site, which would have been absolutely tragic.
Their beautiful little cabinets and shelving units, boxes and crates, bowls and sculptural pieces are all made with love and care, and priced very reasonably.
It's all fabulous. But our personal favourite is the driftwood, including spectacularly worn sea defences: bits of groynes, whole groynes, tree root systems and exotic-looking sculptural pieces that have been washed smooth and worn into amazing Art Nouveau-like swirly shapes by the wind, sand, pebbles and tides, many from along the south coast.
Because the weather and waves transform the wood from its rich, natural colour to a lovely, delicate silvery grey, it looks wonderful used outdoors and indoors as a decorative feature.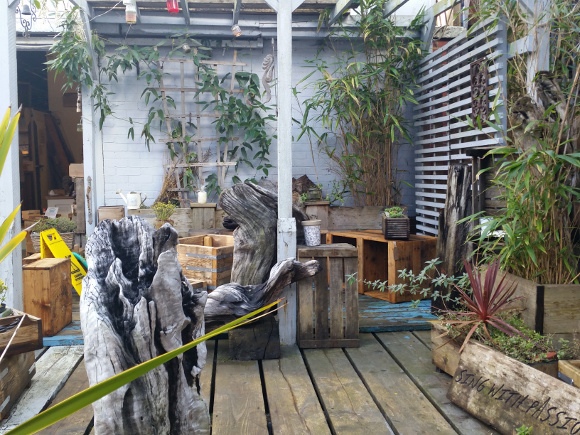 The architectural driftwood pieces above illustrate what I mean, as do the two photos below. The smaller chunk sits on a set of shelves made from reclaimed wood, complete with ghostly original lettering, its original meaning and purpose long lost. It has been washed smooth by the sea and the holes all over it are made by shellfish, who use the wood as their anchor and home, burrowing deep into it while it lay in the water.
Isn't it beautiful? You could leave it as it is, propping it up somewhere suitable, or set it on a stone, glass or wooden plinth to create something even more sculptural.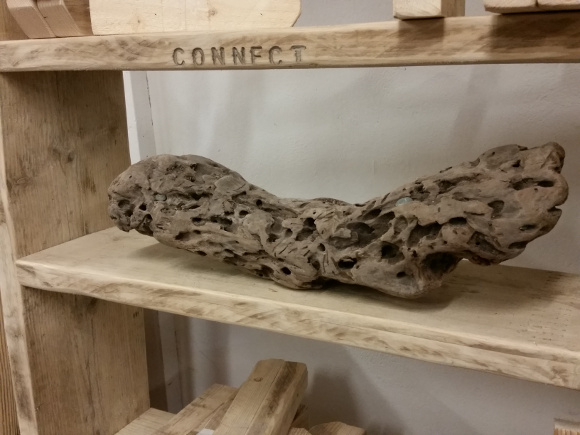 And what about this bit? Wow. I believe this is a chunk of water-weathered root system rather than branches, another of nature's Art Nouveau masterpieces and standing an impressive four feet tall. It's slightly skeletal too, lending it a wonderfully eerie feel.
Imagine this in your garden, fixed on top of a stone stand or propped against a wall? And it's unique, a one-off. You won't find another one of these anywhere in the world.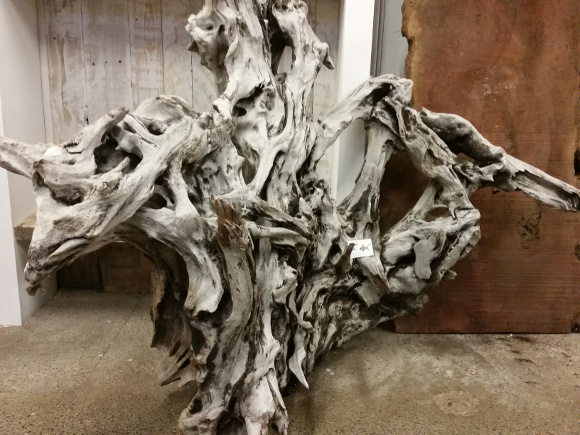 Our front garden is inspired by Derek Jarman's garden at Prospect Cottage, Dungeness. We've included lots of smaller bits of driftwood but the piece we bought at our local wood store was the final creative touch.
Fixed firmly into a foot-deep hole with Postcrete, it's a piece from Pevensey Bay, where the old sea defences are steadily being replaced with new. It's about 40 years old, stands more than six feet tall and is studded with ironwork; old nails, fixings and rings, all red and rusty, contrasting perfectly with the deep reddish brown hardwood.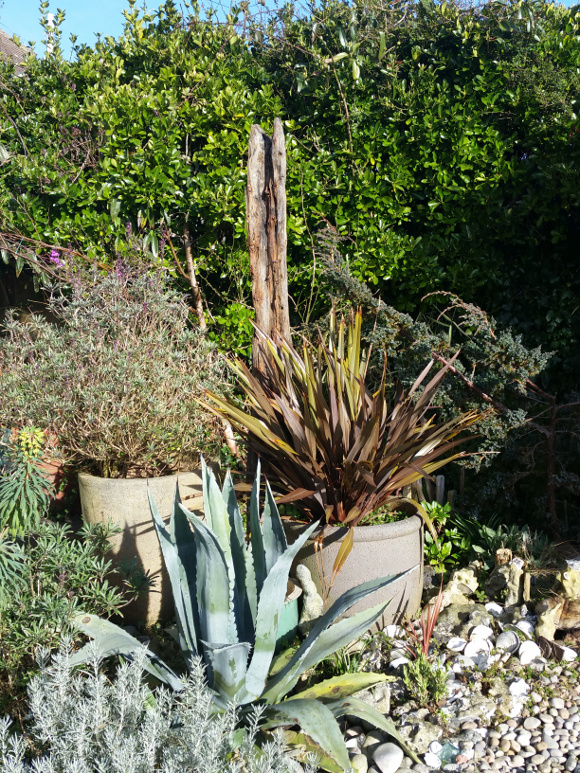 If you fancy a poke around, the Wood Store Brighton is open 9am to 5.30pm Monday to Saturday and there's free parking on site. It's inside the old fruit and veg market building on Circus Street, Brighton BN2 9QF, telephone 01273 570500. You can follow them on Twitter using @Woodrecycling and their website is www.woodrecycling.org.uk.
What if you're nowhere near Brighton? No problem. If there isn't a wood reclamation yard or architectural salvage place in your town or city, there's probably one not far away. Recycling wood is a big deal these days and outlets are springing up all over the place. A quick search on Google delivers recycled wood yards in all these places…and lots more:
It  goes without saying that if you buy or make something made from recycled or salvaged wood, we sell a massive range of wood finishing products to keep it in great condition for longer.