After the huge success of our Osmo Polyx Oil 3 litres for the price of 2.5 promotion, we thought it would be rather good to run another Osmo deal. This time, it's the turn of Osmo UV Protection Oil (420) Clear. With the snows of winter melting and the sun's rays starting to warm the air, all thoughts are now on getting those exterior wood care projects done.
So what do you get with these promotional tins? Well apart from the groovy, personalised Wood Finishes Direct tin, the extra half a litre, or 20%, gives up to an extra 10 square meters of coverage for free. This could make all the difference meaning a project could be finished with fewer tins.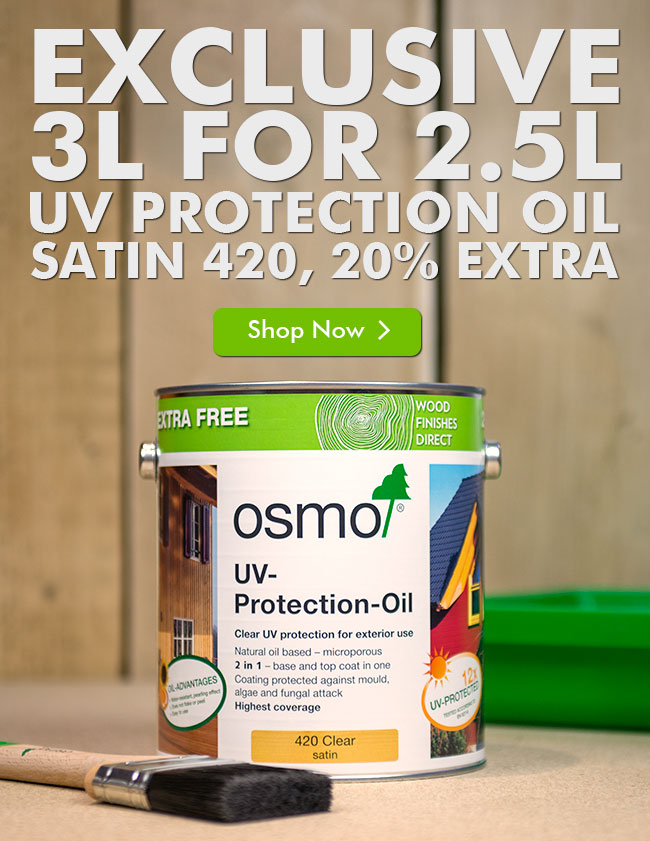 Made from a blend of natural oils, waxes and resins, Osmo UV Protection Oil 420 Clear offers excellent durability, water resistance and protection against mould, algae, fungal attack and the bleaching effects of the Sun's UV rays. It is easy to apply, maintain and patch repair, and is perfect for a range of exterior, smooth planed wood surfaces including sheds, summerhouses, log cabins, cladding, window sills, exterior doors, garden and driveway gates and more. In addition to protecting exterior wood, it beautifies it by enhancing the natural character and colour of the wood whilst drying to a pleasant, soft sheen satin finish.
Although we can go on and on about how good and versatile this product is, don't take our word for it. Here are just some of our recent Osmo UV Protection Oil customer reviews from the thousands to date.
Osmo UV Protection Oil Customer Reviews
"The product works flawlessly and would highly recommend it. I used it on a pair of gates and when it rained later the rain ran off like a dream."

"Have used Osmo in the past, delighted with it then, as I am now with the latest batch. The finish and protection is almost beyond belief. An amazingly good product – gives lasting protection and looks. Well worth the expense."

"I was extremely happy with the product and the result achieved. I thought it was a great product. It was my dream to find a uv protection oil completely matt so you didn't know any oil had been painted on. However, my cabin is now fully protected and after using the gel looks a treat. I had great customer support on the phone before and after purchase. All technical questions answered fully and advice provided. Staff understanding their product requirements all very knowledgeable. I also received tremendous customer care support post purchase. Service was astounding. I would recommend this company fully."

"I was advised to buy this product by the gate company we had recently used and Wood Finishes Direct had exactly what we wanted. The oil went on very easily with a brush and left a stunning finish on our gates. The colour looks absolutely gorgeous and the protection is first class. Rain water simply forms droplets on the wood and doesn't soak in. The product came very quickly and was well packaged. The company informed me at all stages about delivery. Top marks!!"

"For years I had coated external doors in 'something' from Homebase – the advise from these guys was superb. The Osma Oil Extra has made a beautiful job of my pine external door – easy to apply and looks really fantastic when finished + the added advantage of simply reapplying every now and again to maintain the finish…love it!"
So whether looking to nourish, protect and spruce up exterior wood before the summer sun heats up, or starting a new construction project that includes wood that will be exposed to the elements, now is the time to grab a promotional tin of Osmo UV Protection Oil (420) Clear whilst stocks last. Once they're gone they're gone! Simply select the 2.5Ltr Clear (420) option and it will be automatically upgraded to the promotional 3Ltr size tin at checkout.
Have an interior wood care project to do?
We are fast running out of the promotional 3 Litre tins of Osmo Polyx Oil (3062) matt. If you have an interior project such as interior doors, floors or kitchen worktops to treat, grab a promotional tin whilst stocks last. As with the Osmo UV Protection Oil (420) clear, Once they're gone they're gone.
Need help with your wood finishing projects?
Want to know more about Osmo UV Protection Oil or any of the other wood finishing products we offer? Contact our friendly team of resident experts. They're always on hand to provide free advice and guidance on the right products for your project.
Read more about the Osmo 25th anniversary promo from 2015 here.