In this video Jay from Wood Finishes Direct will explain what to consider before buying the Osmo Concrete Oil.
Hard Wax Oil FAQ
Can you use Osmo Concrete Oil on kitchen worktops?
Osmo Concrete Oil is a hardwax oil which combines all the advantages of oils and waxes in one product, It goes on and gives the appearance of a traditional oil but offers a durability comparable to some varnishes. It is resistant to water, dirt, wine etc and is microporous, so will not crack, peel or blister. A better option could be Osmo Top Oil that is specifically formulated for kitchen worktops and is available in a range of finish types including matt and satin natural and more.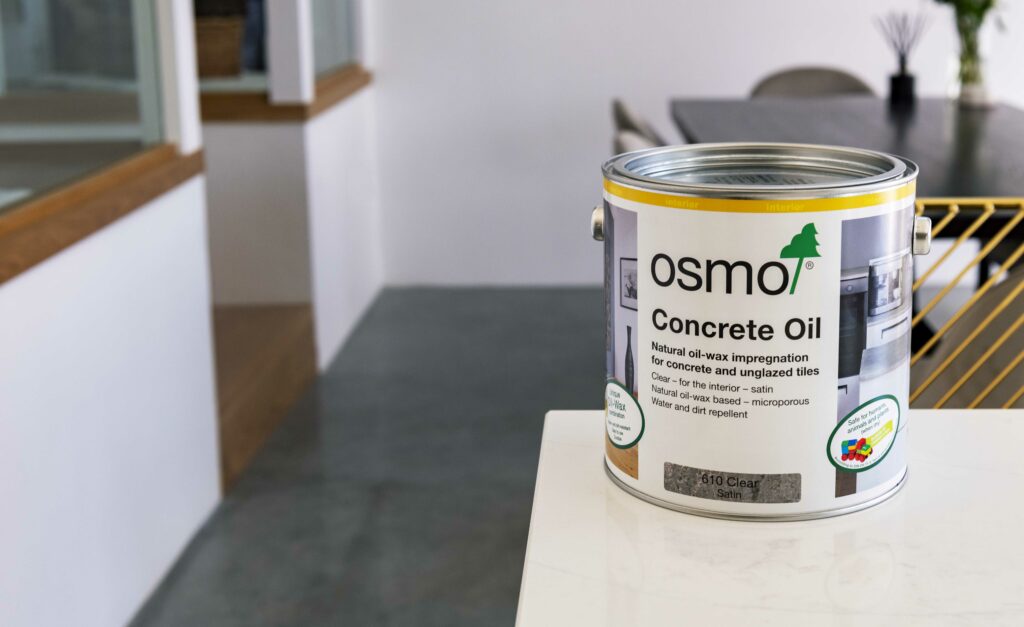 Before you Buy – Osmo Concrete Oil transcript.
Hi I'm Jay from Wood Finishes Direct, I know what you're thinking why are a wood finishing company talking about Concrete? Well wood and concrete mixed are the cornerstone materials of the industrial aesthetic that is huge at the moment. Concrete and stone is being used more and more, in projects such as floors, table tops, kitchen worktops and even concrete flower pots. But first.. What is Osmo 610? Let's find out.
What is it?
Osmo Concrete Oil is a blend of natural oils and waxes which form a water and dirt repellent barrier on screed, unglazed tiles, artificial and natural stone and as the name suggests concrete surfaces. One of the main benefits of Osmo Concrete Oil is it greatly reduces dust on these surfaces, and protects against staining which can prove costly to rectify.
Water test
We'll start with a very handy little test called the water test. The logic behind this test is simple, it helps us establish whether the surface is bare or previously treated. All you need to do is apply a drop of water onto the surface and leave it for 30 seconds. If the water beads, you know there is an existing finish that will need to be removed. If the water soaks in you can move straight onto application! It's genuinely that easy.
The Look
Osmo Concrete Oil dries to a satin finish, that enhances the beauty of concrete and stone, bringing out and enriching the colour. To make sure the product matches your desired aesthetic, Osmo has handy 5ml samples to put your mind to rest, just don't forget to try this in an inconspicuous area
P.A.R.S.E
You don't have to worry about over application of the Osmo Concrete Oil, when you're using my favorite, the P.A.R.S.E. Method.
Prepare properly – clean and remove any dirt and previous finish
Apply thinly – always work in manageable areas
Remove excess – using a microfibre cloth
Sand lightly – abrade the surface with a finishing pad
End coat – Apply and leave to dry
Simple enough, right? If you choose not to follow the P.A.R.S.E method, there are a number of over application issues you may face, such as… longer drying times, a sticky and unpleasant surface, A patchy, rough finish Or Pooling on the surface.
Outro
If you're seeking technical assistance or advice on your project, why not put us to the test and give us a call or email? We're the experts after all. All the products mentioned in the video are linked in the description on Youtube. Like what you've seen? Don't forget to like and subscribe for all future content.
Other Post You Will Love!