In this video Jay from Wood Finishes Direct will explain how to apply  Manns Extra Tough Door Varnish.  
What's the best finish for Oak doors?
This depends if the oak door is interior or exterior. Oak is usually used more for interior doors as it can be prone to cracking and splitting when used for exterior joinery. basic options available for oak interior doors are lacquer / varnish or oil / hardwax oil. The right finish for your door depends on personal taste regarding the look and ensuring that the finish is suitable for the expected use of the door.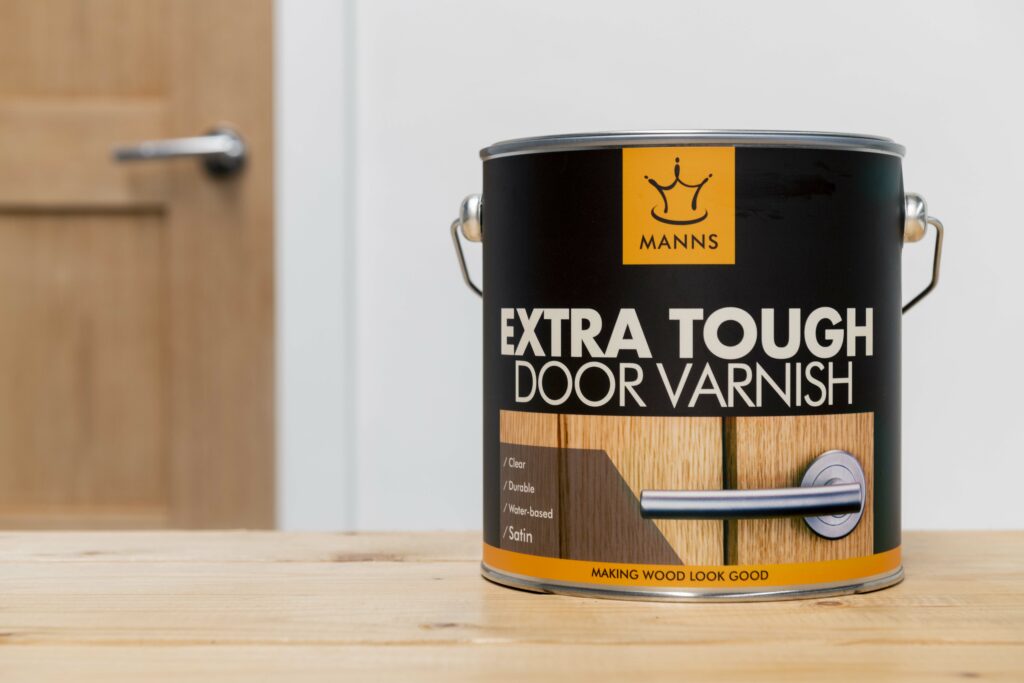 Manns Extra Tough Door Varnish transcript.
Hi, I'm Jay from Wood Finishes Direct, in this video, I'll be teaching everything you need to know about the Manns Extra Tough Door Varnish. I'll be applying it to this JB Kind Snowdon door from their 'Oak Shaker Range'. It's a beautiful door, and so easy to finish. So, what exactly is Manns Extra Tough Door Varnish? Get comfy and let me explain.
Manns Extra Tough Door Varnish it is a versatile non-yellowing, water-based varnish that dries to an attractive Satin sheen. Every bit of wood is different so, I always recommend trying a test area just to make sure it gives you your desired result.
Before I get started here's a handy little tip, ideally you want to be finishing an unhung door, with all handles, hinges and other furniture removed, and all size adjustments made, you'll thank me. So, I have thoroughly stirred the Varnish and decanted into my paint tray. Now let's have some fun.
My weapon of choice when applying Manns Extra Tough Door Varnish is the ProDec Premier Synthetic Brush this is a high-quality bristle brush that aids smooth application. Simply let the brush take the plunge and apply in long even strokes in the direction of the wood grain
So Ive let this dry for an hour and a half, and now it's time for an especially important step. Giving the door a light sand with a finishing pad. This method aids adhesion of the second coat and gives you a better finish all around. Once you have done that, just clean off the door and apply your 2nd coat in the same way as your first.

After two coats I'm sure you'll agree with me it looks great. The Manns Extra Tough Door Varnish has really brought out the natural tones and textures of the wood. We're nearly done! All you have to do now is reapply all the furniture and its ready to be hung.
If you're seeking technical assistance or advice on your project, why not put us to the test and give us a call or email? We're the experts after all. All the products mentioned in the video are linked in the description on YouTube. Like what you've seen? Don't forget to like and subscribe for all future content. And remember always do a test area.
Other Post You Will Love!
Sourcing suitable furniture: The heart of your home 
Lessons from lockdown: Our top tips