As the saying goes, 'All work and no play…' At Wood Finishes Direct, we try to keep a healthy balance of both and now we have even more of a reason to get excited when it's time to play. Why?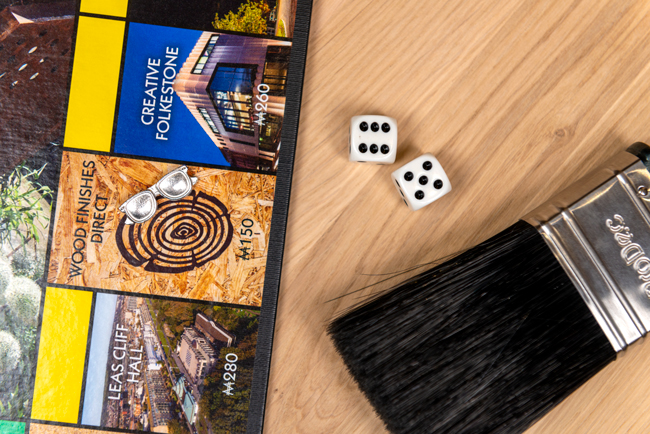 The makers of the board game MONOPOLY have just released an edition for our beautiful hometown of Folkestone, here down on the Kent coast. And what makes this even more exciting for us is that Wood Finishes Direct features in the game alongside other landmarks and attractions of the town. In addition to being able to buy us as a utility on the board, we also have our own 'Community Chest' card that will bring a smile to any players face. In fact, we like it so much that we've decided to stock and sell the game on our website and from our shop here in Folkestone. So, if you're local to the town or a collector of this iconic game and the various editions released, you can buy your Folkestone edition of MONOPOLY from Wood Finishes Direct here.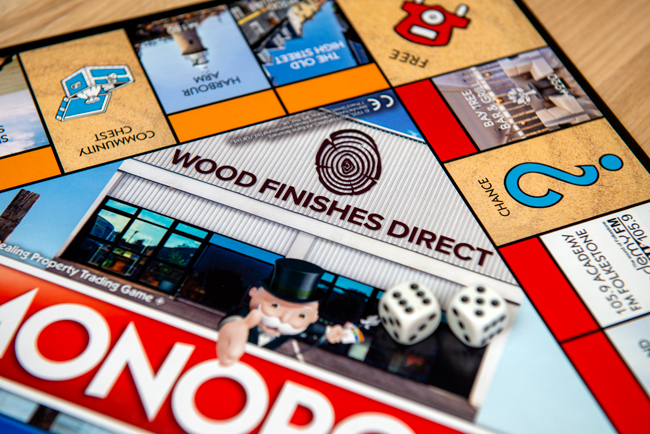 MONOPOLY Facts
Despite being as much a part of British culture as Fish and Chips, James Bond, Football and Big Ben, MONOPOLY is actually an American creation and can be traced back to 1903, when American anti-monopolist Lizzie Magie created a game called 'The Landlords Game'. She took out a patent in 1904 and the first version of her game was self-published in 1906.
Several variant board games based on the Lizzie Magie's original concept were developed from 1906 through the 1930s; they all involved the process of buying and selling land for development. Cardboard houses were added, and rents increased as they were added to a property. Magie patented the game again in 1923.
The British Secret Intelligence Service had John Waddington Ltd, the licensed manufacturer of the game in the UK, create a special edition in 1941. This was distributed to prisoners of war, held by the Nazis, by a fake charity organisation created by the British Secret Service. Hidden inside the game were maps, compasses, real money, and other objects that could be used for escaping capture.
The locations for the London edition of MONOPOLY were scouted out and decided in 1935.
In 1998, 'Winning Moves' procured the MONOPOLY license from Hasbro and started to create new UK city and regional editions, including the new 2020 Folkestone edition.
How to get MONOPOLY the Folkestone Edition
The new Folkestone edition of MONOPOLY can be bought from the Wood Finishes Direct website or by calling us to place your order. Alternatively, if you're local to Folkestone and the surrounding area, why not pop-in, say hello, and buy it from our shop located in Park Farm Road, Folkestone.
We hope you enjoy the game and are the first to land on and buy Wood Finishes Direct when playing.
Can we help?
Games aside, do you have a wood care project that you need help with? Interior or exterior, from sheds, fences and decking to picture frames, doors and furniture, we have the answer. Contact our team of wood finishing experts who are on hand to offer free, practical advice on any project or product questions you may have.
We love to see before, during and after photos of any wood finishing, decorating or restoration project. If you would like to share your pictures with us and our followers, send us your photos or share on our Facebook, Twitter, Pinterest or Instagram pages.