Of the many rising trends that arose from the pandemic, the addition of a furry friend to our household is one of the most prominent. The acquisition of puppies and rescue dogs, in particular, rose to new heights throughout 2020. Dogs Trust claimed that Google searches for 'buy a puppy' rose by 166% since lockdown was first introduced on 23rd March.
For all the therapeutic and positive qualities we associate with pets, there is an abundance of responsibilities to go along with them. Puppies, and their adult counterparts, require time, love and a great deal of patience and training. If left to their own devices, they can be a menace to any household. With this mind, what follows is a guide to protecting your household wood from your furry friend.
Maintain and repair your household furniture
If not cared for sufficiently, wood is subject to wear and tear over time, and bringing a dog into a household only increases the likelihood of that eventuality, especially when they start teething! Puppies will often chew anything they can get their teeth around as a means of relieving teething pain, a way of keeping their jaws strong and their teeth clean, or as a result of anxiety.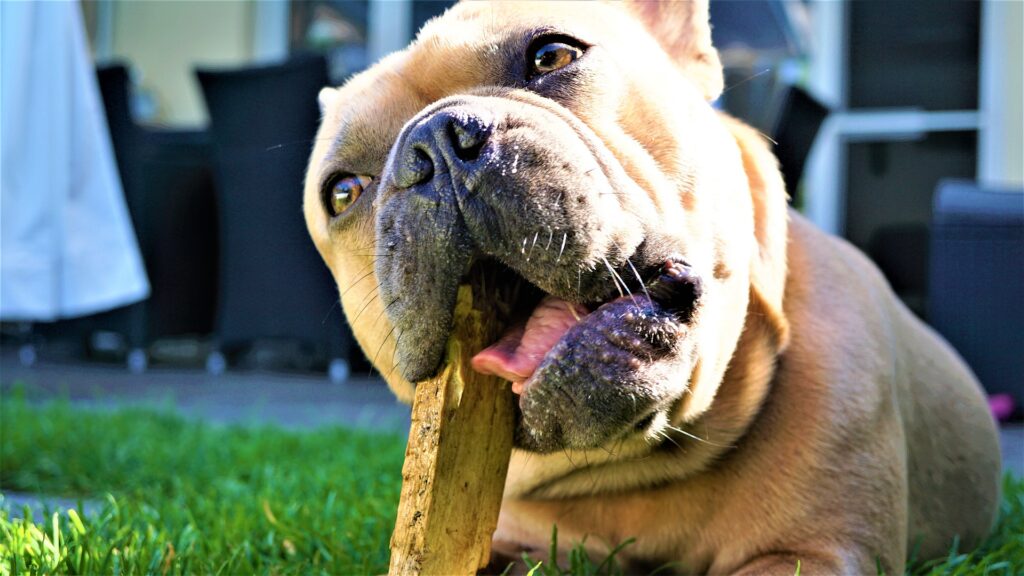 Household furniture, while not an overly attractive chew toy, is by no means safe in this regard. Fortunately, there are products we recommend in combating this issue. Wood fillers are a handy, inexpensive product that's absolutely ideal for repairing scratches and teeth marks in your furniture. Our wax filler sticks can be intermixed and provide quick and easy repairs via a scrape and fill method.
Protect your pet safety gate
While the introduction of a furry friend into your household requires a level of trust between you and your pet, it stands to reason that there will still be certain areas of your home that you wish to keep out of bounds, both for your own peace of mind and for the safety of your dog. An obvious solution to this notion is the installation of a pet safety gate.
Whether a free-standing or permanent fixing, a wooden safety gate presents a sturdy option and often comes in attractive bespoke and handmade models. The application of a protective finish to your gate will, in turn, go a long way to ensuring its durability. Manns Door Oil is our go-to product for the job at hand. Two coats provides long-lasting durability and protection against scratches and scuffs from furry paws, as well as dirt, finger marks and moisture. What's more, its application will enhance the natural character and grain of your wooden safety gate. 
Protect your kitchen cabinets
In the same regard, kitchen cabinets are an effective means of keeping valuables and unsafe possessions from destructive puppies that are after the tasty treats within. Some households may turn to safety latches as a means of extra security, much in the same manner as you would for a newborn baby.
Should you forgo the use of a safety gate, however, you open yourself up to the possibility of an inquisitive dog exploring your kitchen cabinets, often with the frustration of not being able to access the treats within, scratching with claws that could potentially damage the finish.
Dulux Easycare Kitchen Matt is a water-based emulsion that provides exceptionally tough resistance against the mishaps of inquisitive furry friends. Its greaseproof formulation dries to a matt finish that's also washable to boot, perfect for those muddy paw prints!
Ensure the durability of your kennel
Many modern dog owners have turned to kennels as a means of training their puppies. Kennel training introduces your dog to a space that becomes safe and familiar for them, like a den their wolf ancestors would have used. With an added benefit to toilet training, as dogs naturally tend to avoid making a mess where they sleep.
Wooden kennels, arguably, offer a more homely option for your dog and fit in snugly with the decor of a designed household. Many on the market are also hand made and present a more durable option. If a wooden is your preferred choice, the application of a quality finish will protect your crate from dog chewing and scratching.
Manns Extra Tough Interior Varnish provides that quality finish, with antibacterial properties that make it ideal for use on your crate kennel. This polyurethane varnish dries to an extremely durable, non-yellowing finish that offers excellent protection, keeping your crate kennel in tip-top condition for the road ahead and, in turn, ensuring that sense of comfort and safety for your furry friend.
Repair and reinforce your outside decking and fencing
Aside from the obvious issues to us humans, unrepaired or unfinished decking and outdoor fencing create an abundance of potential problems for puppies and even larger dogs. Curious puppies can get trapped or stuck in spaces they shouldn't go, while any holes in fencing provide an easy escape route for a budding escape artist.
While repairing holes or replacing the damaged fence panels is a must, your decking and fencing will need to be finished in order to give them the best possible level of protection. Our extensive array of treatment products will maintain and restore your decking and outdoor fencing, ensuring an effective level of protection for your furry friends and providing a strong sense of durability against their more detrimental tendencies.
Cleaning your wooden floors
One perceived household issue commonly associated with dogs is the shedding of hair. Naturally used as a means of losing old or damaged hair, the amount and frequency often depends upon their health and breed, as well as the time of year. While loose hair can get tangled into the fabric of carpets, one of the many pros of wooden flooring in a household is the relative ease they can allow for in managing this issue. That same consensus also applies to toilet accidents, another common issue more readily associated with untrained puppies.
Our product recommendation? The Bona Wood Floor Spray Mop. This all in one trigger activated spray mop provides a quick effortless way to clean loose hair from your wooden floors. An extra-wide, 360-degree swivel head action is ideal for reaching puppy accidents in difficult to reach areas and its microfibre cleaning pad is removable and machine washable.
Extra tip!
If you happen to have bare floorboards in your home, particularly repurposed or salvaged wood, always be sure to check for and remove any loose or unsafe nails before allowing a furry friend into your home.
Need help with your furry friends?
Contact our team of resident experts who are always on hand to help with project advice and product recommendations. Alternatively, see our FAQ page which covers many of the most commonly asked questions.
We love to see before, during and after photos of any wood finishing project. If you would like to share your project pictures with us and our followers, you can either send us some photos or share on our Facebook, Twitter, Pinterest or Instagram pages.
Other great blogs that discuss protective finishes