In this video Ben from Wood Finishes Direct will show you the best products and methods to maintain the  Manns Premier UV Decking Oil.  
Premier UV Decking Oil FAQ
What are the most common problems with wood decking maintenance?
Part two in our series of three blog posts about  garden decking maintenance takes a look at the most common issues faced by DIYers who want to make their decking beautiful, as well as recommending some of the best-performing treatments. 
My decking has a few holes 1-2inches. What do I need to get to fill them please?
Do these holes go right through the wood or only partially through? If they only go partially through then you should be able to fill them with an  exterior wood filler. If the hole goes right through the decking board, the best option may be to fill the main bulk of these holes with a piece of wood wedged in then filled as best as possible. Such a large gap or hole that goes all the way through is possibly too big for most fillers to be able to cope with without some sort of mesh of bridge to stop the filler falling through. 
So if you are able to get some small pieces to fill these holes as best as possible, and then fill with an exterior filler such as  Ronseal Multi Purpose Wood Filler. This filler is durable and has some flexibility, please bare in mind however that decking gets more use and exposure to the elements than any other wood in the garden being horizontal and this can reduce the life of the filler over all, particularly if exposed to standing water. This is a quick fix only option.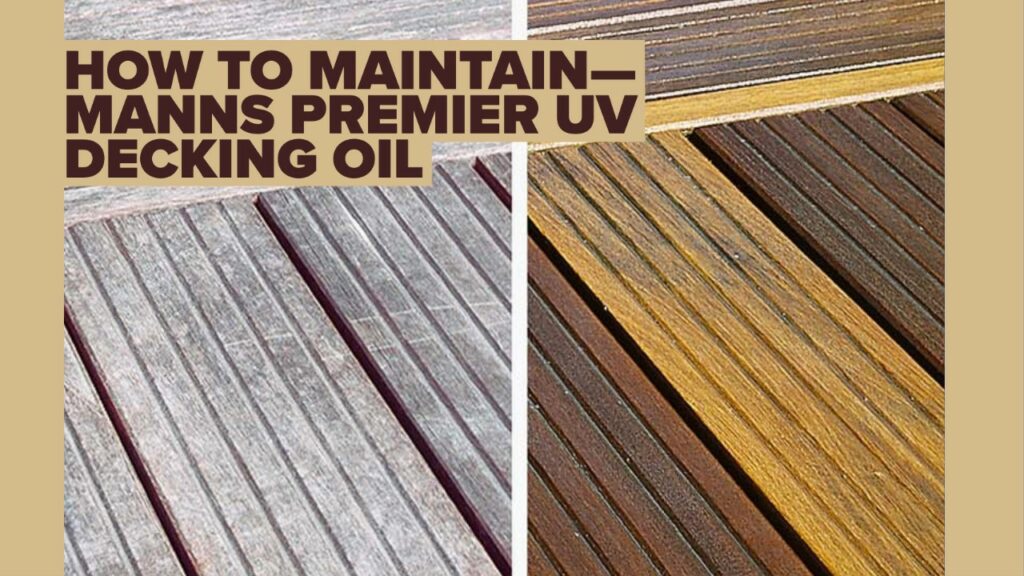 How to Maintain – Manns Premier UV Decking Oil.
Hi I'm Ben O'reilly from Wood Finishes Direct and in this video I'm going to be telling you the very best way to clean and maintain the Mann's Premier UV Decking Oil so it'll look his best for years to come the saying goes a stitch in time saves nine so let's jump straight in
The garden in essence is a extension of the home and we all love keeping our homes looking their very best to preserve the look and more importantly the performance of the Mann's Premier UV Decking Oil it's best to give it a regular sweep with a broom this helps remove pollen also leaves and sap from sitting on the deck for too long which can become a breeding ground for mold and mildew and nobody wants that
Getting your decking BBQ season ready may require a bit of a deeper clean to remove any mold mildew or other surface contaminants that may be on your deck don't worry we have you covered with our full portfolio of suitable decking cleaners on top of your maintenance regime has your deck seen better days and it's looking a little bit gray and frazzled well don't worry it's an easy fix just use one of the decking reviver products that we sell and it'll bring it back to life it really is like magic then after you've done all the cleaning and reviving that you need to do all you have to do is apply another thin coat of the oil as per our application video nice and easy
If you need any further technical advice or information about your project why don't you give us a call or email and put us to the test we are the experts after all a full list of all the products featured in today's video will be in the description on YouTube don't forget to like and subscribe for all future content and as always always do a test area
Other Post You Will Love!
What way is the right way up for decking boards