When you think wood finishing products, most people visualise projects like decking and flooring. But did you know you can also buy wood finishes specially designed for kitchenware and wooden tables? It means you can keep your wood bowls, chopping boards and kitchen table in top condition as well as having perfect wooden floors and beautiful decking.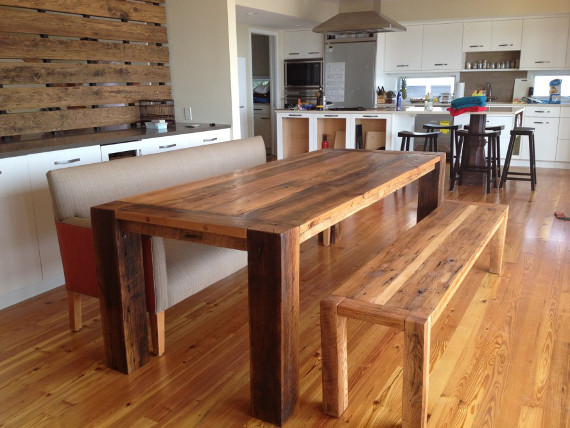 How to maintain wooden kitchenware
Wooden kitchen bowls, chopping boards and most other kinds of wooden kitchenware are usually made from dense woods, which hold their shape and don't bow or bend. When reasonably new, they tend to have a high oil content which can repel wood varnishes. And because the grain is usually very tight, wood stains and oils are often a better option.
If you're looking for top performing, general use wood finishes for kitchens, try the amazing Fiddes Hard Wax Oil Tints range. It's clear, incredibly hard wearing and doesn't go yellow with time, making it ideal for kitchen surfaces like wooden worktops and cupboards.
If you have a kitchen work top, utensils, bowls or anything else that is made from a dense exotic hardwood, consider Osmo Extra Thin Wood Oil 1101. As the name suggests, this oil is very thin making is especially good at penetrating naturally oily, tight grained, hard woods. As with any wood oil, the secret is in the application. Wood oils should always be applied thinly and worked in to the surface of the grain with a lint free cloth or rag, wiping off any excess oil from the surface.
It dries relatively quickly and comes in clear matt, satin or semi gloss finishes. You can choose from nine tints in the satin range, which can be mixed together to get the right shade, as well as a natural finish that offers the same level of protection, while keeping the wood looking natural, almost as if it hasn't been treated with anything.
Hard wax oils repel water, don't flake or peel and are remarkably durable. And the impressive coverage they deliver makes them very good value for money. Fiddes is perfect for areas that get a lot of wear, and it's child-safe, made from top quality ingredients and even suitable for wooden toys. Here's how to use it:
Do a sample test area first
Make sure the surface is clean, dust-free and dry, removing any areas of old finish by sanding the wood with 120 or 150 grade sandpaper
Stir the hard wax oil thoroughly, then apply it at room temperature in a well-ventilated space. You don't need to thin the product or prime the surface
Use a good quality paint brush, lint-free cloth or microfibre roller
Apply 2 coats to hardwoods for the best effect, 3 coats on softwoods – test a small area to make sure the softwood needs another coat. If it doesn't, you can easily tell because the product doesn't sink in
Stir the product in between coats and during use. Apply it thinly and work it into the wood, following the grain
Take off any extra straight away, with a lint-free cloth
Apply the second coat (and third if you need it) when the first is dry. A thin coat dries in roughly 3-4 hours and a medium coat takes 4-6 hours in a warm room. If it's cold or damp, it takes longer
If you're looking to improve the sheen level, buff the final finish with a cloth to increase the level of sheen
Important tip – never use a steam cleaner on oiled or waxed surfaces
What about ongoing maintenance?
You can repair scuffed areas, stains and marks in no time. To remove small blemishes, buff them with a dry cloth. Light stains and other damage can be repaired with careful sanding then applying a fresh coat of oil. And heavy damage can be removed by sanding back to the original wood then applying more hardwax oil.
How to care for bamboo utensils
Bamboo is a remarkable material. It's wholly sustainable, plentiful and durable, incredibly strong and lightweight. Which is why it's such a popular material for contemporary kitchen utensils. You can even buy bamboo drinking straws as well as bowls and plates, cutlery, tongs and cutting boards, and it's an ethical choice as you can see here on the Green Tulip ethical gifts website.
To keep your Bamboo utensils in good condition, apply a food-safe mineral oil when the wood starts to look tired and dull, to help retain its natural character. Try Brandon Bespoke Pure Mineral Oil, available on Amazon. It's food safe, tasteless, colourless and clear, brings back the Bamboo's lovely rich colour, is really easy to use and delivers great coverage.
Wood finishes for tables and kitchen work surfaces
Because a table sees such a lot of use, any wood finishes have to be easy to apply on the legs and top as well as being very long-lasting. We prefer products that are easily applicable with either a roller or brush, because it keeps things simple. But you can also buy spray finishes suitable for wooden tables… and they're seriously rugged!
Our customers rate Osmo Top Oil highly, a very durable oil that dries clear and matt. Made with natural waxes and oils, it neither peels nor flakes, cracks nor blisters. It even performs beautifully when it's humid and because it has excellent water resistance it repels water, fruit juice, alcohol and fizzy drinks.
The natural oils and waxes it contains penetrate deep into the surface of the wood, keeping it supple, preventing it from drying out and cutting the risk of swelling and shrinkage. Here's how to use it:
Get rid of all the dirt and dust – white spirit works brilliantly
If your surface has been oiled before or is brand new, you can sand it lightly first with a 120-150 grit sandpaper. Or you can use a paint and varnish remover to get rid of old layers revealing the natural wood beneath
Stir the product really well
You don't need a primer
Apply 2 coats of Top Oil thinly with a cloth, roller or paint brush
Let each coat dry for at least 8 hours, although the ambient temperature, humidity and wood type can all affect the drying time
Osmo Top Oil dries to a matt finish, buff it with a dry cloth to create a slight sheen if required
If you prefer a deeper satin finish, you can polish the oiled surface with Osmo Liquid Wax Cleaner once everything is fully dry
If you'd like a natural look, you can use Osmo Top Oil – Natural
What about ongoing care?
You can clean the surface with Osmo Wash and Care, and stubborn stains come off with Osmo Liquid Wax Cleaner. We sell both of them.
It's also easy to repair damage. Usually all you need to do is clean the surface and re-apply the Top Oil, but stains that have penetrated deeper into the wood might need a light sand with a special finishing pad before adding a fresh coat of oil.
What about vintage wooden tables?
With shabby chic styling such a hot fashion statement, vintage furniture is back with a vengeance. French style and shabby chic go hand in hand, and there's a lot of old French farmhouse furniture around. It usually comes with the most wonderful patina, created over decades or even centuries, complete with stains, marks and scratches.
All this damage comes at a premium, with a good, solid 1800s French kitchen table commanding prices as high as £1000 and sometimes a lot more, depending on the age and provenance. Which is why most people want to retain that gorgeous vintage look.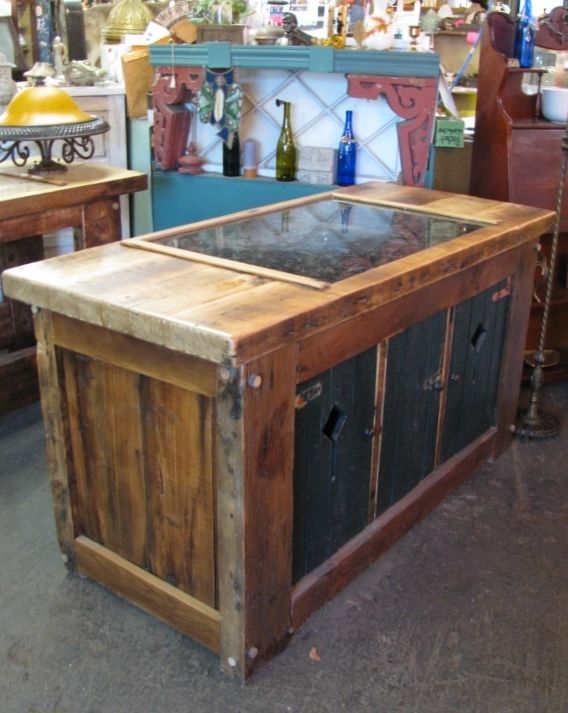 We highly recommend Fiddes Supreme Wax Polish, a fast-drying blend of natural waxes that's ideal for most wood surfaces. If your wooden furniture already has a finish, test a small area first just in case.
Just like any other wax polish you rub it on with a soft cloth, pushing it into the grain, then wait for it to dry – which only takes a few minutes – and buff it to a glassy sheen with a clean, dry cloth. The more coats you add, the more shiny it'll be. If you seal the surface first with a quality Sanding Sealer, you can achieve an even glossier sheen.
Underneath, the lovely patina will remain the same. The shine you get pulls the appearance of the surface together so it looks intentionally shabby and chic instead of a tatty old table nobody has cared for.
Any questions about maintaining wooden kitchen furniture and utensils?
No problem at all. Just give us a call and we'll do everything we can to help you achieve the perfect wood finish.