In this video Ben from Wood Finishes Direct will explain what to consider before buying  Manns Premier UV Decking Oil.  
Premier UV Decking Oil FAQ
How do I clean decking?
It depends on the issue with the deck. If it's simply dirt, debris and plant matter, decking can be cleaned by sweeping with a stiff bristle broom then treated with a dedicated decking cleaner. For decking that has been affected by mould and algae, sweep with a stiff broom or brush to remove as mush surface matter as possible then treat with a mould and mildew cleaner. heavily soiled decking may require a second treatment.
My decking is slippery, why is this?
Algal growth is the most common cause of slippery decking and can be cleaned using a dedicated Mould and Mildew Cleaner. If the decking is bare wood, a wood preservative treatment should then be applied to help prevent future growth. Treating the decking with a decking oil once the preservative has fully dried will further protect the wood from biological growth and water penetration.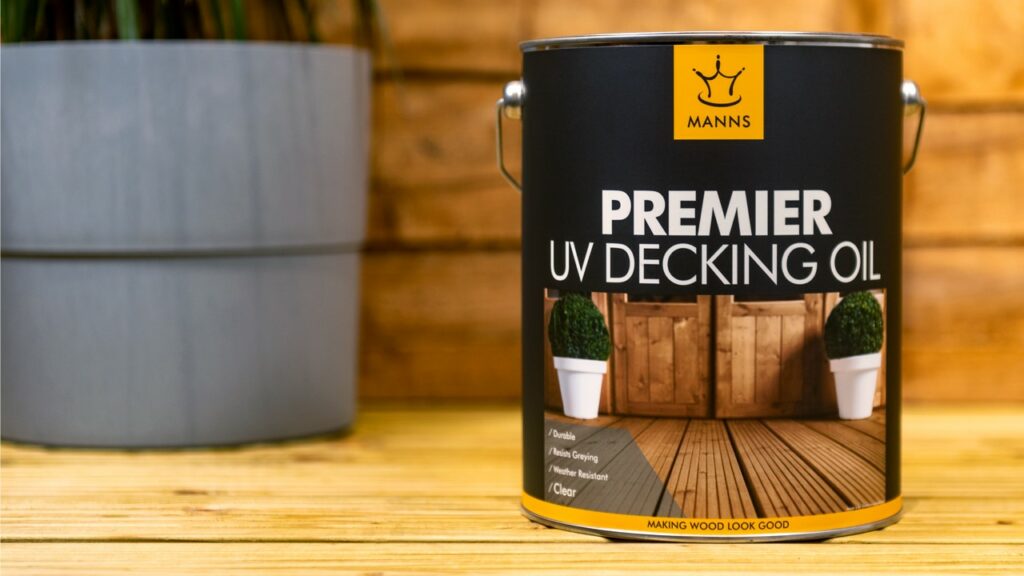 Before you Buy – Manns Premier UV Decking Oil.
Hi I'm Ben O'reilly from Wood Finishes Direct and in this video I'm going to be telling you the key things you should consider before you purchase the Mann's Premier UV Decking Oil but first of all what is it the Mann's Premier UV Decking is a durable solvent-based finish that isn't just suitable for hardwood and softwood decking it's also suitable for all other exterior timber as an added benefit and as the name suggests it also contains handy UV filters that act a little bit like a sun cream that protect the wood from harmful UV rays.
A handy tip before we get started is to keep an eye on the weather forecast as we are going to need a couple of clear days to get the project done properly trust me it'll be worth it in the end.
Fresh and new decks that have been laid in the last six months don't need a huge amount of prep work to get the project started you just have to give them a good sweep down with room a jet wash off to give it a clean and you're good to go.
If you are the owner of a well-maintained deck then you have done yourselves a massive favour so give yourself a pound on the back all you're going to have to do is give it a sweep down with a stiff bristle broom and a jet wash off to remove any of the old finish and then just check the boards you're looking for missing screws or any kind of loose or damaged boards give them a replace and you are ready to get started now be honest with me has your deck seen better days it's probably going to need a bit of a deeper clean start by giving it a sweep off to remove any of the surface dirt or debris and then give it a clean down with one of our trusted decking cleaners is your deck looking a bit gray and frazzled well a little insider info all you have to do is use a decking reviver and it'll bring it back to life it really is like magic you've cleaned and revived if necessary your deck give it a wash down with a jet cleaner just to remove any of the leftover cleaner or reviver and then check for any damage so you're looking for again missing screws or any damaged or rotting boards just give them a replace and you're ready to start your project.
If your deck is a little bit older or you're not sure if it's pressure treated it's a good idea to give it a coat of a wax free preservative this helps mitigate the risk of any rot or any wood boring creatures getting into your deck and doing damage it's also a good idea on any new decking to make sure that you preserve the ends as where you have cut the wood is opened up that area and that area will not be preserved.
And now onto the look the Mann's Premier UV Decking Oil comes in a clear version that enhances the tone of the wood and deepens the color it also has three colors to choose from a light oak a natural oak and a dark oak so whatever you're going for the Mann's UV technical has you covered.
If you need any further technical advice or information about your project why don't you give us a call or email and put us to the test we are the experts after all a full list of all the products featured in today's video will be in the description on YouTube don't forget to like and subscribe for all future content and as always always do a test area.
Other Post You Will Love!
What way is the right way up for decking boards