October 21st, 2014
We get a lot of calls about chalk paints, usually from people who want to know which products are best for finishing chalk paint or sealing it. Although we don't sell the paints themselves, we do stock the products to finish them. So we thought it'd be a good idea write about chalk paints, how to use them and what's the best way to make sure your project stays looking great.
About sealing chalk paint
What is chalk paint?
Chalk paint gets its name from the lovely velvety matt finish it provides. It's brilliant for decorating indoor and out, including furniture, walls, ceilings and even floors. It's eco-friendly, containing extremely low volatile organic compounds called VOCs which have virtually no smell. There are several manufacturers to choose from, including Autentico. Here's a link to the Autentico Vintage chalk paint website, so you can see what's what, and another to the Ecos Organic Paints website.
How to use chalk paints
Chalk paint is remarkably versatile. It sticks to more or less any surface including wood, concrete, metal, matt plastic and even ceramic. It dries super-fast, making it very easy to use. And it's perfect for achieving decorative finishes like lime washes, antiquing and shabby chic looks, all of which means it's extremely fashionable right now in interior décor circles.
Chalk paint is easy to work with. You rarely need to do any preparation. There's no sanding or priming required, which is good news for those of us who love instant results! The colours are stunning – Autentico, for example, manufactures 130 different colours inspired by vintage décor styling. And you can even mix the paints together, no problem at all, to create your own unique colours.
It's water soluble which means you can add water for a smoother surface, thicken it by leaving the tin open and even add more water to transform it into the perfect product for creating beautiful lime wash effects, for example bringing out the grain in oak. You can use more or less any kind of brush too, creating everything from a dead flat to a heavily textured finish.
You'll find a couple of handy videos about how to use chalk paint here, and some more excellent video guidance about chalk paint usage here.
Which chalk paint finishes do we recommend?
You can leave your finish as it is, of course. But how to seal chalk paint? If you're into creative paint effects or want to give the surface a lovely sheen, here's what we recommend.
Fiddes Supreme Wax Polish
Fiddes Supreme Wax Polish is wonderful stuff. Its designed to nourish and protect wood, whether it's raw wood or has an existing finish like water stain, solvent stain or French polish. It can also be used on top of a matt or satin varnish, lacquer and oil to increase the sheen level and provide a more traditional wax appearance. It's ideal for any kind of interior wood and goes over chalk paint like a dream.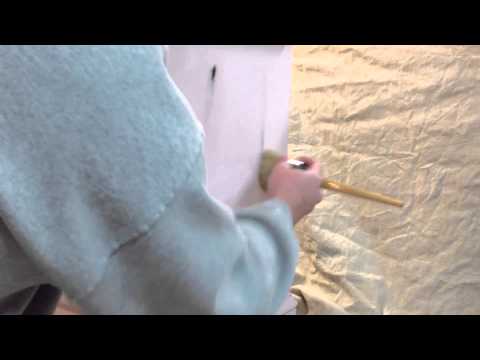 When might you use it? Say you've painted a bedside table with chalk paint and you want a shabby chic finish. Because the product comes in a range of colours, you can use a dark colour like Jacobean over the chalk paint, bringing out the patina and texture of the surface and making a feature of scratches and dinks for that classic shabby chic look.
We've provided full instructions about how to use Fiddes Wax on the product page – just scroll down the page to find it.
Manns Liquid Beeswax Polish
Manns Beeswax Polish is such a treat to use, giving a beautiful sheen to chalk paints and acting as a protective layer. It's a clear beeswax polish formulated to enhance surfaces by penetrating deep into them, helping to nourish and protect the finish. When you let it dry and buff it gently with a soft cloth, you get the most beautiful sheen.
There are full instructions on how to use it on the product page – follow this link and scroll down the page to find them.
Any questions?
We're always pleased to help – just call our wood finishing experts if you can't find the information you need or want to talk to someone who really knows their stuff.